As if I had been drinking a Christmas limited new drink called 'Pistachio Christmas Tree & Pistachio Christmas Tree Frappuccino' in Starbucks 'Drinking Pistachio'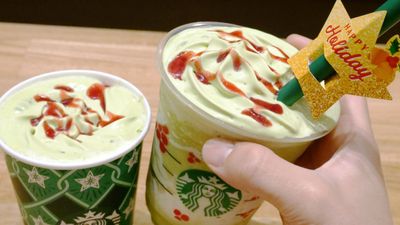 This season when Christmas is approaching and the town is also sparkling and the mood also rises. Starbucks' new drink " Pistachio Christmas tree " and " Pistachio Christmas tree Frappuccino ", which imaged a Christmas tree which can be said as a symbol of Christmas, newly appeared on Wednesday, December 5, 2018. I was actually wondering how Christmas is being expressed in the green drink that imaged the Christmas tree, so I actually checked it.

The third bulletin of Starbucks will be releasing "Pistachio Christmas tree Frappuccino®" and "Pistachio Christmas tree" from December 5 (Wednesday), inviting you to feel excited when you bring your tree in front of you. Starbucks Coffee Japan
http://www.starbucks.co.jp/press_release/pr2019-2831.php

Arrived at Starbucks.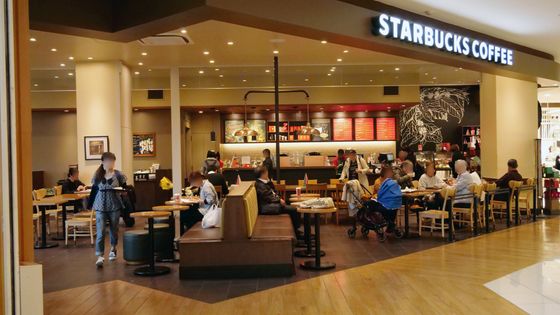 There was a hand-drawn board advertising two new menus for the store at the shop front.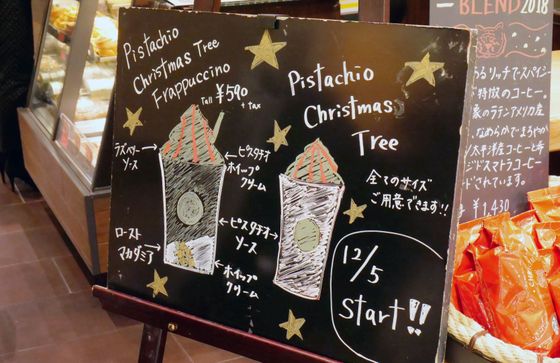 After ordering 2 items at the cash register, wait for completion at the bar counter. There was a pop imitating a Christmas tree at the bar counter.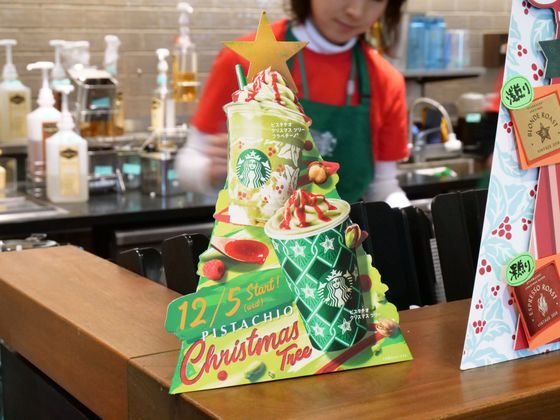 The tall size of "pistachio Christmas tree" on the left is 490 yen. Besides tall size, short (450 yen tax excluded), Grande (530 yen tax excluded), Venti (570 yen excluding tax) can be ordered. "Pistachio Christmas tree Frappuccino" on the right is provided only for tall size (590 yen without tax).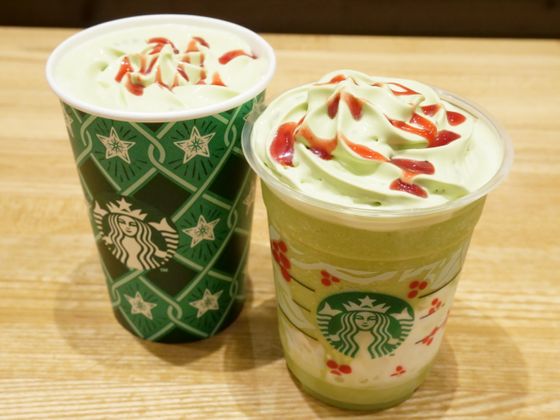 At the top of "Pistachio Christmas tree Frappuccino" is topped with raspberry sauce reminiscent of pistachio whipped cream and a red ribbon.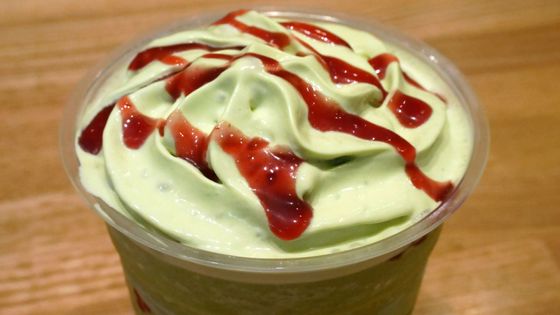 In Frappuccino there is a pistachio sauce and a whipped cream featuring snow.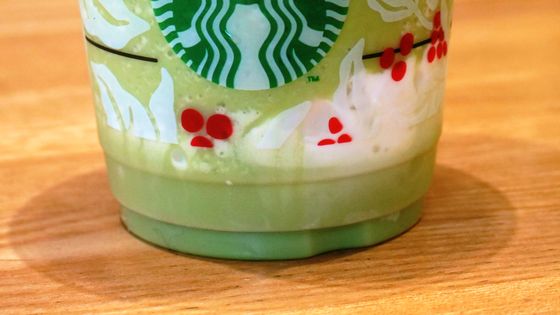 Also, at the time of offering, a star for decoration reminiscent of a Christmas tree will be handed over with a straw.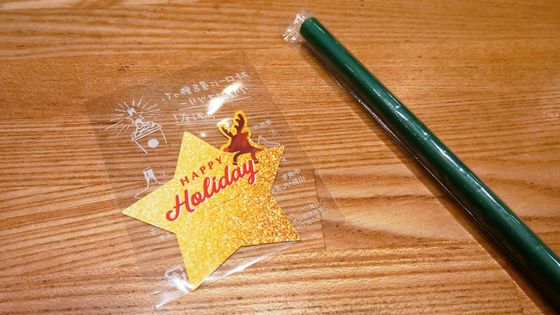 To actually make it. First of all, mountain folds along the crease sideways so that the yellow side faces outward.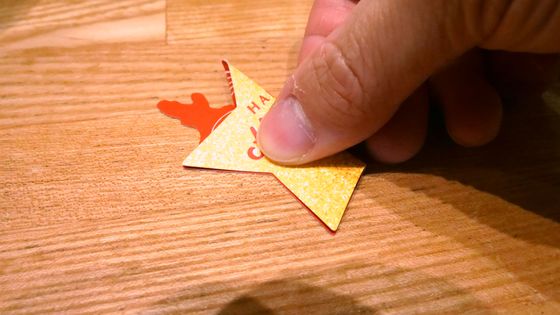 Since the incision is open in the middle, push out to the back and make a hole through which the straw can pass.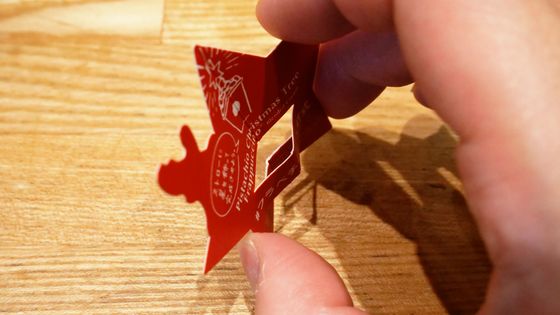 Insert straw and complete.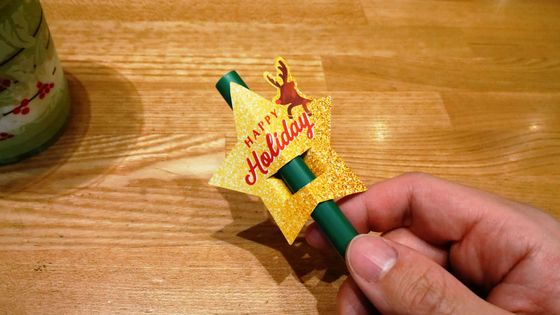 I felt like this when I stabbed Frappuccino. Reindeer who caught a little in the star is cute full mark, but Santa does not seem to know why.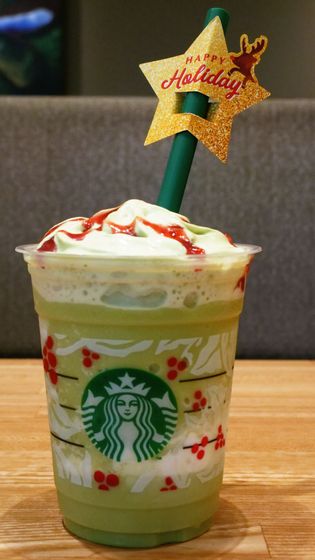 When I tried eating Frappuccino, the sweetness of discreet fresh cream became the main Frappuccino feeling of pistachio. The sourness of raspberry sauce is accented and the sweetness of cream cream stands out.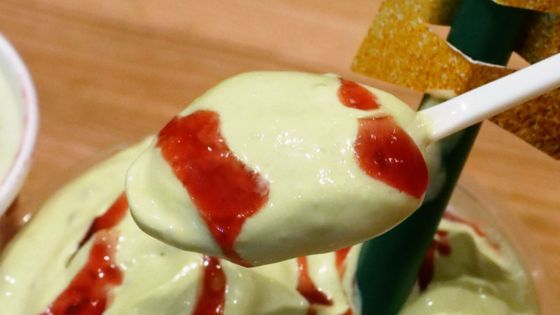 Roasted macadamia nuts are contained in the pistachio sauce and you can enjoy the flavor and texture of macadamia nuts every time you drink.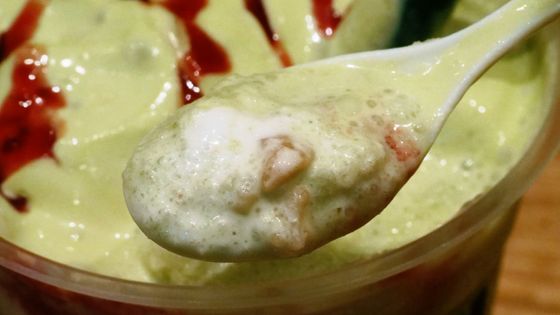 For those who want to enjoy more pistachio feeling, "pistachio Christmas tree" is recommended. As a hot offer, the topped raspberry sauce and pistachio whipped cream melt and appear to be foaming. The smell of cream and pistachio rises as you approach your face.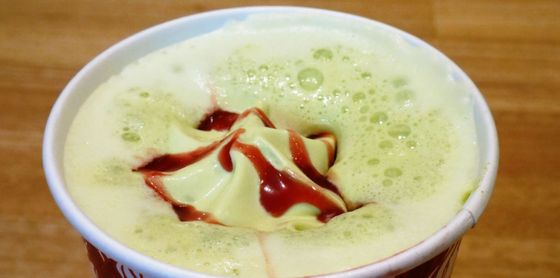 When I drink it, the flavor of pistachio rushes after the sweetness of the whipped cream and it is overwhelmed by the pistachio feeling of the "pistachio Christmas tree Frappuccino", just "drinking pistachio". Because it is hot, you can feel the flavor of pistachio and mellow sweetness more strongly than Frappuccino. The aftertaste is sweet because of the taste of cream, but it was not sweet enough but gentle sweetness.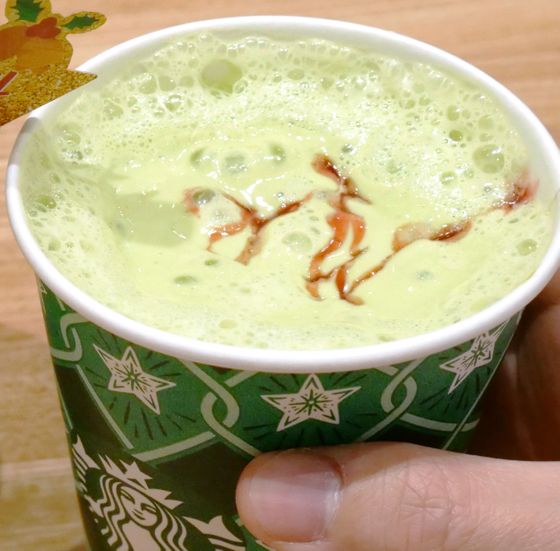 "Pistachio Christmas Tree" and "Pistachio Christmas tree Frappuccino" are offered for a limited period of time from December 5, 2018 (Wednesday) to December 25, 2018 (Tue) at Starbucks nationwide except some stores . Since it is the end as soon as it is gone, I recommend you to drink early as soon as possible.