I drank Starbucks 'Melty Raw Chocolate Frappuccino & Mocha' with plenty of melted raw chocolate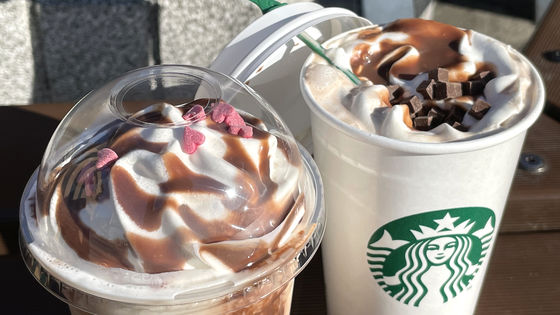 Starbucks' new menus ' Melty Raw Chocolate Frappuccino ' and ' Melty Raw Chocolate Mocha ', which are made with a raw chocolate sauce and have a melting texture, will be available from Wednesday, January 20, 2021. I drank and tried to see what kind of taste the Frappuccino, which was luxuriously finished with a large amount of chocolate and whipped cream, and the mocha, which warms up warmly, were finished.

[New Product Information] Melty Raw Chocolate Frappuccino® / Melty Raw Chocolate Mocha | Starbucks Coffee Japan

https://www.starbucks.co.jp/cafe/melty_chocolate/
From today (1/20), '#Melty Raw Chocolate Frappuccino ® / #Melty Raw Chocolate Mocha ' is newly released ✨
It is a cup that melts the mouthfeel of 'raw chocolate' that seems to melt your heart. Feeling Valentine's Day a little earlier ???? https://t.co/raxaiBBkM7

— Starbucks Coffee (@Starbucks_J) January 19, 2021


At the store, a kanban was set up to promote the new menus 'Melty Raw Chocolate Frappuccino' and 'Melty Raw Chocolate Mocha'.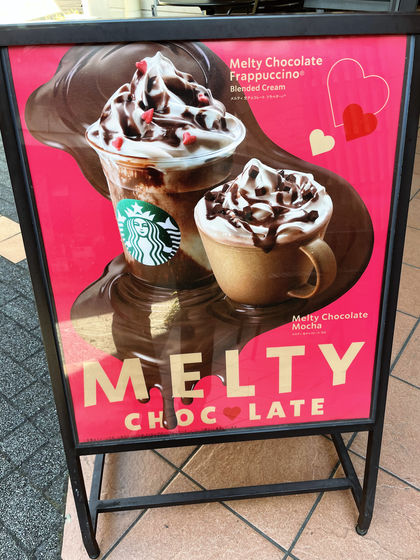 That's why I bought it as a takeaway.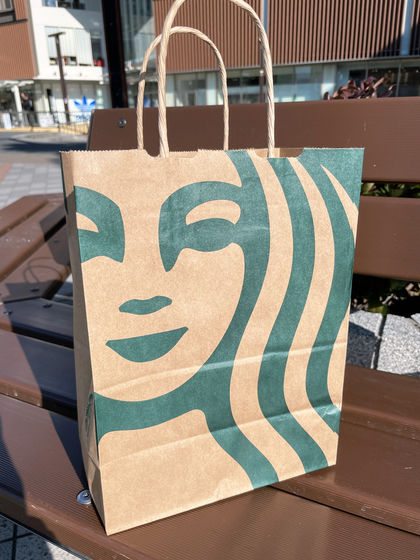 The left is the Tall size of 'Melty Raw Chocolate Frappuccino' (590 yen plus tax), and the right is the Tall size of 'Melty Raw Chocolate Mocha' (490 yen plus tax).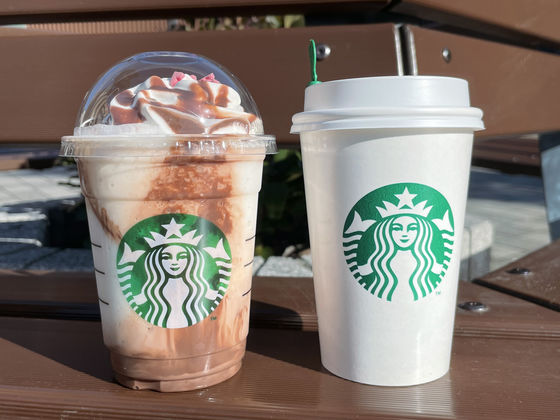 'Melty Raw Chocolate Frappuccino' is topped with plenty of whipped cream, raw chocolate sauce, and heart-shaped sugar.



The Frappuccino part is milk-based and mixed with raw chocolate sauce. When I actually drank it, it looked white, but the presence of the raw chocolate sauce was outstanding, and it felt like the milk-based Frappuccino made it mild. Cube-shaped chocolate is also mixed in Frappuccino, which adds texture and chocolate flavor. Although plenty of chocolate is used, it is not a feeling that you can enjoy the flavor of cacao abundantly, but a taste that you can enjoy sweet milk chocolate as a drink.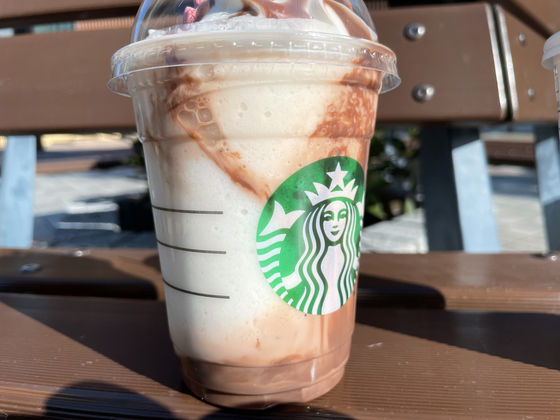 Next, I will try 'Melty Raw Chocolate Mocha'. The chocolate syrup used in Starbucks
Cafe Mocha
has been changed to raw chocolate sauce and topped with cube chocolate, which is also used in 'Melty Raw Chocolate Frappuccino'. The bittersweet espresso is sweetened with whipped cream and fresh chocolate sauce, making it a hot drink that is easy to drink even for people who are not good at coffee. The raw chocolate sauce gives you a stronger chocolate feel and sweetness than regular cafe mocha, and the topping cube chocolate also accentuates the texture and makes you entertained.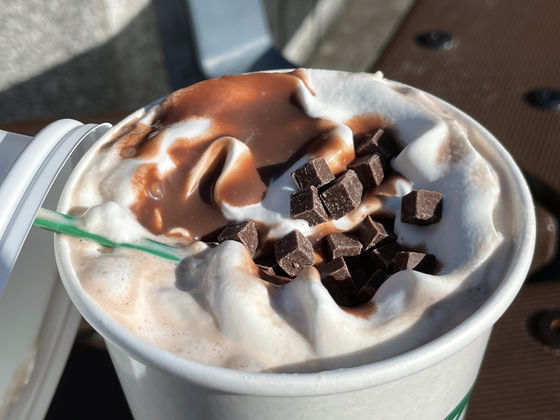 However, since it is a hot drink, if you do not drink it early, all the whipped cream and chocolate will melt, so be careful.



In addition, 'Melty raw chocolate Frappuccino' is offered only in Tall size, and 'Melty raw chocolate mocha' is 450 yen excluding tax for Short size, 490 yen excluding tax for Tall size, 530 yen excluding tax for Grande size, 570 yen excluding tax for Venti size. It is offered at.