I have been seeing the real thing of 'Star Moon Night' by painter / Isao Choko who has continued drawing duplicate paintings of Van Gogh for over 20 years


60% of the painting market in the world is produced in the place called Da Fen in Shenzhen, China, and the number of painters is actually over 10,000 people. One of them, Mr. Chao Hsiao-yong, has produced more than 100,000 Van Gogh works over 20 years. According to Mr. Zhao who dedicated his life to Van Gogh Museum in the Netherlands and pursue the appearance of a documentary film "The Man Who Drew Van Gogh the World in the World " in public, three of the public theaters So it was that Mr. Zhao's real copies of 'duplications of Van Gogh' were exhibited, so I went to see what kind of picture it is.

Movie "The Man Who Drew Van Gogh in the World"
http://chinas-van-goghs-movie.jp/

Paintings are being exhibited in Shinjuku Cinemakaryte in Tokyo ("15 sunflowers", "Harvest of the Clain Plain, Mont Majour on the Background"), Fushimi Million 's seat in Nagoya ("Self - portrait with a bandage and a pipe") , Cine · Libre Umeda ("Star Moon Night" in Osaka).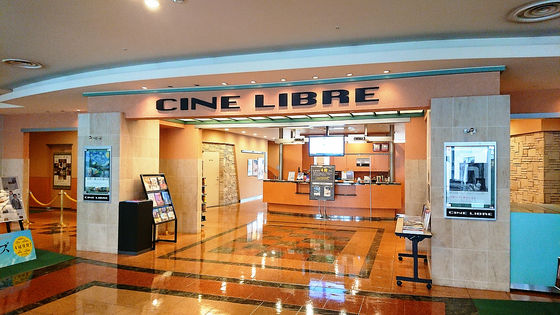 Cine · Libre Umeda is located at 3F · 4F of Umeda Sky Building, and the exhibition is the entrance part of 4F. This galleries 'exhibition method is impossible if it is a true van Gogh' s Starry Moon Night, a permanent collection of the Museum of Modern Art in New York . However, based on the picture of Van Gogh is a duplicate picture drawn by Mr. Isao Zhaoko's hand.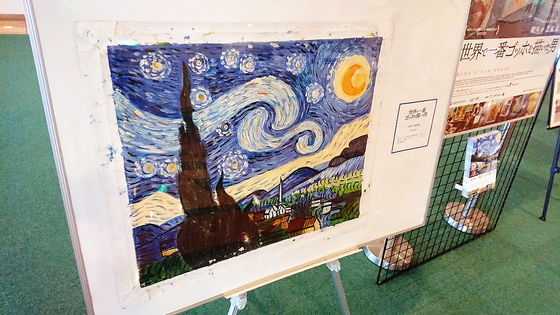 Since it approaches up close, it is clearly confirmed with the naked eye that it is a hand-painted painting rather than a color copy. In the sky painted with multiple colors, paint is greatly raised.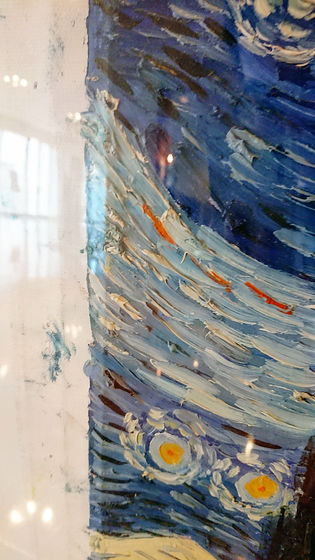 The size of the picture felt a bit surprising a bit. The size of the moon part in the upper right is roughly the same as Suica. Because it is a picture with a large scale, I imagined a huge picture somehow, but it is smaller than the poster adorned in the movie theater. The actual size is 73.7 cm × 92.1 cm.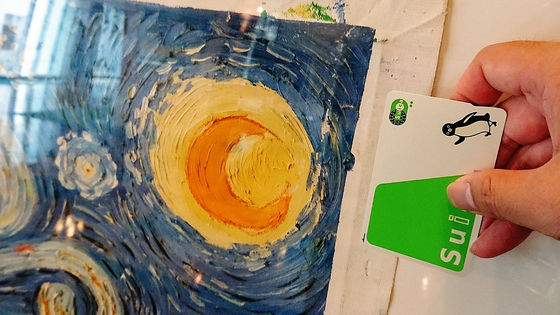 Because I did not remember the real thing with a blurred image, I thought that "star moonlight" is such a painting ... ...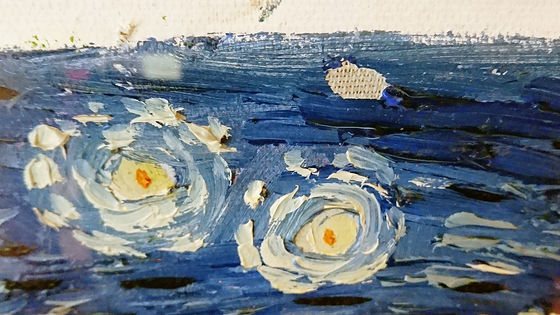 Van Gogh's real thing was used for the posters that were next to each other, so it was in a state that can compare the difference. I understand that it is a replica drawn similarly to the last.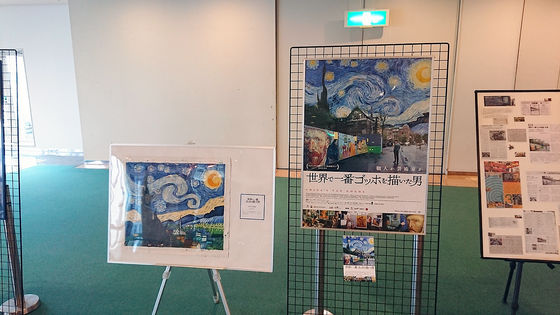 Incidentally, "Star Moon Night" painted by Mr. Zhao is not sold at high-class art galleries but it is sold at the souvenir shop in the city. Still, the price is more than 8 times the wholesale price, Mr. Cho said that she did not know this and was to be shocked.

The movie "The man who drew Van Gogh the most in the world" has not only the "copy business", but also the various problems of the modern Chinese society, so if you have the opportunity, please take a look.

Movie 'The Man Who Drew Van Gogh the World' Trailer - YouTube