I tried a benchmark test while comparing the iPhone XS / XS Max with the old model, how much performance is improving for the model equipped with the Apple A 12?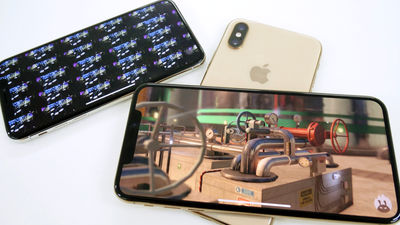 Apple's new high-end smartphone " iPhone XS / XS Max ", released on September 21, 2018, is the industry's first 7 nm process, the latest chip with 6 core CPU and 4 core GPU It is said to be equipped with "Apple A 12 Bionic" and its processing capability is improved compared with the previous model iPhone X. How much processing power is actually raised for iPhone XS / XS Max I tried a benchmark test compared with iPhone 7 Plus and iPhone X

iPhone XS - Apple (Japan)
https://www.apple.com/jp/iphone-xs/

I prepared iPhone 7 Plus (32 GB), iPhone X (64 GB), iPhone XS (64 GB), iPhone XS Max (64 GB). iPhone 7 Plus has "Apple A 10 Fusion" chipset, iPhone X "Apple A 11 Bionic" chipset, iPhone XS and iPhone XS Max have "Apple A 12 Bionic" chipset installed. On all terminals, the OS has been updated to iOS 12.0, the battery level is over 80%.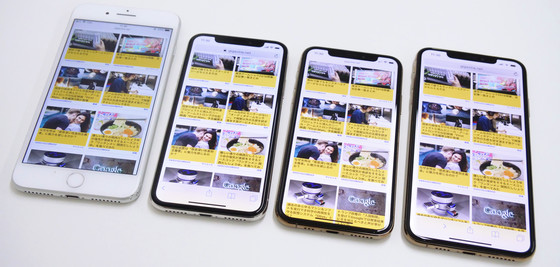 Antutu Benchmark Soft Ver. 7.0 was used for the benchmark software.

On the App Store, "Antenna Evaluation - Hardwood Measurement, Partition"
https://itunes.apple.com/jp/app/id803837129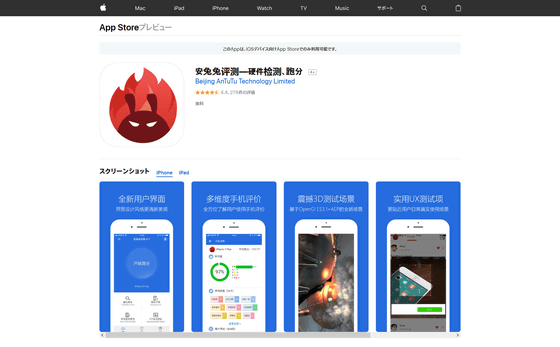 I measured the score immediately in a room with room temperature 25 degrees and humidity 66%.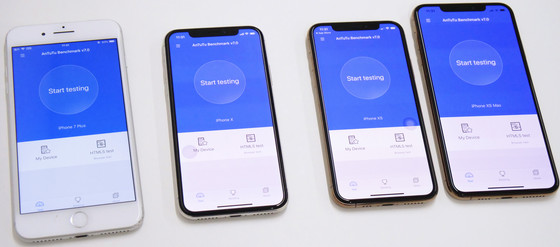 ◆ iPhone 7 Plus
First, the score of the oldest generation iPhone 7 Plus was "166536". Even during benchmark operation, it took the longest time.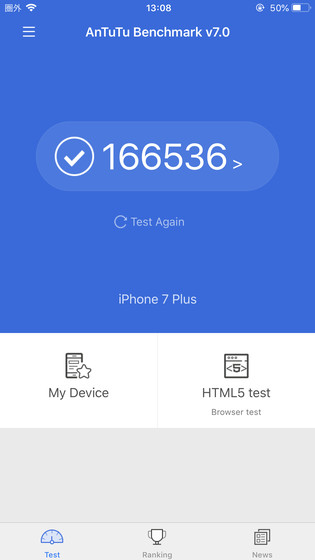 In the meantime, the scores of CPU and GPU look like this.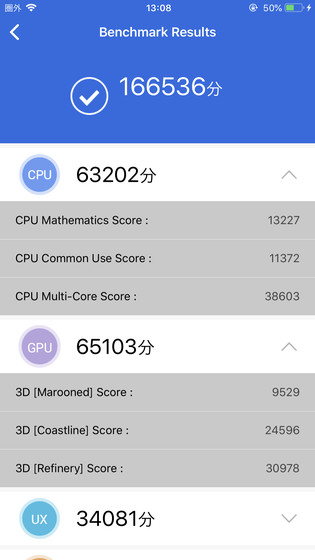 ◆ iPhone X
The iPhone 7 Plus chipset is measured by a new generation iPhone X with one generation, "192,615" as a result, it is still a little higher than iPhone 7 Plus.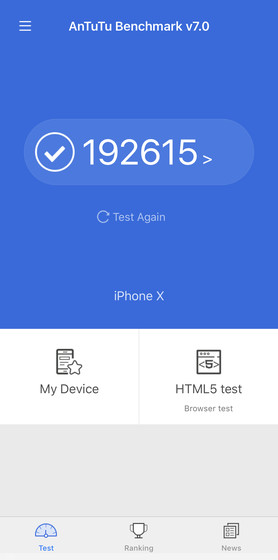 Just to be sure, looking at the CPU and GPU out of the score breakdown, we failed to measure the "3D [Refinery] Score" of the GPU.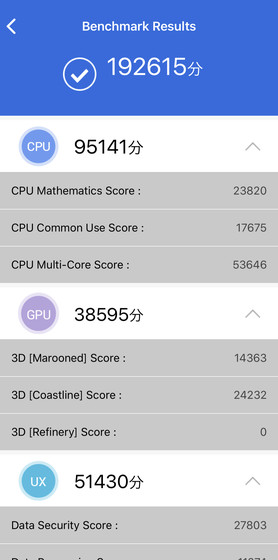 In addition, the following image is measured by the editorial member private iPhone X (128 GB), and the score "23 ten thousand 178" is measured.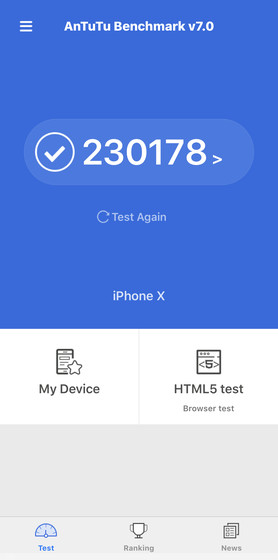 On the private iPhone X, we were successful in measuring 3D [Refinery] Score. Since the 3D [Refinery] Score has figures close to 40000, another iPhone X is supposed to have scores of 22 to 230 thousand originally.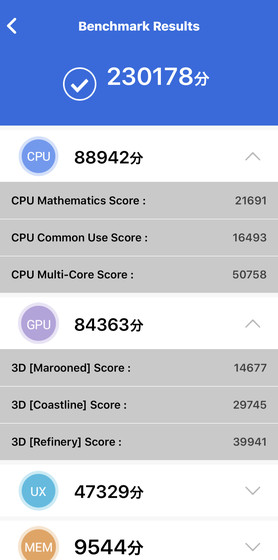 ◆ iPhone XS / XS Max
The measurement score of iPhone XS equipped with the latest generation chip set A12 Bionic was "244,393".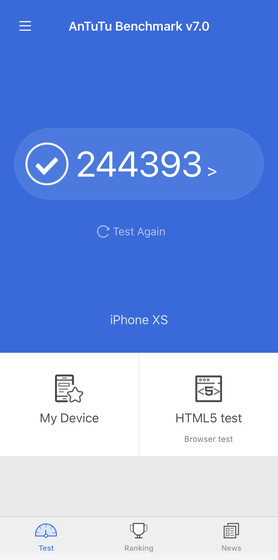 Looking at the breakdown of CPU and GPU, we have failed to measure 3D [Refinery] Score again. However, since it has exceeded the value of iPhone X, the generation is progressing and the performance up is felt for the time being.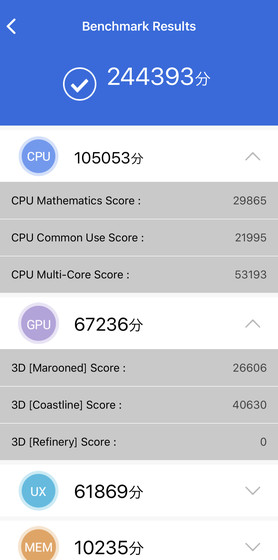 iPhone XS Max is a larger display size than iPhone XS, but with the same Apple A 12, 4 GB internal memory and hardware performance is almost the same as iPhone XS. The measurement result of iPhone XS Max is "332,249", marking almost double score of iPhone 7 Plus.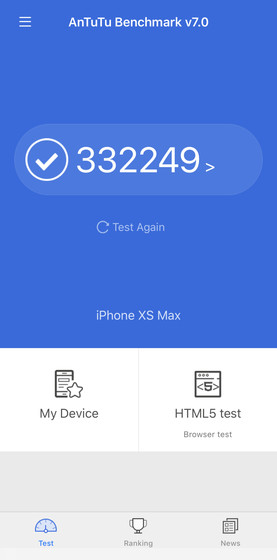 Looking at the breakdown of CPU and GPU, we succeeded in measuring 3D [Refinery] Score and started scouting 55497. Assuming that the same amount of 3D [Refinery] Score comes out on iPhone XS, it means that there was about 300,000 scores.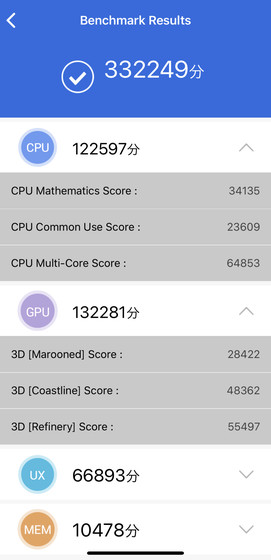 ◆ Summary
iPhone X and iPhone XS have almost the same appearance, but hardware performance has definitely gone up. Simply calculating from the total score, iPhone XS / XS Max has 1.2 to 1.3 times the processing capacity of iPhone X. However, from the usual editorial staff who are satisfied with using iPhone X, iPhone It is not such a difference that I want to replace it with XS. However, if you are playing a high-specification essential 3D game, processing will be faster, but it will be awarded to the benefits of the explosion of A12 Bionic.

IPhone XS / XS Max is nearly double the performance compared with iPhone 7/7 Plus which is a model with chipset two generations ago. Considering that contents that require hardware performance, such as AR compatible applications, high-spec games, and net content deferred mainly from high-definition movies will be released in the future, "iPhone X went off However, for people who are thinking about replacing smartphones soon, iPhone XS / XS Max may be one of the options.