Teenagers who are using 'Instagram' to 'make money' are on the rise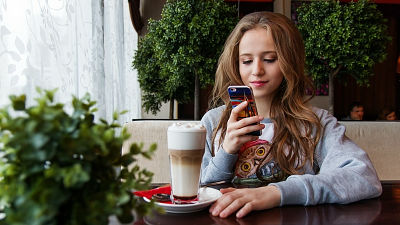 Speaking of "Instagram" for many people is a platform for showing pleasant photos with friends and acquaintances. However, in the United States, it seems that there are an increasing number of cases where teens Instagram users who have many followers receive money and introduce products such as apparel brands to advertisements.

Posting Instagram Sponsored Content Is the New Summer Job - The Atlantic
https://www.theatlantic.com/technology/archive/2018/08/posting-instagram-sponsored-content-is-the-new-summer-job/568108/

In the summer vacation period when the school is closed for a long period of time, the number of teenagers who earn money by part-time job etc. will increase. In the case of the United States, many boys and girls get salary by doing supermarketing, babysitters to look after the babies such as acquaintances, etc. However, there are emerging income earnings unique to modern times of SNS.

That "job" is to receive money of dozens of dollars (thousands of yen) from brands handling products such as fashion and cosmetics for young people, especially to young people, to use instagram of the brand's products Things to post. In order to get to this job, it is necessary to satisfy the condition "I have many followers", but if you have an account with thousands of followers you can be eligible.


A 13 - year - old girl who lives in Pennsylvania said, "When I work, I need to train a lot and I have to work for hours a day after going to work, but if I do this (Instagram 's job) I can get 50 dollars (about 6000 yen) just by submitting it. " This girl who responded to The Atlantic 's interview subject to the unnamed publication has 8000 followers and seems to have income of several hundred dollars (tens of thousands of yen) in about one month after starting "work".

It is not easy for young people to get to work with good conditions. In recent years I have not graduated from college in the United States, because I can not find a job in Roc, it is not easy to find time to work by taking time to school while I am young. Also, it is difficult to hire a young girl who is about 12 years old because there are legal problems, so it is difficult for a generation called so-called "low teens" to find means to earn money by themselves. It is said that the one that appeared in such a way spreads around the girls of the cheapest, in the way "Instagram money earnings".

Such a generation is able to have "work" that there are both a case where you can talk from the brand that uses SNS and a case where young people 'sell "brand" to brand. Most of the exchanges are done on Instagram's direct message, and it seems that there are not many cases where a proper agreement exists.

Helen Boogzel, CEO of girls' fashion brand Boogzel Apparel , says that he receives daily offers from girls. Mr. Boogzel says that marketing targeting teenagers is important, especially for brands that are short-lived since their establishment, "Mr. Boogzel said," Inside the brand, collecting "nice" with money and exposing to fashion magazines However, it is fake (fake), it makes it bad.It is better to connect directly with teenagers and listen to honest opinions about brands.Our products are youth culture and internet I am inspired by the young people who are making this culture, "he says about the effect of branding using SNS.


We say that there is another merit to incorporating teenagers into branding. That is "the cost can be reduced". Depending on the number of followers, the cost of paying per contribution is between $ 5 and $ 20 (about 600 yen to 2200 yen), paying hundreds of dollars (tens of thousands of yen) to people called celebrities and celebrities In addition to that it is much less costly, and it is also merit that being able to suppress 'advertisement's warmth'.

A 13 - year - old girl named "Kim" living in New York is $ 20 (about 2200 yen) if it is ordinary posting to the brand, $ 10 (about 1100 yen) if it is "story" It is said that he is under contract for work with. Kim said, "I thought it was a good way to earn money during the summer holiday, I'm always lazy at home, it's not easy for a child of my age to find a job, so this work is me It is the best choice for you. "


For young people in their teens, it is also said that Instagram's marketing is one of the factors showing that Instagram's marketing is spreading, that "influence from friends" is stronger than "advertisements by celebrities" about. Advertisements viewed on television and the Internet are inevitably "advertisement-friendly", but by deploying marketing using general users in Instagram, it is practically an advertisement but a more effective advertisement There is an advantage that benefits can be obtained.

Some young people are increasingly showing the level of being able to call it "business" by just escaping from "making money". In a group formed of 14-year old girls, an attempt to bring out better conditions from the brand by launching their "agent" only in a form, preparing logos and "business e-mail address", etc. Is carried out.

By doing so acting as a "pro" like this, you will acquire skills that are equal to those of "adult business" such as photo editing, sales, marketing, budget reservation, workflow management etc. among young people People seem to be appearing as well. At that moment, it seems like I will be out of the purpose of Instagram advertising which makes the goodness of "amateurs" anymore, but there seems to be young people trying to take advantage of the opportunities with such professional consciousness.


However, as this approach is a strategy to establish the gray zone of law, it is also true that we have various problems. In the summer of 2018, the case that the fashion brand " so aesthetic " refuses payment to young people has occurred, and there is a situation that actual payment has not been done even at the time of article creation.

But that is a rare case, and in many cases transactions are done without problems. Some children develop "business" under the official recognition of parents, and it seems that money earnings unique to SNS generation are born again.