I tried a new product at McDonald's such as 'Moonlight Burgers of Gold' with thick cheese melting into dust buns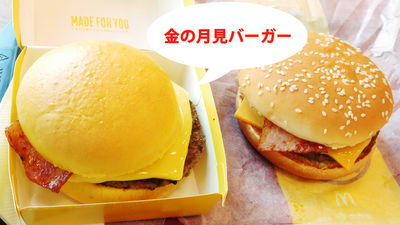 " Golden moonburger " of exquisite taste of secret moonlight sauce to Butter scented buns and thick cut cheese in McDonald's autumn limited classic menu "Tsukimi Burger" series on August 29, 2018 (Wednesday, April 29, 2018 ) We will introduce new. Also on the same day, " Carflies Big Peak " and " Mac Float Giant Peak " carbonated drinks using domestic giant peak fruit juice and " McFluelyy White Black Thunder " collaborated by Hokkaido limited chocolate bar white black sander and McFluely were also on the same day Then I tried it at once.

"Kim's Tsukimi Burger" is newly released! "Macfizz / Mac Float Giant Peak (fruit juice 1%)" also appears!
http://www.mcdonalds.co.jp/company/news/2018/0824a/

"McFleurly White Black Thunder"
http://www.mcdonalds.co.jp/company/news/2018/0823a/

Arrived at McDonald's.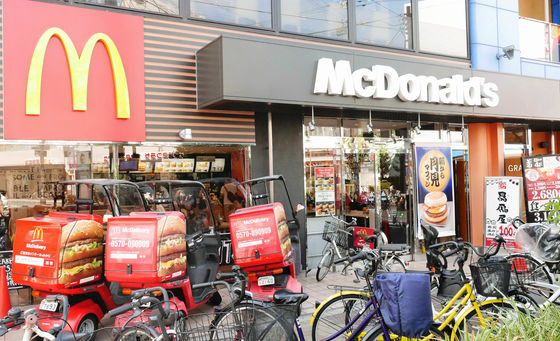 I immediately ordered the new product 'Kim's Tamimi Burger' (390 yen including tax) and regular 'Cheese Tsukimi Burger' (370 yen including tax). I ordered "Cheese Ethnic Burger" (370 yen including tax). There is also a value set (690 yen including tax) with a side menu (one of mac fly potato M size, chicken mac nugget 5 piece, side salad, sweet corn) and a drink M size on the moonlight burger of gold .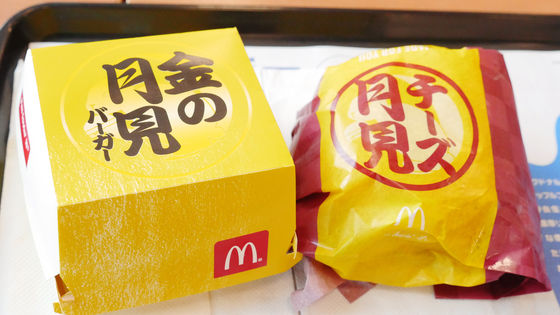 The left is golden moonburger and the right is cheese moonburger burger. When compared side by side, you can see at a glance that the buns are different. Buns of gold moon viewer Burger is yellowish, which is distinct from ordinary cheese moonburger burger with no sesame.



Looking from the top, the outer circumference of the burger is slightly smaller than the crescent moonburger burger of the moonlight burger of gold.



When viewed from the side, the buns used for the gold moonburger burger seems to be thick and fluffy compared with the buns of the cheese moonburger burger.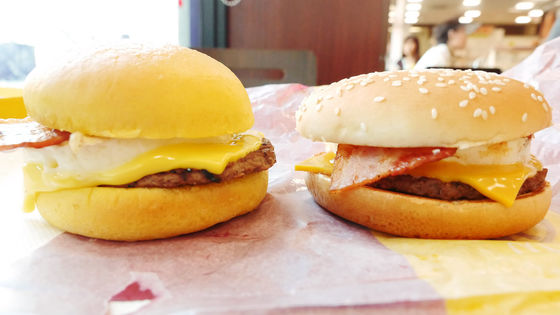 The color of cheese was also gold moon viewer Burger was brilliant yellow, thickness was also considerably thick.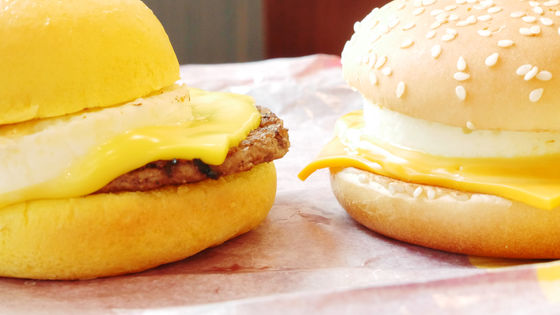 Trying out the buns, gold moonburger burger has plenty of aurora sauce .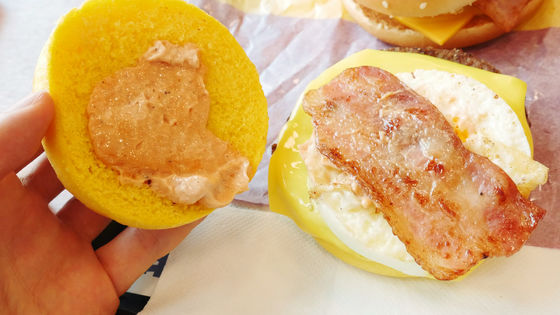 When eating a gold moonburger burger, the saltiness becomes strong due to the butter being used in the buns itself, the pepper is heard and the spicy flavor makes it associate with French mustard. The buns were fluffy as it looked and enjoyed a dusty texture. The taste of cheese is also thick, and the compatibility with the aurora sauce which stimulates pepper and the sourness of tomato is felt is outstanding.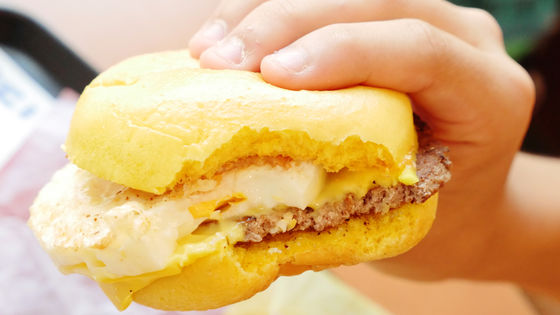 For comparison, I also tried eating a regular cheese moonburger, compared with the gold moonburger burger, the buns were hardened and the taste of cheese was felt as well. By doing so, I felt strongly the taste of bacon.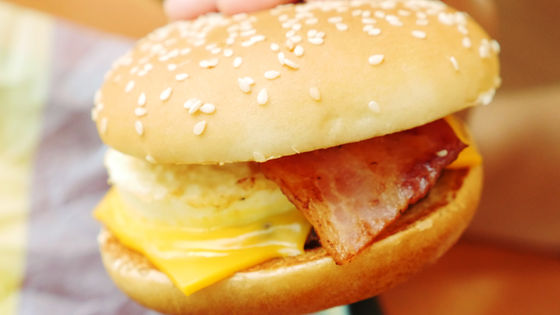 Also, a new product "Macfizzu Giho" (250 yen tax) and "Mac Float Giant Peak" (310 yen including tax) released today are a beautiful drink that is light purple that reminds me of Kyoho.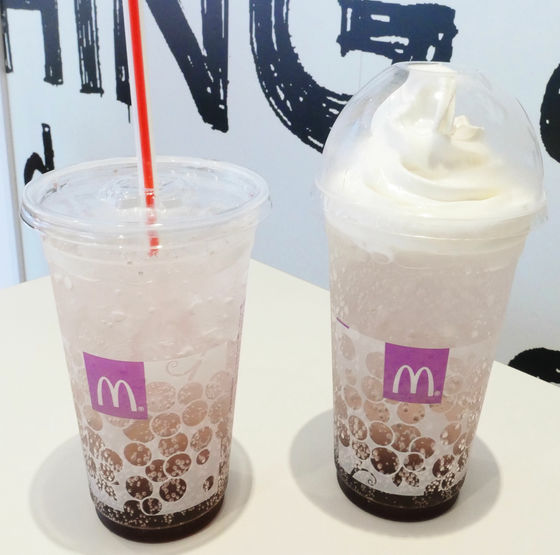 When looking at the drink part from the side, a purple giant drink is accumulated in the bottom, and contrast is made with the upper part with a large ratio of carbonated water.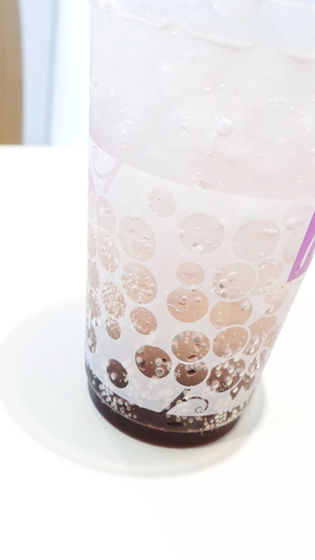 First of all, when you drink mac fizz, the taste of the gigante is more firm than expected, the sense of carbonate's showering feeling and fruity sweetness and sourness are very refreshing. It is a perfect drink for this period of time when the heat still remains.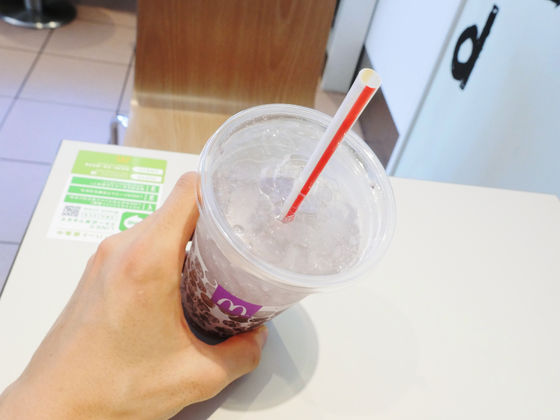 McFloat has plenty of soft cream toppings. The difference between Macfiz and McFloat is only the presence or absence of soft cream topping, so the drink below is the same as Macfiz Bao Feng.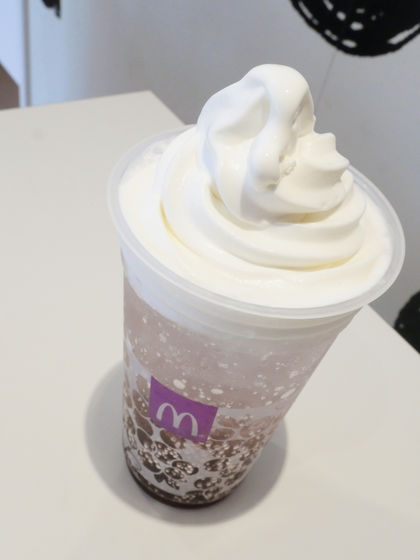 The float can be scooped with a spoon straw provided with a drink and eat like a dessert. By enjoying alternating with carbonate drink of the giganto, you can enjoy the different flavor of sweetness of soft soft cream and exhilarating giant peak drink.



"Mac Fleurie White Black Thunder" (320 yen tax included) was in a package which treated the logo of "White Black Thunder".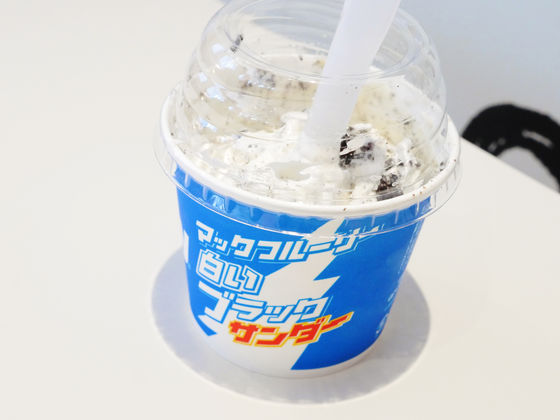 A black biscuit reminiscent of Black Thunder is mixed with white soft cream.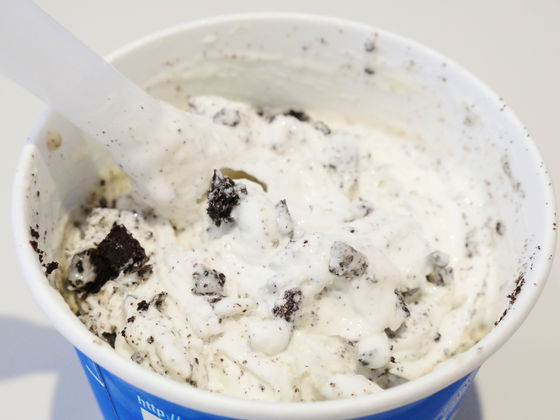 When I tried it, the milky taste that felt white chocolate and the flavor and crispness of the dark chocolate feeling from the biscuit reminiscently meant "white black sander".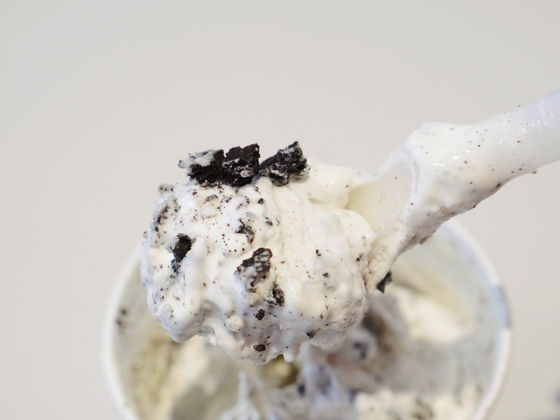 The gold moon viewer Burgers and Macfizzu Giant Peak, Mac Float Giant Peak are from Wednesday, August 29, 2018 to the middle of October 2018, White Black Thunder from August 29, 2018 (Wednesday) to Mid September 2018 It has become a limited-time item until.