In the situation that access to the social news site 'Reddit' in China is blocked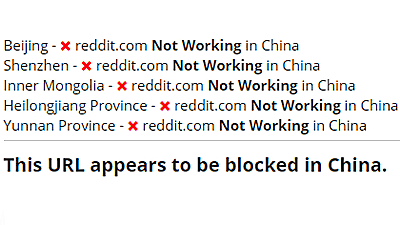 A major social news site "Reddit" where many users talk about various topics turned out to be the subject of access blocking in China. However, it is not completely blocked throughout China, and it is also confirmed that it is accessible from some areas.

China blocked Reddit, but access is returning for some users - Quartz
https://qz.com/1354441/china-blocked-reddit-but-access-is-returning-for-some-users/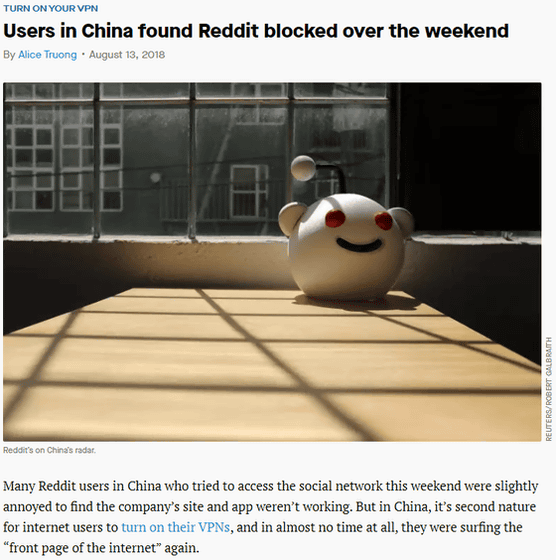 This situation turned out on August 10, 2018 (Friday), reporting that some Chinese users are unable to connect to Reddit unless they use VPN. There are users in China who can not connect in the same way, while users in China are able to connect even without VPN. Although this situation has improved considerably by August 13 (Monday), 2018, there are also people who are still unable to connect. Quartz put together the information, the block was confirmed in Beijing, Shenzhen. On the other hand, it is said that it is not blocked in Shanghai, Hunan, Nanjing, Hangzhou, Dongguan.

Reddit will not load without VPN.: China
https://www.reddit.com/r/China/comments/966b08/reddit_wont_load_without_vpn/

China finally block Reddit.: China
https://www.reddit.com/r/China/comments/96ky1z/china_finally_block_reddit/

Actually, I confirmed the situation of Reddit using a service that can check if the site is blocked in China and found that it is blocked at Beijing, Shenzhen, Inner Mongolia Autonomous Region, Heilongjiang Province, Yunnan Province at the time of article creation Has been confirmed.