I ate 'roast beef cold noodles of fire' with moist moist roast beef and spicy spicy sauce at Osaka king general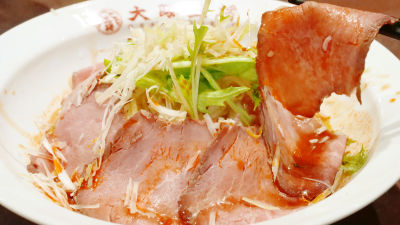 Osaka king of Okinawan chain, the spicy spicy noodle " roast beef cold noodle " with roast beef appeared for a limited time from July 20, 2018 (Friday). I tried cold noodles perfect for summer heat due to the spicyness of roast beef stamina and sauce.

[West Japan Limited] Sharpness in coolness! Limited time menu for summer Osaka kingdom "Roast beef cold noodles" Start selling on Friday, July 20! | Spirit of dumpling specialty store Osaka king
https://www.osaka-ohsho.com/news/2018/0720.html


Everyone in western Japan! I am sorry with roast beef cold noodles of fire. It is cold noodles but flame spreading he! ! # King Osaka # West Japan Limited # Summer only pic.twitter.com/Q9ZDoGaAT 3

- Osaka kingdom: Happy in dumplings ☆ (@ osaka_ohsho) July 20, 2018

Arrived at Osaka king.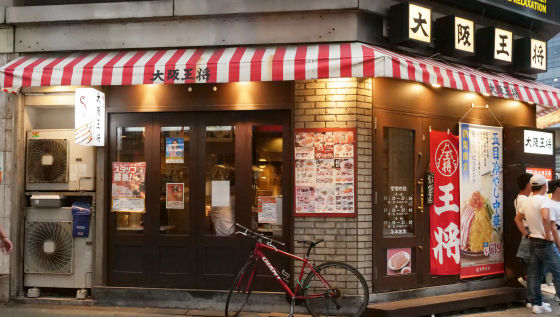 "Roast beef cold noodle" found in the menu. I will place an order immediately. Please note that this menu is limited to the West Japan area .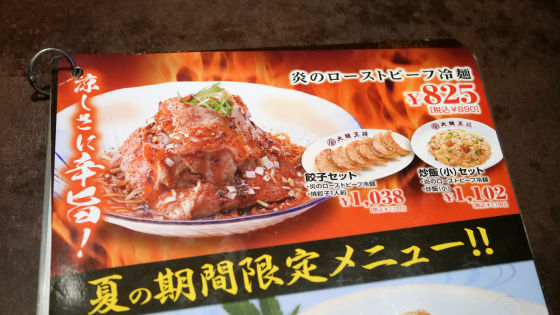 "Flame roast beef cold noodles" arrived (about 825 yen excluding tax) in about 6 minutes after ordering. We finish it with roast beef, bean sprouts Namuru, mizuna, chopped green onions and sprinkled with spicy seasoned "spicy flavor" on top of it.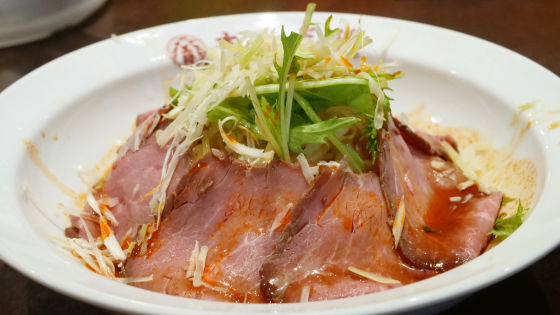 The roast beef is thinly sliced ​​and easy to eat. When eating, the meat is moist and soft, it has a good salty taste and umami. The spicy flavor of roast beef is hardly felt for a small amount of pungent flavor, the incense of sesame oil drifts and the appetite rises.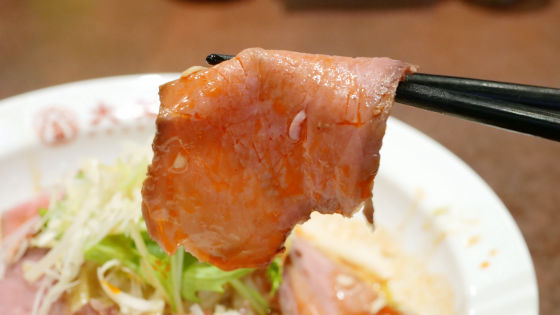 Under the roast beef, the noodle plunged plenty in the spicy flavor of the red flame. It looks very spicy.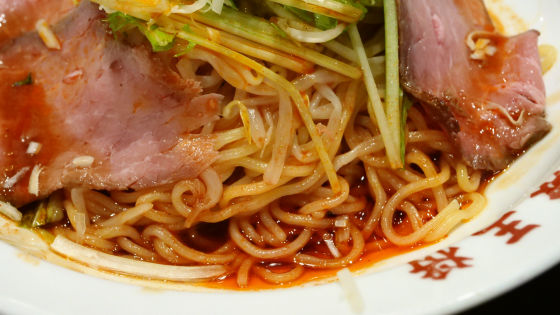 When you make the noodles sharp, you are often involved in hot flavor of flame with Chinese noodles with elasticity. Who is sweet and varied and sweet and seasoned, like sweet potatoes and beef bowls. It is a refreshing aftertaste with the slightly dripping vinegar's acidity, and there is also a savory fragrance of sesame oil. Each time you chew Kosi noodles, the spicyness increases, and if you do not prepare drinks it will reach the level where tongue can be done with spicyness.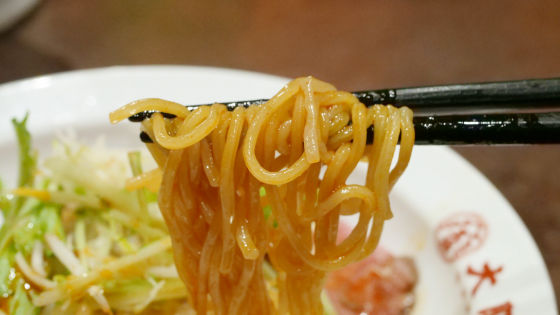 Suddenly stopped with ice water. I was surprised by the pain in the first mouth.



The tofu mizuna has a refreshing scent and a shabby texture. You can also rest your tongue with freshness.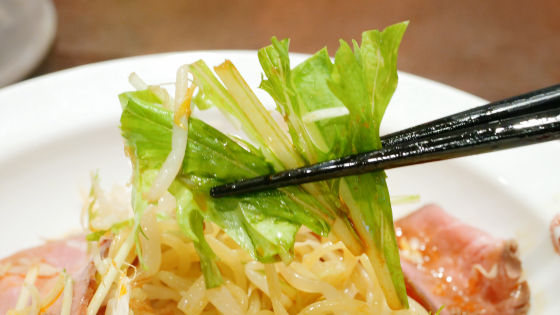 "If you think that there are bean sprouts as other toppings," appeared from under the mizuna.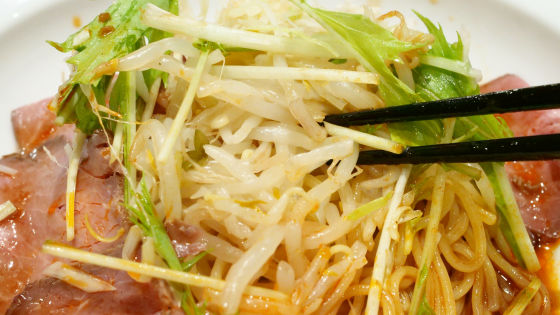 Bean sprouts Namuru has jerky teasprings and fresh juice. It is slightly salty, is not too thick, not too thin, just balanced with the texture of sprouts. It is chewy and salty than mizuna, and the chopsticks are finished.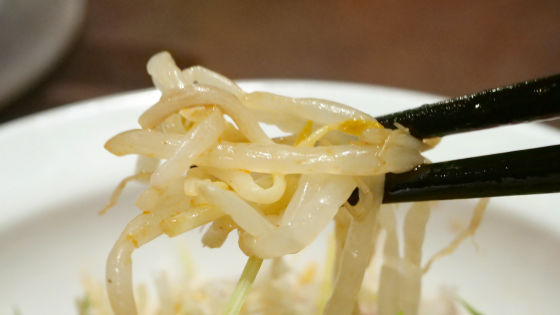 Since I had tasted some toppings, I also turned chopsticks to roast beef. It is ant to roll onion and mizuna on thin and soft roast beef and eat it.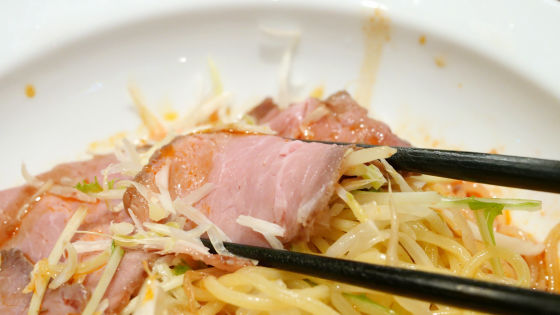 The taste of roast beef stands out with shiny shiny texture and a refreshing scent.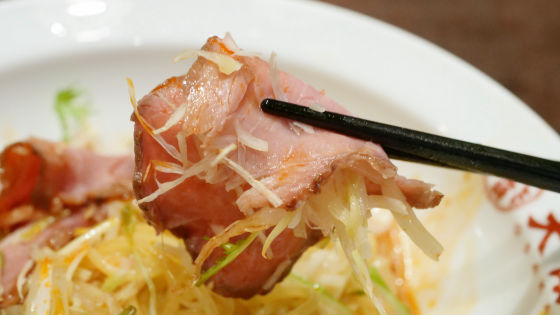 When you eat roast beef together with sweet taste sweet as sweet potatoes of roast beef are added plus umami.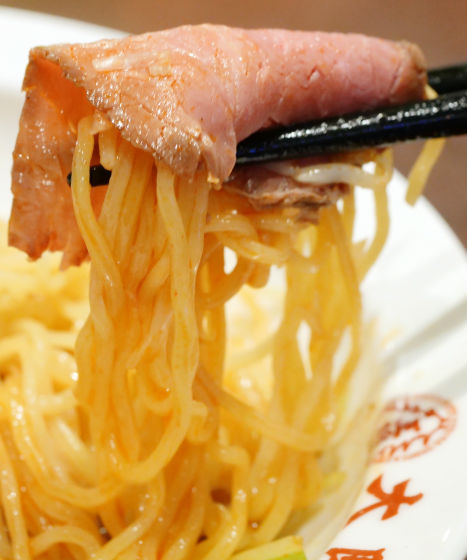 When it comes to the final stage, the noodles become dull when they are sprinkled and the taste of the spicy taste becomes darker. However, it was paralyzed at that time rather than being accustomed to pungentness, and was able to afford the taste of the sweetness of someone. The noodles involved plenty of stimulus of sweetness and pungency had the charm of advancing eating one after the other.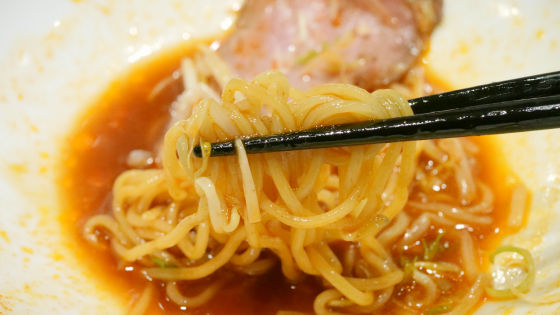 "Flame roast beef cold noodles" has some stores that are not handled in western Japan, so it is better to inquire in advance.
in Posted by darkhorse_log