China is a world leader with large-scale investment in 5G networks, its influence is the level to stimulate the United States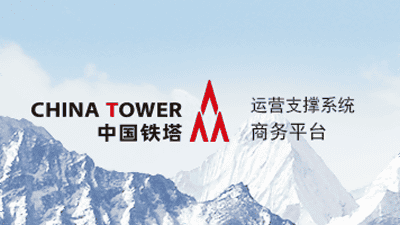 China Tower (China Tower) , a state-owned mobile communications infrastructure company, is preparing to implement initial public offering (IPO) of up to 8.7 billion dollars (about 960 billion yen) in the Hong Kong stock market . It has become the largest IPO since the Alibaba Group Holdings in 2014, and ahead there is a plans to develop a "5G communication network" extensively throughout China, but the scale is the size of the United States It is a pattern that it reaches a level that feels a threat.

China's $ 9 Billion Plan to Boost 5 G Undermined By Trade War - Bloomberg
https://www.bloomberg.com/news/articles/2018-07-24/china-s-9-billion-plan-to-boost-5g-undermined-by-trade-war

China Tower is a joint venture company jointly established by telecommunications companies of "China Mobile", "China Unicom" and "China Telecom", and acquired the communication infrastructure assets such as base stations owned by each company, and after that We are planning to provide facilities to lease to each company. The purpose of integrating the facilities of each company is "efficiency improvement", and a system will be taken so that state-owned enterprises can advance infrastructure development in order to eliminate waste caused by mutual separation and investment.

Behind this plan, there is a goal set forth is Xi Jinping Jintao "consisting pioneer of 5G network". By establishing a high-speed communication network far beyond the 4 G LTE network, infrastructure necessary for an automated driving car that requires a huge amount of data communication is developed, and in the lives of people, the entire movie is entirely in a few seconds It is expected that the convenience of society as a whole will improve greatly, such as becoming able to download this book. This policy constitutes a part of the "Made in China 2025" plan aiming for China to become a manufacturing powerhouse.

RIETI - "Made in China 2025" plan aiming for "manufacturing power"
https://www.rieti.go.jp/users/china-tr/jp/150804sangyokigyo.html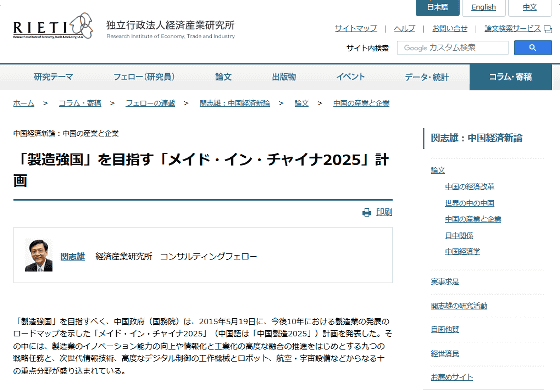 However, the trade friction that is occurring between the United States and China is about to shade this plan. The Hong Kong Hang Seng Stock Index has declined by 14% in response to a tariff battle in the U.S. that is sometimes called a "trade war", and there is a strong sense of risk in the market. Steven Rie, an analyst at China Securities International, based in Hong Kong, said, "Trade wars are affecting the psychology of the market, which in turn affects the IPO of China Tower." I will.

Some experts analyze that the United States has a certain sense of crisis in the movement of China Tower. Mr. Dennis Wong, an analyst at Bloomberg Intelligence, says, "It is a sensitive issue to improve the 5 G network and push" Made in China 2025 "at this timing, which is a reversal of American nerves We will do that. "

According to the IPO data of China Tower and the market trend, Bloomberg's graph shows that the annual sales volume of the global telecommunications infrastructure giant is as follows, China Tower gained 10.3 billion dollars (about 1 trillion 150 billion yen) is expected to run ahead in the top. American companies enter the second and third places, and Indian companies enter fourth place, but the size of the China Tower is overwhelming the competition.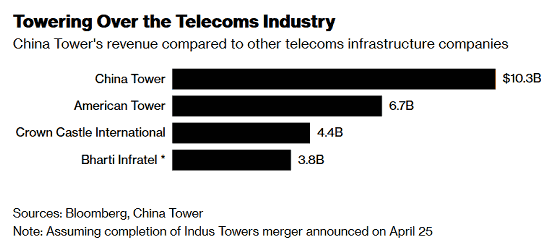 The sanctioned tariffs triggered by the United States are believed to be watering the movement of this China Tower. Edison Lee, an analyst at Jefferies Hong Kong, said that the export of chipsets, software and optical parts made in the USA is restricted and the grant of patent licenses is also restricted, the 5 G infrastructure development plan in China He says that the possibility of a large recession is dense. However, Mr. Li predicts that the US and China do not want the worst scenario, that is to say, the situation of entering a full trade war. .

Even though complicated circumstances exist, China is trying to keep pace with the development of 5 G infrastructure. According to the China Institute of Information and Communications Technology under the Chinese government, China will invest a total of 220 billion yuan (about 3.6 trillion yen) for the construction of a 5 G network by 2020, We are aiming to start commercial service offering. Mr. Wong of Bloomberg says that China Tower covers part of its budget by implementing IPO.

According to Mr. Chris Hoa, an analyst at British research institute "New Street Research", China Tower possesses 1.9 million communication base stations as of 2017, but by 2022 this To a scale of 2.4 million stations. Mr. Hoa also said that while the expenditure of 5 G infrastructure development in China seems to peak from 2021 to 2022, China Tower's profit can increase by about 13 to 14% every year, said communications infrastructure We are emphasizing that the development and expansion of the government is a policy promoted by the Chinese government.
in Mobile, Posted by darkhorse_log