Nintendo appeals a famous site that distributes pirated games, damages amount is hundreds of millions of yen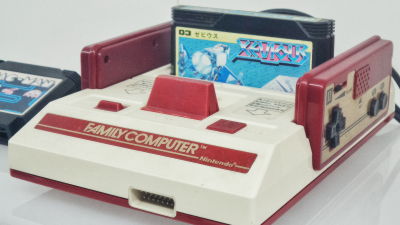 by Franck V.

Nitando filed lawsuit against " LoveROMS.com " and " LoveRETRO.co " illegally distributing popular game ROM data. According to Nintendo, these two sites are said to be particularly famous among gaming pirate distribution sites. Nintendo is seeking damages against pirated distribution sites, which may amount to hundreds of millions of yen.

Nintendo Sues Console ROM Sites For 'Mass' Copyright Infringement (Update) - TorrentFreak
https://torrentfreak.com/nintendo-sues-console-rom-sites-for-mass-copyright-infringement-180720/

A game emulator is convenient for "people who want to play games on platforms other than game machines" that it is possible to play games easily on a PC or the like if there is only ROM data even if they do not have a game machine It is a tool. Emulators are particularly useful for playing "retro games that have already been sold", and users are becoming popular because they can easily play games that were crazy in the past on PCs.

However, many game makers do not feel comfortable with this situation, Nintendo who has developed game machines such as Family Computer , Nintendo 64 , and Nintendo Switch has developed ROM data of overwhelming popularity in the United States and abroad I filed a lawsuit against an illegally distributed emulator site.

In a complaint filed in the Arizona State federal court in the third week of July 2018, Nintendo "LoveROMs and LoveRETRO are one of the most open and famous online hubs for pirated video games" I express it. These two sites are considered to be operated by a company called Mathias Designs by Mr. Jacob Mathias.

Download FREE ROMs for NES, SNES, GBC, GBA, N64, SEGA, PSX, PS2, PS2, XBOX, WII, NDS, 3DS - LoveROMs.com | LoveROMs.com
https://www.loveroms.com/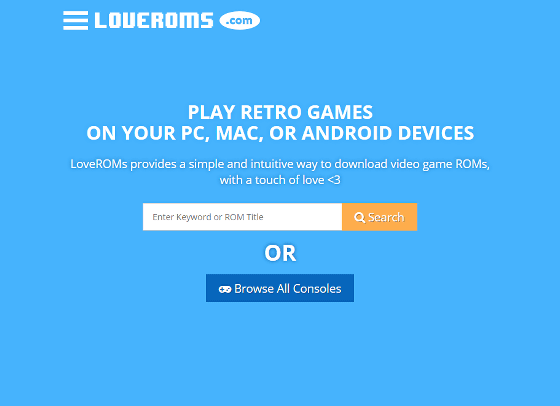 According to Nintendo, "LoveROMS.com" and "LoveRETRO.co" copy, distribute and display illegal copies of Nintendo's video games without permission. In addition to distributing copyright-protected games illegally, there are also many used logo and letters with trademarks on the site. In addition, it is distributed to the game machine's BIOS software.

While Nintendo says there are ones that are considered to be hobby projects in the ROM site, "LoveROMS.com" and "LoveRETRO.co" are "professional operation created for profit" We insist. In addition, in the complaint, "Defendant is not a casual gamer, but it is a sophisticated party with extensive knowledge of Nintendo's intellectual property rights and the video game industry."

In addition to hoping that two illegal sites will be closed, Nintendo wants $ 150,000 (about 17 million yen) per game title, up to 2 million dollars (about 220 million yen) per trademark infringement, We are seeking compensation for legal damages. In addition, when the two sites are combined, ROM data of more than 140 games are distributed, and more than 40 trademarks are used, which means simple compensation, damages of 100 million dollars (about 11 billion yen ) May be exceeded.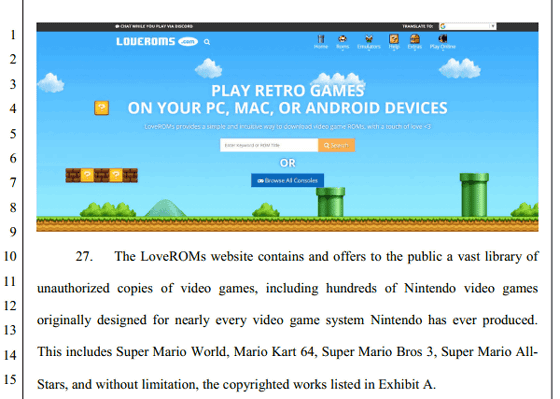 Nintendo requests the publisher side to hand over the domain name and a permanent injunction order to stop the copyright infringement act. At the same time, Nintendo also wants the publisher to reveal where ROM data was obtained from.

In addition, LoveRETRO.co, one of the sites appealed to Nintendo, has already been closed, and the page says "LoveRETRO will be closed until further notice. Thank you. "Is displayed.

LOVERETRO
https://www.loveretro.co/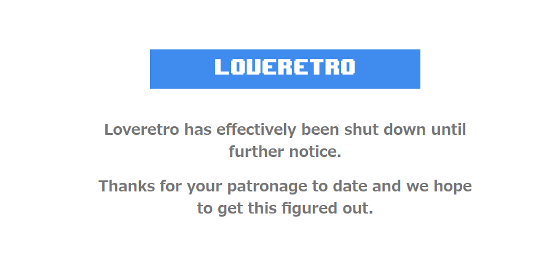 Furthermore, the time of article creation is not closed at the other LoveROMs.com.
in Game, Posted by logu_ii