I tried to eat 'Sanyo King Eats Hiroshima Juice none carriage noodle' reproduced like shrill's pungent at a popular shop earlier than Lawson's advance launch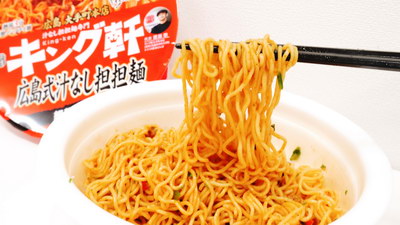 Cup noodles supervised by " Juice-free Burdened noodle specialty king " " Sanyo King Eats Hiroshima Juice-less Burdened Noodle " will appear in Lawson precedent from July 10, 2018 (Tuesday). I tried a pair of cup noodles which reproduced the "brilliant spice feeling" of a popular shop king 's noodle shochu noodle called one of Hiroshima city specialty.

Sanyo King House Hiroshima-type juice-free bamboo shoots 【Lawson precursor products】 | Lawson
http://www.lawson.co.jp/recommend/original/detail/1337395_1996.html


Everyone, good evening.
Finally became "Information lifting"?
It is scheduled to be released on July 10th at LAWSON nationwide ????
Thank you ????? ♂? Pic.twitter.com/e0cKrEAygr

- No juice bearing burden noodle specialty @ King (@ tantanmen 16) July 7, 2018

This is "Sanyo King Hitoshi Hiroshima Juice without Bearing Noodle" (216 yen including tax). It has become a cup noodle of Hiroshima type juice none Bamboo noodles. Hiroshima type juice without bearing juice noodles is a burden noodle born in Hiroshima City, which is characterized by its unique flavoring being done for each store without soup as well as those in Soyagi province of burgundy noodles.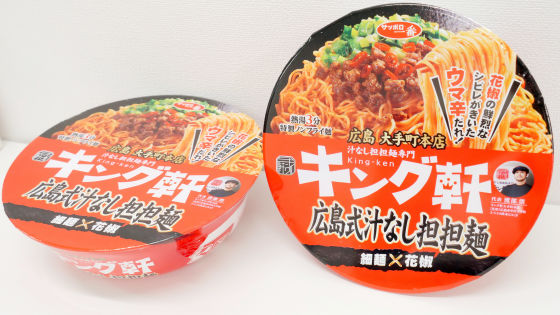 The size of the cup is about the same as that of a cup of bowl shaped cup and a cup of soaked soba. Compared to transportation type IC card (long side 8.5 cm · short side 5.4 cm) it is like this.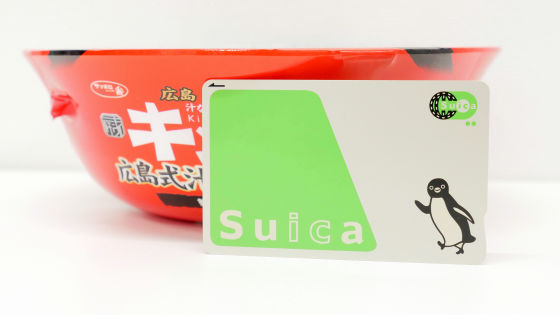 Contents amount is 110 g. Raw materials are sorted in the soup column such as "sesame seed" "rice grain" "pork extract". The manufacturer that manufactures this cup noodle is a famous Sanyo food for instant noodles such as " Sapporo No. 1 ".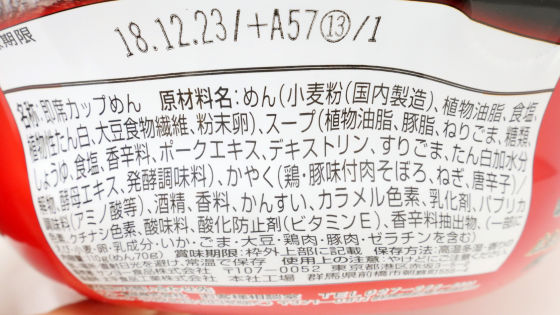 Heat quantity per meal is 506 kcal.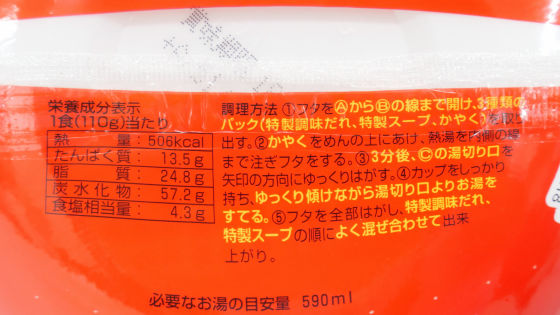 Peel off the package vinyl and it looks like this.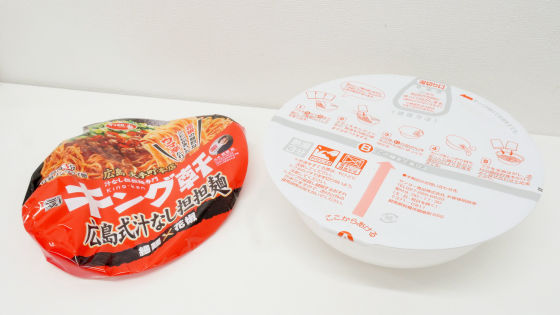 In the cup, there are special special seasoning seasoning special sauce / special soup / kitchen appended separately.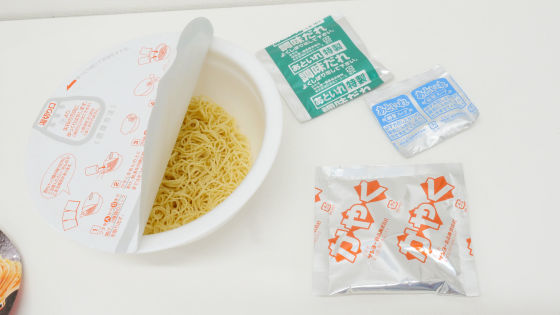 "How to make Sanyo King's Hiroshima Juice without Burdened Noodle" is almost the same as how to make a general cup Yakisoba. First of all, turn the lid to the line, that is, to about half, and put in mind the "chicken · porky with meat rag", "goat" and "chilli".



Next, pour hot water into the line inside the cup.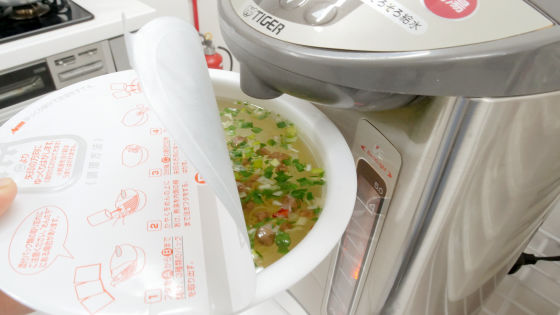 Return the flipped lid and leave it for 3 minutes.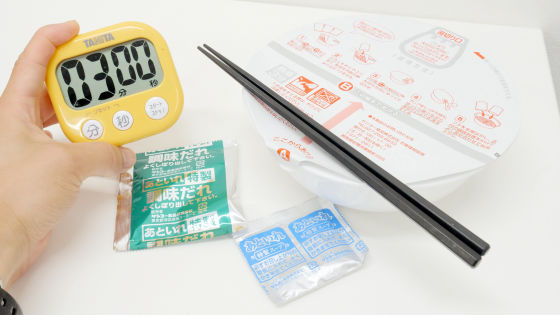 After 3 minutes elapse, peel off the lid's "hot water entrance" slowly and throw away the hot water from the hot water cut out.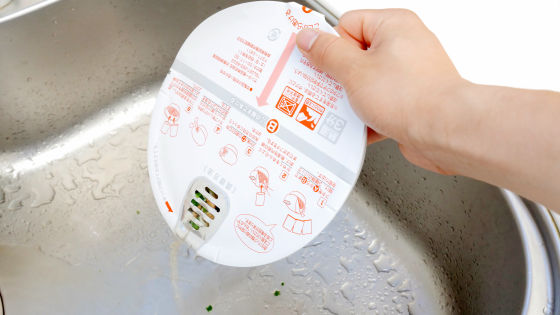 When peeling off the lid, you can see white noodles and sweet potatoes such as goat sucking hot water and swelling.



Next, if you mixed the specialty soup with the specialty soup with noodles well ......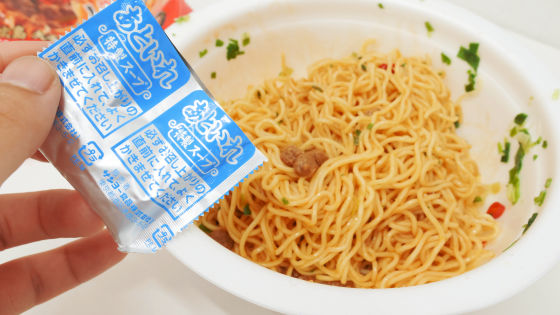 "Sanyo King Element Hiroshima Juice-free Burdened Noodle" has been completed.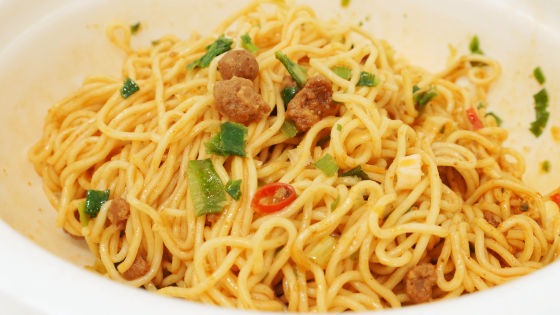 From the special noodles and special noodles stained with special soup, there is an exciting fragrance of spice. Among the fragrance, the scent of the spice " pepper " of Sichuan Province, China in particular gives a nose. In "Sanyo King Element Hiroshima Juice without Burdened Noodle", it seems that the scent of flower pepper of king is reproduced by using "Sichuan pepper pepper" 100%.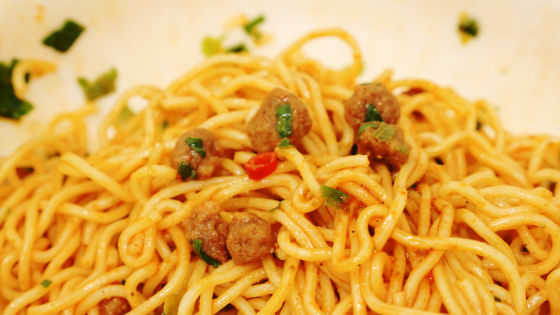 "Sanyo King Eating Hiroshima Juice without Burdened Noodle" is a hot pungent taste of chilli at first, followed by a pungent pungent taste of the pepper stimulates the tongue. Noodles are fine noodles like noodles and Hakata pork bamboo ramen, special taste seasoning special, soup special, and oil are tangled throughout the thin noodles. The pungent taste of the tongue every time you smear a thin noodle piles up and you want a drink, but there is not only pungent taste but also sesame flavor and it is addictive seasoning. Although I thought that I wanted drinks, the chopsticks were not finished because it was pungent and delicious.