American symbolic cuisine 'Garbage plates' that make you feel multi-ethnic country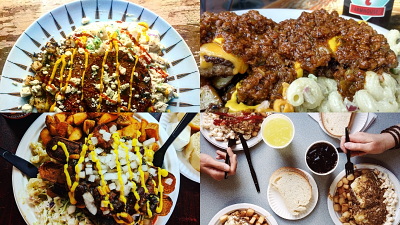 America is a multi-ethnic country that has been built up by immigrants, especially in the urban areas of the west coast and the east coast where various ethnic groups such as Caucasians, Hispanic, African, Asian, etc. are in a state of disorder. The variety of diet eating there is also diverse, but what exactly is "American cuisine" in the meaning? So, the American media Mashable reveals the typical American cuisine, whose name is also called "Garbage plates".

Garbage plates: The great American dish
https://mashable.com/2018/07/04/garbage-plate-american-food/#VlcwWliIuSqj

Although it is an article of Mashable that can take even a masochistic content if it does somewhat, in fact, the name "Garbage Plate" seems to be also "old-fashioned American cuisine used for a long time". In the restaurant " Nick Tahou's Hots " which has a store in Rochester, New York, it seems that Garbage Plate has been offering for over 100 years from 1918.

The following Instagram picture is an example of the dish actually served at the shop. "I can not say it is very healthy, but I hope everyone will eat it.The comment that everyone in Rochester is proud of this dish so much that I can not help it" It is felt that it is a typical American cuisine.


The following picture posted with the comment "The Garbage Plate stands at the top of the accomplishments that mankind has accomplished" includes a lot of fried potatoes, cookslow salads and macaroni salads with slender long hot dogs The things like bread, beans (bean) boiled, onions cut on dice, and mustard sauce are added at the end. It is exactly like "all shops", young people are likely to stimulate appetite, but if you look closely you can also see that the typical American drink "root beer" is also reflected in the corner.


One of the features of Garbage Plate is that it is provided in recycling containers such as paper. After all, on the fried potato and macaroni salad, put on the ground minced meat like taco dish, the following photograph with onion and mustard sauce "In the hot dog eating contest, there is a Garbage Plate eating contest Is it okay if I can participate? "Comment is added.


The origin of the Garbage Plate is found in Rochester in the mid-nineteenth century. On the east coast where many immigrants came in the 18th century, a wide variety of ethnic groups and cultures were already mixed, and there was a wide variety of things to eat. In the late nineteenth century, a lot of immigrants from Russia flowed into Rochester, a community was formed, and Alexander Tahou, one of those immigrants, opened the restaurant "West Main Texas Hots" in 1918.

"Hots" of the store name refers to Rochester specialty "hot dog". The store continues to offer hot dish and potato cooked dishes to residents living in Rochester and eventually it will settle as a dish for those living in this land.


After that, the time of generational change arrived at "West Main Texas Hots", and my son Nick will succeed the store. Then the newly born shop "Nick Tahou's Hots" has been continuing to provide Garbage Plate which remains the same as Rochester child for over 100 years from 1918. Garbage Plate, where typical ingredients "French fries, macaroni salads, minced meat, mustard" are gathered together with dodon, really stimulates appetite. If you cheek on the Garbage Plate with the beer "Tank 7 Farmhouse Ale" set behind that, you surely should have a happy world there.