Potential for future cloud games for Nintendo Switch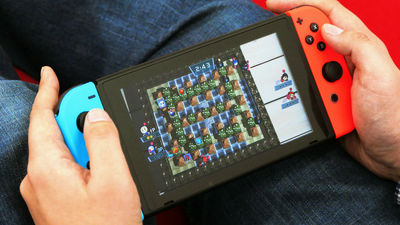 Capcom 's " Biohazard " series latest work " Resident Evil Resident Evil " has appeared on May 24, 2018 for the Nintendo Switch . The Nintendo Switch version "Resident Evil Resident Evil" is delivered in a new form called " cloud game ", not the release in the traditional package version and download version, but Capcom is also based on cloud games I am clarifying that I am scheduling a title release.

More Nintendo Switch Videogames May Be Coming Via the Cloud - WSJ
https://www.wsj.com/articles/a-spotify-for-videogames-companies-look-up-to-cloud-for-game-services-1529572643

Nintendo Switch games usually have two types, "Packaged version" which plays soft cards inserted in the main body and "Download version" which downloads data from the exclusive store and plays. The packaged version can not be played without inserting the soft card of the game you want to play in the main body, and the download version has to download all the game data which has many gigabytes in advance beforehand through the Internet.

However, in "cloud game" like biohazard 7 there is no need to download game data. Operation information by the controller is transmitted to the cloud server through the internet line, and all computation, processing, and communication of the game are done on the cloud server. Then, the resultant video / audio is again displayed on the game machine through the internet line. In order to play you need only download the exclusive application and you can greatly reduce the cost of transplanting each gaming machine.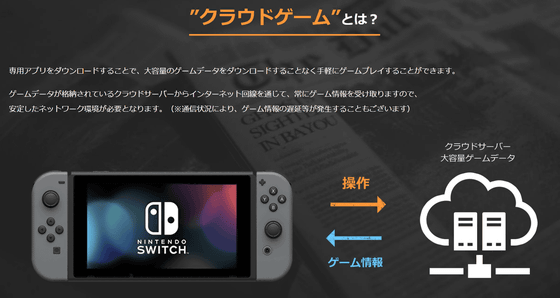 Also, in the package version and the download version, we purchase game data in the form of purchasing it, but in the cloud game, we purchase the right to use the cloud server according to the time. For example, the Nintendo Switch version "Resident Evil Resident Evil" can purchase and play the 180-day play ticket at 2160 yen including tax.

Cloud game services include PlayStation Now which can play titles of PlayStation 4 · PlayStation 3 with PC and PlayStation 4, Android version · Nintendo 3DS version " Dragon Quest X Awakening five race online " etc. But it was used. Also, the Nintendo Switch version of Sega's popular online RPG "Phantasy Star Online 2" is also offered as a cloud game.

"PSO 2 cloud" special site for Nintendo Switch | SEGA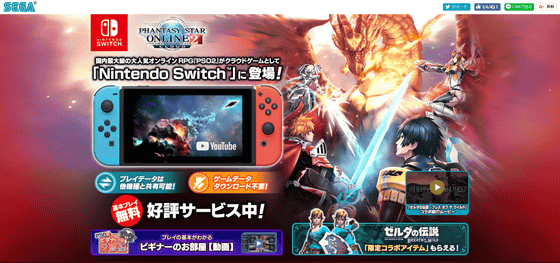 The Wall Street Journal is a reporter for Takashi Mochizuki to Capcom interview was carried out, that of the Capcom is planning is also possible to carry out the title also released in the cloud game in the future. Depending on the sales of "Resident Evil Resident Evil" for Nintendo Switch, Capcom thinks that other titles will be converted to cloud games with Nintendo Switch. Not only Capcom but also other companies may follow up.

Capcom that issued cloud version Bio 7 for Switch. There are plans to use other schemes for using the same scheme. Compared with transplantation, it is attractive to extend the lifespan of software without cost. If the attempt is successful, other companies may use the same method. Please note that the photo is not my choice, so there is no other choice. https://t.co/67VLIopiDS

- Takashi Mochizuki (@ mochi_wsj) June 21, 2018

However, because cloud games can not be played unless environments where large amounts of data can always be exchanged over the Internet, one of the advantages of Nintendo Switch that you can carry and play anytime, anywhere can be lost. Also, in cloud games, there is always a delay from input to output, so there are some difficult to introduce in fighting games or shuffing games where timing is required in units of 1/60 second. Still, cloud games that can play large titles at cheaper prices than ever are attractive to users. I would like to expect future popularization of cloud games.
in Game, Posted by log1i_yk