"My Hero Accademia THE MOVIE ~ 2 Heroes ~" Advance bonus is 3 kinds of clear file combining Dek & Baku & roar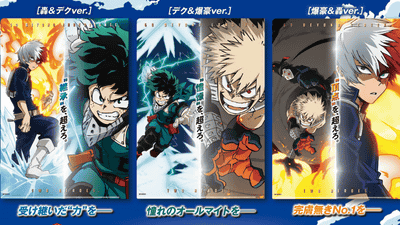 It will be released from August 3 (Fri)My Hero Accademia THE MOVIE ~ Two Heroes (Hero) ~"It was announced that the pre-award privilege of the three will be all three clear files combining two people, Deku & Baku & roar.

"My Hero Accademia THE MOVIE ~ 2 Heroes ~" Official Site
http://heroaca-movie.com/

Advance tickets with clear file benefits are released on Friday, June 22. When buying it, you can select one from three types per ticket. In the clear file, a catch phrase of "Beyond your destiny by life.In comparison to "
· Dek & amp; Bombastment ver:Go through the admiration.
· Roar & amp; dec ver .:Over inheritance, exceed.
· Bakugan & amp; Goro ver .:Go beyond the apex.
A catch phrase is attached.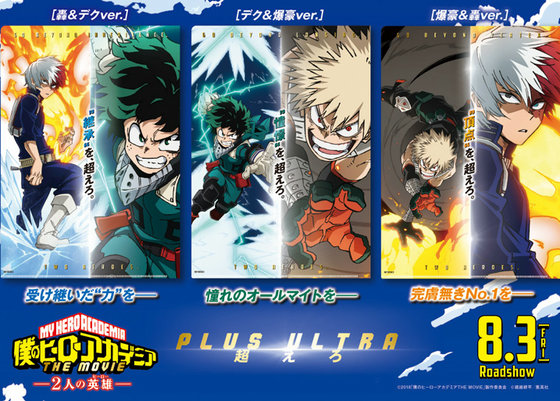 The contents of the movie version is completely original, and it is a synopsis like the following.

Young High School member who has refrained from the forest training camp during the summer vacation after the final exam of incandescence.
Desk and Almight received an invitation from a certain person and were visiting a huge population moving city [I · Island] floating overseas.
Indeed the science researchers from around the world gathered their intelligence gathering in the islands like Science Hollywood exhibiting research results of personality and hero item, [I · Expo] being held, Dek is a "girl with no individuality" Meet Melissa. Melissa decks to superimpose myself who was once the same "no personality".
At that time, suddenly the security system of the island boasting the security of the steel wall is hacked to the enemy (villain), and all the people inside the island are captured by the hostages!
Now, a plan that will shake the structure of the hero society will be activated -!
It is the symbol of peace (number one hero) · almight that holds the key.

In the specials video, you can see the appearance of Dek and Almight visiting the island, as well as the appearance of young people of almighty.

【Special Issue】 "My Hero Accademia THE MOVIE ~ 2 Heroes (Hero) ~" / August 3 (Friday) released - YouTube


Mr. Makoto Shida as a girl named Melissa of "no individuality", Matsuri Nagase who is Melissa's father and a scientist · devit who was a companion of young almighty.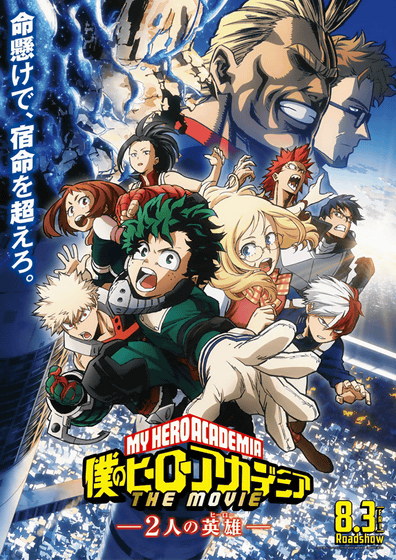 Besides, the TV animation series being broadcast from April 2018 is also showing excitement, and on June 16, 2018 (Saturday), at TOHO Cinema Hibiya, the role of almight Kenta Miyake & All For One role as almight It is decided to organize an event that combines talk live by Akio Otsuka and this movie.

6/16 (Saturday) Animation Kenta Miyake vs. Rea Thai Broadcast v Atsuo Otsuka Ms. Talk Show & Screening Events to be held! !
http://heroaca.com/news.html#2018060201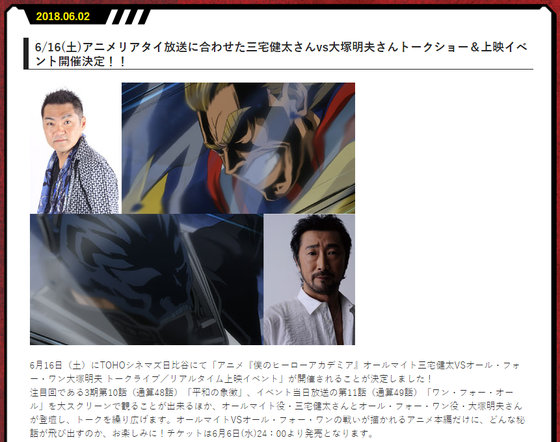 Eleventh episode "One for All" will be screened according to real-time broadcasting, so expectations will increase for what kind of talk will be held. The ticket starts from Wednesday, June 6 (Wednesday)TOHO Cinemas Hibiya / ShanteIn addition to being released on the net ticket sale page, from June 7 (Thursday) you can also purchase at the theater window.

◆"My Hero Accademia THE MOVIE ~ 2 Heroes (Hero) ~ Information"
Release date: Friday, August 3, 2018
Original · General supervision · Original draft: Kohei Horikoshi
Director: Kenji Nagasaki
Screenplay: Yousuke Kuroda
Character design: Yoshihiko Magoshi
Music: Yuki Hayashi
Animation Production: Bonds
© 2018 "My Hero Accademia THE MOVIE" Production Committee © Kohei Horikoshi / Shueisha

· Performance of voice
Deku: Yamashita Daisuke
Almight: Kenta Miyake
Katsumi Bakuro: Okamoto Nobuhiko
Oshika Rei: Ayane Sakura
Tianya Iida: Ishikawa Toshinin
Rewroading: Yuuki Kaji