"My hero academia" The third phase of animation starts in April 2018, the first key visual is going to jump out Dek & Bakugan & Allmight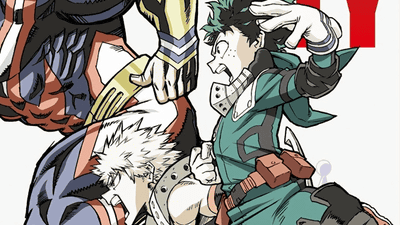 Popular work whose series cumulative issue circulation has exceeded 12 million copies "My Hero Accademia"The 3rd series of TV animation was announced to be broadcast start in April 2018. At the same time the first key visual is released.

TV anime "My Hero Accademia"
http://heroaca.com/

My hero Academia _ Animation official (@ heroaca_anime) | Twitter
https://twitter.com/heroaca_anime

"My hero academia" is a supernatural ability called "personality" in the natural world, the hero who admired the hero who confronts the enemy (villain) exploiting "personality" Teruyoshi Midori, prestigious of hero breeding · It is a work depicting the appearance of growing together with his colleagues at Yu Young High School.

The first key visual that was released was drawn by character designer Yoshihiko Magoshi, the rival 's bomb victory with his hero' s deck and classmate, the No.1 hero Almighty said "Beyond, Plus Ultra (Pulse · Ultra)! "Is drawn out.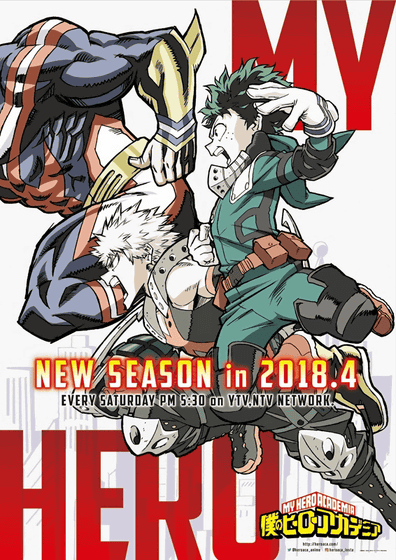 © Kohei Horikoshi / Shueisha · My hero Accademia Production Committee

The third period is broadcasted from 17:30 every Saturday at 29 stations nationwide Yomiuri and Nippon TV series from April 2018.

◆ Staff
Original: Kohei Horikoshi (Shueisha "Weekly Shonen Jump" series)
Director: Kenji Nagasaki
Series composition: Yousuke Kuroda (Studio Orphe)
Character design: Yoshihiko Magoshi
Character design assistant: Hitomi Odashima
Music: Yuki Hayashi
Animation Production: Bonds

◆ Cast
Muroya Teruyuki
Katsumi Bakuro: Okamoto Nobuhiko
Oshika Rei: Ayane Sakura
Tianya Iida: Ishikawa Toshinin
Rewroading: Yuuki Kaji
Frog Blow Me Rain: Yuki Aki
8 million hundreds: Mary Inoue
Kashiro Kurisaki: Toshiki Masuda
Aizawa Shota: Junichi Suwabe
Death pattern faith: Uchiyama Takashi
Almight: Kenta Miyake
ALL FOR ONE: Akio Otsuka
in Anime, Posted by logc_nt