As you can see Tokyo Metro station premises on Google Street View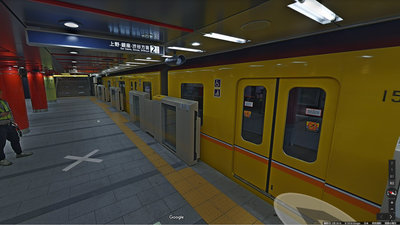 Home stations and concourses of 13 stations including Tokyo Station, Ueno Station and Shimbashi Station of Tokyo Metro can be seen on Google Street View, and it becomes possible to find out the route of transfer in advance in advance It was.

Google Street View at Tokyo Metro Station premises has been released!
(PDF file)http://www.tokyometro.jp/news/images_h/metroNews20180528_64.pdf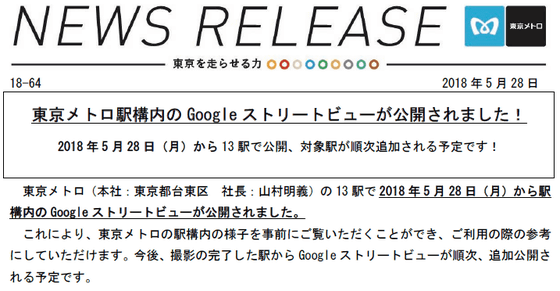 It corresponds to Street ViewAkasaka Station(Chiyoda Line),Akasaka Mitsuke Station(Ginza Line · Marunouchi Line),Asakusa Station(Ginza Line),Ueno Station(Ginza Line · Hibiya Line),Gaienmae Station(Ginza Line),Kojimachi Station(Yurakucho Line),Shimbashi Station(Ginza Line),Tatsumi Station(Yurakucho Line),Tameike Sanno Station(Ginza line / Namboku line),Tokyo Station(Marunouchi Line),Toranomon Station(Ginza Line),Nishi Shinjuku Station(Marunouchi Line),Roppongi Station(Hibiya Line) 13 stations. It seems that we shot in the late night / early morning zone, there are unmanned concourse and home, and if the exit is connected to the building, you can see the picture that the shutter of the communication aisle is descending.

For example, a ticket gate for Atsugi street at Akasaka station looks like this.


Home can be seen like this


At the end of the Tokyo station's home, it seems that he seems to be maintaining air-conditioning equipment.


Shooting of Asakusa Station was done at 0:45.


In the future, it will be released further from the station where the shooting was completed further. Even at stations where the transfer route is difficult to understand if it is a premises map, if we can pursue in this way with street view, we can not get lost, so it is important to know that at the station where there are many transfer exits to other lines like Shinjuku station and Shibuya station I would like to wait for correspondence.