Twitter Third-party application announces a new API "Account Activity API" that makes real time timeline acquisition impossible from August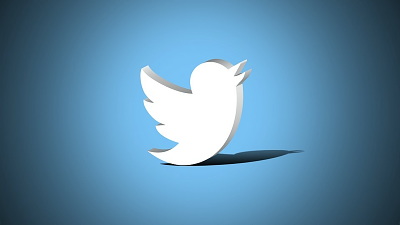 Twitter is a local time on May 16, 2018, a new API replacing the existing "User Streams API"Account Activity APIWe will announce to offer from August 16. Thanks to this change, it is impossible to acquire the timeline in real time, which was unlimited so far, so that the limitation of "15 times in 15 minutes" will be applied so that third party Twitter It is inevitable that services such as applications will be affected.

Enabling all developers to build on the Account Activity API
https://blog.twitter.com/developer/en_us/topics/tools/2018/enabling-all-developers-to-build-on-the-account-activity-api.html

Twitter is going to make third-party apps worse starting in August - The Verge
https://www.theverge.com/2018/5/16/17362138/twitter-api-third-party-apps-changes-explained

This change was originally announced to be executed on June 19, 2018. Since many services will be affected when it is impossible to acquire the timeline in real time, Twitter, who received massive repulsion from users,I postponed. However, at that time, "We will provide you with a sufficient transition period by notifying 90 days before formally declaring", and this notice has actually been done in this time.

The "User Streams API" which has been provided so far has streamed Twitter's timeline update by push notification. Because it was possible to receive Twitter updates in real time,TalonYaTwitterrificThird-party Twitter client applications such as Android has been widely used.

In other words, because the User Streams API, which became the "life line" for third parties, will be replaced with the Account Activity API which imposes restrictions on the frequency of information acquisition, each vendor will need to deal with large scale It is inevitable to be done. But Twitter is "using streaming 1% of monthly active applications", and the influence is limited.

We have no plans to add that data to Account Activity API or create a new streaming service. Home timeline data remains accessible via REST API.

- Twitter Dev (@ TwitterDev)May 16, 2018

In the newly provided Account Activity API, when using the "Webhook" to change the account associated with the application sideYou can receive notifications from TwitterIn such a way that the conventional "Each user has a connection to the Twitter server,The requested Twitter server notifies the information"It is the opposite of the mechanism that is called. In other words, with the User Streams API so far, the Twitter side always had to wait for a user's request, but the Account Activity API will be able to notify you Twitter-led information.

In addition to this announcement, the fee structure of the Account Activity API has also been announced. Up to 15 accounts, you can use free "Premium (Sandbox)", but from 16 accounts to 250 accounts you need to subscribe to a premium version for a fee, and for 251 accounts or more you must sign an enterprise version.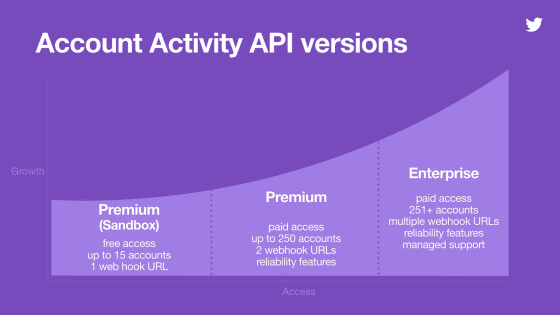 Paid Premium version is set in 4 stages according to the number of accounts and it is necessary to pay monthly usage fee of 339 dollars (about 37,000 yen) up to 2899 dollars (about 320 thousand yen). For the price of the Enterprise version, it is "inquiries".

Pricing - Twitter Developers
https://developer.twitter.com/en/pricing/aaa-all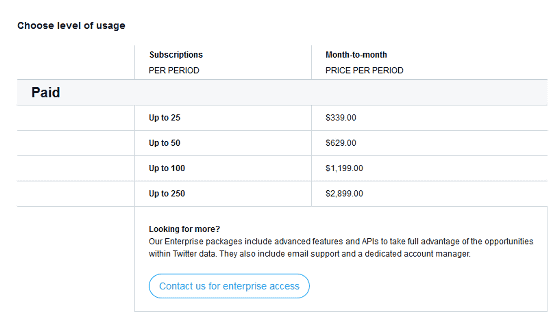 It is believed that this change will affect desktop / web version of the client application over mobile version applications. According to Luke Kinker, developer of Talon, automatic refreshing timelines with mobile apps will consume more battery power, so users using this feature are limited to 2 to 3% of the total It is said that. Meanwhile, desktop / web version client applications that are not harmful will greatly limit timeline renewal due to previously available push notifications.

In addition to the decline in real-time performance, it is believed that the developer of the client application will receive a great blow due to the usage fee, according to The Verge, the case of abandoning to continue providing the service actually It is said that it is beginning to appear. Twitterrific's senior engineer, Craig Hockenberry said, "I am concerned that Twitter understands that many of Twitterrific users are using Twitter for many years and are highly engaged." We are not satisfied with Twitter's official service and we are seeking other alternatives to meet that need, "said Twitter We point out that a divergence exists between the service and the actual user's needs.