What kind of personal information is collected by Apple? Record that it became like this when requesting disclosure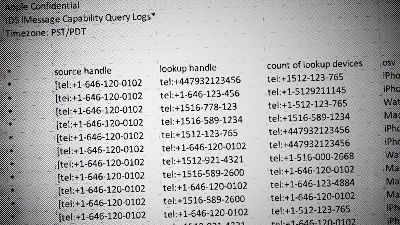 Facebook personal data leakAs you can see from the case of the technology company, we collect a lot of user's personal data. How much corporate information is collected by my company? So I requested Apple to disclose the collected informationZack WhittakerMr. reveals its contents.

I asked Apple for all my data. Here's what was sent back | ZDNet
https://www.zdnet.com/article/apple-data-collection-stored-request/

Mr. Whittaker of the writer claimed his data collected by Apple from the first purchase of Apple's device in 2010 until the year 2018. Then, after a week, Apple sent a ZIP file of 5 MB of compressed capacity of multiple Excel spreadsheets. In the past, Mr. Whittaker made similar charges for Facebook, Google, and Twitter, in these cases it sent data of hundreds of megabytes to several gigabytes from a few minutes to an hour, so Apple's response is relatively It's a slow pace.

This is a list of data sent from Apple.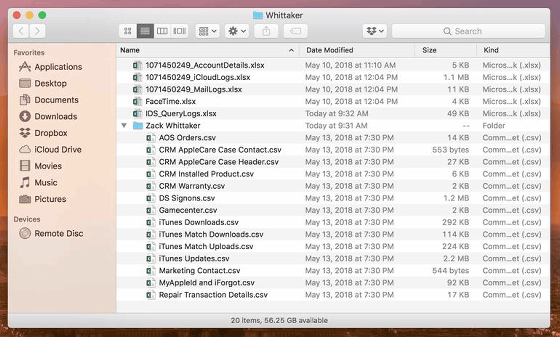 The data sent from Apple did not contain content information such as messages and photos, and metadata such as "When did you send the message" and "When did you use FaceTime" was the center. The data obtained by Whittaker is as follows.

◆ AccountDetails.xlsx
A file called "AccountDetails.xlsx" contains the basic information of the owner of the account. In addition to the name, address, telephone number, Apple ID information, it is written when the account and IP address were created in Apple's server.

◆ iCloudLogs.xlsx
iCloudLogs.xlsx contains the date and time that the device downloaded data from iCloud. However, details of what kind of data was downloaded is not given.

◆ MailLogs.xlsx
MailLogs.xlsx is the part that records when mail was sent from an Apple device connected to an iCloud mail account. Content itself is not recorded. The following is the actual data, you can see when FaceTime was used and on which terminal it was used. The time said that the first timing of FaceTime put on the other party via Apple's server is stated. It is not known whether the phone has led to a call.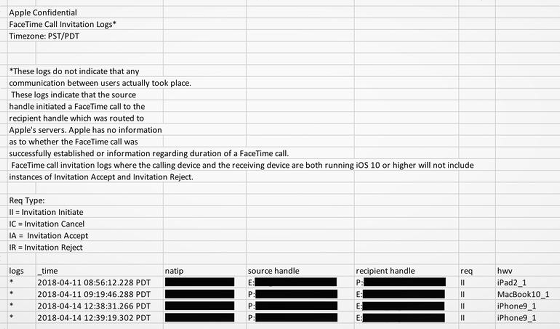 ◆ AOS Orders
A record of devices and accessories purchased from the user by Apple is described in "AOS Orders". In the case of Mr. Whittaker, it was said that the information of the earphone which is being replaced once a year was written.

◆ CRM Installed Product
CRM Installed Product is a list of all Apple devices you have purchased so far. It seems that detailed information such as serial number, Bluetooth MAC address, Wi - Fi connection etc included detailed information such as terminal identification.

◆ CRM AppleCare Case Contact
Here is the contact owner's contact information. In addition to name, address, telephone number, it is written whether the user is permitting marketing mail or telephone.

◆ CRM AppleCare Case Header
What is written with information on interaction with customer support. It also describes what kind of communication was done with the following feeling.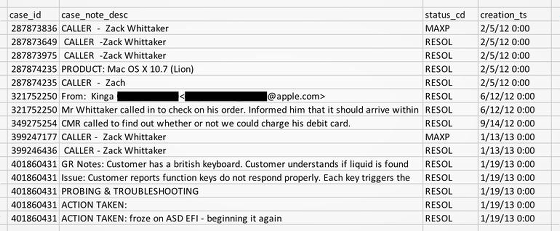 ◆ CRM Warranty
Here is the full information on the warranty relationship, such as when the guarantee expiration date of the terminal is written here.

◆ DS Signons
DS Signons is a long list that tells you when and when users logged in to iTunes, including surrounding information such as login failures.

◆ Game Center
Contains information on all game sessions played by the user.

◆ iForgot
For iForgot,Apple ID web pageThe log when the user visited and the record that reset the password are recorded.

◆ iTunes Match Uploads
the useriTunes MatchA record of the songs uploaded to. Some of this information is used to identify the terminalUser AgentIt was said that it was included.

◆ iTunes Match Downloads
In a similar way as above, there is a list of songs downloaded from iTunes Match.

◆ iTunes Downloads
A record of everything downloaded from the iTunes Store by the user since the account was created. In addition to the names of applications, songs, albums, movies, movies, etc., the IP address and what device downloaded it is written.

◆ Repair Transaction Details
In Repair Transaction Details, the number of times Apple has asked for repair, along with the reason why the repair was requested. These pieces of information were recorded by Apple staff and said that the information to identify the terminal, such as IMEI, was included.

◆ Marketing Contact
Information on whether Apple can contact users for marketing purposes was written. Information such as "I have a developer account" is also written.
in Note, Posted by darkhorse_log