Paid version of Google Drive is renamed to "Google One", unique user benefits are also emerging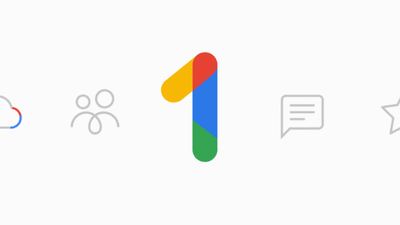 "Online storage service provided by Google"Google Drive"All users with a Google account can use 15 GB of storage for free. More and more people are now storing data on online storage such as Google Drive due to the appearance of smart phones, but if you want to use more than free capacity, you need to extend the capacity you can use for a fee there is. Paid version also existed in Google Drive, but the name of this paid version is called "Google OneGoogle announces that it will rename it.

One simple way to get more out of Google
https://www.blog.google/products/google-one/one-simple-way-get-more-out-google/

Google announced that it will upgrade all Google Drive paid storage plans offered to the general public to Google One within the next few months. Please note that this change is limited to paid Google Drive for the general public, and it seems that it will not affect the free version of Google Drive and business users using G Suite.

Paid plan that Google One can secure online storage to store in Google Drive, Gmail, Google Photos altogether. The monthly plan is from 100GB / 1.99 dollars (220 yen), which is 200GB / 2.99 dollars (about 330 yen), 2 TB / 9.99 dollars (about 1100 yen). The maximum capacity of the storage is 30 TB, and various options are prepared for the plan of 2 TB or more, and it seems that the user can freely choose a plan that suits him.

The monthly plan for the paid storage plan of Google Drive so far is as follows.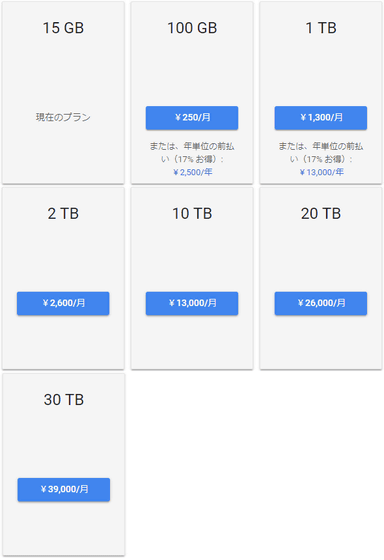 "Various options offered in a plan of 2 TB or more" seems to be points that can be used for customer service and Google Pay.

According to Google, it seems that users using a large amount of storage tend to use many other Google services, and Google One says they will be able to use customer help services for those users with just one tap. In addition, you can get points that you can use with Google Pay, and you can earn benefits such as great hotel reservations via Google search. We are planning to further enhance these benefits for Google One users in the future. In addition, Google seems to have received a lot of requests for "we want our family to share the storage plan", and Google One can add users to the plan up to five people in response to this request .

Google One will be rolling out globally starting with the United States, and if you already use Google Drive's paid storage plan, it will be automatically upgraded to Google One within the next few months . If you use 1 TB of paid storage plan with existing Google Drive, it will be upgraded to 2 TB plan without additional charge.

If you want to get the latest information on Google One as soon as possible please enter the email address on the following page and click "Receive updates".

Google One is coming soon