Google map supports AR navigation function, navigation can be done just by holding the camera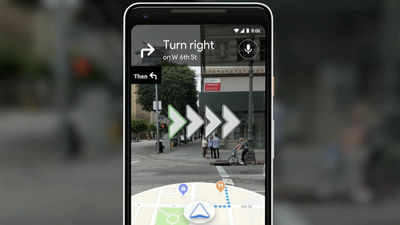 Google's event for developers that began from May 9, 2018 "Google I / O 2018"During the keynote lecture, the Augmented Reality (AR) navigation function was announced as a function that is newly implemented in Google Maps.

Google Maps unveils its first-ever augmented reality interface | Ars Technica
https://arstechnica.com/gadgets/2018/05/google-maps-unveils-its-first-ever-augmented-reality-interface/

Google does not disclose details about when the AR navigation function implemented in Google Maps will appear, but "It is definitely the future of Google Maps," Ars Technica of foreign news media wrote I will.

What kind of navigation will be possible if you actually use the AR navigation function is like this. When the cityscape is projected with a camera such as a smartphone, the proceeding direction is displayed on the screen as follows. Unlike previous navigation functions that rely on the blue dotted line displayed on the map, I can understand when, where, and in what direction I should proceed.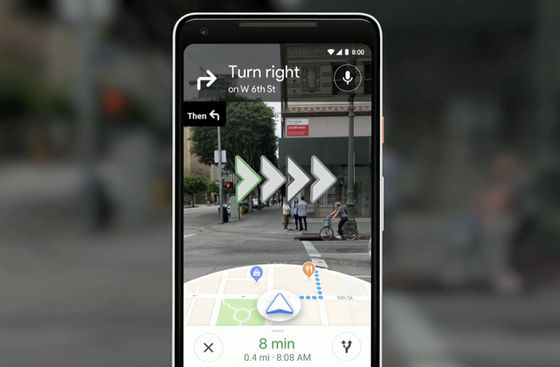 While using the AR navigation function, building information is displayed on the road as follows.



In addition, there seems to be an animal assistant who guides the user to the destination.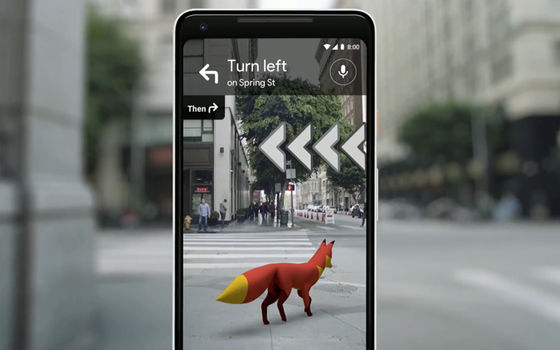 Aparna Chennapragada, Vice President at Google, announced the new features of Google Maps. According to him, this function says, "GPS alone can not make it work well," a system to accurately estimate the position and direction of a terminal from the image obtained from the user's smartphone camera "visual positioning system (VPS) "is also used to reveal that it is also used.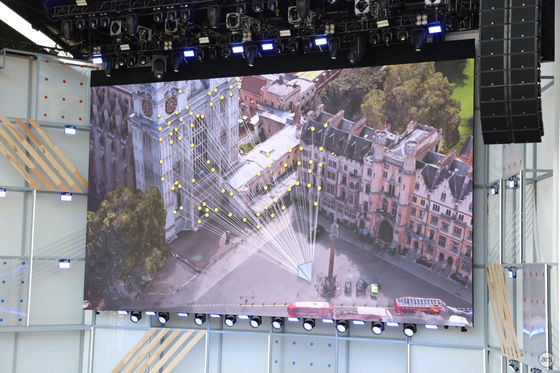 Apart from this, Google Maps has been updated and new features have been added.

Explore and eat your way around town with Google Maps
https://www.blog.google/products/maps/explore-around-town-google-maps/

The "surrounding spots" tab was newly redesigned, so that we can check the information of the nearby places at once. When you check a specific area on the map, "meal", "event", "activity", etc. about the area are displayed.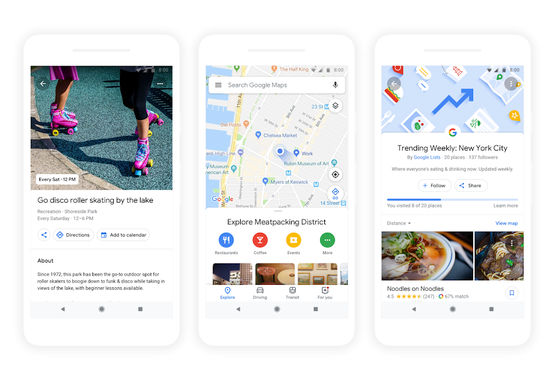 Also, when you tap on information such as restaurants, you will see how much you can enjoy the place in percentage. Moreover, sentences explaining why you can enjoy it are also displayed. This is a "more advanced recommended function" which was made possible by learning machine and other things about restaurants etc. in detail than before. The restaurant information that I found and actually went searching on Google Maps in the past, and how I evaluated those restaurant information, etc., I will beat out the numbers. Of course, as the user's preferences change, this evaluation criteria also changes, so it is possible to introduce recommendation stores tailored to the user's preferences at any time.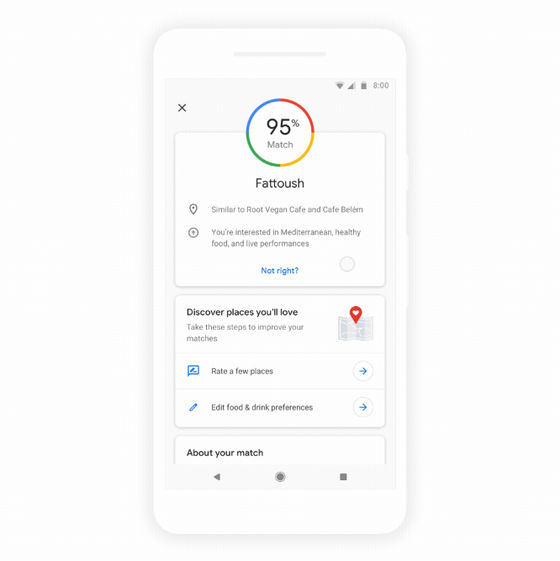 In addition, new functions optimized for adjusting the schedule of everyone are also implemented when eating with multiple people. By holding down the place you are interested in, you can create a candidate list that you can share with friends, family, etc. Once you have decided on the opinions of everyone, you can also make a reservation for your shop on Google Maps .

In addition, a tab called "For you" is added, and the recommended spot calculated from the user's preference is displayed.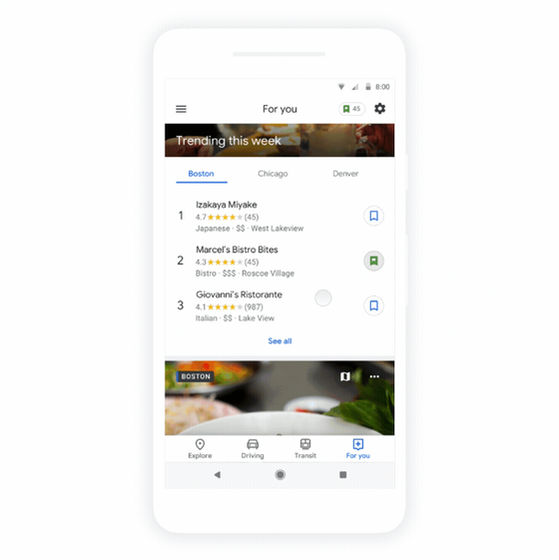 These new features will be implemented in Android and iOS within the next few months. Also, in the summer of 2018 Google Assistant will be implemented on Google MapsannouncementIt has been.