Obviously Tesla has laid off the "multiple subcontract" by dismissing workers with low productivity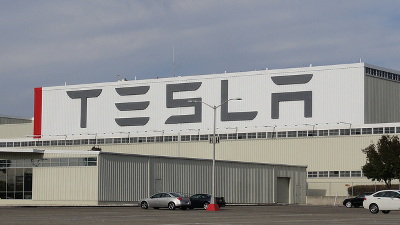 ByStephen Pace

We are dispatched from contractors (subcontracting companies) and subcontractors (subcontractors) who are in charge of part of production at Tremblant's Fremont factory etc. which still has problems in the production of the latest model EV "Model 3" A large-scale arrangement of workers has begun, and people with low evaluations from Tesla employees are starting to be laid off.

Tesla starts brutal review of contractors, firing everyone that is not vouched for by employee | Electrek
https://electrek.co/2018/05/06/tesla-brutal-review-contractors-firing-vouching-employee/

The origin of the thing goes back to the contents of the e-mail that Mr. Earon Mask of the company had sent to employees on April 17, 2018. In addition to conducting a review to improve production efficiency by stopping the operation of "Fremont Factory" which produces Model 3 and "Giga Factory 1" producing that battery, for about 4 to 5 days "Knowing the fact that there are staff who are dispatched by complicated contracts that include a large number of subcontractors among the staff in charge of work on the production line and subcontractors from subcontractors I was disappointed "was stated to the effect.

Mr. Mask expresses the structure of many subcontractors as "like Matryoshka of Russia", and the fact that costs are jumping up due to the "hollowing out" of fees by a number of traders is done Vision. In addition, many of those vendors are paying on a production time basis rather than a pre-determined contract amount as a problem.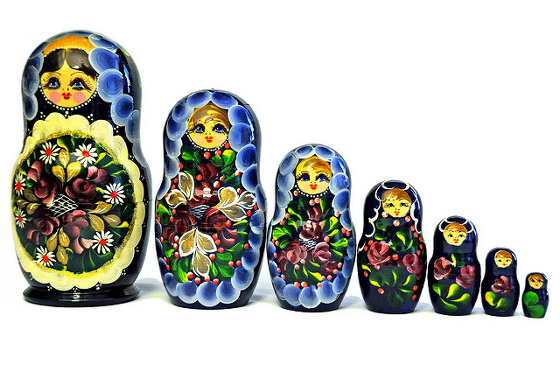 ByDennis Jarvis

In response to this situation, Mr. Mask also said that even in the first quarter results announcement in 2018, "Since the number of third party subcontractors is no longer controllable, we scrape stubborn dirt It is a ridiculous situation.As plaque is piled up on the plaque, so we have to remove a lot of plaque at once in a moment, "a large-scale consolidation of the situation of subcontractors in the vicinity He expressed his policy.

Mr. Mask said that contract workers' performance ranges from very good workers to those who are worse than drunkards, "and expressed a policy to continue using only talented personnel who can meet Tesla's criteria. We inform each contractor to adopt a mechanism to evaluate the quality of the work contents of workers dispatched from subcontractors, and constantly appeal "How efficiently are they doing high-level jobs"? With a period of time, each company was given the opportunity to survive in Tesla's factory. This period was extended once, but in the press dated May 6, 2018, it is clear that the dismissal by this effort finally began to appear.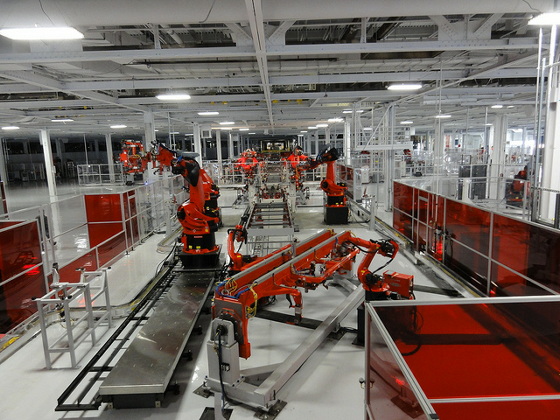 ByStephen Pace

It is unknown how much contract workers are actually laid off, but while more than 10,000 employees are working alone at the Fremont factory, the number of contract workers is said to be about several hundred people It is said that. On the other hand, because Mr. Mask has announced that 400 people will be newly hired per week to make full use of the production of Model 3, this measure is not merely a reduction of people, but a structure to save waste It is a pattern that is done as a review of. In addition, it is said that this effort will be implemented not only at the Fremont plant, but also at Tesla related facilities throughout the world.

In addition, in the comment field of Electrek 's article that reported this matter, a person who names as a relatives of the person who worked at Tegra' s Giga Factory posted a comment that "leaks" the situation on the scene. According to it, inside of Giga Factory, there is a person who controls subcontractor's situation absent, so it is in a disorderly situation. Also, the fact that workers dispatched from such suppliers are called "fleas", the fact that the hired electricians do not have any experience in industrial or factory automation, and that they are made in Germany Despite the introduction of production facilities at one time, the actual situation that it was left unused for weeks until actual use is noted, and there are situations where the operation plan of the facility and the work instructions to the workers are not shown at all It is said to exist.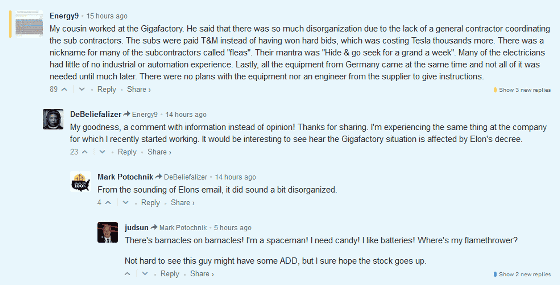 in Note, Posted by darkhorse_log