Backup of save data is impossible with Nintendo Switch, hackers are building backup system

byCorey Motta

Nintendo SwitchAlthough the data of the photo data and the game software can be saved on the microSD card,Save data can only be stored in the main memoryIt has become like. That is, backup of save data is impossible. If you lose your entire Nintendo Switch or if saved data is damaged by some kind of effect, all the save data you've played over the course of time will disappear, but in the Nintendo Switch actively Has been doneHacking actThanks to that, you may be able to back up saved data you want.

Hacker Says It Took Him Two Weeks To Add Save Back-Ups To Switch
https://kotaku.com/hacker-says-it-took-him-two-weeks-to-add-save-back-ups-1825176821

Bernardo Giordano says that it is developing software for save data backup for the Nintendo Switch. The name of the software being created is "Checkpoint", which means that you can easily create backup data using this. In the past Giordano used the backup software "Checkpoint" of the Nintendo 3DS version and "Pocket Monster save data" can be remodeledPKSMPerson who created such as. Kotaku of overseas game media from Giordano's past creation software etc. wrote that "It is reasonable to believe that Mr. Giordano has expertise on Nintendo Switch save manager".

Giordano seems to have rewritten the Checkpoint created for Nintendo 3DS for Nintendo Switch, but it seems that implementation took about two weeks. This is because Giordano has experienced working with homebrew library for Nintendo 3DS and working for the Nintendo Switch version Checkpoint was relatively early.

Checkpoint that Giordano is creating. In the upper left of the screen is "Mario Kart 8 Deluxe"Or"The Legend of Zelda Breath of the Wild"Nintendo Switch game names are lined up, and at the bottom right of the screen is clearly a button called" Backup ".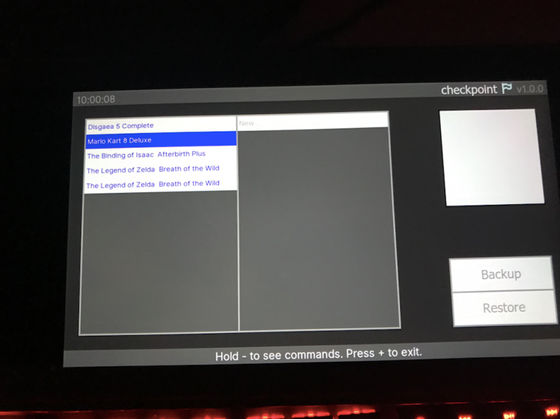 Shot the moment when changing the name of backup data with software keyboard.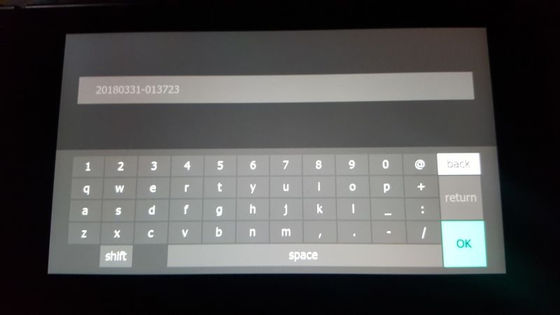 According to Giordano, the Checkpoint of the Nintendo Switch version is currently being tested, it is not yet officially released. However, the source code has already been published on GitHub.

GitHub - Bernardo Giordano / Checkpoint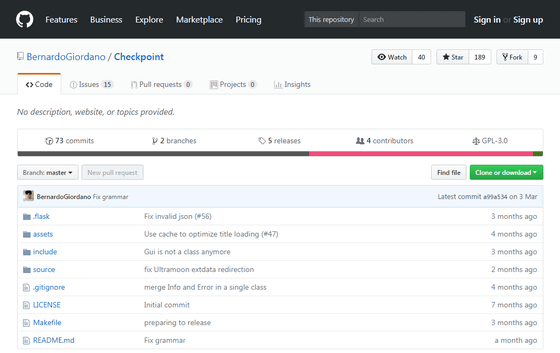 Nintendo's Nintendo SwitchMoved save data to another Nintendo SwitchAlthough it is making it possible to do, it is not possible to save save data in some data storage medium, PC, cloud and so on. In order to solve this problem, Giordano is trying to develop a checkpoint for the Nintendo Switch version, but why Nintendo officially does not implement the backup function of save data, "Nintendo's benefit is the backup function of save data In general, the backup function etc. will help find hackers how to break into the system. "

Game machines developed by Nintendo Both Nintendo 3DS and Wii U suffered from the appearance of pirated games, but Nintendo Switch is currently able to successfully avoid such problems. This is because the Nintendo Switch does not provide the backup function of the save data, and also starts a reward program etc. for discovering the vulnerability existing on the system of the Nintendo Switch, so that the Nintendo Switch It is clear that it is a result of more hacking measures against hacking than before.

As a countermeasure against such hacking, Nintendo is not equipped with a backup function in Nintendo Switch, but Mr. Giordano shows understanding, while Nintendo Switch is a stationary game machine but a handheld game machine, "Nintendo Switch It is not always good to carry around anywhere because the opportunities for stolen or damaging the body increases, and if the body is stolen, lost or damaged, the player We will lose the save data up to and the checkpoint is developed to mitigate those risks. "

But, unexpectedly the response was great, Giordano says, "There is a possibility that it will end without releasing a Checkpoint, and in the future the official expects to release a backup method of saved data, everyone I'm hoping that I will be using it. "It is unclear whether the Checkpoint for Nintendo Switch version will be released or not.

I have (probably) end up never releasing checkpoint. I hope some official ways to backup saves come in the future, in order for everyone to use such feature .

- Bernardo Giordano (@bernardogior)April 11, 2018

However, as Checkpoint has the source code published on GitHub, there is also a good possibility that other aspiring hackers will take over development.