Multiple cases of using third party dock with Nintendo Switch cause the main unit to break down and become useless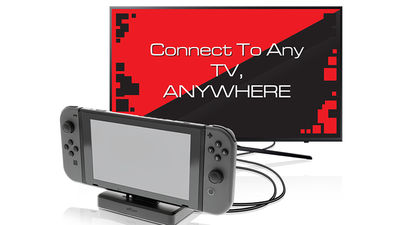 From March 13, 2018 Nintendo Switch'sSystem version 5.0.0It started distribution. Normally, users who were using third party docks instead of Nintendo genuine Nintendo Switch docks performed this update and reported that game save data disappeared and Nintendo Switch became unusable.

Switch Owners Say Third-Party Docks Are Bricking Their Consoles
https://kotaku.com/switch-owners-say-third-party-docks-are-bricking-their-1824122777

Spawn Wave is reporting the problem, and the third party dock that I used was Nyko's "Portable Docking Kit for Nintendo Switch". It seems that we kept using Nyko docks for several months before system version 5.0.0 was delivered, so it seems that we could use it without problems until the update.

Portable Docking Kit for Nintendo Switch ™ - Nyko Technologies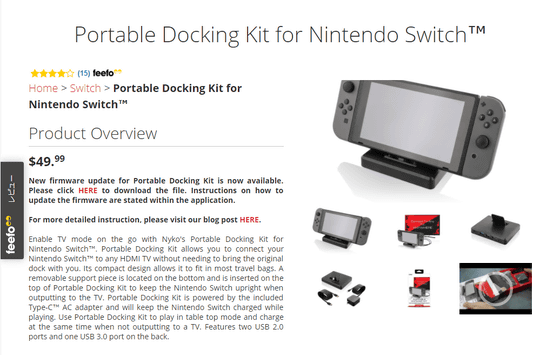 The Nintendo Switch comes with a special dock attached at the Nintendo official online store "Nintendo Switch dock set"The price is sold as 9698 yen including tax. On the other hand, third party docks are cheap and purchasable, and Nyko docks are sold for $ 49.99 (about 5300 yen).

Also, setting the Nintendo Switch in the dedicated dock will hide the main screen with such feeling ......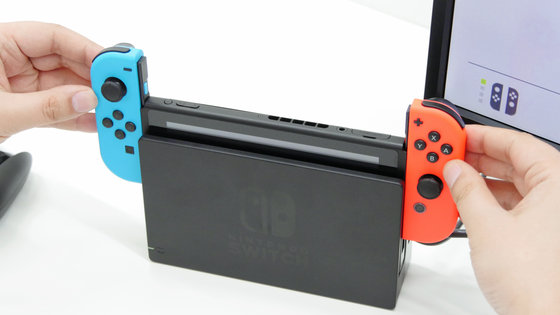 If it is a Nyko dock, it seems to boast of high popularity by being able to play games on the screen of Nintendo Switch while charging the main body. In fact, when Nyko docks appeared in October 2017, Kotaku of game media "It includes everything necessary to connect the Nintendo Switch to the TV"I was acclaimed.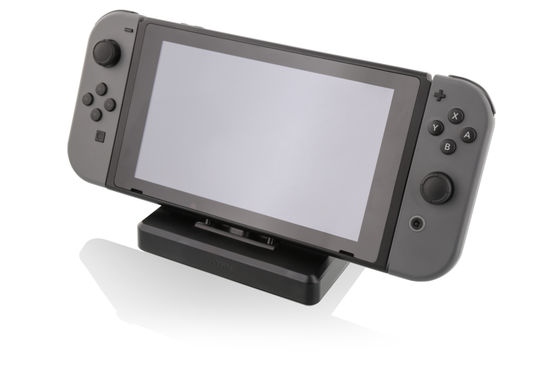 There was also a report on reddit, a popular overseas bulletin board site, "It was not possible to charge the main body from the Nintendo Switch's USB Type-C port when I was using Nyko dock," but Kotaku wrote Nyko "I heard that only one such case has been confirmed."

According to Spawn Wave, who used Nyko's dock which users had been getting a favorable rating from the user in general, according to Spawn Wave that he was using this since October 2017, after updating to the system version 5.0.0, some errors A message is displayed, then Nintendo Switch has stopped working at all.

Spawn Wave talks about how the Nintendo Switch broke down on its own YouTube channel and it stops working.

My Switch Finally Died ... Nintendo ... We NEED This Feature! - YouTube


Also, users who used third-party docks other than Nyko dock have also reported that the terminal has broken down. In the following report, "YockTec Nintendo Switch USB Type C HUBI used it, it says that Nintendo Switch has broken down like Spawn Wave.

PSA, not just nyko docks bricking buffers post 5.0: NintendoSwitch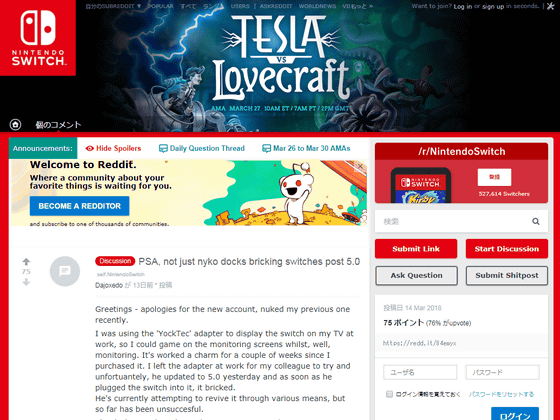 In the forum below, "FastSnail HDMI Type C Hub Adapter for Nintendo Switch"Has reported that the Nintendo Switch has been restarted when updating to the system version 5.0.0 and it became unusable.

PSA: 5.0 Update bricks Switch | Nintendo Support Forums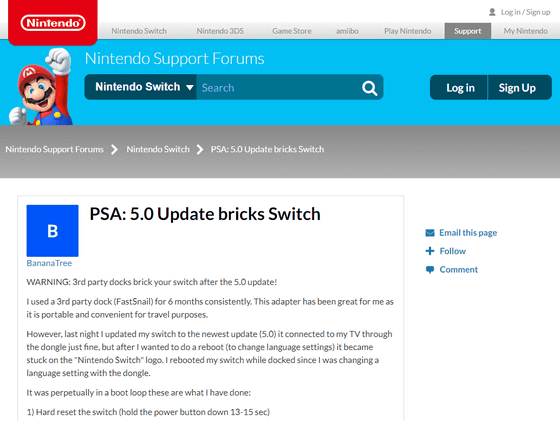 Not all 3rd party docks are faulty, but Insignia's "Dock Kit with HDMI and USB for Nintendo Switch"Users are using it without problems even before updating to system version 5.0.0"commentdoing.

Spawn Wave told Nintendo's agent by phone, "Nintendo is aware of this problem.Nintendo has received an inquiry about this type of failure and will repair if there is a guarantee," It seems to have been told. However, it also reveals that it was said that it is difficult to restore the expired saved data.

Also, Nyko also seems to recognize that updating to the system version 5.0.0 recognizes a problem with Nintendo Switch. Detailed testing is necessary to locate the exact cause of the problem, but there is a problem with the way the system outputs the AV output to an external TV / monitor when the Nintendo Switch main unit is inserted in the dock It is thought that there is existence. In addition, Nyko is striving to solve the problem, it seems that we are considering replacing malfunctioning products.

In addition, Nintendo recommends purchasing only officially licensed products against this problem, "Unlicensed products and accessories do not go through the official Nintendo testing and evaluation process, There is a possibility that the game system does not work at all, there is a possibility that it may have problems with compatibility with specific games, Nintendo Switch main body, other officially licensed accessories and peripheral equipment. " doing.