"Producer said" How to make "Mobile Suit Gundam THE ORIGIN" AnimeJapan 2018 Creation Seminar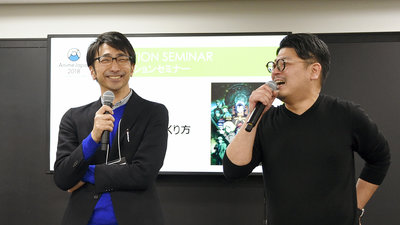 "Mobile Suit Gundam THE ORIGIN"Was in charge of character design of" Mobile Suit Gundam "(First Gundam)Yoshihiko YoshikawaIs a cartoon that added an arrange based on animation, animation is being done from 2015. The latest episode 6 "Birth, red comet" will be screened on May 5, 2018 (Sat) at the theater,AnimeJapan 2018Producer Mr. Taniguchi, CG Producer Mr. Kiichiro Inoue entered "How to make "Mobile Suit Gundam THE ORIGIN"The seminar entitled "The Seminar" was held.

AnimeJapan 2018 Creation Seminar "How to make Mobile Suit Gundam THE ORIGIN" 3/25 held! | Official Gundam Information Portal Site
https://www.gundam.info/news/event/news_event_20180216_04.html

Moderator is Sunrise · Mr. Kouji Nakajima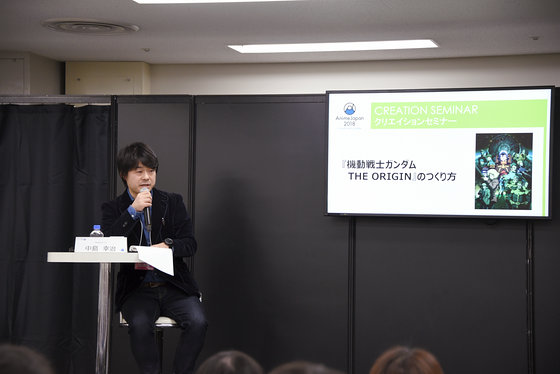 CG Producer, Kiichiro Inoue, Producer, Mr. Taniguchi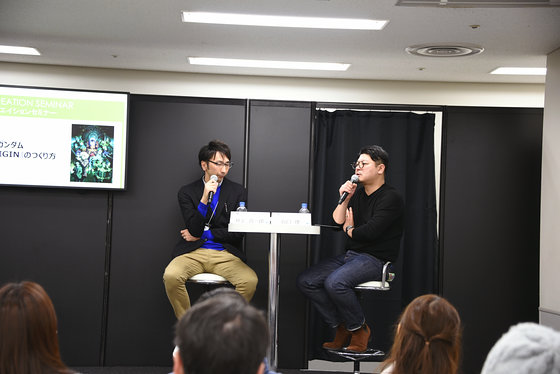 This time, AnimeJapan "Production Works Gallery"Mobile Suit Gundam THE ORIGIN" and "GODZILLA Monster Planet" workflow exhibition has been performed, and at the seminar the story was developed in a manner complementing the exhibition.

The "Mobile Suit Gundam THE ORIGIN" part of the exhibition looks like this.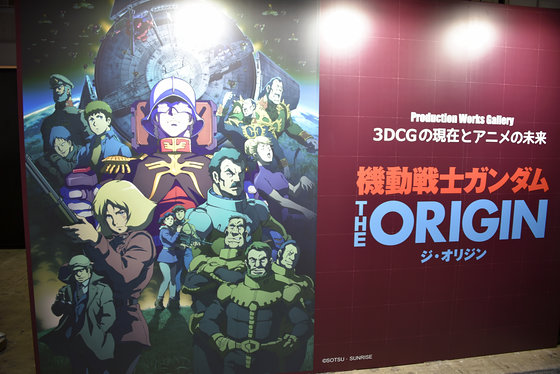 This is the work flow of "Mobile Suit Gundam THE ORIGIN". It is understood that it was a flow that cooperated with 2D and 3DCG.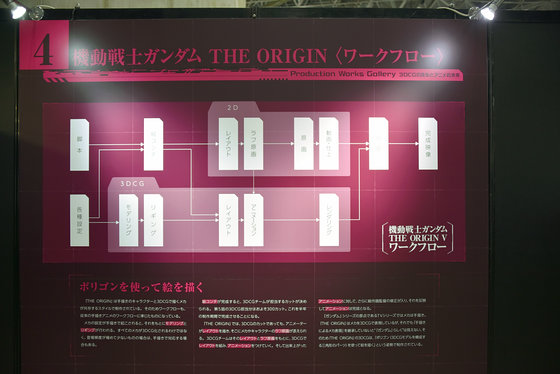 Commentary on mechanical representation was also made with comments from each designer.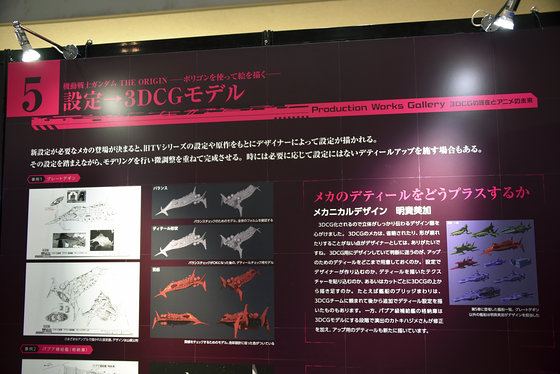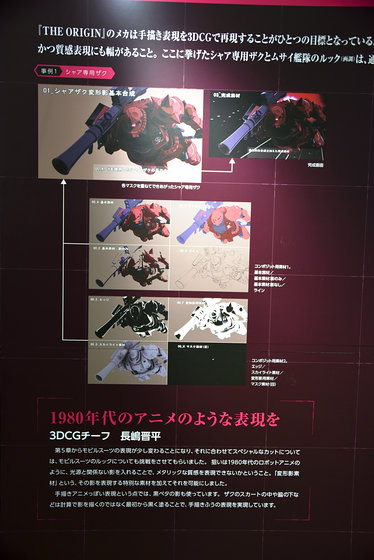 Producer Taniguchi (hereinafter Taniguchi):
"Mobile Suit Gundam THE ORIGIN" roughly speaks how to make cells and 3DCG coexist. The other day the production of episode 6 was also successfully completed. Basically mobile suits, battleships, effects etc. are CG, characters are produced with cells.

Mr. Koji Nakashima (Nakajima):
Why did not it become either style to coexist?

Taniguchi:
The production of "THE ORIGIN" started from 2013. I used to be in another company and I came to Sunrise from there. I think that it is the depth of Sunrise 's bosom that I leave the mechanics that I had not done, but why I thought of CG that it was not confident enough to collect people called' Mechanism animator ' It is one of. The other was responsible for the director from the first episode "Cubal of blue eyes" to the third episode "Uprising of Akatsuki"Imanishi TakashiThere is Mr.'s presence. I was talking to Mr. Imanishi, "Would you like to draw a mobile suits with Celluk?" "I should try to show how to look like a cell, not to be defeated by a cell" as it appears to a cell. If it was not Imanishi, it might not have become CG.

Nakashima:
How was the selection of staff proceeded?

Taniguchi:
Director Imanishi was familiar with CG, and of course, I thought that the staff who settled around knew CG well. What is important is that "I'd like to make a mobile suit CG" and when I was thinking about who would be good, what Sunrise had just made was "Valvrave The LiberatorIt was a work called. He was in charge of mechanical animation design with that workTakuya SuzukiI asked Mr. Ms. Mr. Mr. Mr. Mr. Mr. Mr. Mr. Mr. Mr. Mr. Mr. Mr. Mr. Mr. Mr. Mr. Mr. Mr. Mr. Mr. Mr. Mr. Mr. Mr. Mr. Mr. Mr. Mr. Mr. Mr. Mr. Mr. Mr. Mr. Mr. Mr. Mr. Mr. Mr. Mr. Mr. Mr. Mr. Mr. Mr. Mr. Mr. Mr. Mr. Mr. Mr. Mr. Ms Another personHiroyuki NishimuraMr. He also worked on OLM and Production I. G, who was also familiar with digital drawing. If these two people, they will do something (laugh)

Nonetheless, we were not thinking of making this story with CG suddenly, so we thought of what to do. Toyota-san told me that I wanted to make CM for Shar only as a car of "GEONIC TOYOTA" and made it by saying "Let's test with this". I think that this was the first video to go out, made with Imagin, Suzuki, Nishimura tag. It was the president of Sunrise at that timeKenji UchidaWhen I told Mr. "I want to do" Mobile Suit Gundam THE ORIGIN "with this," I got a drumming "I could do it". At that time, I saw "It is made by the staff of" THE ORIGIN "strangely," I was rumored on the net, but it was exactly what we made.

Then, I went to talk to Yoshihiko Yasuhiko who is the original author. At that time, Mr. Yasuhiko was not familiar with CG so much, so it was from the place "What is CG?" Also, it was a long time since I was involved in the production of animation for the first time in 25 years, but it was quite a while since then, I thought that it is not good to tell me that "I am making it this way with CG like this" , Just made at that time "Code Geass Akito of the falling country"I want to do it with such a taste, and I will explain that although I do have such merit and such disadvantage when doing with CG, I definitely want to do it." "I am not interested in mechanics so much" (laugh), but I was told that "It would be nice if the production would be easier". However, as I make it, Yasuhiko woke up to CG and said "Fellow"I like it" or "I want to do it with full CG", and I thought that I taught this difficult thing (laugh)

Nakashima:
The first episode "Cubal Blue Eye" was completed three years ago. How was Yasuhiko's reaction?

Kiichiro Inoue CG Producer (Inoue):
I seemed to be worried about what kind of finish it would be, and it seemed like I was relieved to see it, "I am glad if I can do this". We also thought that we will raise the quality gradually based on this.

Taniguchi:
In the first episodeIchiro ItanoMr. Yasuhiko gave a direct voice to Mr. Yasuhiko. When Itano was hospitalized for a motorcycle accident, Mr. Yasuhiko seemed to go and visit him and talked about it when he came back (lol). I worked for Mr. Itano for the first time.


Ichiro Itano, an animator, was involved in a motorcycle accident the other day and is currently in the hospital. Fortunately never cherished. Yoshihiko Yoshikazu, Mr. Anno Hideaki, I made a colored paper of encouragement and gave it as a present. Mr. Itano, get well soon.pic.twitter.com/PYTXfMABtq

- Shinichiro Inoue (@ HP0128)August 1, 2013

Inoue:
Usually Yasuhiko checks it from the rough masterpiece, but Mr. Itano said that animation was attached with CG from the container, so animation was attached to the side beside the PC, and it was stimulated by everyone. Instructions for fixing were serious, but the sense of accomplishment when completed was amazing.

Taniguchi:
Just "Exile paradise - Expired from Paradise-Was it when it was made? When I showed the container, "Itano circus" was still in and it thought that it was cut finely and it was amazing. I realized that 3DCG's work has so many contests in Mr. Itano's context. "I can draw a CG animator if I look at this, I remembered that it is not enough for the TV series' contest."

Nakashima:
I think if you can explain what kind of collaboration was done with 2D and 3D coexisting, Mr. Inoue looking at the screen and so on.

Inoue:
There are three sections which are roughly divided from drawing, CG, art, interact with each other, and eventually we turn the material to shoot and make a picture. I'd like to take a look at the example, but before that, first of all, at a meeting with Mr. Bandai "Mechanical beating", there is a talk about whether the design is consistent with the mechanical designer.

First of all, I will make a comparison table like this. Drawn on the lower right is a shipping ship Papua, firstly we decide a sense of size to work with CG. A small person type thing is drawn beside Papua, but this is Zaku. Calculating how many cigarettes can be loaded in Papua with Zaku at 18 meters, I found that you can store 12 aircraft on one side of the hangar, 24 stations when you match both sides.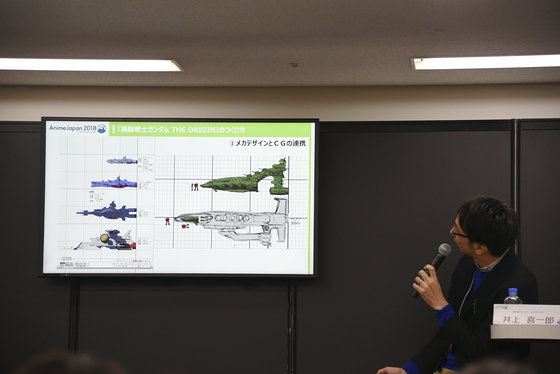 Inoue:
Design isMika AkiraWas in charge. Calculating fine divisions, etc., the number of grids will also be decided. And call back to CG. In the end, we measure the model caused by CG, and it is set up in the form of specifications.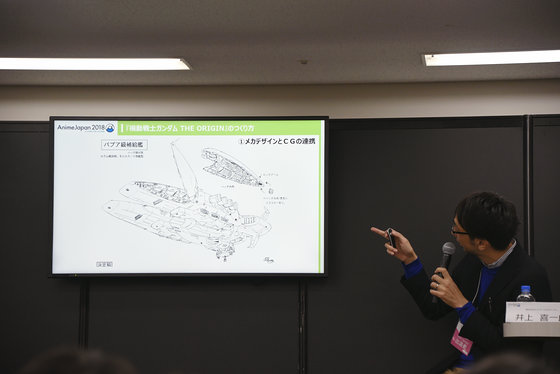 The second partnership is "cooperation between drawing and CG". First of all, Mr. Suzuki whose name was mentioned earlier will draw a rough masterpiece, and we will add 3D animation accordingly. Although it is a still image here, in fact there is movement.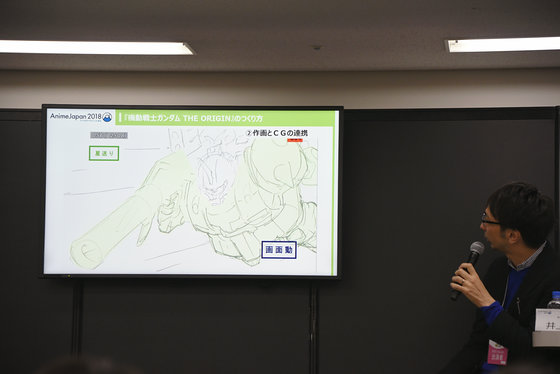 This is Take 1, there are various instructions such as "Head slightly smaller", "Size of the chest a bit bigger", "I want you to change the way of dividing the frame," "Pose correction".



The final finish that reflects them is like this.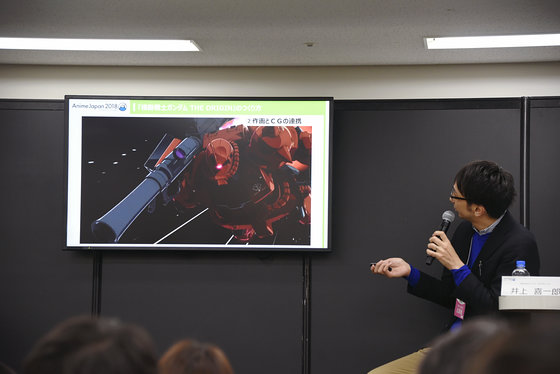 However, the flow of waking CG from a storyboard without rough masterpieces is increasing from the fifth episode "Crash Battle Rum Meeting". For example, since Papua's hangar is woken up in CG model, first we will launch a layout. It is of a level that only needs to know the size etc. of a person by a guide to the last.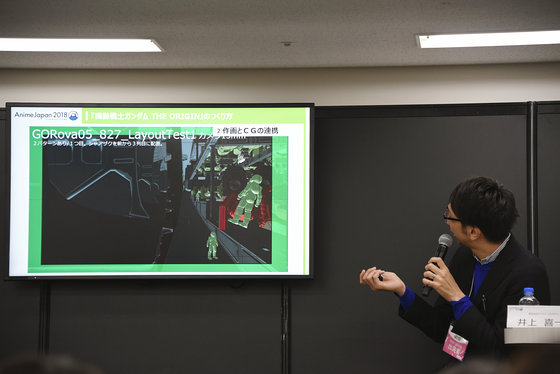 Based on that, I will make a layout around drawing.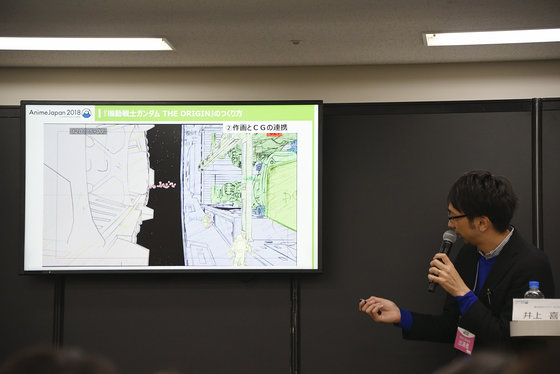 Also from the fifth episode I increased the drawing effect with CG. I was making CAP up effects, but since it does not work, the effect of Muzzle Flash when Zak shoot machine gun paints what I painted in 2D. It may also be composited as a texture on 3D.

In the launch schedule of Magellan and Salamis, the smoke in front is in the drawing, while the spray in the back and the smoke are 3D. I'm doing the process of getting in and pinching it in. Since the battleship does not incorporate the details for up time so far, I will draw detail on the drawing.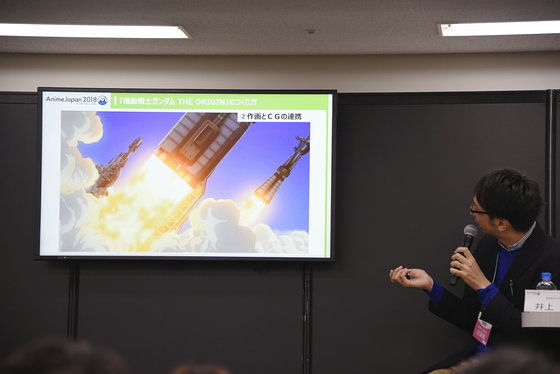 Next is "Collaboration between background art and CG". As the scene where Amuro strayed into the room of Tem was to want to show by the turnaround, I am modeling in CG. I decided the camera from a storyboard with CG, asked art to draw according to the angle, cut paste and burned into a three-dimensional model.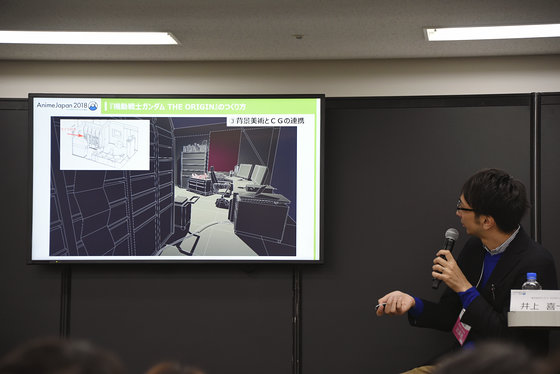 In this scene I have been burning in from 3 directions, and I am doing fine as if I went around a lot.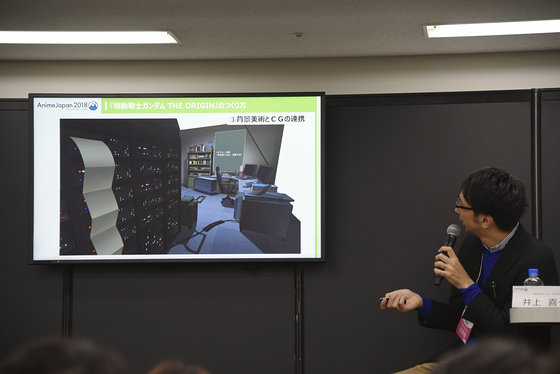 Lastly is "collaboration between drawing, shooting and CG". Space colony and cockpit are CG in the scene where Ramba Lal is seeing attacks on colonies, the character and the chair in front this is drawing. I will also add animations to the effects and the movement of the mobile suits.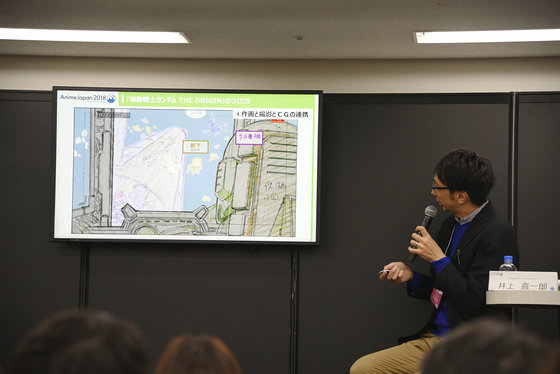 The photographer will put in various things such as monitor and drawing. Drop the surroundings a bit like a gradation, arrange the screen, and finish it as a cut.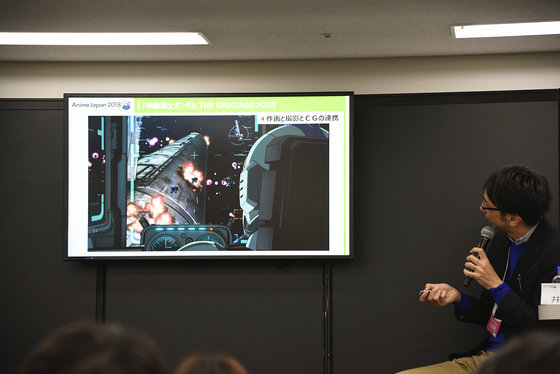 We will proceed by combining these four patterns.

Nakashima:
When I interacted with Papua to see how many zaks are on board and how many rides are on Musa, while reading the original manga of Yasuhiko, "While this is a figure like this, it is not like this in fact I remembered that I had a meeting with a mechanical designer.

Taniguchi:
I watched such interaction, "I'm talking about small figures".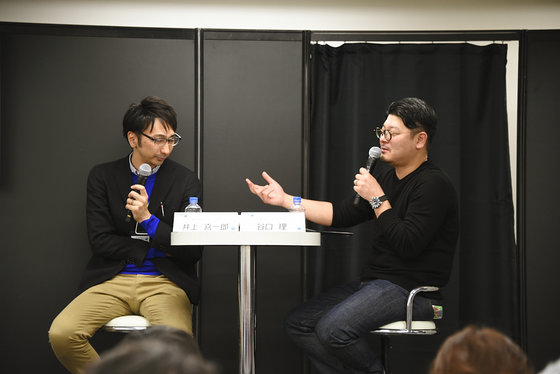 Nakashima:
At the meeting we had two or three sets of manga in all.
This time, the part where expression unique to 3D is made, is there a part that is appealing because the mechanical expression is 3D?

Inoue:
There are places where it is possible to supplement without distortion if it is CG, even if it is drawing, it will inevitably distort with various circumstances. In addition, I think that marking, detailing, pollution and also animation can be reproduced with complicated design mechanisms is a big appeal. First I made a model of Zaku and Musai, but the movement mechanism of the knees and thighs of the plastic modelKatoki HajimeThinks properly, it reproduces with CG, and it is one of the charms that it can reproduce properly as a plastic model.

Taniguchi:
Until "Mobile Suit Gundam UC", Mr. Kataki painted the design paintings such as Unicorn Gundam and Banshi, it was modeled by Mr. Bandai, but since we are already modeling in "THE ORIGIN" I got it in the form to hand it over. I think that there is also a slightly changed part in three-dimensionalization, but I think that consistency is getting higher. I think that you do not know, the mechanical animator is holding the Gundam in his hand and drawing it while confirming "This angle looks like this". In that respect too, I think that "THE ORIGIN" has gone a step further.

There is a difference in that the schedule can be read considerably when doing with CG. This is something I could not think of several years ago. I have been in this industry for about twenty years, but since the number of CG animators was limited in the past, it was "What I should do" to say "I will make it to CG", now the number of CG animators has increased Rather it may be easier than looking for a 2D animator.

In terms of image creation, it can be pointed out that the camera can be placed anywhere in 3D space. Because I can put a camera on each one of musa and salamis, I think that it is possible to express a new expression than to draw a picture with 2D. In episodes 5 and 6 I asked Mr. Katoki to produce a storyboard but I thought that it was a real picture image. I think that there is a place where it can not be laid out without installing a camera with 3DCG.

Nakashima:
I think that Mr. Katoki was very concerned about lighting inside the ship. While referring to a live-action movie, I thought that I was conscious of the lighting condition of Musashi or Magellan, and the size.

Inoue:
There is only a bit of picture on how Mr. Katoki actually is directed to direct. This is the place to tell about the request of how to move about Musa's movement.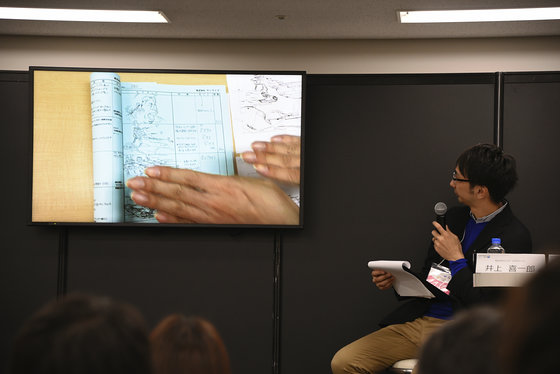 Nakashima:
Did Katoki participate in the turning point in "Mechanical Proofs of" THE ORIGIN "etc?

Inoue:
I think there is that aspect. First of all, there was a story about 3D camera work "I do not want to attach free cameras". There is no basis, no reality comes out. "I'd like you to line 300 meter battleships in outer space, so I will film the Ruum battle." I think that the photographer got into the ship and took a picture, and the part that should be lied on that was promoted by using the lie, I think that it was a big change.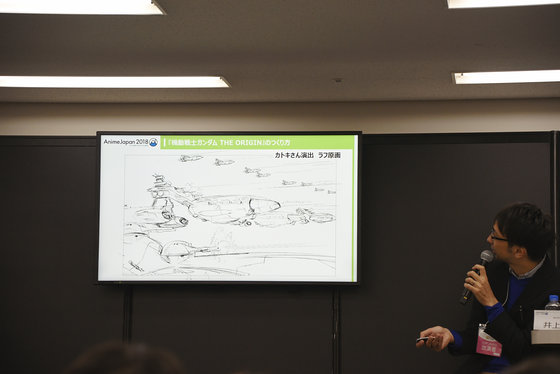 Even when taking a placement of a ship, it was important to subtlely correct the position and make reality including the universe's size. The final finish is like this.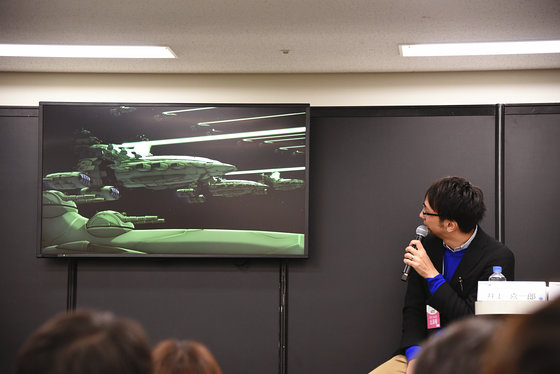 Nakashima:
Imaging of the Lumum Campaign is "Mobile Suit Gundam MS IGLOOAlthough it expanded also, it is the first time that it has been reproduced to the fleet arrangement long on this long. Do you have any episodes in collaboration with Mr. Katoki and the staff?

Taniguchi:
It may not be related to CG, but as a mechanical layoutTakashi MiyamotoWe entered into. Those who saw the first episode of "THE ORIGIN" remember remembering Abuan drew a Lumum battle. There are scenes where the dizzle is shouting at the bridge of Musay class, but the interior of the bridge is drawn very wide. However, in the fifth episode it is becoming very narrow. You can compare and comprehend. This is because we decided to talk to Mr. Kataki before making it, "It is not that wide," so we had to recreate it.

Mr. Katoki and Mr. Miyamoto said "Farewell to weapons"I told you to work with Miyamoto and asked Mr. Miyamoto about how many hundreds of cuts it would be okay if you said" let me do it ". In the form of correction, Mr. Miyamoto handles one by one, one bolt and one piping to the original before passing it to the background. Besides, in the sixth episode, there is a scene where Ryu · Josei rides Saberfish, but Miyamoto says, "It is the most content cockpit in Gundam history", so please take a look at everyone .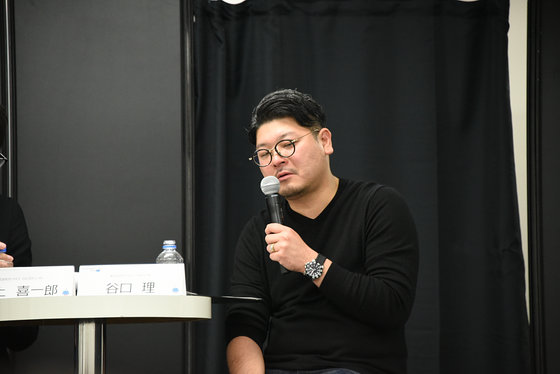 Nakashima:
I am worried that you should see the trailer of episode 6.

"Mobile Suit Gundam THE ORIGIN birth red comet" announcement 2 - YouTube

© Suzumi · Sunrise

Nakashima:
Could you tell us the highlight of this 6th episode?

Inoue:
I think that it is exhausted as a battle depiction of the Ruum fight. Mechanical effects etc. are all upgraded and expressions are completed, so I'd like you to look forward to seeing it.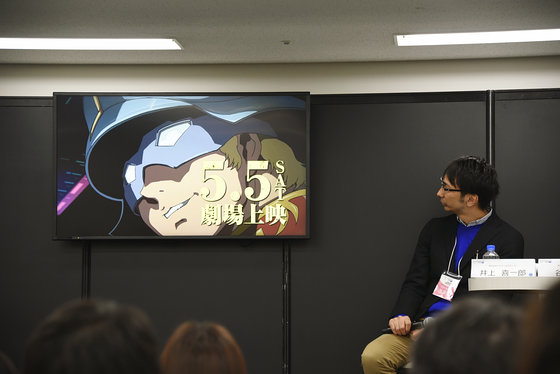 Taniguchi:
The battle scene is long. Although I think that it was good to have studied a little bit here and there (lol), it has become a picture that can be recalled that there was a character and background connecting to the first Gundam from here. So far, Shar was the leading role, but from now on it is also a change that Amuro is the leading role. Anyway, I got tired and it was serious but it became a strong work of my mind. If you can see it, I think that you can enjoy the first Gundam happily.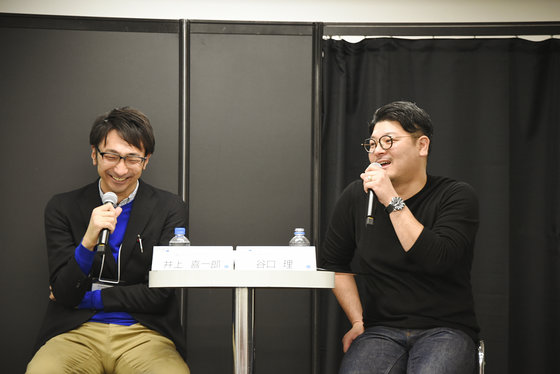 ·Question-and-answer session
Q:
It was a story that the proportion of Previz which laid out layout with CG for the storyboard came up, how much did it become?

Taniguchi:
Originally because mechanics did not come out so much, it is about the fourth episode that has increased.

Inoue:
At first it was zero, but in the second half I think that about 30% started from the pre biz.

Q:
About Yasuhiko san Please tell me if there is an interesting episode.

Taniguchi:
When you decide the theme song of episode 1, when you consult what to do, "Shoen! GundamYou used to use it "(laugh). Later, Mr. Yasuhiko told me that "I do not use that song other than the first one," but when I was told I thought "What to do".



Q:
In the future, will mechanical depiction change with CG with such animation?

Inoue:
I think there is one direction to reproduce the image beauty of drawing. This is also boiling down at THE ORIGIN so please expect the sixth episode. The other one is said to be a real direction, shading, and I think that it will become a system that shakes even full animation like full CG and Disney.

Taniguchi:
I am a producer and nothing to do with painting, but honestly, my budget will change drastically. Although drawing with 2D may take time, the budget is low. I think that 3DCG is only a tool, I think that if it is interesting, it will be OK. "In the future, 2D works for high-end and adults, 3DCG for children see" ... ... and this same name as meGorō TaniguchiThe director was saying (laugh). There may be such things. On the other hand, there is a thought that it might not have been surprised if 3DCG is "2D" depicting a work that was surprised by the description "What is it like this!?" I do not think so. To the end, I think that it is necessary to do neither "absolutely 2D" or "do it in 3D" instead of just getting multiple means of visualization.

Nakashima:
Since it means time soon, please last one word at a time.

Taniguchi:
Everyone, have you enjoyed it? Perhaps I had to talk about CG more, but was it a little diluted (laugh). Since theater screening of "Birth Red Comet" will be held from May 5th, I hope you will see it.

Inoue:
As I am finishing the 6th episode with the highest quality, I hope that you can expect it at the theater in anticipation. Also, although it is a little publicity, I am looking for staff at Sunrise. We are engaged in various things from Gundam to idol, so if you are interested, please do.