Facebook's market capitalization of "fraudulent" user information for 50 million people declined by 7 trillion yen in 10 days, advertising also declined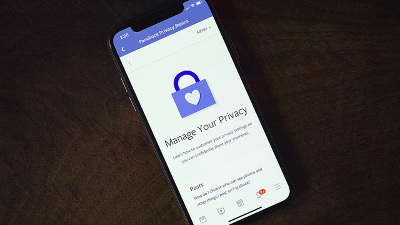 ByThought Catalog

British political consulting company Cambridge Analytica has received scandals that he acquired data about Facebook users and was fraudulently used, and Facebook has been criticized severely about data handling. Meanwhile, the share price of Facebook has declined since the problem was discovered, and the asset value of 70 billion dollars (about 7.4 trillion yen) on the market capitalization basis disappears.

Facebook has lost $ 70 billion in 10 days - and now advertisers are pulling out | Financial Post
http://business.financialpost.com/technology/u-s-ftc-investigating-facebooks-privacy-practices

Collection and use of data on Facebook users by Cambridge Analytica was done during the 2016 US presidential election. Founded in 2016, Cambridge Analytica was involved in the election campaign of Mr. Donald Trump, who was one of the candidates at the time, a personality diagnostic application "thisisyourdigitallife" developed by Dr. Aleksandr Kogan, professor of psychology at the University of Cambridge We used personal information of up to 50 million users acquired through the company.

Stakeholders of Facebook and Cambridge Analytica have stated that "At that time the policy on personal information was not so rigorous" that it is not misuse of personal information, but if the data is not in the form originally intended There is no difference in being used. Authorities that severely seized this issue started a survey to check the status of Facebook's information management, which has affected Facebook's stock price.

Face book information management method, Federal Trade Commission launches survey 1 photo International news: AFPBB News
http://www.afpbb.com/articles/-/3168837

Following the launch of this investigation, Facebook's stock price fell by 6.5% at the maximum, and it fell to the level where it fell below 150 dollars (about 15,800 yen) at the time. After that, the stock price rebounded and the transaction ended on the same day at 160 dollars, 6 cents (about 19 thousand yen) which was 0.4% lower than the start of trading.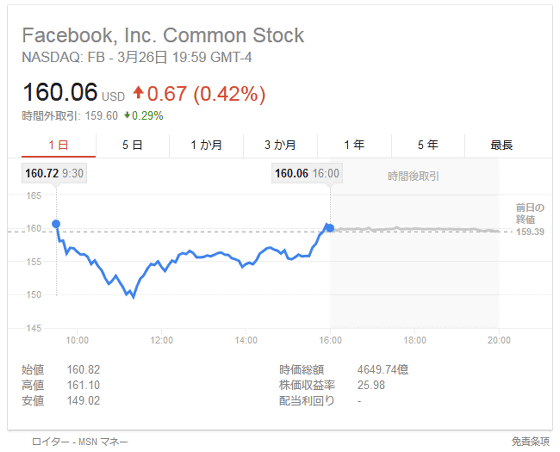 Although it is a stock price that did not decline so much at the closing price of the day, it must be still in a low state compared with the level before this problem was discovered. Before the discovery, Facebook's share price, which had been at about 185 dollars (about 19,500 yen), is not a sign of a steep descent from there and does not seem to be demodulating, and in just 10 days it is 70 billion dollars (about 7 trillion 4000 Billions of yen) has been lost.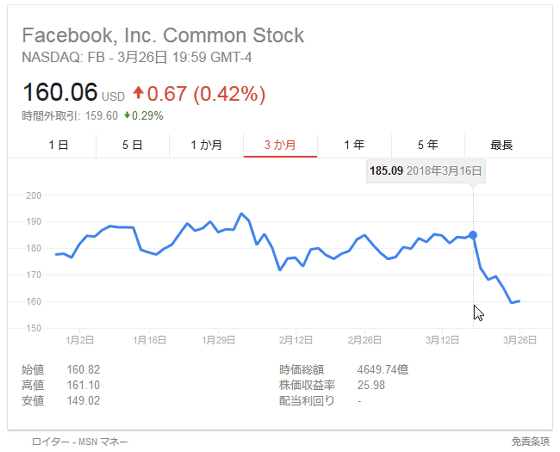 In addition to this stock price slump, there are also moves to refrain from advertising on Facebook. A retail store selling auto parts and accessoriesPep Boys"Ceased all advertisements, and Mozilla and German Commerzbank Bank, etc. showed similar reactions.

Mark Zuckerberg, on March 25, about a week after the incident came to light, acknowledged that Facebook made a mistake and to the leading US and British newspapersPosted a full advertisement and apologizeddoing. However, it was done in USA, Canada, GermanyResult of the questionnaire surveyAccording to him, many people have doubts about the reliability of Facebook.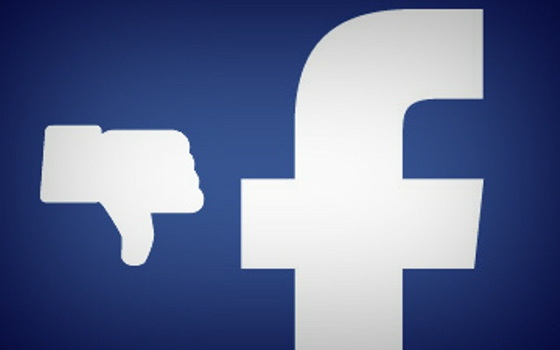 ByEsther Vargas