What is "live revolt" where audiences and artists create live together with Otaku OK?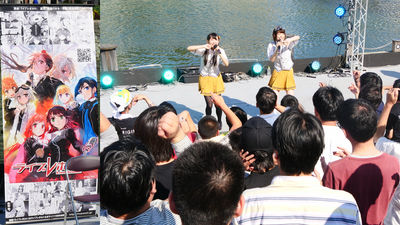 "Revolution in live.Under the catch phrase "The next generation entertainment work that performs multidimensional media mix of various contents such as manga, illustration, music and live is"Live Revolution"is.Machi ★ Asobi vol.19So this live bolt is "Came back! Live Rebolt Talk Show & Mini LiveSince we had held an event called "We have been checking what kind of content it has become.

Came back! Live Rebolt Talk Show & Mini Live - Machi ★ Asobi
http://www.machiasobi.com/events/liverevo.html

The first thing that appeared on stage was from the left, the moderator, Real Akiba Boys · Keitan who is in charge of the promotion of live revolt, and Mr. Haruki Sejima, coach.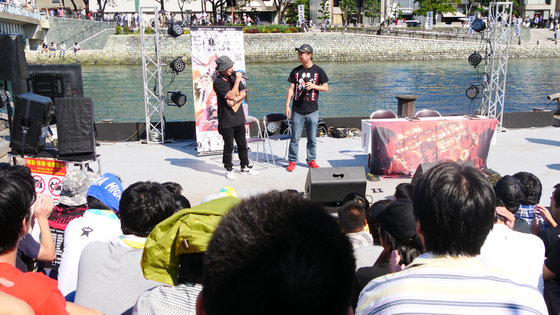 First we start with an explanation of what the content "live revolt" is. The question about live revolution in particular is said to be "what is the live revolt's original?" The answer is "manga" which sticks to sandwich the main visual of the huge banner on stage from above and below.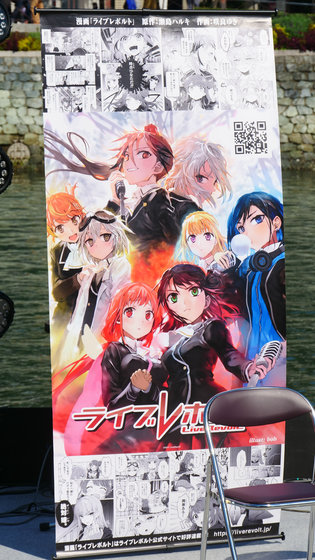 All the manga which became the original of live revolt was able to be read for free from the official site, and up to 6 talks were published at the time of the event.

Manga "Live Revolt" - Live Revolution | LiveRevolt Official Website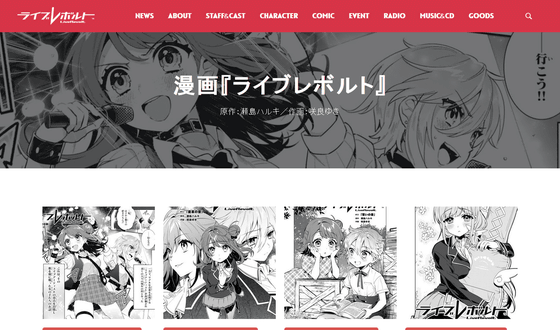 The official website's "ABOUTAccording to "Live Revolution" has become the following story.

"Listen to music free of charge" ─ ─
In such a world, attention was gathering again at the live event that delivers live music.

Girls struggle to win peaks at the live artist training school "Kaidoga girls school" ─ ─

By the way, the synopsis of original manga episode 1 is as follows.

── The near future. Drinking into the wave of progressive data conversion and flattening, music has been losing value ─

On the other hand, "live artists" expressing realistic music were reevaluated and became the admiration of many people. This is a story of the girls who aimed at the top of the live artist and fought songs on the sword ─

In order to feel the interest of such live revolt, it seems that it is best to have you come to live anyway. For the reason such as sideways being loud at the live, light intensity being large, thinking about the feeling of the performer, and so on, it is said that there are many cases where there are many regulations in many cases recently. However, although Lew Rebolt sets a minimum regulation of "It stops because it is injured" as expected, it is aimed at allowing participants to enjoy the liberties freely without almost restraining, said General Sejima. It seems that about the rules of live is about to think that all the users of the participants want me to make it. However,0th liveIt seems that the fence has collapsed in 5 seconds after the live start, and it is said that the audience side has been delivered live where the spectator side can start. In addition, so far so that the live can be operated without problems, there are not injured people, even when the fence collapses at the 0th live, people who knock down voluntarily return the fence "Autonomy is pretty personal "A lot of people.

In fact, Director Sejima also tweets that "What is not bad" but just the spectators who want to enjoy live with live revolts.

Well, it's been a while for us to come.
Mr. Hirose, I did not think that it was a house tiger by Maji, so I got daily.
"The way to enjoy live is just 20 people. It is not the answer to let us listen to songs, we just want to enjoy this moment with everyone. "
"right! The guy who enjoyed the live is winning! "#LiveRevolt

- Harushi Sejima (@ Sezima SS)May 5, 2017

Next, as guest of the event, Rika Miyashiro 's role Mr. Gomi Marijira (left) and Mr. Yuki Ikeke of Kana Hirai (right) appeared. Mr. Gomi went on stage on the stage wearing goggles as well as Hirai Kana himself playing, Mr. Gomi is a hairpin of fried food that is a favorite of Miyashiro Rina that he plays.



Mr. Gomi & Ikehi wrapped in the cheers of the bass at the venue.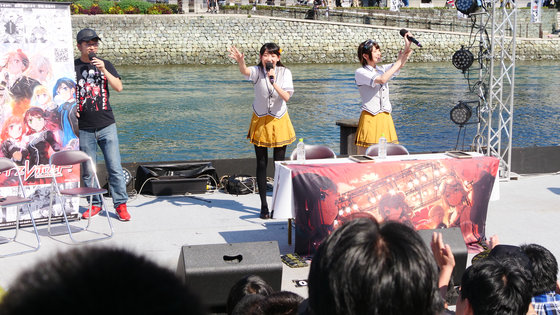 That's why I listened to the two people who came all the way to Tokushima "What I am into recently", Ikei said, "1 Challenge 1 day." By the way, on the day before the event, I heard that I challenged Otaka as "1 challenge 1 day".

Thank you for your handout and talk show today.
I was able to talk about live revolt and it was a lot of fun ~!
It is also very happy and fun to be able to talk face to face together!

Today 's 1 Chare is gotten by Hirose Sejima and got taught me Ota! Great success~!# 1 day 1 challengepic.twitter.com/o5ha9VOcJN

- Ikekei Yu @ Live Revolution ☆ 10/7 Public Broadcasting (@ ikeba_yuu)October 8, 2017

As opposed to Mr. Gomi, he seems to love to eat anyway, he has no likes and dislikes, so he is addicted to eating something he has never eaten recently. In recent years, he seems to have challenged the "locust locusts" and "bees in bees" that do not appear on ordinary dining tables. Also, as he came to Tokushima, he said that he wanted to eat 'Awa Oka no chiken absolutely' and reported that it was very tasty.

Everyone sends me a delicious photo, so I can not stop the belly ring! ! !

Very noisy! ! !

I should have eaten so much! ! !

But good, do better! Lol
I also stuck dinnerpic.twitter.com/dnOZvvy 0 Df

- Gomi Marika @ Live Rebolt Machi ★ Assortment (@ 53 marika 53)October 8, 2017

The theme of what kind of character is "Miyashi Rina" and "Hirai Kana" that these two people play. They are united "recitalals", they seem to be supporting characters while supporting advocating as a senior by Fujiwara Akane the main character. It is a unit that I love happy things, I want to make everyone excitement, I want to make it smile, so "I feel that other units are working on music seriously, but recitals are a unit to enjoy music" .

In addition, at the live revolt booth of Machi ★ Asobi, I distributed the following free booklet as below, but it seems that these two are the main stories of this recital.

Machiasobi Live Rebort Booth Day 2! The setting was completed! Distribution of impossible brochure is also started!pic.twitter.com/6 XnkrJND 9F

- Live Revolution Official (@ LiveRevolt)October 8, 2017

Such a live revolt is a newborn content that it is not half a year since the project started. The first participation was in the Nico Nico super-conference in 2017,Machi ★ Asobi vol.18However, he has performed live and he seems to have participated in various festivals so far.

In the immediate future,Kyo MafuYaMeat festivalHe seems to have participated in.

Everyone was a great worker.
Live live bolt participates in Kyo Mifu in the west and meat festival in the east!

Recitals to flesh festival
In our time, it really lighted from the eyes of the clouds ☀ ️

Everyone was so glad that it was great!

It was too fun to play a smile! A
Thank youpic.twitter.com/0zamLpd 8 qe

- Gomi Marika @ Live Rebolt Machi ★ Assortment (@ 53 marika 53)September 16, 2017

For Mr. Gomi-san and Mr. Ikehi who have participated as live revolts to various festivals so far, Mr. Ikehi says "In the question" What kind of content is live revolution? " Mr. Gomi also said that "(the performers and the audience) can make live together," and again told that "live" is a feature not found in other content.

In such a live revolt, each of the four sets of units has released songs, and it seems that the tune differs considerably depending on the unit. The unit "dubstar" by the main character Akane Fujiwara and Momoka Noda is a rock-tune music, "Recitals" by Mr. Gomi and Ikei this time is a brass system, Seto Marin and Shizuki Chris " RumBlue "is a dance song, rival or rasp boss" FIREVOLT "is a metal type song.

Music of each unit is also official site ·SoundCloudYou can listen to it free of charge, and you can listen to it from the following embedded.


Such live revolt is planning a first one man live in December 2017, until 23:59 on October 15Reception of secondary leading drawingIs also underway. As live is basically free style anything OK, sometimes you may see impressions such as "live revolt scary thing", but for those people the second floor seats "jizo zone" jump · ota People who want to see relaxedly are also safe because it is said that zones of ban bans are also established. In addition, Director Sejima said at first live that he wishes "to release emo" rather than 0th live, and he told me that he would like to come and read the manga by all means.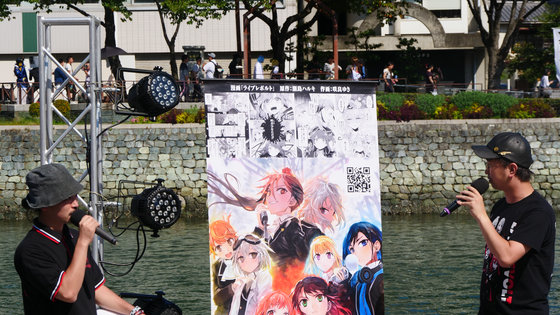 In addition, at the event, what kind of goods are sold by live revolt, it becomes a talk of what kind of goods can be sold, it is difficult to have psyllium while doing otagi from Mr. Ikee, so the light which can be wound by hand was proposed. In addition, it seems that goods sold at 0th live are the psyllium. The staff saw the crowd since the live began and finally realized that psyllium could not sell as everyone got otaku.

In addition, when I asked the fans who participated in the event "What kind of goods do you want?", "Psyllium holder" "megaphone whistle" "hand spinner" "ticket holder" "ship that can be used after live" "goggle" "pants" "full Graphic T-shirt "" Dry T "" Data material that can be used with a painful car "was cited. The T - shirt to be created for the first live will be a dry T - shirt. Also, I got an opinion that I want data for a car, but Sejima said that he owns a live revolt's pain car, "I wanted to do this", he said.

Shrimp's head is stuck with a hairpin of shrimp and it is appealing to the general manager of Sejima, "I want a hairpin of other fried foods as a collectibles!"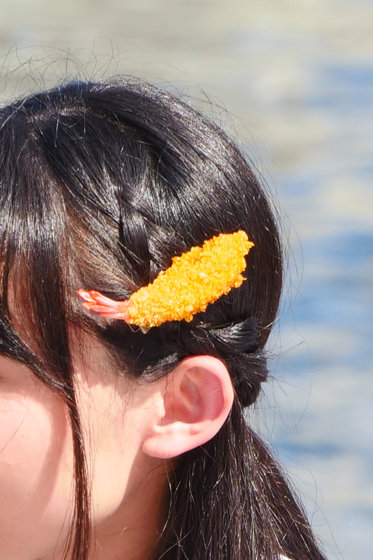 After that, live performances by two of the recitals started. Two songs that we showed off were "Tansekoi" and "All goes fine."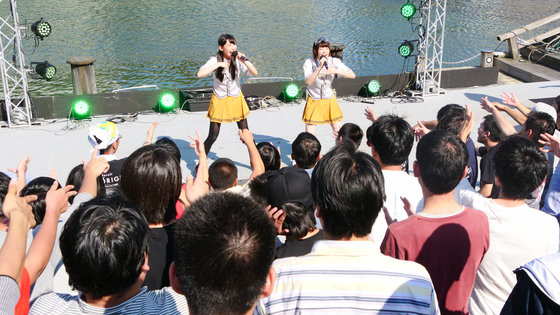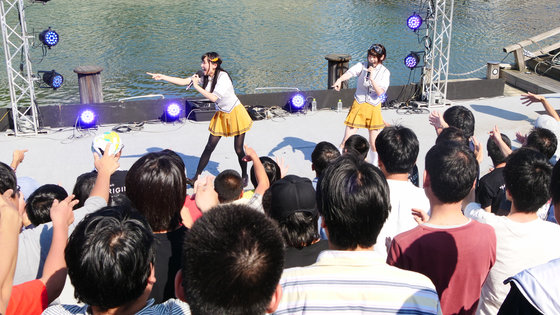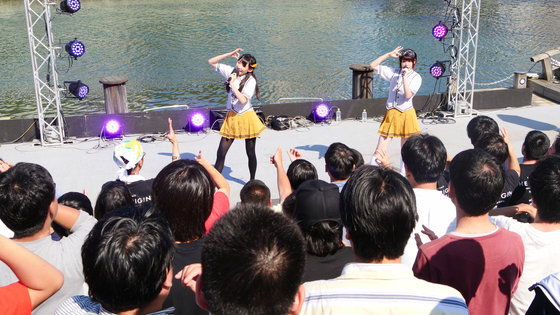 The stage full view at the time of live is like this. At the event of Asobi, it is almost impossible for the audience in the vicinity of the stage to sit down and watch the event, but at the live time everyone gets together and calls ......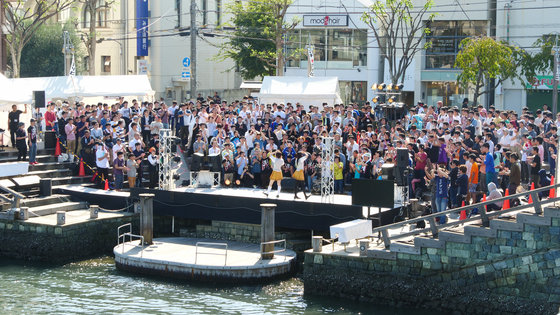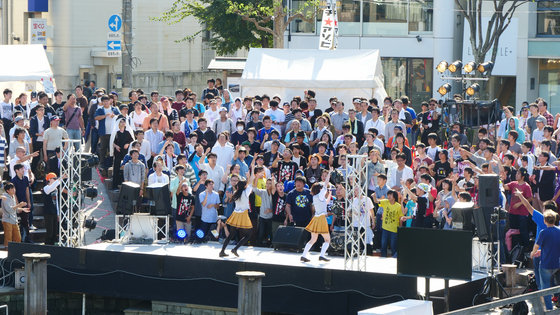 It showed off fierce Otaka.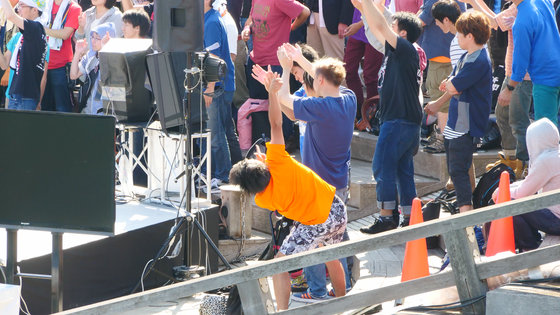 With such a reason like this, "LIVE REBLOTT TALK SHOW & MINI LIVE" has finished safely. Mr. Gomi and Ikeke are also reporting the fullness of the event from their own Twitter account.

East Park Thank you for the stage event ~

I was really happy that a lot of people saw it.

Thank you for all the people who have always thank you and the people who are nice to meet you today but it was my first time to watch them

Please continue your fav me.pic.twitter.com/FWnxhDxZNz

- Gomi Marika @ Live Rebolt Machi ★ Assortment (@ 53 marika 53)October 9, 2017
Machi ★ Asobi, East Park Thank you for the stage event! !
After all, I love to live with everyone with a smile (* 'ω `*) ♡
I was delighted to be able to vocalize together, I was delighted to have danced, I was delighted to have my hand raised and I was glad that I could have been with a smile.
Thank you very much! !pic.twitter.com/5l0bQFPkKS

- Ikekei Yu @ Live Revolt Machi ★ Asobi (@ ikeba_yuu)October 9, 2017