The Court judges that there is no problem in using LinkedIn's public information by scraping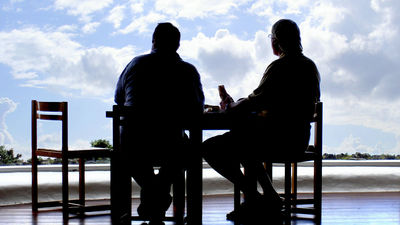 ByAshley Buttle

Known as a business-focused SNSLinkedIn(LinkedIn) publicly available profile data, enterprise support startup ·HiQ LabsButScraping (information extraction)In a lawsuit in connection with what he was using, the court ruled that this use would be acceptable, and so as to cancel LinkedIn access restrictions on hiQ Labs within 24 hours I ordered.

U.S. judge says LinkedIn can not block startup from public profile data
http://www.reuters.com/article/us-microsoft-linkedin-ruling-idUSKCN1AU2BV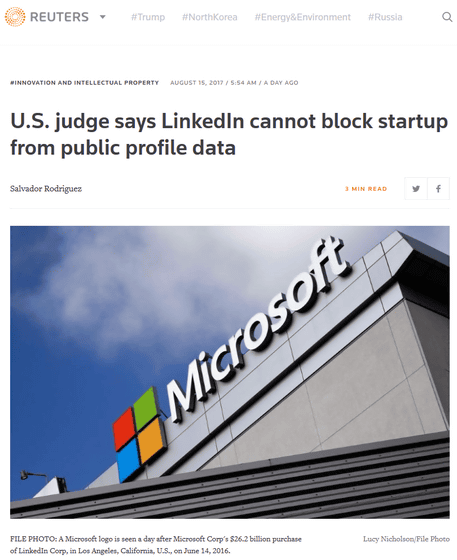 HiQ Labs was founded in 2012, a startup to support companies' personnel issues. In that business, in order to obtain information on the talent who works in a company, I have acquired profile data which anyone can see on LinkedIn. However, in late May 2017, hiQ Labs' Mark Weddic will receive a letter from LinkedIn to stop using the data.

LinkedIn, HiQ spat presents big questions for freedom, innovation - San Francisco Chronicle
http://www.sfchronicle.com/business/article/LinkedIn-HiQ-spat-presents-big-questions-for-11274133.php

HiQ Labs, which is in danger of business survival, filed a lawsuit against LinkedIn in violation of the Antimonopoly Act. On the other hand, LinkedIn argues that scraping by hiQ Labs is contrary to the "Computer Fraud and Abuse Act" enacted in 1986. For scraping, there was a trial where Facebook sued Power Ventures, Facebook was winning, but Power Ventures not only did scraping, but also made copy sites using the data obtained.

LinkedIn: It's illegal to scrape our website without permission | Ars Technica
https://arstechnica.com/tech-policy/2017/07/linkedin-its-illegal-to-scrape-our-website-without-permission/

Results of LinkedIn and hiQ Labs litigation are at the beginning. Judge Edward Chen said that scraping itself was okay and LinkedIn ordered a decision to release measures to block access by hiQ Labs within 24 hours.

Prior to the ruling, there was a view that LinkedIn was disadvantageous when scraping was a point of debate. In particular, since hiQ Labs uses profile data that anyone can access, restricting access so that data in this part can not be used means that access is restricted regardless of the other party It is an opinion that it becomes equal.

HiQ Labs received a ruling, "" public data "should be made public, and Internet innovation is constrained by the enclosure of public data to deter" legal bullying "and competition by some powerful companies Should not be done. "

On the other hand, the LinkedIn side reveals disappointment to this decision. Public relations officer Nicole Rebruck commented, "We will continue fighting to keep the power to control the information published by LinkedIn members."