AMD server processor "EPYC 7000" series specification and performance found out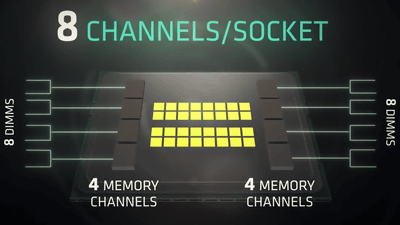 AMD is data center processor brand, which was announced in May 16, 2017 "EPYCFor the series, information on unpublished specs and performance has been acquired and released to VideoCardz.com.

AMD EPYC 7000 series specs and performance leaked | VideoCardz.com
https://videocardz.com/70266/amd-epyc-7000-series-specs-and-performance-leaked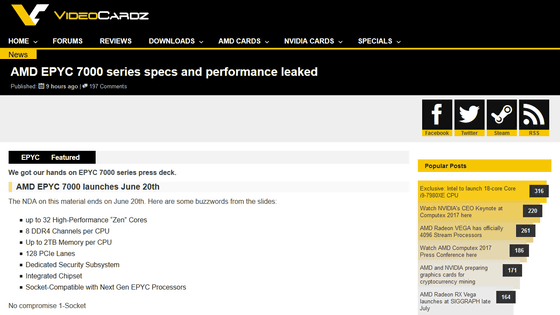 EPYC is a processor that AMD sends out to counter Intel's Xeon processor and is stated as "a goal to revolutionize the dual socket server market and transform it into expectation for a single socket server."

AMD Raises Expectations for Server Performance, Unveils EPYC Processor Brand for the Datacenter
http://www.amd.com/en-us/press-releases/Pages/amd-raises-expectations-2017may16.aspx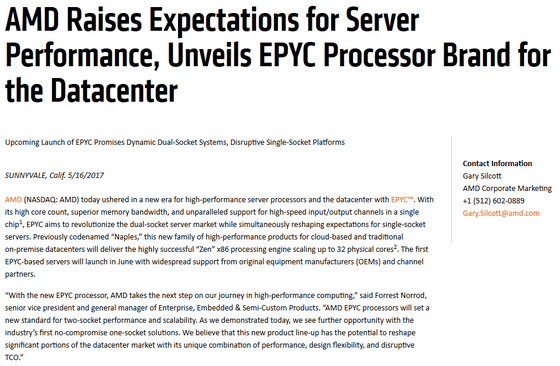 According to VideoCardz.com, the article says, "Up to 32 cores of high performance"Zen" core architecture"Support of DDR4 of 8 channels per CPU (maximum 2666 MHz)" "Maximum memory capacity per CPU is 2 TB" "PCI Express lane number is 128" "Dedicated security subsystem" "Integrated chipset" letters side by side It is said that there is.

There are 9 types of models from "EPYC 7601" to "EPYC 7251" corresponding to the flagship, and 12 types of 1 socket models are available in total.

According to VideoCardz.com the list looks something like this.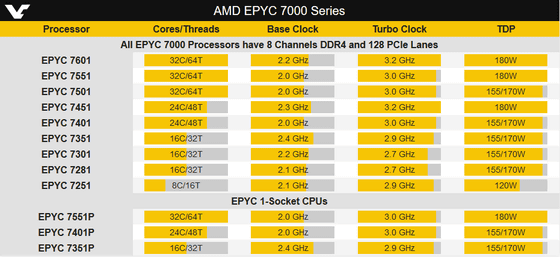 Since the assumed price also comes out, when compared with the same price range product of Xeon which is a rival, Flagship's "EPYC 7601" is "E5-2699A v4"It is thought that it will be an item of 4000 dollars (about 440,000 yen) in line with the price, but the performance is equivalent to 147% when Xeon is taken as 100%.

Beginning with this EPYC 7601, each model boasts better performance than Xeon's same price range, especially with $ 800 (about 89,000 yen)E5-2640 v4In parallel with EPYC 7301 performance is equivalent to 170% when Xeon is taken as 100%, it will be a big difference.

· Continued
AMD officially announces "EPYC 7000" series for servers such as super-discount model with high-performance 32 core model exceeding Intel's 22 core Xeon & 16 cores from over 70,000 yen formally - GIGAZINE