【Dreadful】 Actor Roger Moore who is known as the third generation James Bond of movie "007" series died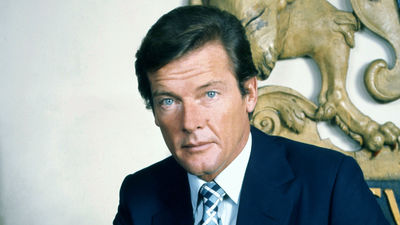 By Allan warren

In the movie "007" series that has been going on since 1962, six actors, "The Color Man", are playing the main character James Bond so far. Among them, Roger Moore, an actor who played Bond in seven pieces from '007 Dieuraso' published in 1987 to '007 Beautiful Prey' published in 1973, was found dead. I was 89 years old.


With the heaviest of hearts, we must share the awful news that our father, Sir Roger Moore, passed away today. We are all devastated.Pic.twitter.com/6dhiA6dnVg

- Sir Roger Moore (@ sirrogermoore)May 23, 2017

Sir Roger Moore, James Bond actor, dies aged 89 - BBC News
http://www.bbc.com/news/entertainment-arts-40018422

Popular actor Roger Moore died in 007 | NHK News
http://www3.nhk.or.jp/news/html/20170523/k10010992731000.html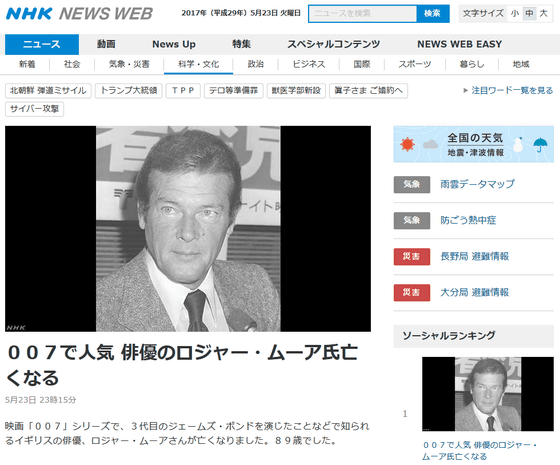 Moore was born on October 14, 1927, Stockwell, London. He was a classmate with Royce Maxwell who was in Royal Academy of Dramatic Art (RADA) for two years and later co-starred as a money penny in the "007" series.

As an actor, he was longing for Stewart Granger known for such as "Zenda Castle Wrestler" and "Sodomu and Gomorra", and in 1945 released movies "Caesar and Cleopatra" that Granger appeared as role of Apollo Dulles, then 17 years old Mr. Moore played a collaboration with appearance as an extra. Later, he also co-starred in the movie "Wild Geese" released in 1978, but he has not appeared in the same scene.

First appearance on television in 1949. In the early 1950s it was an actor known for "advertisement of knitwear".

In 1954, he signed a seven-year contract with movie production company MGM, and he appeared in "The Death in Paris in the Rainy Morning" (1954), "My Love Endlessly" (1955). In "Diana" (1956) he was in charge of the third biggest role of later Henry II, but the movie did not succeed box officially and the contract with MGM ended in 1958. The starring drama "Ivan Ho" has started in this year.

In 1959, he signed a long-term contract with the Warner Bros. movie and appeared in the movie "Miracle" (1959), the drama "The Alaskans" (1959-1960), and the drama "Maverick" (1960-1961). And the drama "Saint Heavenly Fun" that began in 1962 hits not only in the UK but also abroad, Moore is an international star.

The first film "Doctor Noo" of the movie "007" series was released in 1962 when "Saint Heavenly Funa" started. It was Sean Connery who played James Bond. "007" The original authors Ian Fleming had talked about Moose as a cast that fits Bond, and in the series published in 1967 "007 will die twice", Connelly will be down Although it was planned to become the bond afterwards, George L'Isenbee took over the second generation bond as "Producer and Director are involved in" Saint Heavenly Father "and schedule problems occurred.

However, Lazenby declined with only one work of the 6th issue "Majesty of the Queen" released in 1969. Again Moire was brought up by Mr. Moore, but because she was decided to star with Tony Curtis in the drama "Dandy 2 Brilliant Adventure", Connelly came back, and she could not become a bond.

However, the return of Connelly is limited to one work, and finally Moore is finally playing the third generation Bond from the eighth work "They are the ones who die 107". This is said thanks to the fact that the drama "Dandy 2 brilliant adventure" ceased and the body was empty. In addition, "Dandy 2 brilliant adventure" was not very popular in the main target UK and America, but it gained popularity in other countries such as Germany, France, Italy, etc. It is still regularly rebroadcasted It is said that it is.

Moore played James Bond until the "007 beautiful prey" released in 1985, totaling 7 works. This is the largest number of successive bonds. Timothy Dalton took over the role of Bond after this.

By the way, although it is the 3rd generation as Bond, Moore was 3 years older than Connly, and he was the oldest in the previous James Bond. Mr. Taroichiro Hirokawa, known for having dubbed Mr. Moore, died on March 3, 2008 at the age of 69.