Anker's waterproof Bluetooth earphone "Anker SoundBuds Slim" review available for 2,000 yen range review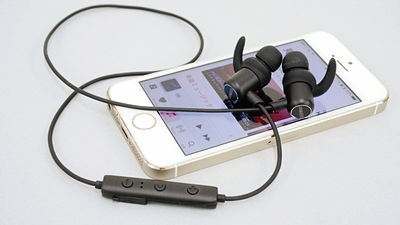 Earphones that connect with Bluetooth rather than audio jack,AirPodsThere are many people who think that it costs more like, but from Anker a reasonable priced waterproof Bluetooth earphone with a price of 2,000 yen "Anker SoundBuds Slim"Has appeared on Thursday May 19, 2017 (Thursday). Anker's Bluetooth earphone reviewed last time "SoundBuds Sport IE 20I touched the real thing and checked what kind of difference it is.

Anker | SoundBuds Slim | Black
https://www.anker.com/products/A3235011

SoundBuds Slim is in a white and blue package common to Anker products.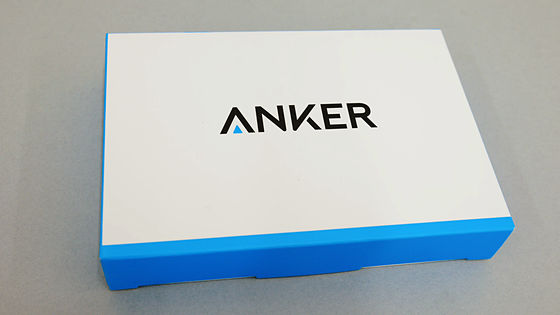 Instant opening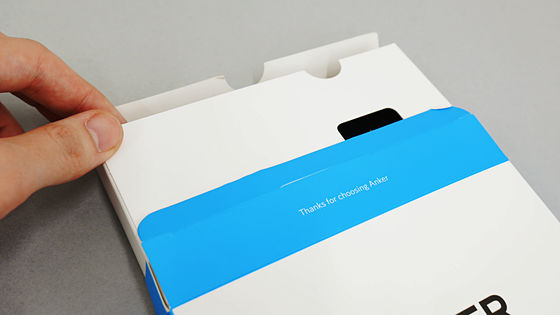 The contents are SoundBuds Slim main body which entered the travel porch, instructions, Micro-USB cable for charging, ear tip (XS · S · M · L), ear hook (S · M · L), fit clip, shirt clip.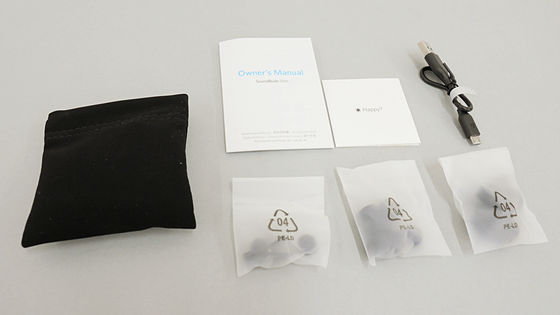 SoundBuds Slim body is like this. There is a cable between the left and right earphones, but there is no audio plug, it can be used wirelessly with Bluetooth compatible equipment such as smartphones.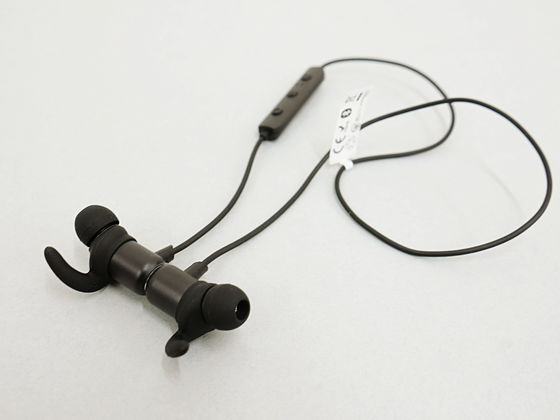 The part of the earphones "ANKER" written logo is a magnet ... ...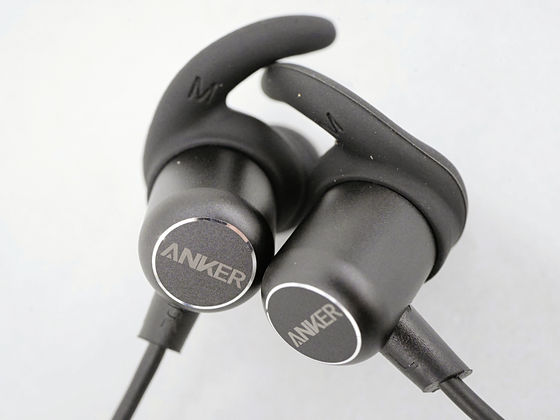 Stick together if you put both sides together. The left and right earphones are scattered around here and in the bag, and the cable can be carried smartly without being crowded.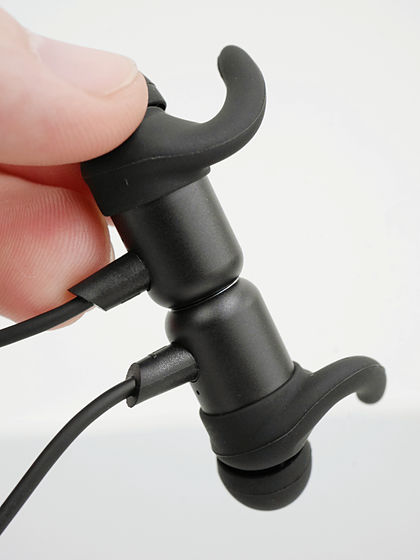 In addition to adjusting the length of the cable with the fit clip or shirt clip, you can change the ear tip or ear hook to any size according to your ear.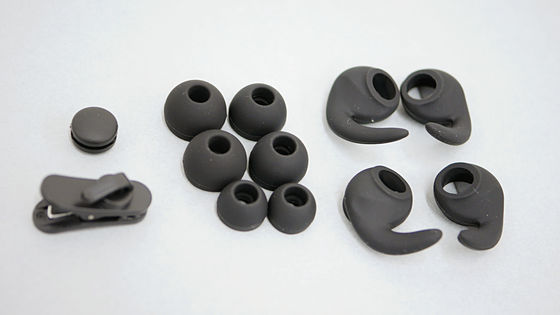 The controller is attached to the side near the right ear when wearing. From the top, press the "PLAY / STOP" or "LOW VOLUME" button on the button to turn on the power with the power ON for 1 second and press and hold for 1 second with the power ON, the sound such as Siri Activate an assistant, etc., to answer a call by pushing on arrival. "Increase volume" "Lower volume" button for 1 second will skip to the previous and next songs.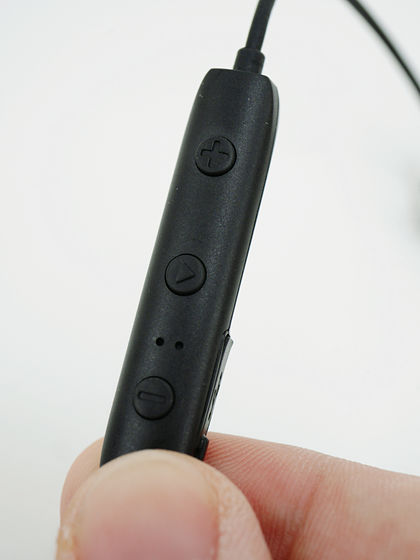 There is a rubber pad on the side of the controller ......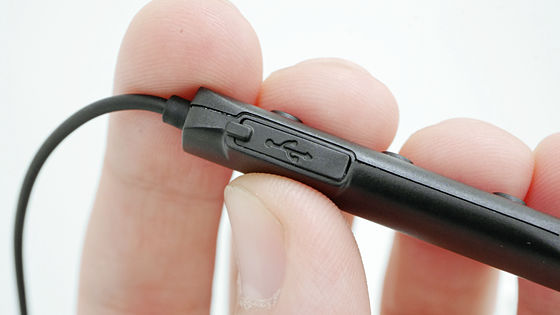 When opening it is possible to charge by inserting Micro - USB cable. There is a small protrusion on the rubber pad, so it is a nice place to open and close easily. When charging up to full, the continuous playback time is about 7 hours, which has a longer playback time than a general Bluetooth earphone.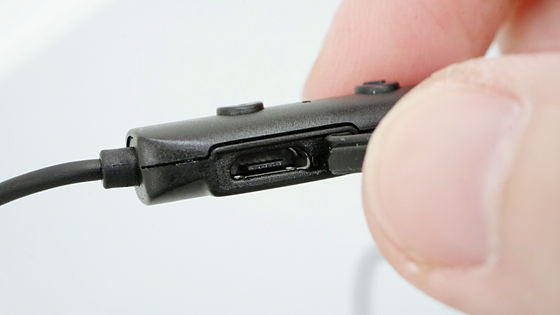 In addition, I used the old model "SoundBuds Sport IE 20" for about half a year, but the rubber pad of the USB port of SoundBuds Sport IE 20 had no protrusion as below and it was a level that opened and closed was tough and stressful. It can be said that SoundBuds Slim has improved this point firmly.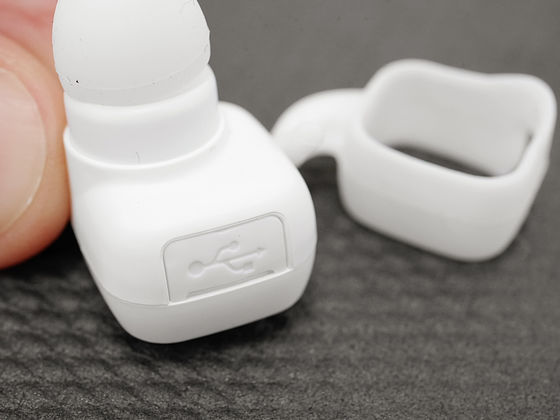 To use SoundBuds Slim, long press the "play / stop" button of the controller for 1 second, the LED under the button blinks blue, and you enter pairing mode.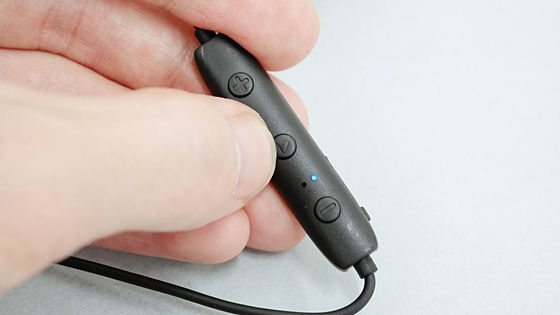 Next, open the Bluetooth setting screen of the Bluetooth device you want to connect and tap "Sounds Slim". This time I connect iPhone and SoundBuds Slim.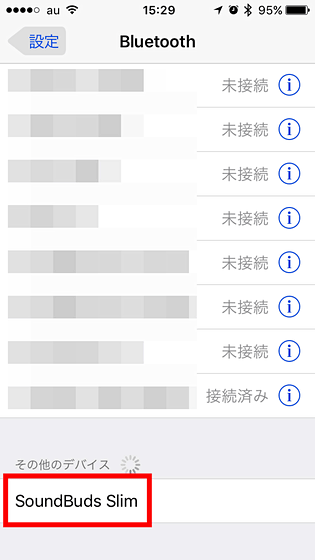 IPhone's sound is now output to SoundBuds Slim if "Connected" is displayed. In addition, next time you turn on the power of SoundBuds Slim it will be connected automatically. Battery level can be checked from next to the Bluetooth icon.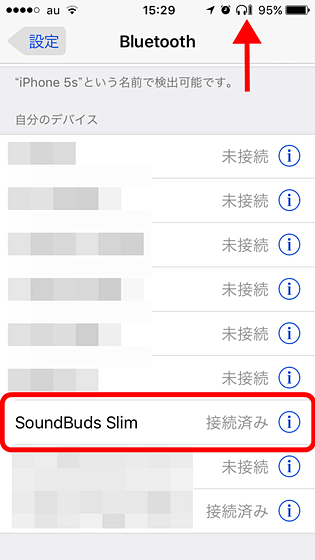 By the way, the old model SoundBuds Sport IE 20 is turned on only by separating the earphone's magnet, but the power supply of SoundBuds Slim has been modified to hold down "play / stop" button for a long time. It is smart in a sense that the magnet and the power supply are interlocked in a sense, but it was frequently occurring that it was separated by a shock in the bag and connected to the smartphone unexpectedly, so this received feedback as well It seems to be said to be an improvement.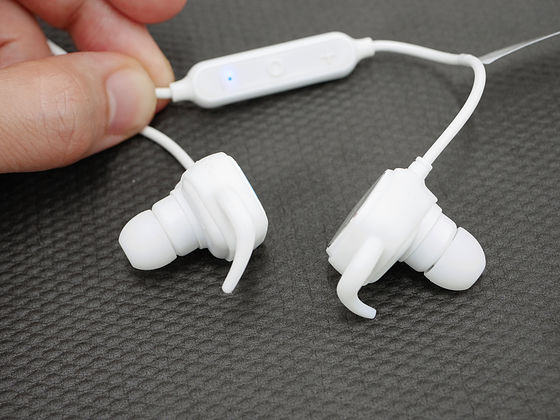 So when you actually wear SoundBuds Slim it looks like this. Since the ear hook fits perfectly in the ear, it seems that it will not come off if exercise of the degree of jogging is done. Because it has waterproof standard of IPX 4, it does not panic even sudden rain etc during exercise. SoundBuds Slim also has a 6 mm compact audio driver and you can experience powerfully clear sound.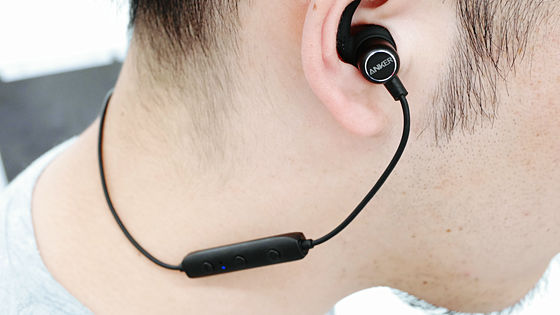 The controller is also in a position that can be operated quickly with the right hand, and it seems to be able to operate the volume of music without stress and to answer the phone.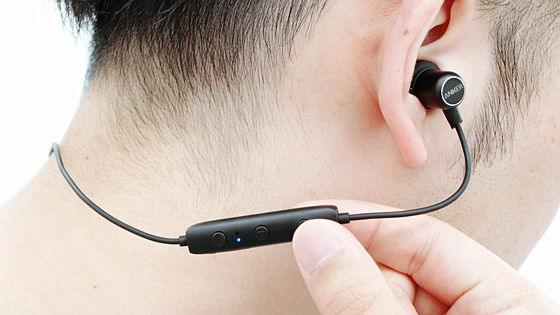 If you press and hold "Play / Stop" button for 1 second, you can activate Siri on iPhone. Since SoundBuds Slim has built-in microphone, if you say "just put music on" as it is, you can start using listening to music without operating the iPhone at all.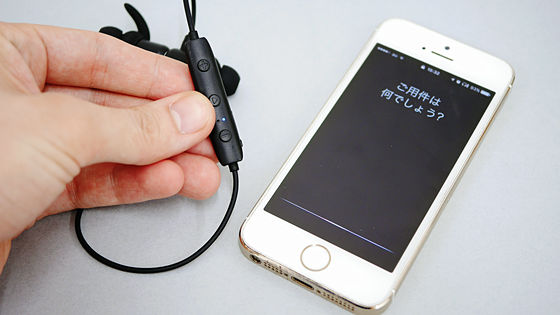 In addition, Amazon's selling price of SoundBuds Slim is 2499 yen including tax. On May 19th (Friday) on the day of release date, 1000 pieces can be purchased with 20% discount price including tax including 1999 yen.

Amazon | Anker SoundBuds Slim Bluetooth Earphone (Canal type) 【Magnet function / Waterproof standard IPX4 / Built-in microphone installed】 iPhone, Android correspondence | Earphone / Headphone Online mail order