I have eaten Susiro "Premium Friday Set" to enjoy premium Friday with raw draft beer and raw salmon sashimi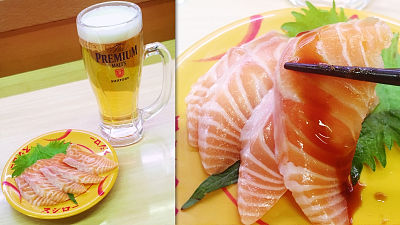 It started from February 2017Premium FridayIn accordance with the first premium Friday on February 24"Premium Friday set" where you can eat big bean tuna with 100 yen when ordering beerSculil who had been offering Sushiro in March premium Friday as the second set of the same set, if you order draft beer raw salmon sashimi can be eaten 100 yen in March version "Premium Friday Set"We only offered each restaurant only 20 meals on March 31st only. I have been experiencing the premium Friday set of the virtue by going to the scroll though it has not confirmed how premium Friday will spread anyhow.

Campaign / Recommended | 【3/31 (Fri)】 Limited 20 meals! We offer Premium Friday Set! | SUSHI (Sushi) · Sushi Rotary Sushi
http://www.akindo-sushiro.co.jp/campaign/detail.php?id=529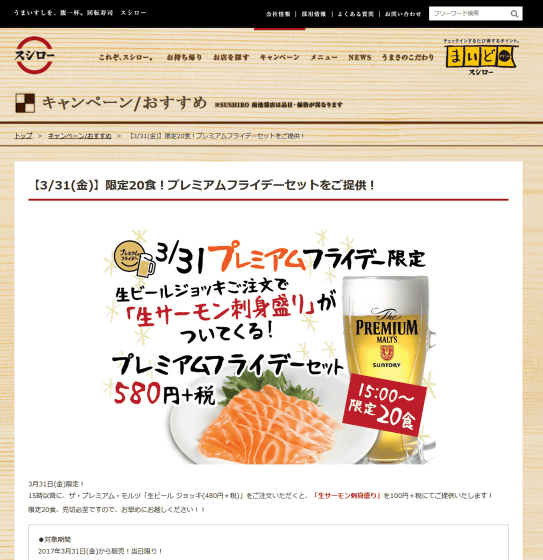 In the afternoon on March 31, I arrived at Sculil at 15 o'clock. As expected it was only 15 o'clock, so the customer for the premium Friday set did not seem to have visited yet.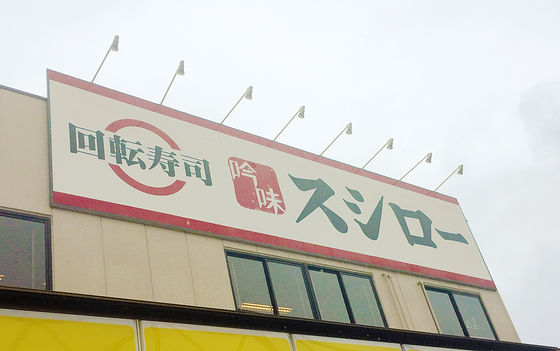 On the table there was a menu written "Today is Premium Friday!" The contents of the special set is a total of 580 yen (excluding tax) with Suntory · Premium Malt's raw beer mug (regular price 480 yen) plus 100 yen for "raw salmon sashimi prime". At the start of acceptance from 15 o'clock, it was a menu limited to 20 shops in each store.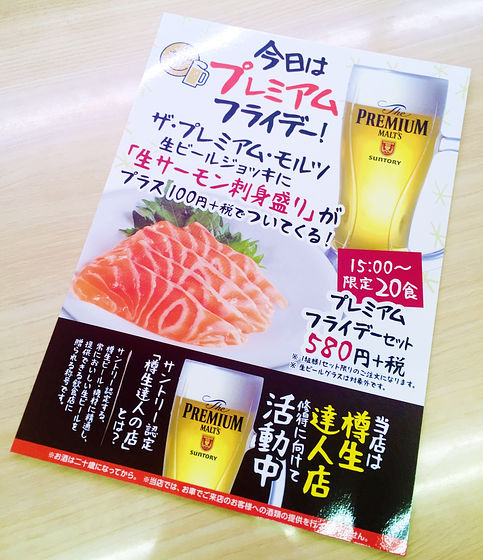 Order with the touch panel in front of you ......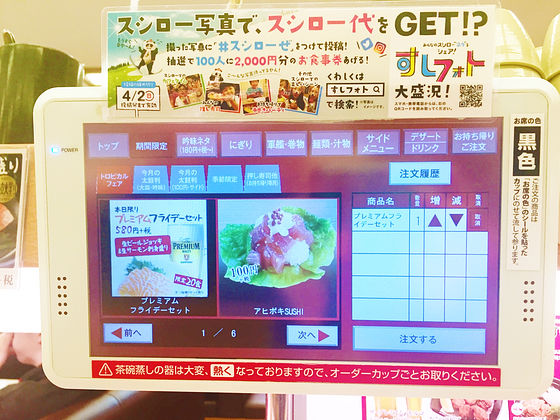 A few minutes later, a raw draft poured into a mug and a raw sashimi sashimi serving in a small dish arrived. Just to be sure, this is a time zone that happened a little around 15 o'clock. If you usually work when you are working well, beer and sashimi are in front of you, the feelings that made me somewhat disgusted at Tamaran sight can not be wiped out.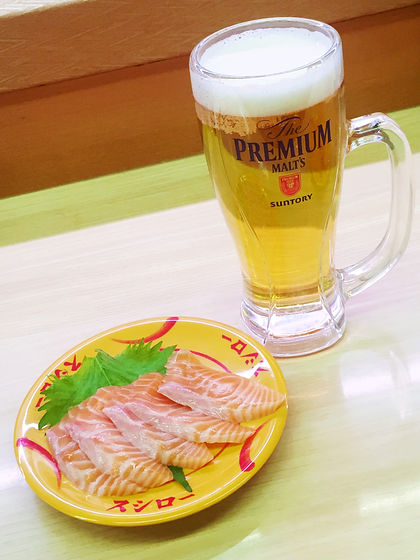 Freshness is felt on the surface of salmon. The soft feeling felt when holding a fillet with chopsticks makes me realize that this is definitely a raw salmon.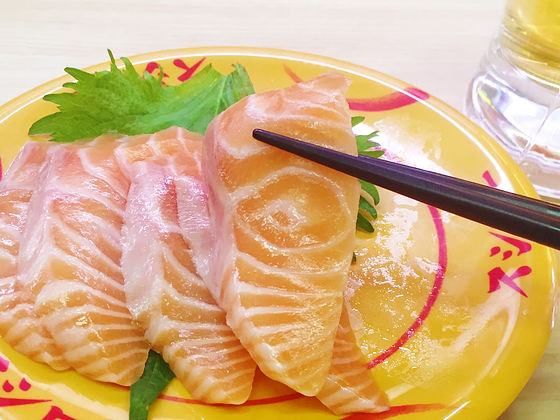 Drop a bottle of soy sauce and a mouthpiece. The body of a smooth, lewd salmon slides into the mouth, the fragrance of soy sauce spreads in the mouth with soft tooth touch and the scent of salmon. With that taste and texture, the mood is already "Oh no more today's work end!"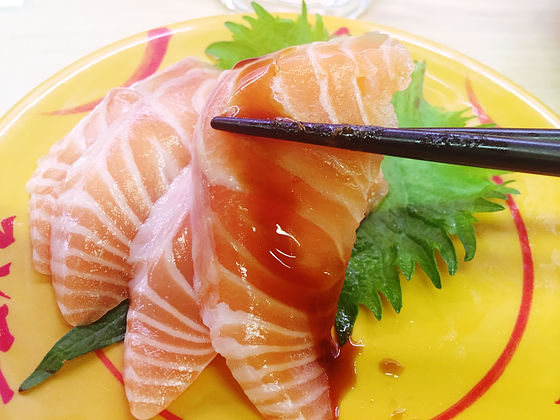 And when beer joins here, the feeling is completely game over. It is a momentary sight that you enjoy usually after dark as the sun goes down, but indeed, I think premium friday means that you can enjoy such modest enjoyment from the 15 o'clock position, which is why it will penetrate the Japanese society It is where I expect it.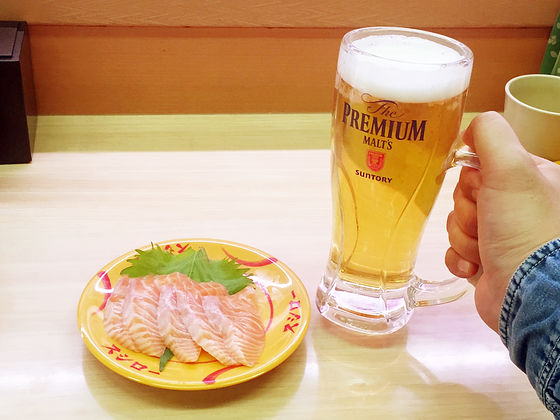 Due to the introduction of beer, "Although there are people who are working to realize this premium Friday ..." and while holding a strange appreciation, this also offers for a limited time We have ordered sushi of "Tropical Market" menu of southern country feeling being added additionally.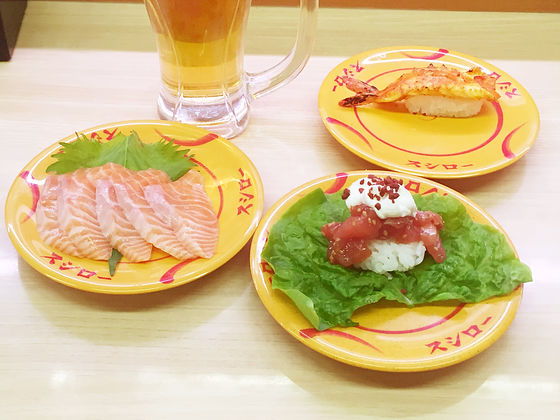 Tropical market is a series of sushi that uses Hawaiian, such as tuna, shrimp, roast beef and so on. Four kinds of sushi and hamburgers, salads and desserts are prepared.

Campaign / Recommendation | 【3/15 (Wed) ~ ~】 Good taste of southern countries feels slippery! Tropical Market | Sushi (Sushi) · Sushi Rotary Sushi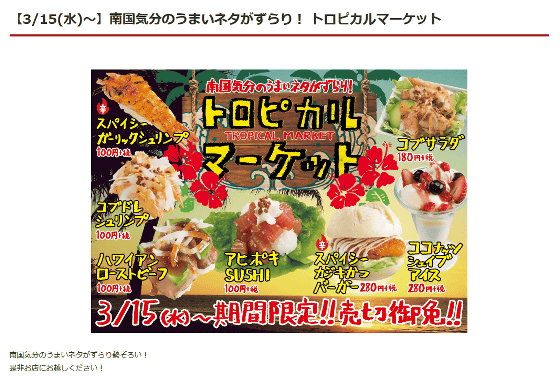 "Ahippoki SUSHI" (100 yen tax) is a creative sushi that imaged a traditional Hawaiian ahippoki that topped a whipped cream on a tuna which was soaked with soy sauce and sesame oil.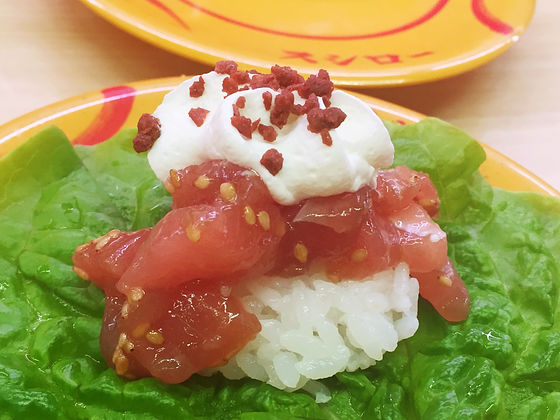 Ahippoki can eat with authentic avocado in authentic Hawaii. When wrapped in a leaf of sunny lettuce with one mouth, the flavor of whipped and sweet whipped cream matches more than expected to the flavor of sunflower tuna. It seems that it is a southern country, the atmosphere of the dessert drifted in the taste drifted. By the way, because there is also a version without whipped cream, it is also ants who try to challenge them, as they are likely to be injured.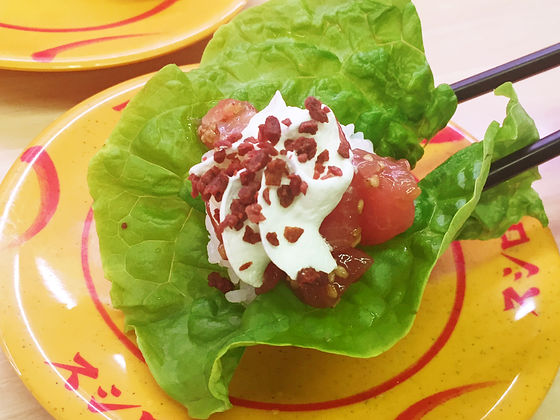 "Spicy garlic shrimp" (100 yen per tax) is a dish that finished shrimp with spicy garlic flavor as it reads. The curry flavor is main spicy and the power of garlic was added plus, it was finished in an energetic taste, it was a dish that actually beer was going forward.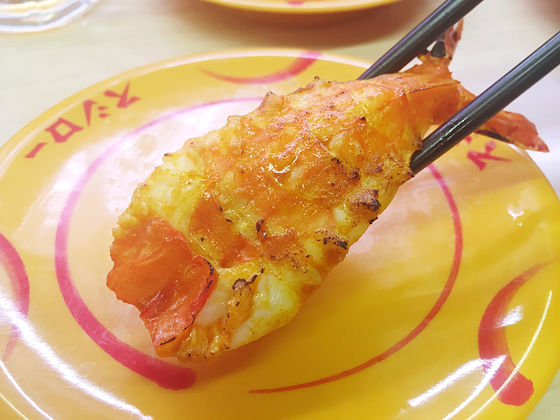 While tasting the southern country mood and beer, the last was a salmon made with wasabi, with perot and shime. After finishing work at 15 o'clock and enjoying drinking and a light meal and enjoying Friday afternoon ... ... It became a drinky feeling in a set that makes me feel like I enjoyed premium Friday like that, "I'm sure you do not work too hard in Japan I thought that this was enough ... "I decided to leave the store behind.