Tourist resort information, coupons, recommended spots, etc. Discover TOYAMA application that can see all the information necessary for Toyama sightseeing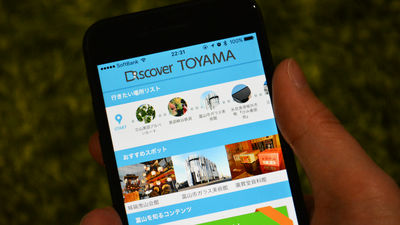 Toyama Tourism Promotion Organization× Toyama prefectural university × Fujitsu jointly developed, the smartphone application which collects and analyzes traveler data and tells the recommended spot is "Discover TOYAMA"is. Try sightseeing route to Toyama prefecture, tell us the recommended spots around it, show us the coupons that you can actually use, and it's a lot of information useful for sightseeing so I tried using it actually It was.

A sightseeing application that enjoys Toyama "Discover TOYAMA"
https://info-toyamaform.jp/app/

"Discover TOYAMA"IOSWhenAndroidWe are distributing the application for the iPhone, but this time install it on the iPhone and try using it. Tap "Get" to install the application.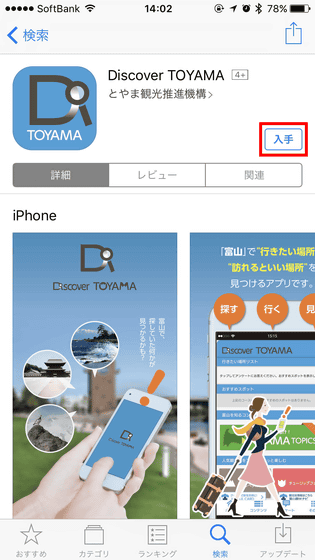 Tap "Open" when installation is completed.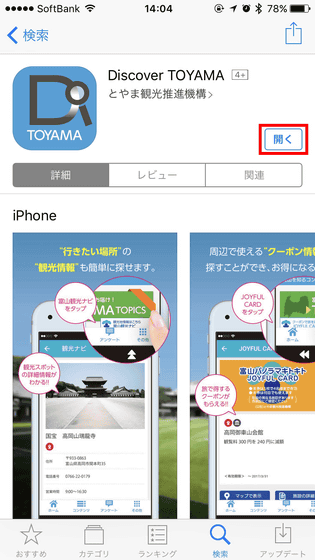 At the initial startup, it is displayed whether or not to notify the application ... ...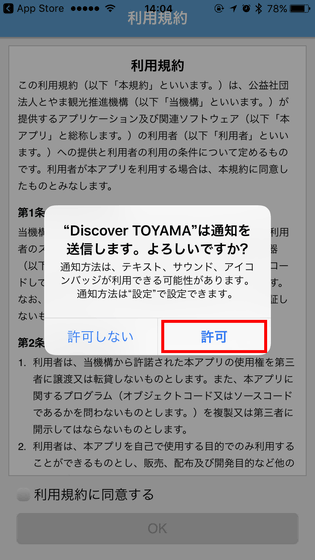 Next we will set about usage of location information. Because Discover TOYAMA has a scene to use location information, it seems good to "allow" the use of location information.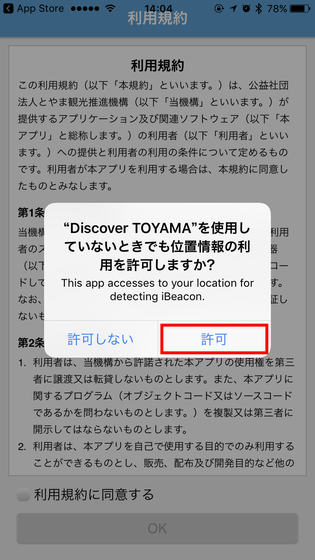 Next terms of service are displayed ......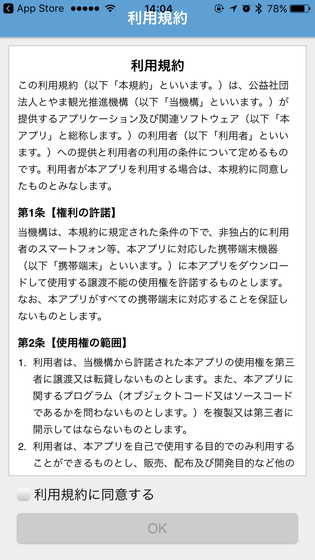 Read the terms, tap "agree to the terms of service", then tap "OK".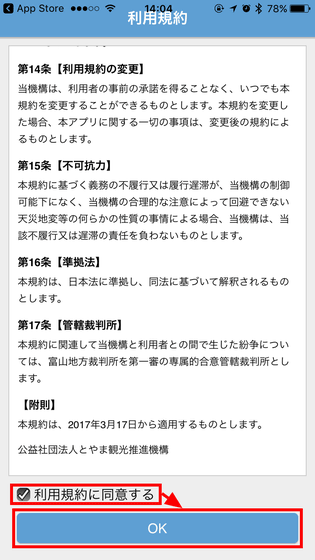 "How to enjoy your application" is displayed, so tap "Start application".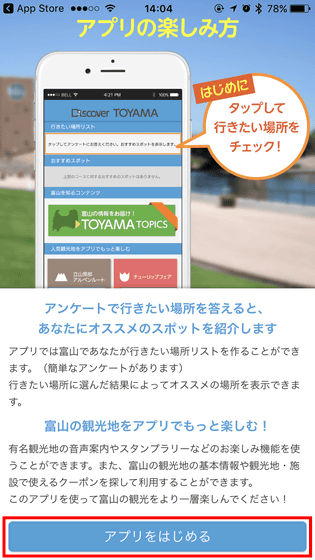 This is Discover TOYAMA's top screen.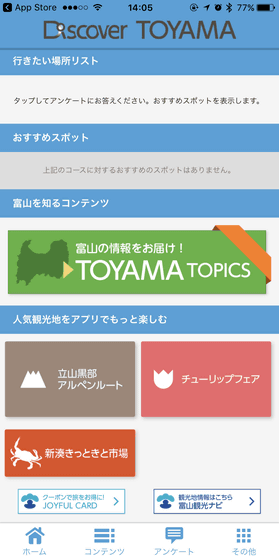 First of all, at the top of the screen, tap on the part titled "Please tap to answer the questionnaire and display suggested spots."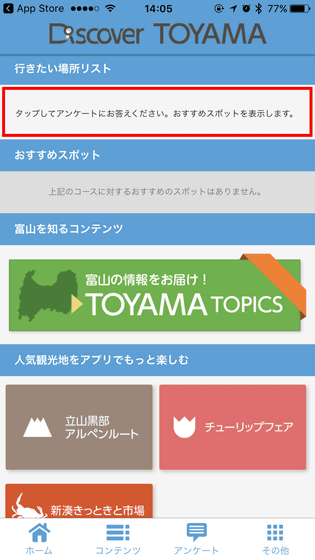 Then the questionnaire started. At first select gender, age, place of residence and tap "Next".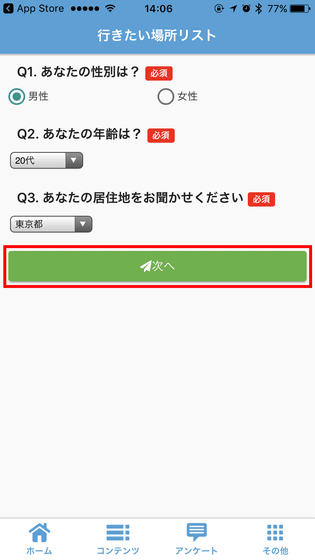 Next is "Toyama prefecture tourist destination list" is displayed.



At the bottom of the list were neighborhood prefectures in Toyama prefecture such as Niigata, Gifu, Ishikawa, Nagano and Fukui.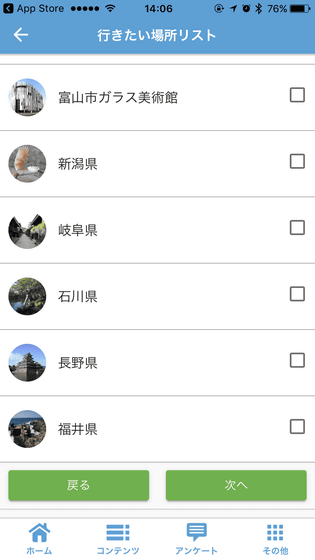 Tap the place you want to go from this list and tap "Next".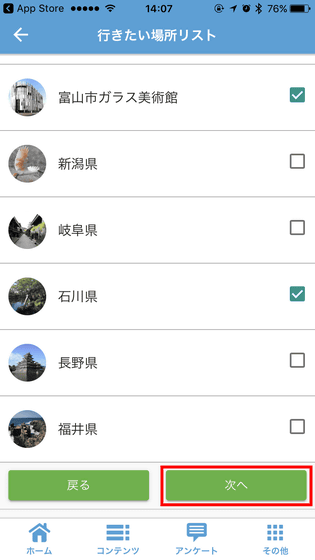 Since the sightseeing spot that you have chosen as the place you want to go is displayed, tap the button in the red frame part and arrange the "order when you actually go to sight" from the top in order.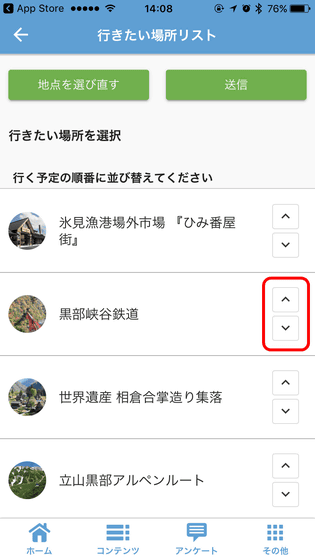 Tap "Send" when sorting is completed.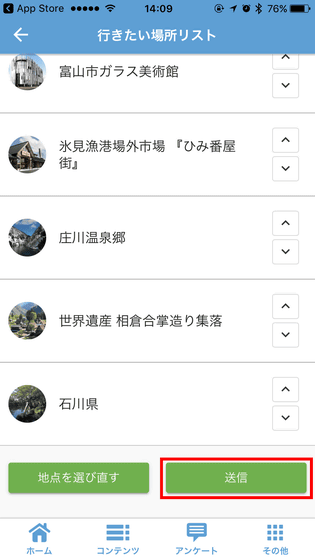 Tap "OK".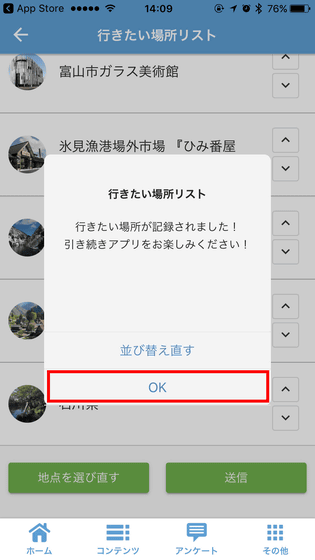 The list of places you want to go to the top of the top screen is displayed. Tap this ... ....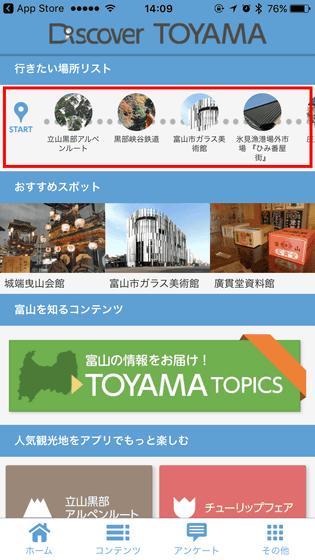 You can rearrange and redo the places you want to visit at any time.



When you set the place list you want to go to, the surrounding recommended spots are displayed below it. Tap this ... ....



Photos and descriptions of recommended spots will be displayed, so if you think "If you are worried ......" If you add it to the place list you want to go new, it is ok.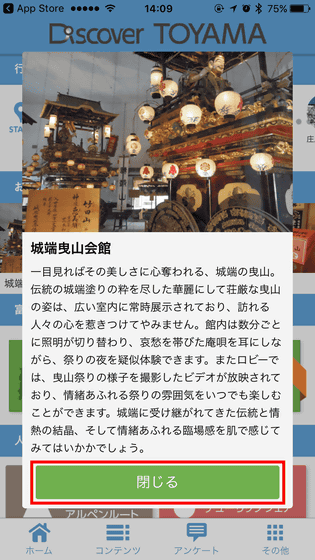 Tap "TOYAMA TOPICS" under it further.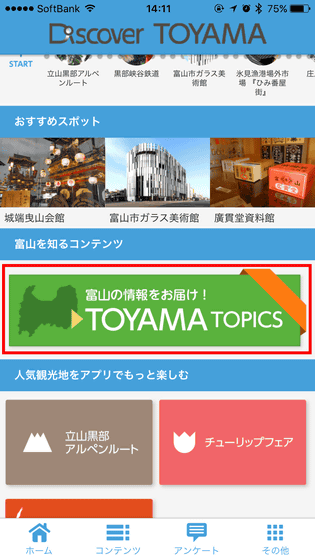 Because the recommended events and spots of Toyama prefecture every season are displayed here, it seems to be a reference to decide which season to visit Toyama.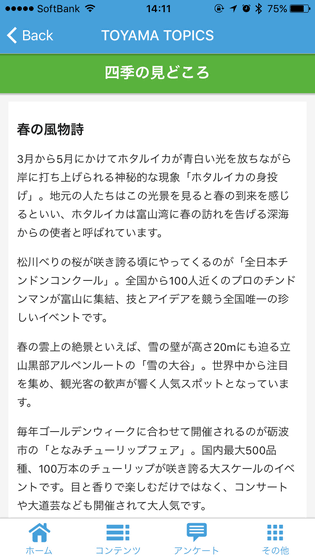 Below that, there are apps that can see more information about three spots / events related to "Tateyama Kurobe Alpine Route", "Tulip Fair" and "Shinminati Kitto Market". Actually tap "Tateyama Kurobe alpine route".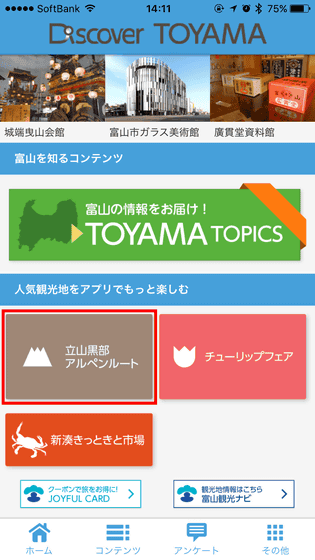 Then a vertically long page was displayed as shown below.




The illustration map with voice guidance at the top is ...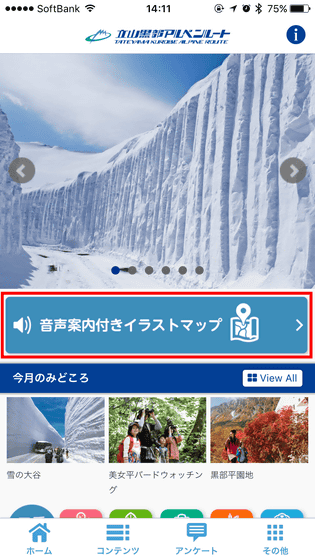 State that can not be used at the time of article creation. However, other contents can be used firmly.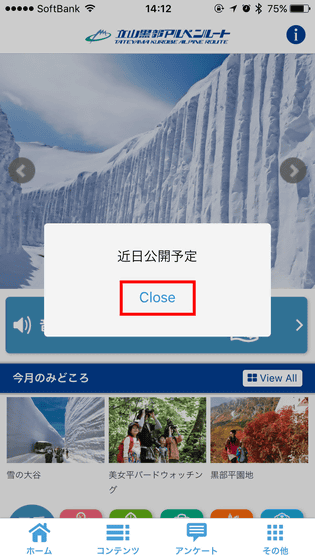 The highlights of the Tateyama Kurobe Alpine Route are displayed in the "Highlights of the Month", and when you tap "View All" ......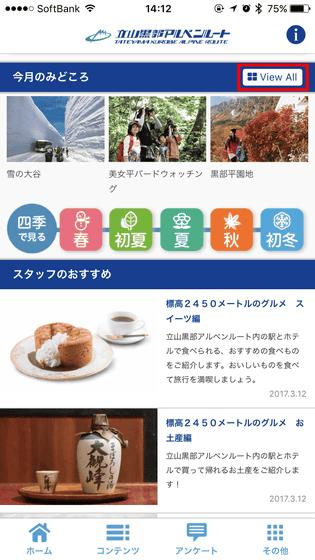 You can check the highlight information in more detail. In addition to the temperature and conditions of the Tateyama Kurobe Alpine Route at the present time, as well as an indication of what kind of clothing to go with when going to the Tateyama Kurobe Alpine Route is actually displayed, so that people coming to sight from afar It may be pretty grateful information. Furthermore, "attractions spot" is also displayed, so when you tap this ... ...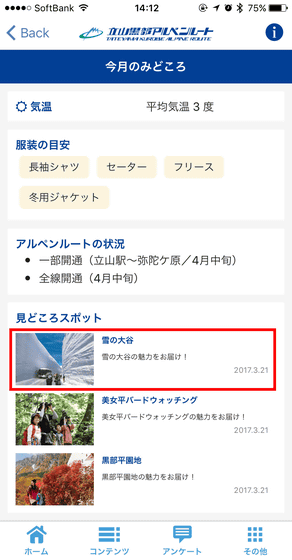 You can check details as follows.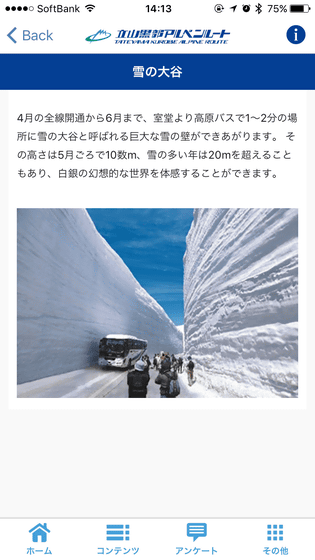 Furthermore, recommendation information of Tateyama Kurobe Alpine Route is displayed in "Staff's Recommendation".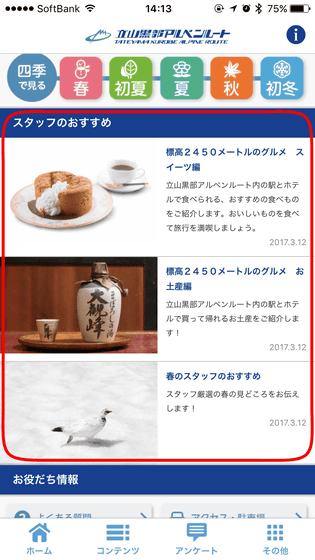 In addition to recommended gourmet / souvenirs, animals seen at the time of sightseeing were introduced.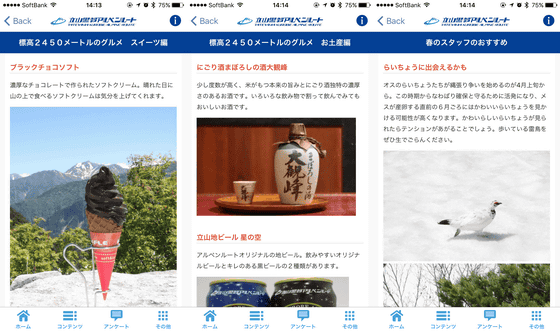 In addition, Frequently Asked Questions about Tateyama Kurobe Alpine Route, Access Method, and MoreTateyama Kurobe alpine routeThere are plenty of links to various contents on the official website of. Tap "Home" to return to the home screen of the application.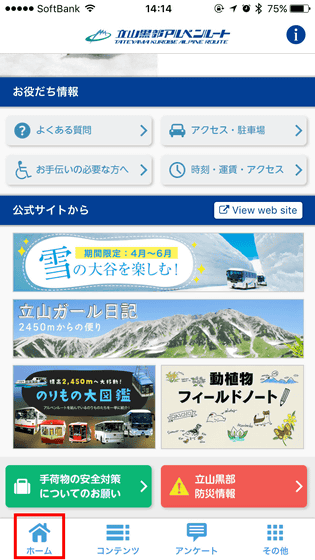 Tap "Tulip Fair".



this isTonami Tulip FairIn the guide application of ... ....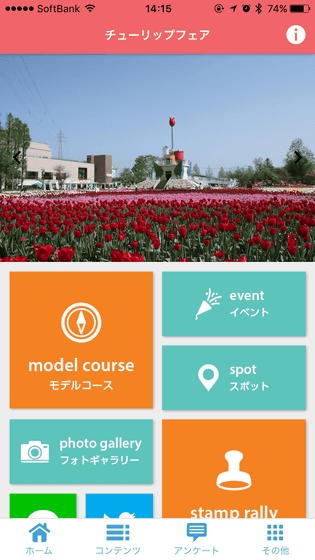 There are also a recommended golf course around the tulip fair, a list of events to be held at the tulip fair, a photo gallery showing what kind of sight actually can be seen, and a stamp rally that can be done with the application.



At "Shinminatokitto and Market" ......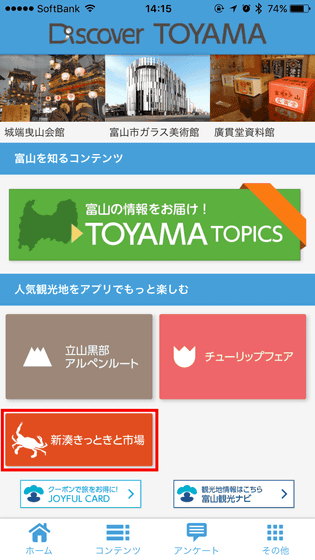 Shinminatokitto and marketThe information of is displayed. As for the amount of information, Tateyama Kurobe Alpine Route is large, Tulip Fair is inside, New Town Minatokiti and market is small feeling.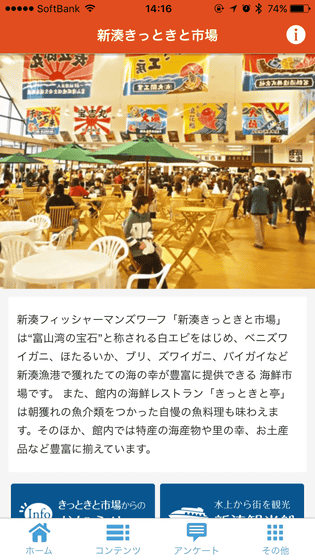 In addition, there are coupons that can be used when actually going to sightseeing in Toyama at "JOYFUL CARD" at the bottom of the application.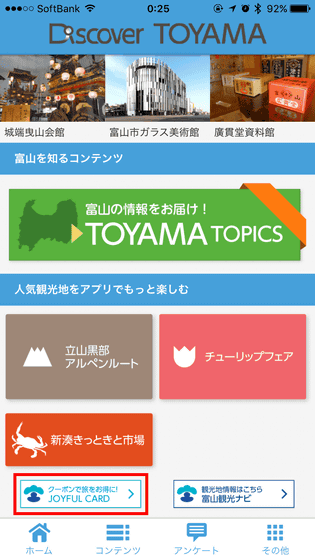 There were considerably plenty of coupons and more than 70 were displayed at the time of article creation. Tap it ......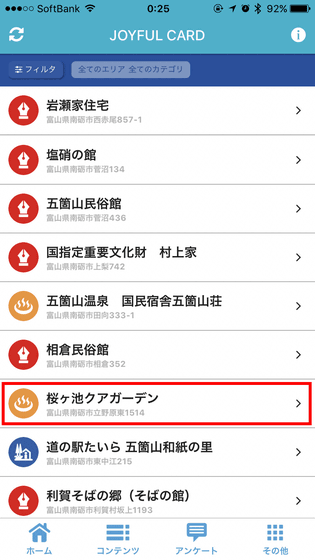 Information on where coupons can be used and discount information is displayed.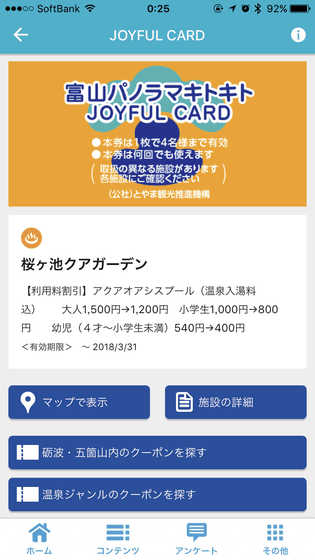 To Toyama Sightseeing Navi beside the coupon ... ...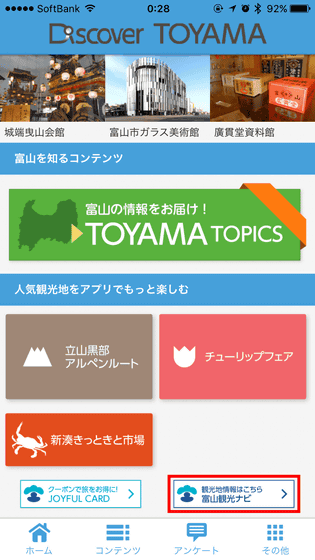 Tourist spot information is listed. Tap it ......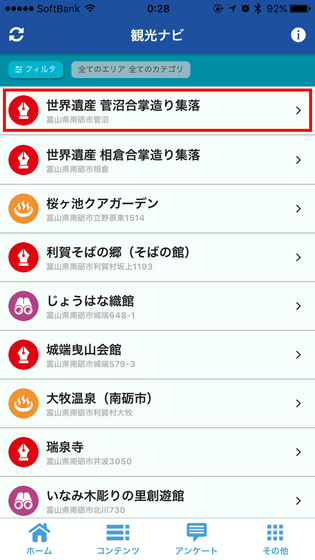 In the list, information such as address, telephone number, business hours, holidays, rates, accesses and parking lots is dangerous.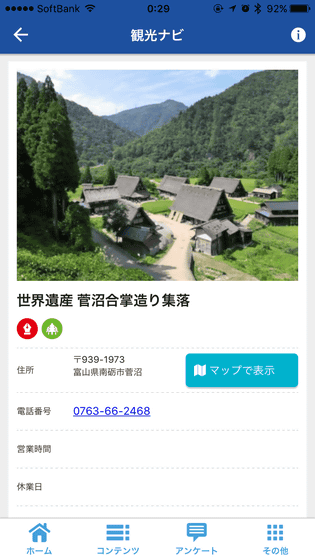 If you tap "Questionnaire" at the bottom of the screen ... ...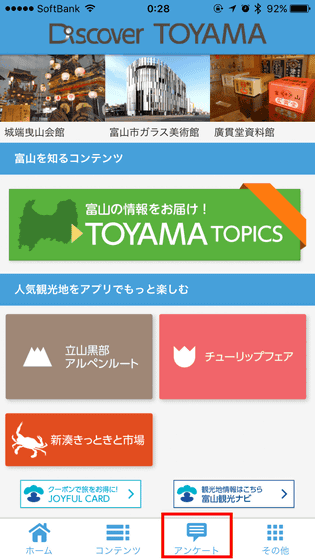 It is possible to participate in a questionnaire that gifts premium special products of Toyama prefecture. However, since the questionnaire must answer when sightseeing in Toyama prefecture, even if answering outside Toyama prefecture, it seems to be invalid.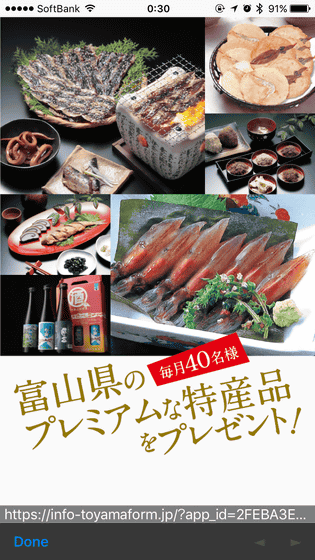 In addition to actual tourist spot information, there are plenty of coupons that can be used at sightseeing. If you actually try using it, we may suggest sightseeing spots that the user did not imagine, so if you have the opportunity to go sightseeing in Toyama, you have installed it on a smartphone and it is becoming an app without loss.