Apple deleted Iranian apps from the App Store, why?


Iran's news media is that Apple has deleted apps developed by Iran's developers and startups from the App StoreTechRasaIt reports. According to the news report, the application for Digikala, the biggest e-commerce service in Iran, was removed in late January 2017, Apple has not commented on this subject, but it is not a procedure based on the International Trade Law It is reported by TechCrunch of foreign news media.

Why Is Apple Removing Iranian Apps From the App Store? - TechRasa
http://techrasa.com/2017/01/28/apple-removing-iranian-apps-app-store/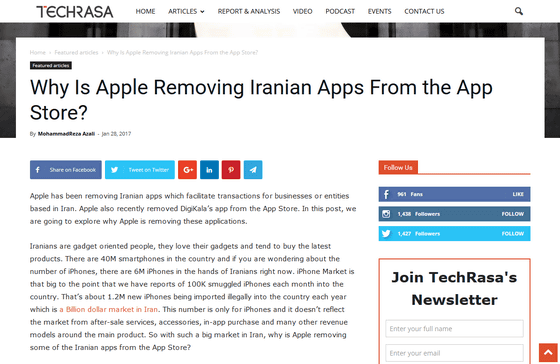 Apple has allegedly begun removing Iranian iOS apps from the App store | TechCrunch
https://techcrunch.com/2017/01/29/apple-has-allegedly-begun-removing-iranian-ios-apps-from-the-app-store/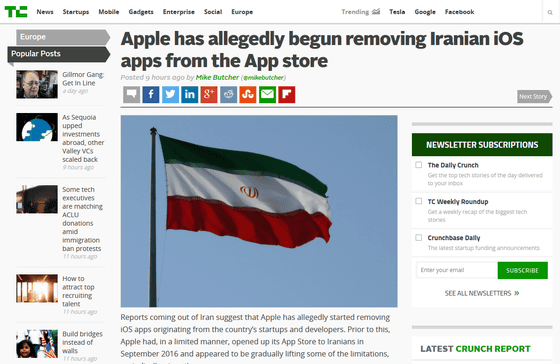 Apple reportedly removing apps from Iranian developers & startups from the iOS App Store | 9to5Mac
https://9to5mac.com/2017/01/29/apple-removes-iranian-apps/

The use of the Internet is partially restricted, and a report which examines the degree of freedom of the Internet of the world that Freedom House publishes every year "Freedom on the Net"Even Iran was evaluated as" it is a restricted Internet environment following China. " In Iran, the use of the app distribution service app store provided by Apple was restricted, but its regulation gradually relaxed from September 2016. During the period when access to the App Store was restricted, Iranian developers seem to have delivered the app on the App Store by pretending to be a developer of another country.

The estimated number of smartphones operated in Iran is estimated to be 40 million units, of which 6 million are said to be iPhones. Furthermore, it is reported that about 100 thousand iPhones are smuggled every month in Iran, and Iran's population is 82 million, considering that the average age is less than 30 years old, I can see that Apple has a big potential market in Iran.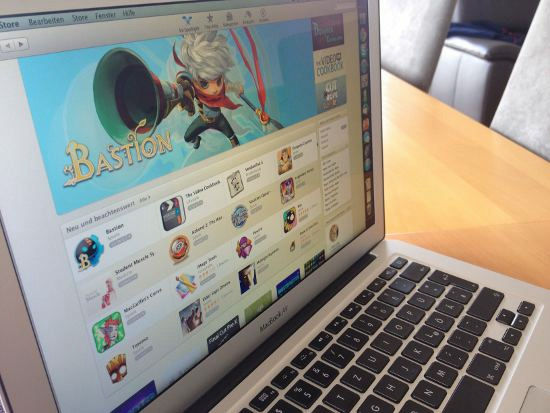 ByApfelNext

However, Digikala's application, which is the biggest e-commerce service in Iran and has millions of users, has been removed from the App Store. The Digikala application uses a payment system called Shaparak, but since it is isolated from the international system, it seems that it will not violate Apple's terms. However, the Digikala application has been removed from the App Store as being in violation of other policies.

It is clear from what comments Apple sent for Iran developers what that "other policy" points to. According to a comment from Apple for developers, "Unfortunately, applications that facilitate business commerce, or Iran-based developers' applications conform to" Iranian Transaction and Sanctions Regulation (ITSR) " For these reasons, we can not accept your application application right now.When the JGB Trade Law has been revised and these functions are accepted, we will not be able to distribute your application on the App Store, Please apply for the application again ", you can see that the application was removed from the App Store as being in violation of the ITSR issued by the US Treasury Department.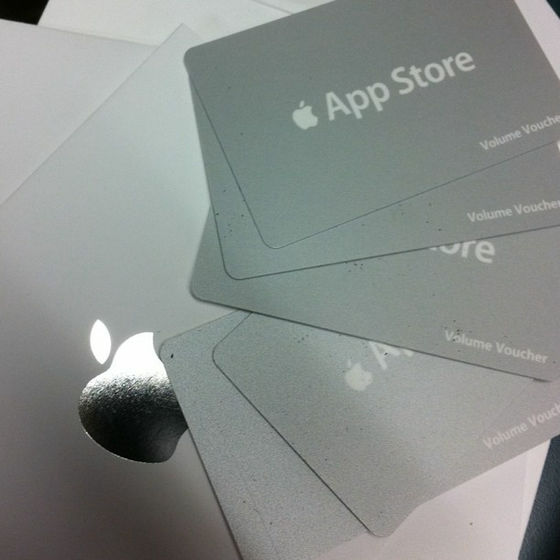 ByTom Woodward

Whether it conflicts with ITSR is "an application that enables commercial transactions" or "an application developed by developers based in Iran" remains unknown at the time of article creation.

It is said that many Iranian banks have their own iOS applications, but they are not through the App StoreSide loadingIt is said that it is provided by.