The return battle of Miura Kuroda which was allegedly suspicious of smuggling illegal use of smartphone in Shogi was decided, Koji Tanigawa, president of the Japanese Shogi Federation resigned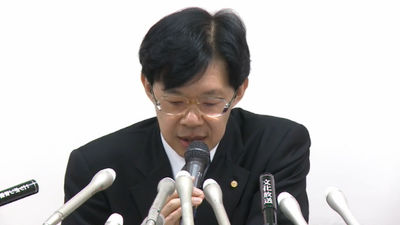 Under the doubt that smartphone used chess software to do cheating software, the challenggement of Watanabe Aruyuu was deprived in the 29th term Dragon King game held in October 2016, and the official fighting suspension suspension for about two months I was receivingHiroyuki MiuraKuzute's return battle was decided as one pair of the 30th Dragon King fight held on February 13, 2017 (Monday). The opponent is three crowns of Hanyu Yoshihiro.

Because of this problem, the third party investigation committee concluded that Miura Kuzita did not conduct illegal activities, there were incompleteness in responding before the Executive Committee that decided to delay the establishment of regulations for the competition and suspension of participation in Kiyosu Miura In the meantime, President Koji Tanikawa of the Japan Shogi League announced his resignation and held a press conference.

Japan Shogi League officially resigned as president of Koji Tanigawa | NHK News
http://www3.nhk.or.jp/news/html/20170118/k10010844011000.html

Japan Shogi Federation resignation Koji Tanikawa resigns at a press conference - 2017/01/18 15:00 start - Nico Nico Live broadcast
http://live2.nicovideo.jp/watch/lv288031641

President Tanigawa who appeared just at the start of the interview expressed his resignation as saying, "I came to the conclusion that I will resign to show sincerity to organizers, sponsors, shogi fans, Hiroyuki Miura Kudan" Did. According to Mr. Tanigawa, since October 2016 when the problem became clear, it became difficult for the mind and body to feel bad in mind while continuing to take responsible positions because it was determined that the Shogi League would be inconvenienced It is said that he resigned. In addition, in order not to create a blank period, I will serve as president until the decision of the new president.

Regarding the resignation representation, originally it was scheduled to be released after the Board of Directors was held on January 19th and was officially accepted on the spot, but since some reports had preceded, a meeting will be held on January 18th What was supposed to be.

In the press conference, Mr. Tanikawa had no mistake about the decision to suspend the official game against Miura Kuroda at the Executive Committee of October 2016, but was delayed in the preparation of the regulations of the competition and the pointed out to the Miura Kuroda from the chess player I felt great responsibility for the incompleteness of response before October, such as the absence of meeting in July in July and survey of concordance rate, I feel sorry about having Miura Kuroki think hard I said,.

Regarding the president's position, though I thought that fulfilling the term of office is not a matter of resigning in the past, it was not thought that the mental and physical disorders that continued since October 2016 will not recover through the year-end and new year, It was thought that it was difficult to keep on carrying the shogi world, and judged with the look of the future of the shogi world also in mind.

·Question-and-answer session
Q:
A cheerful voice calls for a general resignation from a chess player, but was there any influence?

Tanikawa:
I have not heard such a story directly, and since myself was considering resignation ten days ago, it has not been affected.

Q:
What are your thoughts on the responsibilities of other directors?

Tanikawa:
Since it is such a big problem, I am such a position (taking responsibility) as the president, so that I will sincerity to you by resigning.

Q:
As for successor, a name is listed in some press organizations, but who are you?

Tanikawa:
I think that it will be in the form of director elections first after I acknowledge my resignation at the executive board of tomorrow, so I think that it is decided by a member of a chess player. However, since he is a representative of the shogi world, I think that it is appropriate to have experience and recognition.

Q:
At the end of the year I planned to continue the president, but I decided to resign. Please tell me the reasons why your idea has changed and the physical and mental disorders as far as it does not hinder them.

Tanikawa:
After having a press conference on 27th December, we got a variety of strict opinions. The reason for my resignation is the poor physical condition. I thought that I was going to feel a little better by taking a rest and during the New Year's holidays, but I began to feel the pressure on the contrary. As to what kind of condition it is private, it is not detailed, but it is not easy to say that the stomach is sharp and painful, there is no appetite, I do not fall asleep, I wake up in the middle of the night from mid-October It is. In addition, the position of the president sometimes greets in various places, but it is also a fact that it became uneasy whether it could talk properly at that time.

Q:
I think that this resignation was to quit because it is the president to take responsibility as a shogi federation, or I think that Mr. Tanikawa was in the place to decide Miura Kuzu disposition, but also his thoughts and opinions on this issue Is it that it is linked to responsibility?

Tanikawa:
There is also a thought that if such correspondence is early, such a big problem was not thought, and I feel the responsibility about that point. Moreover, as it became a serious problem, I thought that it might be necessary to make a move and get back and forth as a president.

Q:
Is it because I am in the position as the "president" or because I lack confidence in my thoughts and attitudes about this problem? Does that mean that I want you to take responsibility as a federation by quitting yourself?

Tanikawa:
I think that there are various ways of being received, but I believe that it is best to do this as an organization.
in Note, Posted by logc_nt