Amazon's speech recognition "Alexa" sweeps the world's IoT and is becoming the champion of "next to smartphone" platform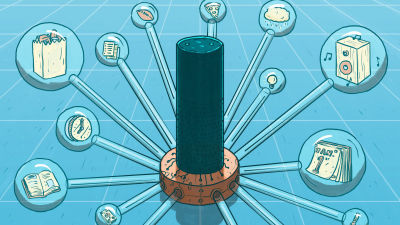 Speaker type voice assistant terminal sold by Amazon "Amazon Echo"The biggest hit in Amazon's hardware historybecame. However, the real big hit is not the Echo but the voice recognition function "Alexa"From now on, it is pointed out that Amazon is holding hands on" next to smartphone "platform with Alexa as weapon.

Alexa: Amazon's Operating System - Stratechery by Ben Thompson
https://stratechery.com/2017/amazons-operating-system/

Voice Is the Next Big Platform, and Alexa Will Own It
https://backchannel.com/voice-is-the-next-big-platform-and-alexa-will-own-it-c2cf13fab911#.h6v383pec

At the time of writing the article, you can see what kind of terminal "Echo" which is not yet on sale in Japan can be found in the following article.

When Amazon talks to sell "Amazon Echo" which can create shopping list, schedule management, music playback, search etc - GIGAZINE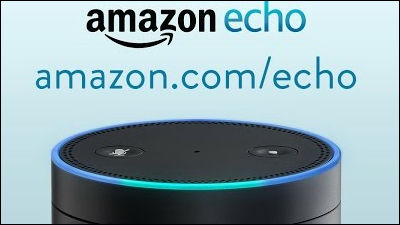 Echo was tend to be misunderstood as "Speaker that sheds your favorite music just by talking to you", but it is Echo that can accurately recognize the human voice, it responds exactly like a human beings fluently and accurately Cloud-based Thanks to artificial intelligence Alexa Echo recorded an explosive hit, more than two-thirds of Amazon's over 50,000 reviews outstanding 5 stars, outstripping Kindle Best hardware success in Amazon history .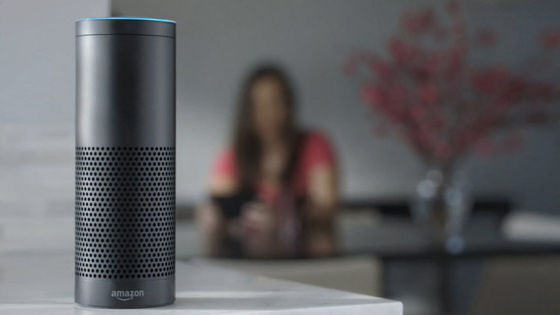 However, in fact, what Amazon expects is Alexa, which is contents rather than Echo itself, is obvious from the subsequent Amazon strategy. Amazon thinks that Alexa will be raised as a platform that can be utilized for all kinds of products by releasing Alexa not just as Echo's assistant function but also to other services and other companies. In other words, Echo is not the only product that uses Alexa, it is exactly that it was only the first product to make use of Alexa.

In order to get Alexa to be used by third parties and developers, Amazon released the speech recognition function called Alexa Voice Service (AVS) and defined the framework of content creation called Alexa Skill Kit (ASK). In ASK, developers can make Alexa handle various orders using an add-on called skill (skill). For example,Alexa orders pizza by Skil developed by Domino PizzaOr,Alexa arranges the dispatch service by Uber SkillIt is now possible to do. Amazon's aim is to make everyday life more comfortable by speaking to Alexa with Echo or Fire TV. Of course, you can also use Alexa for shopping at Amazon. Activity CheckerFitbit, Music streaming serviceSpotify, Smart light bulbHueVarious services such as Skill are made one after another, and at the time of article creation, the third-party Alexa compliant Skill has exceeded 5000, and services using Alexa are on the rise.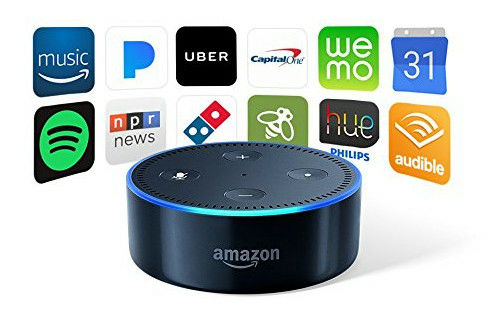 Incidentally, TurboFuture's "Skill Best 20 for Amazon Echo" will show you how frustrating it is that you can not use in Alexa while knowing the convenience of the service you can use.

Amazon Echo: 20 Best Skills in the Alexa App | TurboFuture
https://turbofuture.com/consumer-electronics/The-20-Best-Amazon-Echo-Skills-in-the-Alexa-App

Also, in order to broaden the usage scene of Alexa that Amazon is limited to Echo, Fire TV, etc., "Echosim.io"We are publishing the Alexa simulator. This is that you can use Alexa just like talking to Echo if you talk to the website using a microphone. In other words, Amazon is beginning to improve the environment so that every web service can use Alexa.

Alexa Skill Testing Tool - Echosim.io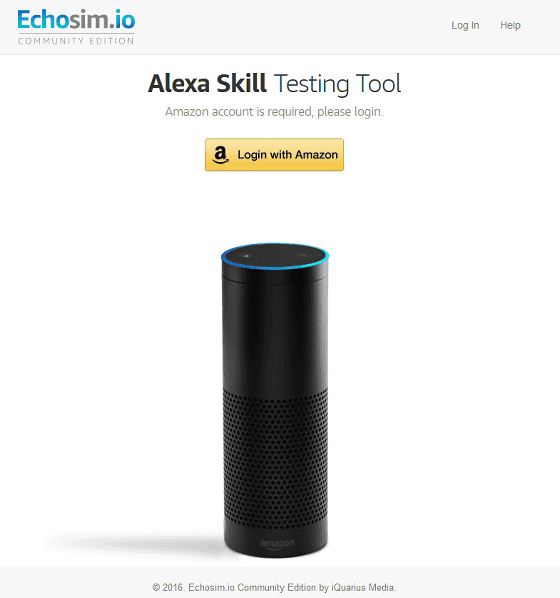 The future that Amazon is looking at Alexa is "being the next to smartphones" by Amazon's Amit Jotwani. Computing has evolved from a PC using an interface centered around a mouse and a keyboard to a smartphone using a touch interface, but next to the touch interface of the smartphone era, the next "voice interface" of the IoT era is Amazon That is why I am thinking about it.

Alexa in this IoT era "fulfills the function of the OS"StratecheryMr. Ben Thompson points out. In other words, when thinking that "OS is platform / software that mediates between hardware and various software groups", Windows handles PC hardware and various software, Android has hardware and various applications called smart phones It is a composition that Alexa handles IoT terminals and various services as they are handling. In short, Amazon is trying to raise Alexa into an operating system as a dominant hub to handle products related to personal living such as smart home appliances.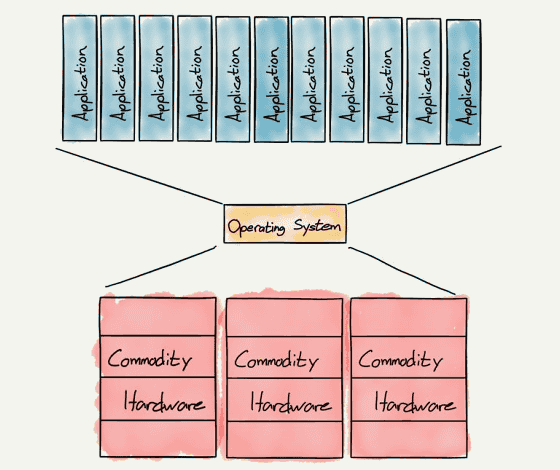 Mr. Thompson points out that the following three benefits arise when the only operating system with the dominant position mentioned here is born. First of all, to promote competition among hardware and improve product performance. Ultimately, at the scene where hardware commoditization occurs, OS providers will be able to obtain the maximum profit. Second, by combining various softwareNetwork effectTo be able to get. A rich service attracts users, and furthermore, a virtuous cycle is gained in which services are gathered to the majority of users. The third is that we can have a valuable relationship with the end user and that we can make long-term profits from the ecosystem that incorporates customers.

In fact, hardware has started to gather on the platform Alexa, and new services using Alexa are appearing one after another.

Ford, the automaker who decided to adopt Alexa as soon as possible, told Alexa in the car, not only how to use traditional voice assistant functions like Siri and Google Now to inquire about the match result of the favorite sports team, We propose Alexa's unique way of using the garage's shutter at home while driving while ordering items without stopping by a supermarket.

Alexa in the Car: Ford, Amazon Enable Shopping, Searching, Smart Home Access - YouTube


In addition, LG announced that Alexa will be adopted for smart refrigerator "Smart InstaView". In the future, it is possible to think of Alexa to automatically order foods that are not enough for refrigerators.

LG Smart InstaView: Hands-on - YouTube


In addition, the range of Alexa usage at IoT continues to expand, such as a maker that makes Alexa compatible single board computer "Raspberry Pi".

Installing Alexa Voice Service to Raspberry Pi - YouTube


Among them, home care robot "ElliQ" for the elderly is deki of the masterpiece. Like a butler, Alexa gives accurate advice and substitutes for cumbersome operations.

ELLIQ - The active aging companion - YouTube


At CES 2017, the world's largest IT and consumer electronics fair held in January 2017, there were only a few manufacturers using Apple and Google's speech recognition system, mostly using Amazon's Alexa. Economist'sAccording to Sean Dubabach, 700 companies announced the Alexa integrated product at CES 2017, and this number will add to the existing 1,500 products in one strokeThat's right. Also, regarding the situation of CES 2017 which was full of Alexa related products, Mr. Takuma Iwasa of Cerevo said "Everything from home appliances to cars was overridden by Amazon Alexa"And expresses the momentum of Alexa.

Venue wherever you go Alexa, Alexa and Alexa. Although last year's CES had little shadows and shapes, Alexa, everything from major players to start-up, Alexa is compatible with all kinds of hardware, and everywhere in the venue they hear Hey Alexa's voice.

Bukkake, if you collect the live voice at that level, there are only about googlers remaining to fight anymore. When Google home raises white flags, Alexa's global de facto standard will be completed. About 8 years ago, all Japanese audio companies have raised white flags to iPod / iPhone. Of course, Google boasts a strong physical strength, so there is still a lot more possibility that it will revive and become stronger like a Android / iPhone in a smartphone. However, at least as far as this year's CES is concerned, no one would object to Alexa's victory. Even just looking around the venue, over several hundred devices were Alexa Enabled, thoroughly extruding the VoiceControl from the car to the refrigerator. Of course I did not expect Japan to win with a cloud-based speech recognition analysis engine, but I could not predict honestly that Alexa would be overwhelmed so far.

In the technology industry, services that acquired the status of de facto standards dominate the market predominantly dominantly, and it is extremely unlikely that the seat will be shaken later. The fact that many companies that adopt Alexa as a voice control are appearing may be said that Amazon is about to get big game in hand now right now.