Modification example of hacking Amazon Dash Button, ordering home delivery pizza with one push, making coffee or calling a taxi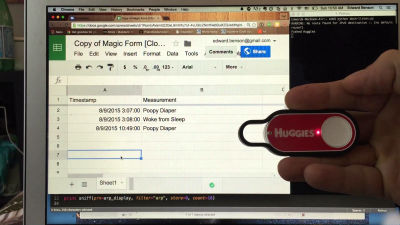 Amazon's "Dash Button"Is a gadget that you can order your favorite items automatically without having to operate any smartphone or PC with just pushing the button. There are people who have hacked the Dash Button of the person who is immersed in such Amazon so much that they can freely modify them by calling a pizza, turning off the lights and closing the shutter of the garage.

◆ Brew coffee
Modification that coffee maker will make coffee just by pushing Dash Button is from the following movie. The question "Why not directly press the coffee maker's button?" Is strictly prohibited.

Hacking the Amazon dash button to brew coffee - YouTube


◆ LED operation
Dash Button can also be combined with Raspberry Pi and Arduino.

Playing with Amazon Dash
http://aminastaneh.net/2015-10-15/playing-with-amazon-dash.html

In the following movie, we are changing the color of the LED light in combination with Raspberry Pi · Arduino.

Changing colors on an LED strip with Amazon Dash - YouTube


◆ Remote control of electric light
Many people have remodeled the Dash Button with a remote control that operates home appliances.

Hack the Amazon Dash button to control a SmartThings switch - Projects & amp; Stories - SmartThings Community
https://community.smartthings.com/t/hack-the-amazon-dash-button-to-control-a-smartthings-switch/20427

You can check how you operate the distant electric light with the Dash Button in the following movie.

Hack the Amazon Dash button to control a SmartThings switch - YouTube


People who reproduced the party button also appeared.

Amazon Dash Party Button! - YouTube


There is much demand on electric lamp remote control, a lot of codes are released.

GitHub - StevenTso / LIFX - Dash - Button: Control your LIFX using a Amazon Dash Button
https://github.com/StevenTso/LIFX-Dash-Button

GitHub - mpodolin / WeMo - Dash: Use your Amazon Dash button to control WeMo Lights
https://github.com/mpodolin/WeMo-Dash

◆ Call home delivery pizza
Just push the button, instantly remodel to Domino Pizza to order pizza.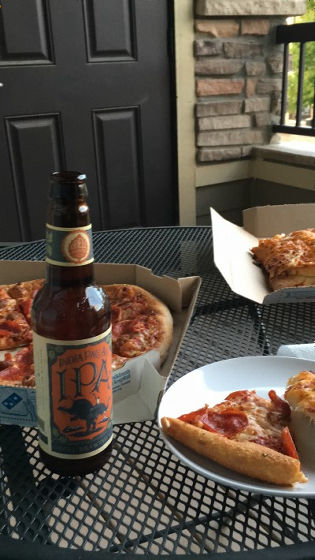 Hacking Amazon's $ 5 Dash Button to order Domino's Pizza - Medium
https://medium.com/@brody_berson/hacking-amazon-s-5-dash-button-to-order-domino-s-pizza-9d19c9d04646#.az84f57dl

◆ Garage shutter remote control
Some people use it to open and close the shutter of the garage.

Amazon Dash Button Pwn 3d | Hackaday
http://hackaday.com/2015/12/02/amazon-dash-button-pwn3d/

Amazon Dash Button WICED port - WiFI Garage Demo - YouTube


◆ Air conditioning operation of Tesla Model S
When you do not know whether it is warm or cold before you go out, the hand that Dash Button will help you is also ant. Depending on the outside temperature, pressing the Dash button, you can see how to operate the air conditioner of Tesla Model S parked in the garage with the following movie. Not only air-conditioning but also horn and LED lamp "Philips HueIt is also becoming clear to see whether it is cold or warm from inside of the house with the light of.

Amazon dash button automation silliness. - YouTube


◆ Baby tracker
Some people changed Dash Button to a childcare record machine so that you can log the care of your baby, such as the number of times you switched night crying and diapers.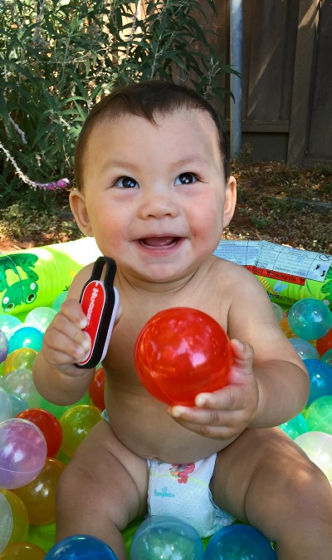 How I Hacked Amazon's $ 5 WiFi Button to track Baby Data - Medium
https://medium.com/@edwardbenson/how-i-hacked-amazon-s-5-wifi-button-to-track-baby-data-794214b0bdd8#.vo3d42etz

You can check how to record logs with one push in the following movie.

Hacking Amazon's Dash Buttons to Upload Datapoints to a Google Spreadsheet - YouTube


◆ Call a taxi
A program calling Uber of dispatch service is published under GITHub as MIT license.

GitHub - geoffrey / uber - dash: Call Uber with the Amazon Dash Button
https://github.com/geoffrey/uber-dash

◆ Order beer
Code for ordering beer to Drizly of alcohol delivery service is also published on GitHub.

GitHub - bhberson / Drizly Dash: This is an application That "hacks" your Amazon Dash Button to order you alcohol from Drizly!
https://github.com/bhberson/DrizlyDash

Remittance
Dash Button has also been devised for saving money enthusiasts that remittance from a checking account for one push to a fixed time deposit account.

Piggybank
https://github.com/bjacobel/piggydash

·bonus
By the way, the Dash Button "AWS IoT Button" which can be programmed for AWS users is sold for US $ 19.95 (about 2,300 yen).

AWS IoT button - AWS IoT | AWS
https://aws.amazon.com/jp/iot/button/

Amazon.com: 1st Generation AWS IoT Button: Kindle Store