Studio 'Fantasia' 'Kimi ga Nozomu Eien "" AIKa "" String of Kohikari "studio Fantasia decides to commence bankruptcy procedure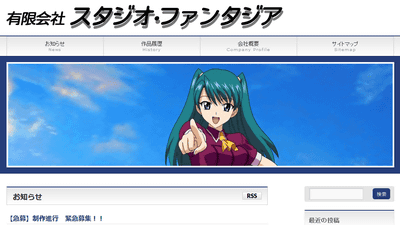 Studio Fantasia Limited Company, which handled work such as sexy action animation "AIKa" series, "Kimi ga Nozomu Eien" with the popular game as the original, SF anime action animation "Stratos For 4", etc. November 16, 2016 On the day, Tokyo District Court received a decision to commence bankruptcy proceedings.

Animation Production Company known for such as Studio Fantasia "Stratos Four" decides to begin bankruptcy procedure Bankruptcy bulletin | Teikoku Databank Co., Ltd. [TDB]
http://www.tdb.co.jp/tosan/syosai/4232.html

(Yes) Studio / Fantasia: Tokyo Shoko Research
http://www.tsr-net.co.jp/news/tsr/20161124_01.html

Studio Fantasia was established by Tomohisa Iizuka in October 1983 (Showa 58). Mr. Iizuka was originally a person who was in charge of designation and inspection of colors at Tsuda Productions. Although initially working mainly on finishing and subcontracting of moving images, when Tsuchida production went bankrupt in 1986, he succeeded the business ground Started the original work of animation production from Adult OVA "Graduation album Nurimu lemon name scene collection" produced in 1987.

In addition to the aforementioned "Kureimu Lemon," AIKa R-16: VIRGIN MISSION "" AIKa ZERO "series which was made into a series as sexy action OVA, as well as the TV animation while playing the animation, spy action with a lot of panchira scenes" Nagica Works including sex appeal are well known, but in addition there are air action "Stratos Four" that draws youth and friendship of four beautiful girls with a detailed aircraft depiction, "Kimi ga Nozomu Eien" with original popular adult game depicting relationships, SF Robot animation "String of Kohikari" was produced.

Some of the works are officially released free on YouTube by Bandai Channel.

AIKa Episode 1 - YouTube


Stratos Four's 1 story - YouTube


Stratos Four Episode 2 - YouTube


String 1st episode - YouTube


AIKa R-16: VIRGIN MISSION episode 1 - YouTube


CRYSTAL BLAZE - Crystal Blaze - episode 1 - YouTube


However, in recent years, orders have been sluggish in the severe industry environment, and results have been weak. The project was suspended around the summer of 2016. The official website could be viewed until around May 2016, but it was not accessible in October 2016.

According to Teikoku Databank, liabilities are about 190 million yen for about 50 creditors.

The official Twitter account (@ Stage_fantasia) Is the last tweet on studio relocation on September 25, 2014.

【Request for relocation】
We will move to the 4th floor of the same building from 10/1, we will move to 9 / 27-9 / 30 in relation to the relation.
As a result, the telephone will be suspended from 9/27 (Sat) 15: 00-17: 00.
We appreciate your inconvenience but we appreciate your patience.

- Studio / Fantasia (@ studio_ fantasia)September 26, 2014

Personal account of Mr. Iizuka as representative (@ Fantasia_Iizuka), The tweet has not been done since the end of 2010.

This year it is only a few after the rest. Next year will be a busy year.

- Iizuka Tomohisa (@ fantasia_Iizuka)December 28, 2010

In addition, it was posted on the official website that existed on April 26, 2013 "Work history list"A studio / fantasia production work list made in reference to this is like this.

1987: Adult OVA "Graduation album Nurimu lemon name scene collection"
1988: OVA "Project A child 3 Cinderella Rhapsody" (Director: Yuji Moriyama)
1989: OVA "Project A Child Concluding Edition" (Director: Yuji Moriyama)
1989: OVA "Demon Hunter Demon Hunter" (Director: Yuji Okamoto)
1990: OVA "A-Ko The VS" (Director: Katsuhiko Nishijima)
1990: Adult OVA 'School People' (Director: Toshiyuki Sakurai, etc.)
1991: OVA "EXPERSENON" (Director: Yuji Moriyama)
1991: OVA "Sengoken Madara" (Director: Yuji Moriyama)
1992: OVA "OZ" (Director: Katsuhisa Yamada)
1992: OVA "Dragon Legend Virgast" (Director: Katsuhiko Nishijima)
1992: OVA "Universal Culture Cat Daughter" (Director: Yuji Moriyama)
1994: OVA "COMPILER" (Director: Yasushi Murayama, Hideo Kato)
1994: OVA "Aozora Girl Party" (Director: Yuji Moriyama)
1994: OVA "Graduation ~ Graduation ~" (Director: Katsuhiko Nishijima)
1994: OVA "Graduation Shura Victory" (Director: Katsuhiko Nishijima)
1995: OVA "Mystery of Fire Emblem Crest" (Director: Nobuyuki Misawa)
1995: OVA "Goddess Heaven" (Director: Katsuhiko Nishijima)
1997: OVA "AIKa" (Director: Katsuhiko Nishijima)
2000: OVA "Rin Rin Rin" (Director: Katsuhiko Nishijima)
2001: TV animation "NJCK Dengeki Operation" (Director: Katsuhiko Nishijima)
2003: TV animation "Stratos Four" (Director: Takeshi Mori)
2003: Adult OVA "Lingeries" (Director: Katsuhiko Nishijima)
2003: TV animation "Kimi ga Nozomu Eien" (Director: Tetsuya Watanabe)
2004: OVA "Stratos Four X-1" (Director: Takeshi Mori)
2005: OVA "Kirameki Project" (Director: Katsuhiko Nishijima)
2005: OVA "Stratos For Advance" (Director: Takeshi Mori)
2005: Anime clip "Beyond that PV PV"
2005: OVA "Battlefield Fairy Girl Tusuku! Move" (Director: Mori Teri)
2006: OVA "Stratos Four Advance Final Edition" (Director: Takeshi Mori)
2006: TV animation "String of Kohikari" (Director: Tetsuya Watanabe)
2007: OVA "AIKa R-16: VIRGIN MISSION" (Director: Katsuhiko Nishijima)
2008: TV animation "Crystal Blaze" (Director: Mitsuko Kase)
2009: OVA "AIKa ZERO" (Director: Katsuhiko Nishijima)
2011: Adult OVA "Nectarious Escape" (Director: Katsuhiko Nishijima)
2011: Adult OVA "Magical Girls Erena" (Director: Katsuhiko Nishijima, Hiroshi Kimura)
2013: OVA "Nozoki Aana" (Director: Katsuhiko Nishijima)
in Anime, Posted by logc_nt