Tim Bernards-Lee dismisses application to extend the development timeline of HTML 5 generation DRM technology "EME"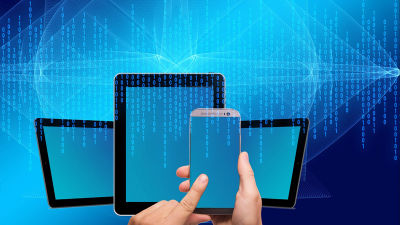 Standardization bodies established to promote standardization of various technologies used on the World Wide WebWorld Wide Web Consortium (W3C)Mr. Tim Bernards-Lee is using the DRM technology of HTML5 generation content distribution "Encrypted Media Extension (EME)It was revealed that the application for extension of the timeline accompanying the development delay of the project was rejected. Dark clouds are hanging over the practical application of next-generation DRM technology promoted by Google · Microsoft · Netflix and others.

Tim Berners-Lee just gave us an opening to stop DRM in Web standards | Defective by Design
https://www.defectivebydesign.org/blog/tim_bernerslee_just_gave_us_opening_stop_drm_web_standards

In Digital Rights Management (DRM) which restricts copying and use to protect the copyright of digital data contents, HTML 5 manages copyright by extending the API of existing HTML elements EME is Microsoft , Google, Netflix and others have led the standardization.

The EME proposed at the W3C Working Group in 2002 was not able to complete the standardization of the EME by the predetermined deadline allocated by the W3C, because the HTML Media Extension (HME) to be formulated proceeded. I asked for an extension of the development timeline that seeks the issuance of EME recommendations until March 30, 2017. However, it is clear that Tim Bernards-Lee has dismissed the extension request at W3C's ML, which was sent on October 4, 2016.

On HME extension and AC review from Philippe Le Hégaret on 2016-10-04 ([email protected] from October 2016)
https://lists.w3.org/Archives/Public/public-html-media/2016Oct/0009.html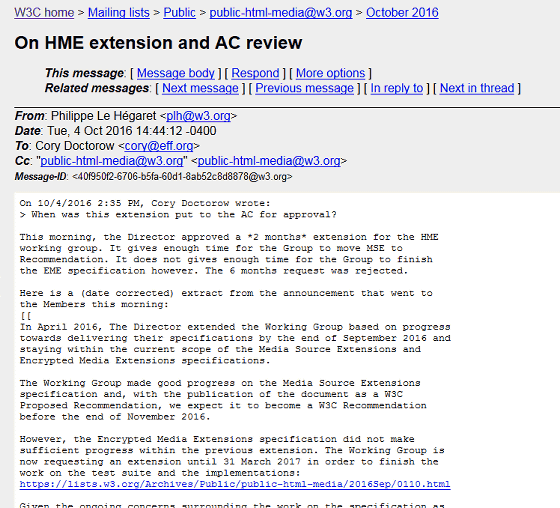 Mr. Tim Bernards-Lee dismissed the extension application, but decides whether or not to extend the development timeline to the Advisory Committee consisting of universities and business leaders, and according to the judgment of the Advisory Committee, EME's position will be decided It looks likely.

In addition, the Free Software Foundation, which has consistently taken the opposite position as DRM technology such as EME hinders free access of the web world,Sony's rootkit malware problemEven if you look at the past course that begins with, it is nothing but a harm for web users to incorporate DRM technology into web standards. We can anticipate that EME hinders security investigation, deprives the privacy and freedom on the Web, and makes it backwards to the interoperability essential for the Web, "he said. It reveals his will to oppose EME again.