Tamiya announces RC · scale modeling of NSX immediately after its announcement, and further announces new work of Bear MONMINI 4WD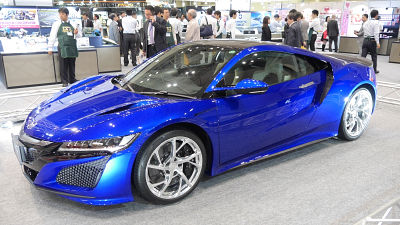 Publicly open to the public from September 24 (Saturday) to Sunday 25 (Sunday) 2016The 56th All Japan Model Hobby ShowAt the Tamiya booth, the newly released super car "Honda NSXAlongside the actual cars of RC car and scale model, many models related to mini 4WD and military are displayed.

★ ★ TAMIYA INC. TAMIYA Corporation
http://www.tamiya.com/japan/index.htm

Arrived at the Tamiya booth. Thanks to the familiar red and blue twin stars, it can be found in one shot.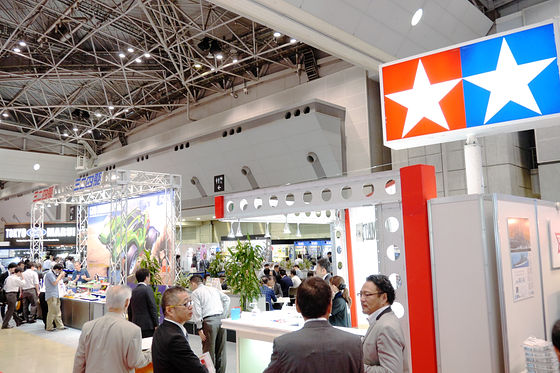 In front of the booth, Honda "NSX" just announced in Japan on August 25, 2016 was placed. There are many people who have cameras in the surroundings, what is the level of what happens if this is a public release date?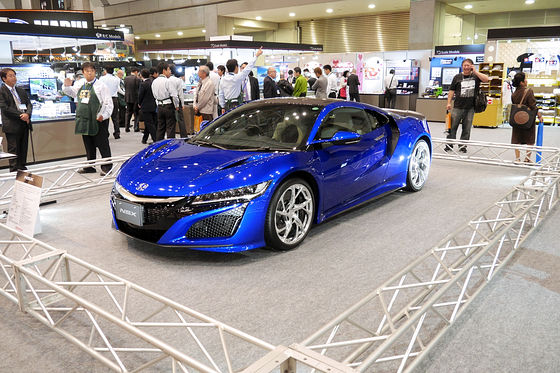 Why is NSX placed, of course to show with Tamiya's model.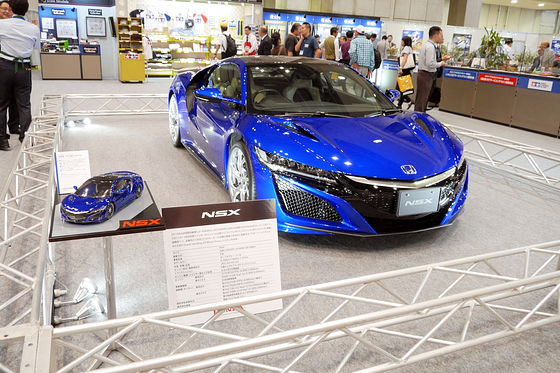 On the table, a new NSX RC car was placed.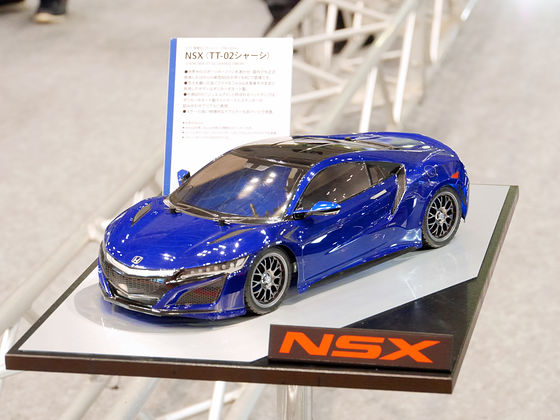 This model was set with Tamiya's 4-wheel chassis for RC car "TT-02". We prepare a model that completes a semi-finished model on its own and a "XB (expanded build)" model sold in a finished product state.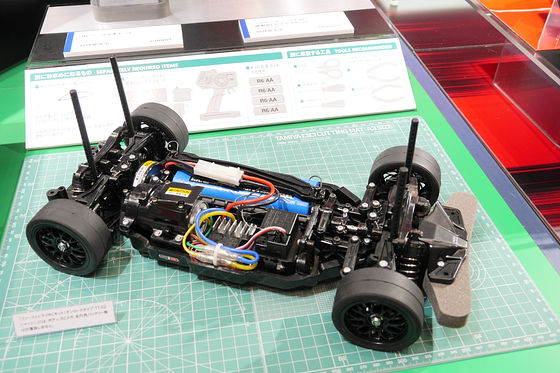 The regular model Tamiya RC car "NSX" is scheduled to be released around October 15 and the price is 12,000 yen, excluding tax. The completed model "XB NSX" is scheduled to be released around November 12, and the price is 25,800 yen for tax. Also, it is said that selling on a single body made of polycarbonate is being considered, but the release date etc. are undecided.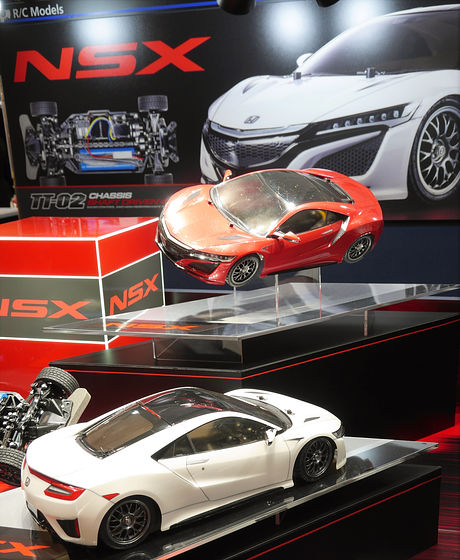 In relation to RC cars, models of Mazda and Demio are newly announced at this venue.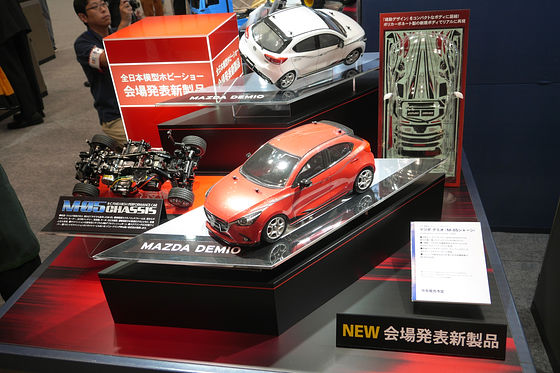 Tamiya 's FF chassis "M - 05" is used for the chassis.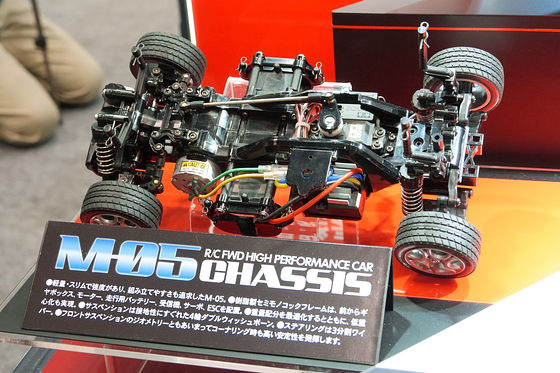 The body of Demio with long nose is reproduced well. It seems that the decal is becoming Demio's Mazda speed specification. The price is undecided yet because it is still a model right after the announcement. The release time was supposed to be "released this winter".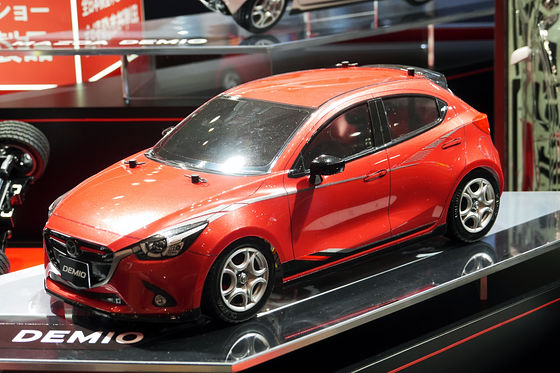 Also, as a four-wheel drive model, "Honda Civic" (so-called "EG Civic") "Drift Spec" will be released on October 8 at a tax price of 15,800 yen.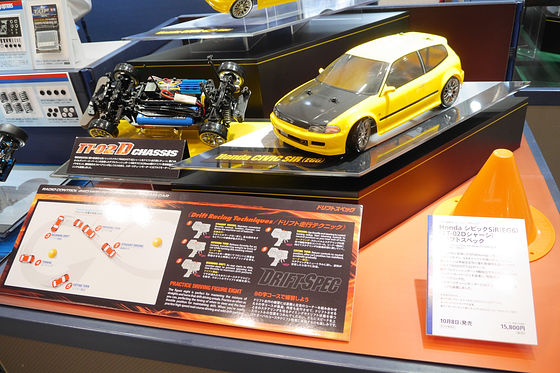 NSX newly appeared in the scale model. NSX of the 1/24 model will be released on October 15 with a price of 3,800 yen.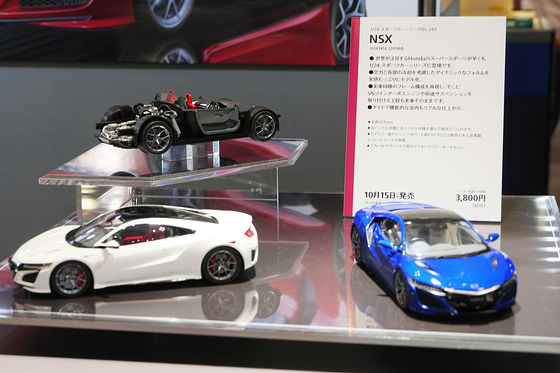 Sharp body shape is modeled as it is. Especially, the characteristic C pillar and its peripheral shape seems to be difficult to mold plastic, but it was reproduced on a regretful basis.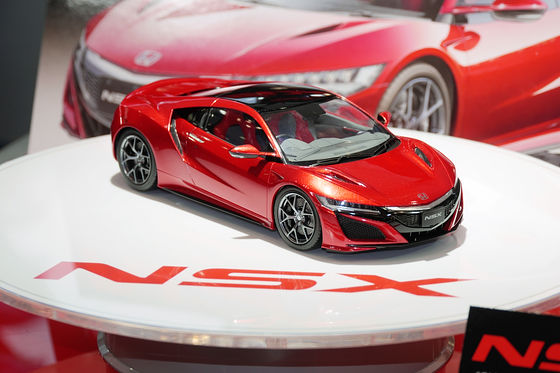 It is said that the periphery of the cockpit and the vertical engine are faithfully reproduced.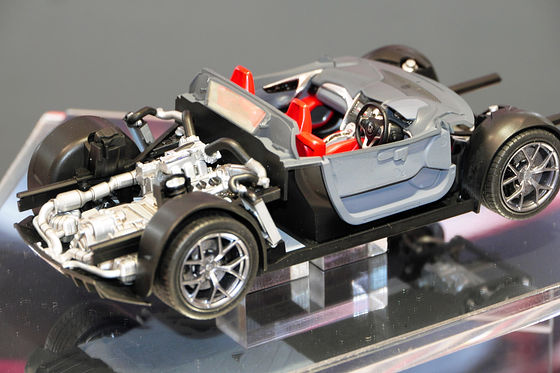 New bikes also appear. Kawasaki's super bike "Ninja H2R" will be released in December at a taxation rate of 4000 yen.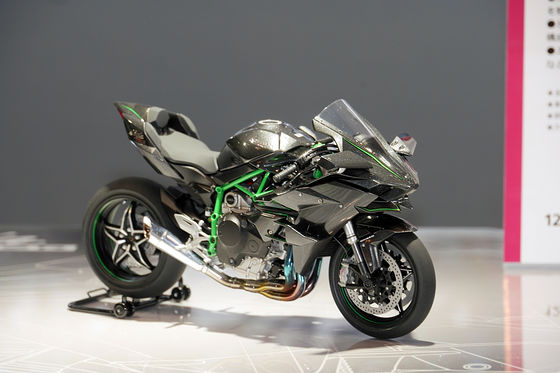 The body cowl is a separate type, and the engine with the supercharger and the characteristic trellis frame are reproduced.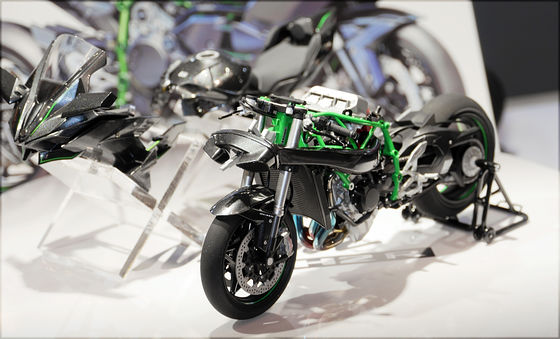 New work also appears in 1/48 Military Miniature Series. "Ground Self Defense Force Light Armored Truck" scheduled to be released in December is a model that should be noted for pattern reproduction of tires.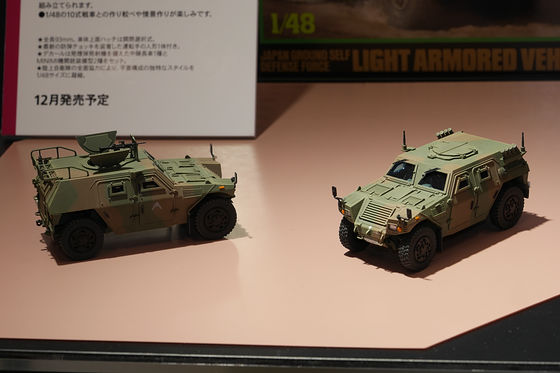 By dividing the tire pattern difficult to mold into four and further designing the dividing line so as not to be noticeable, when assembled it was completed like a one-piece molded tire.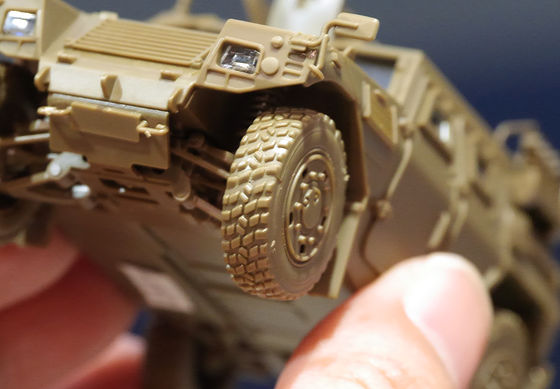 Metal parts that increase the realism of American military self-propelled gun "M 40 155 mm self-propellable gun" are also announced.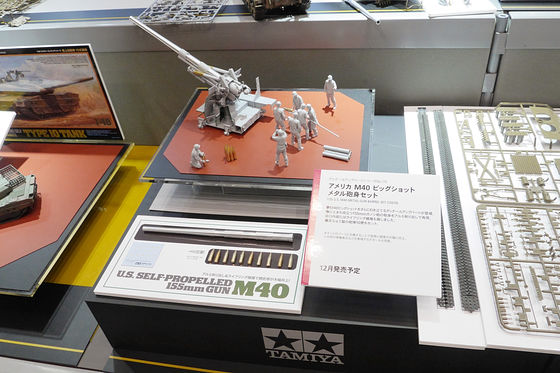 It is a set of gun barrels made of aluminum material and brass shells, the price is undecided.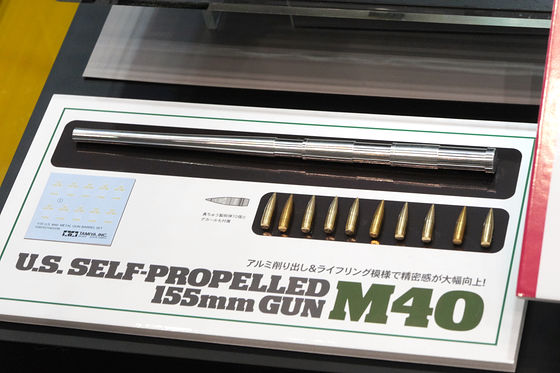 Inside the gun barrel, a spiraling "life ring" processing is given, and the real feeling is up.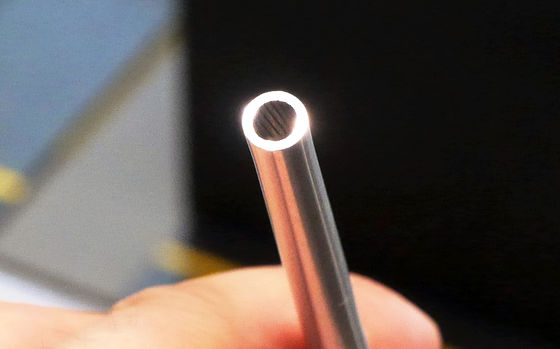 Speaking of Tamiya, a mini 4WD corner.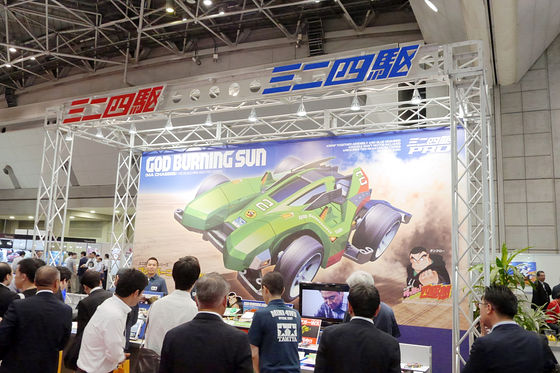 Numerous new presentation models are on display.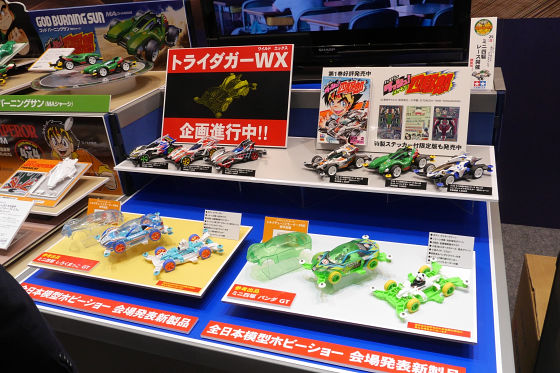 "Shirokumaruko" gets a new GT car "Shimokuriko GT" ... ...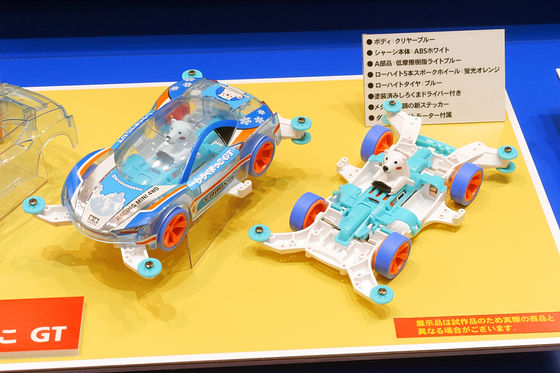 Similarly "Panda" ride GT "Panda GT" and so on.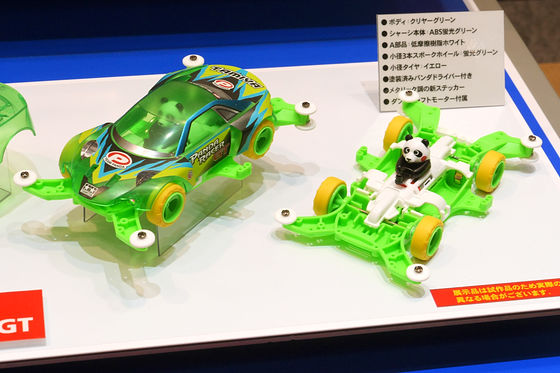 Panda GT's body is Clear Green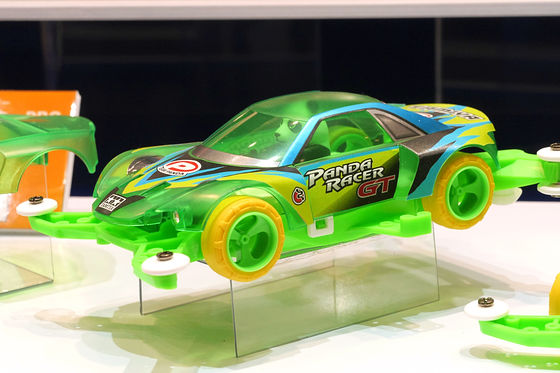 Furthermore, the GT version of "Kumamon" is newly announced.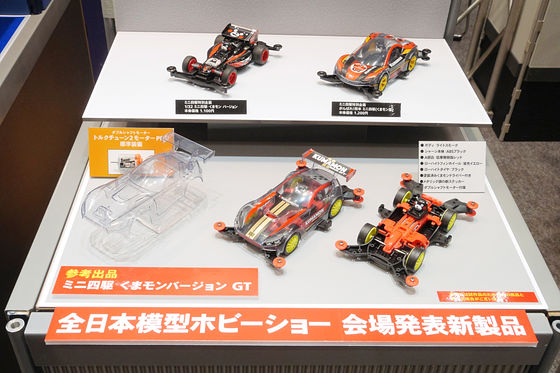 A bear mon version appears in the GT specification wearing a huge wing.