HP printer is updated to firmware that recognizes non-genuine ink cartridge as "broken"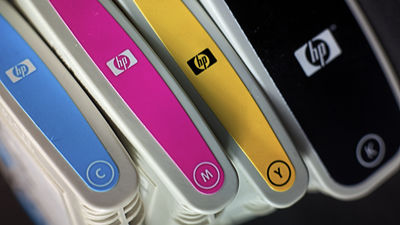 ByRandy Heinitz

While manufacturers of printers each sell genuine ink cartridges, "compatible ink cartridges" that can be used less expensive than genuine products are sold by third parties. Manufacturer of printers recommends the use of genuine products, there are printers that detect compatible ink cartridges and issue warnings, but HP printers recognize ink cartridges other than genuine products as "failures" It turned out that I issued a firmware update to make it unusable forcibly.

"HP pre-programmed failure date of unofficial / non-HP ink cartridges in its printers" - Myce.com
http://www.myce.com/news/hp-pre-programmed-failure-date-unofficial-non-hp-ink-cartridges-printers-80457/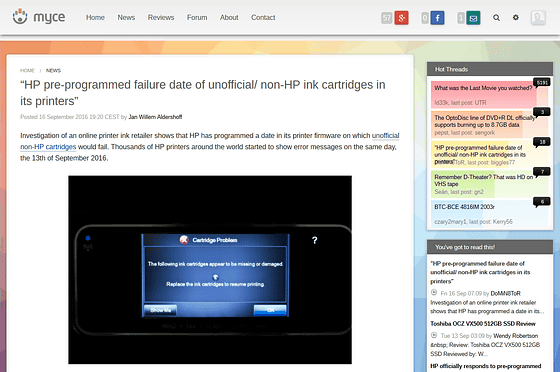 HP officially responds to pre-programmed failure date of non-HP cartridges - Myce.com
http://www.myce.com/news/hp-officially-responds-pre-programmed-failure-date-non-hp-cartridges-80467/

When HP compatible ink cartridges are used because HP provided printer firmware update on 13 September 2016 in local time, "One or more cartridges have failed. Remove them and insert a new cartridge Please replace it "Please be aware that you can not use non-genuine ink cartridges with HP printers. HP officially commented on this response "to protect innovation and intellectual property and improve product safety".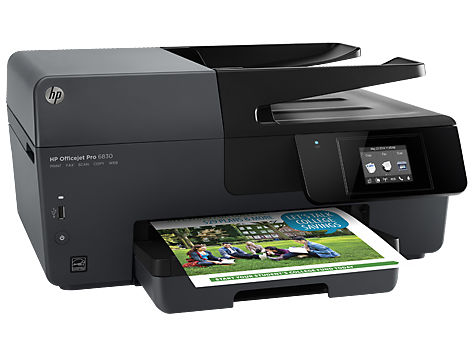 Thanks to this update, 123 linkt, a German compatible ink cartridge manufacturer, has revealed that customers received a lot of complaints "ink cartridges are no longer usable" from customers. Receiving this, 123inkt announced that "We developed a chip that enables us to use blocked ink cartridges due to firmware update". We say that future chip mounted products can break through the firmware block.

According to 123inkt, the printers affected by this firmware update are products of the following model number.
HP Officejet Pro 6830
HP Officejet Pro 8610
HP Officejet Pro 8615
HP Officejet Pro 8620
HP Officejet Pro 8625
HP Officejet Pro 8630
HP Officejet Pro 8640
HP Officejet Pro 8660
HP Officejet Pro x 451 dn
HP Officejet Pro x451 dw
HP Officejet Pro x 476 dn
HP Officejet Pro x 476 dw
HP Officejet Pro x 551 dw
HP Officejet Pro x 576 dw

◆ 2016/09/28 added
For movements (DRM exclusion) eliminating third party exchange ink due to HP firmware update,Electronic Frontier Foundation(EFF) expressed opposition as "security, innovation, bad things for user's right". For those who agree with EFF, we have launched a "signature campaign" that can express to HP's Dion Waisler CEO the will to oppose DRM elimination.

Tell HP - Say No to DRM | EFF Action Center
https://act.eff.org/action/tell-hp-say-no-to-drm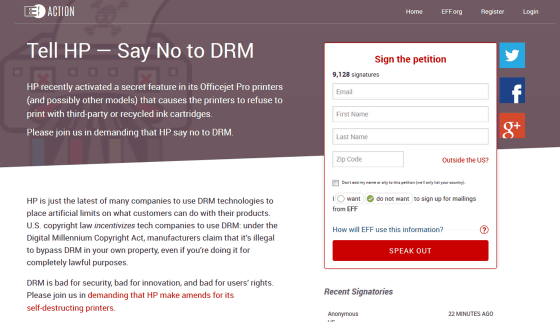 If you disagree with DRM elimination, fill in the form on the above page with your email address, name, zip code and click "SPEAK OUT".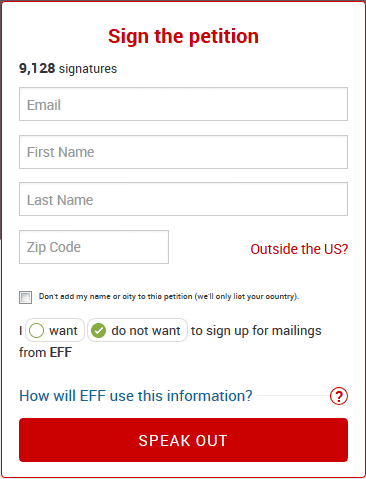 · Additional note September 30, 2016 10:30
John Fluxman, HP COO (Chief Operating Officer), made a comment on the firmware of this inkjet printer. Although I performed a firmware update in order to maintain the highest quality and security, I apologized to customers who experienced problems because it was an automatic update that does not have a procedure to authenticate at the customer side. HP is planning to offer new firmware that deleted items related to non-genuine ink within the next two weeks.

HP Newsroom - Printer Ink Firmware Update Blog | HP® Official Site
http://www8.hp.com/us/en/hp-news/blog/Small-Business-Printing/best-possible-printing-experience.html