Leak information of "GoPro HERO 5" appears one after another, the presence of voice control and cloud service "GoPro Plus" is also revealed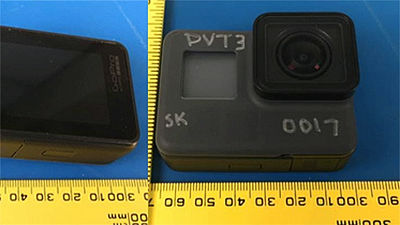 The current high-end model "GoPro HERO 4"Appeared in September 2014Two years have passed since I was about to go, the next flagship machine will be "GoPro HERO 5"Leak information is beginning to appear in full swing. According to them, GoPro HERO 5 is highlighting the new tagging function by voice command, cloud service and so on.

Image and specs of the new GoPro Hero 5 Black! - mirrorlessrumors
http://www.mirrorlessrumors.com/image-specs-new-gopro-hero-5-black/

Leaked images may have revealed touchscreen - equipped GoPro Hero 5
http://mashable.com/2016/08/19/gopro-hero-5-leaked-images-specs/

It seems to be GoPro HERO 5, this is a leaked image. Japanese blog ·NokishitaIt is said that it is already in the final stage towards mass production, as it is written with the letters "PVT 3 (Production Validation Test 3: Production Verification Test 3)". A big feature of appearance is that a large display is mounted on the back and where the power button that was on the front was missing.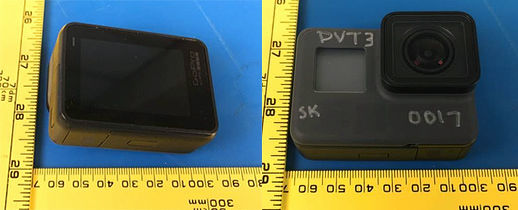 According to the figure showing the main body size, the width is 62 × height 44.6 × depth 32.7 mm, and it looks like it is one size larger than the GoPro HERO 4 59 × 40.5 × 30. Therefore, it is likely not to be able to use conventional housings etc when released in this size.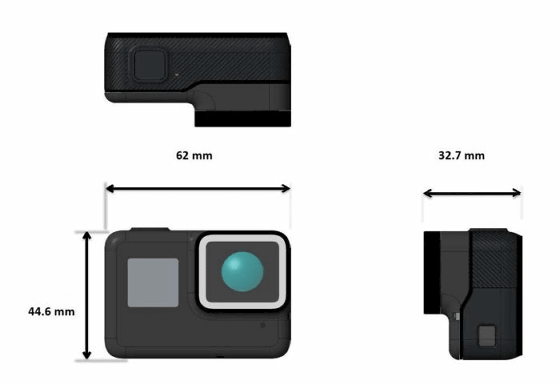 It seems that the main specification was also made public on this site. The weight is 118 grams including the battery, 90 grams without the battery, it seems to be heavier than HERO 4. Also, the fact that the USB terminal is changed to USB Type-C is also likely to be a major change from the conventional type.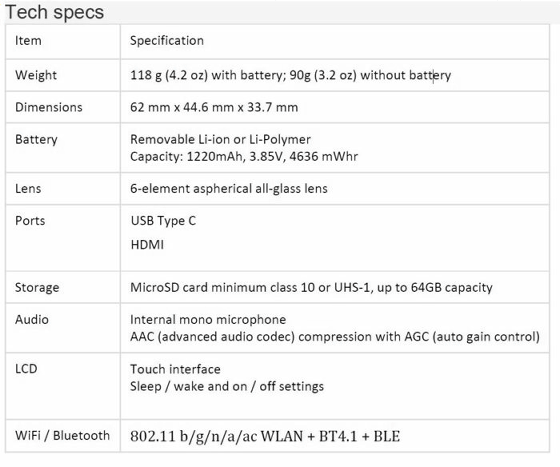 Also, Reddit is beginning to leak information.CenturyEditorIf the content posted by the user, GoPro HERO 5 detailed specifications are as follows. The place where the highest image quality is seen as staying at the same "4K @ 30 fps" as GoPro HERO 4 BLACK is anxious.

· Although it seems to have the same waterproof performance as GoPro Session, concrete waterproof performance is unknown
· USB type-C terminal installed
- Resolution: More modes according to FOV (angle of view setting) in 420 @ 30 fps, 2.7 K @ 60 fps, 1440 @ 80 fps, 1080 @ 120 fps, 960 @ 120 fps, 720 mode
· Camera sensor: 12 MP
· Supports RAW images in. Dng format
· Voice control function such as "GoPro turn on" and "GoPro start video"
· Image stabilization function is installed to realize video with less vibration. However, it is not possible in 4K mode and 60 fps or more.
· Manual voice control
· Stereo recording mode and wind noise reduction mode can be selected
- Adjust image quality manually "Protune" is brushed up and continued
- Added "Linear" mode to eliminate fisheye effect
- Exposure adjustment is possible manually.
· "Color" to compare the color development between GoPro and general display
- Shutter speed can be changed
- RAW audio setting is installed. Audio can be recorded on another track while recording
· Illuminance of liquid crystal display can be adjusted from 10% to 100%, and can be adjusted with "OFF"
· No liquid crystal display on the front backlight
· Increase the sensitivity of the touch panel when it is placed in the housing
· There is a mysterious "Super Suit" function. Waiting for future announcement. Perhaps an accessory with high waterproof performance?
· GPS function is installed
· In the product manual there is an item "Removable Protective Lens Info" but details are unknown
· In the manual, there is only a little description about GoPro's drone "Karma", but this is written only as saying "When opening Karma open the panel on the side."

According to The Verge, GoPro HERO 5 has a voice command function that can be operated by voice. Furthermore, the existence of a service called "GoPro PLUS" that enables you to upload and manage the captured data has become clear.

GoPro's Hero 5 might let you tag awesome moments by saying 'that was sick' out loud | The Verge
http://www.theverge.com/2016/8/19/12556268/gopro-hero-5-voice-control-highlight-tag

Leaked Hero 5 manual details GoPro's upcoming cloud service | The Verge
http://www.theverge.com/2016/8/19/12555226/gopro-plus-hero-5-leak-manual-cloud-service

An example of a voice command looks like this. In addition to the basic commands such as turning on the power with "GoPro turn on" and starting recording with "GoPro start video", tag the image and talk to the highlight function "GoPro HiLight" for easier search later In addition to being able to do it, it seems that it seems to be able to put in highlights even by holding "It was sick (gloom)" in spite.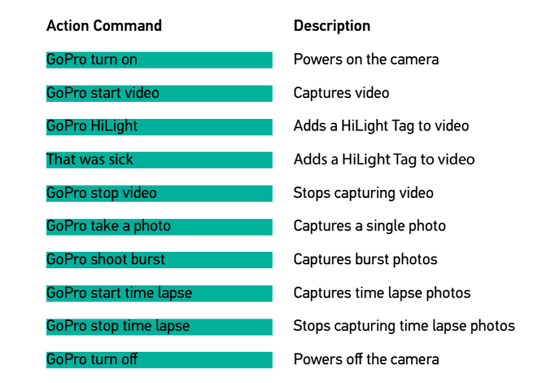 Also, the contents of the manual of GoPro HERO 5 which is regarded as character proofreading also highlights the existence of the cloud service "GoPro PLUS". This seems to be a service to be used via smartphone application "Capture", and it seems that it will be able to upload data in GoPro to the cloud after shooting. As a procedure, when GoPro HERO 5 is charged and connected to a smartphone, it seems that uploading is done automatically. Although it is a convenient function, it is a place to worry about data communication volume.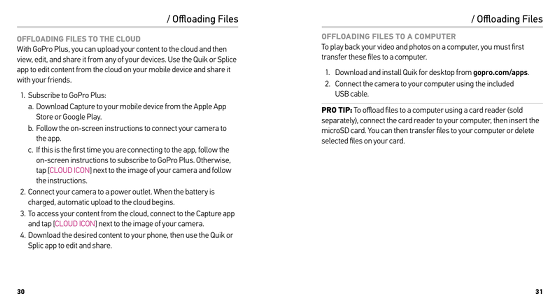 Although GoPro HERO 5 has been gradually revealed in detail, the release timing etc. are still undecided. Including GoPro made dragon "Karma" which is rumored to appear, attention will be gathered as to what kind of movement can be seen from the end of this year to the end of the year.