Twitter freezes the account of the user who tweeted the Olympic video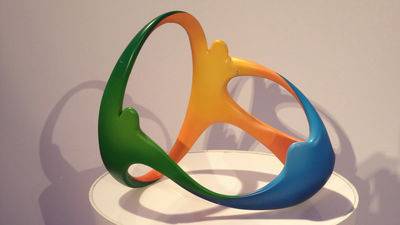 ByCarlbob

Venezuelan free software activist Luigino Bracci Luigino is also a person in the Twitter account @ Lubrio. @ Lubrio was a popular account with 43,000 followers, but after having tweeted the Olympic movie, the account was frozen from Twitter without warning. This is believed to be the result of the International Olympic Committee (IOC) putting a complaint on Twitter, Luigino asserts that the tweet of the movie is "unjustified account freezing because it is legal in Venezuela's law." There is a controversy as to whether the correspondence of Twitter which is American company is correct.

El espacio de Lubrio: Twitter elimina mi cuenta @ Lubrio a instancias del Comité Olímpico Internacional
http://lubrio.blogspot.jp/2016/08/comite-olimpico-ordeno-cerrar-mi-cuenta.html

Olympics fan claims Twitter killed his account after posting Rio videos | Ars Technica UK
http://arstechnica.co.uk/tech-policy/2016/08/olympics-fan-claims-twitter-killed-account-rio-videos/

According to Luigino Bracci Luigino 's blog post, Luigino tweeted the Olympic short movie, and I received an email from the IOC who was monitoring the Olympic - related content on the monitoring system. Because the contents of the Olympic Games are copyrighted by all the contents of the Olympic Games, the contents such as "Please delete the movie tweeted to Twitter instantly and permanently" was written in the mail.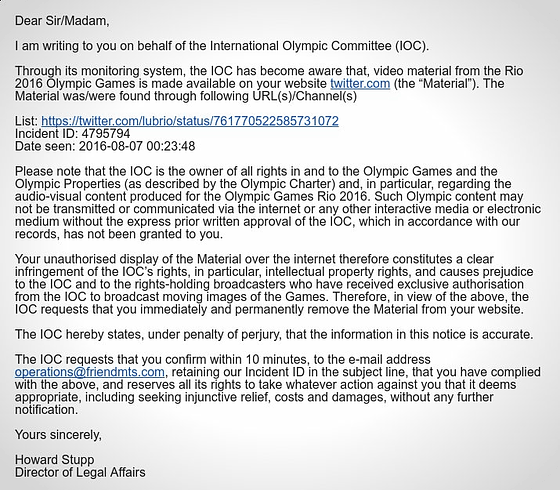 In Venezuela, Mr. Luigino claims that if it is a movie of 90 seconds or less in the case of Venezuela it claims to be legal if it is up to seven and I did not follow the IOC's request, but suddenly it is said that "Account freeze notification" has been received from Twitter Thing. In other words, the web activities that were carried out under the laws of your country were restricted according to American law. IT system news site · Ars Technica says "Why @ Lubrio was frozen permanently without prior warning" "Contents that violate the American copyright policy are posted abroad that is outside the jurisdiction of the United States About the correspondence of "to the question of Twitter, but I could not get a response until the article release.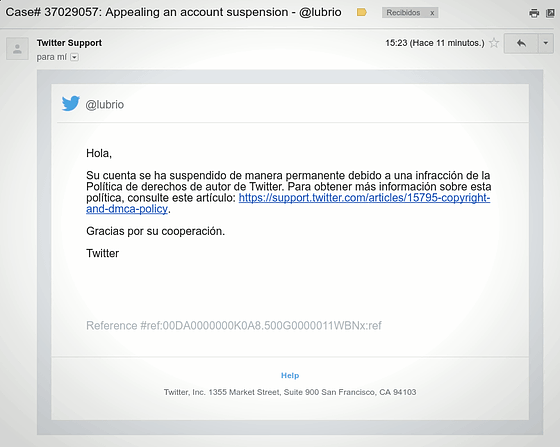 Also, Mr. Luigino himself also blogged, "Tweets on Crime that imply President Venezuelan killing with a lot of Twitter accounts are tweeted, but why are these accounts not frozen?" It is casting and criticizes the action taken Twitter as "vulgar censorship". Twitter is now used around the world, but it seems to be asked about correspondence in other countries with different laws, including other global SNS.