What is the reason why Microsoft and Sony etc. continue using "Seal sticker for peel off" though it is illegal?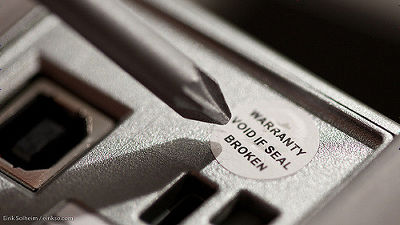 ByEirik Solheim

Sometimes it is stuck on the main body of electronic products such as computers and game machinesWarranty void if removed(Warranty is invalid if this seal is peeled off)Seal sealIt is known that it is actually illegal in light of American law. But then why is each manufacturer continuing to use that sticker despite being illegal, the tech-based media ExtremeTech discusses its internal circumstances.

Microsoft, Sony, and other companies still use illegal warranty - void - if - removed stickers | ExtremeTech
http://www.extremetech.com/gaming/233120-microsoft-sony-and-other-manufacturers-still-use-illegal-warranty-void-if-removed-stickers

Seal seals, which are often affixed on important screw holes or the like that hold the main body of game machines etc., are used to prevent repair by non-service personnel of the company and to prevent 'unfair treatment' We are. Looking at the manufacturer's perspective, it is a countermeasure that makes it possible to see assertion that "Hardware that was subjected to unintended repair or remodeling can not be guaranteed", but in reality this act is based on the law prescribed in the United States It is known that the possibility of conflict is extremely high.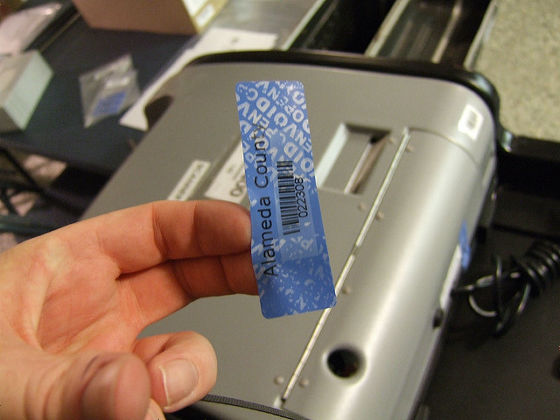 ByJoe Hall

The law was enacted in 1975 "1975 Magnuson-Moss Warranty Act (MMWA: Magnuson · Moss method) "Which is called" to prohibit enterprises from contracting expensive repair contracts with consumers or forcing them to exchange with regular parts by "certified traders". Especially this law is applied to forbid the user from so-called "genuine parts" only at the automobile sales site.

It is the seal seal by each maker that forces the user to do the same thing as this. Prevent unfair competition methods and investigate companies that violate the Antimonopoly ActThe US Federal Trade CommissionFrank Doorman, spokesperson for the Federal Trade Commission (FTC), said: "Such seals conflict with the MMWA's provision" to the consumer that only parts previously approved by the guarantor can be used " It is a fraudulent act, "he stated that the seal violates the law protecting consumers.

So why do manufacturers continue to use stickers that are illegal? ExtremeTech argues that the answer "manufacturers know that consumers can not do anything". Payment amount for repair will increase by being forced to use genuine parts by "illegal" act by the manufacturer. So, for example, even if consumers make a trial with MMWA as a shield, court costs will be more than the amount they regain, so to the extent that ExtremeTech's opinion is that consumers "must be crying" is.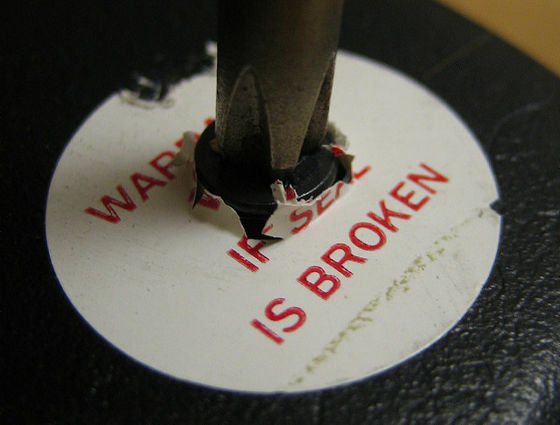 ByAndrew cosand

The situation will change if this is a part of a car. For example, supposing that the transmission is broken, even if there are cheap external goods, if the dealer recommends only genuine products that cost hundreds of thousands of yen, even if a court fee is raised by raising a trial, The benefits of trial will arise. In the case of a game machine or the like which repair cost is less than 50,000 yen, manufacturers are familiar with the fact that consumers can not take any action because only after a trial will cause losses That's what ExtremeTech views.