'Busking' earned on the street, where and what song should I play to make it easier for me to throw money? Summary of what I learned by earning about 520,000 yen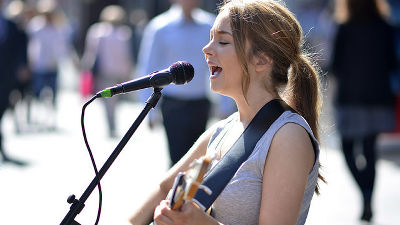 by
Stephen J Fyfe
Street performers, such as, 'that the performer after the performance on the street is collect money from the audience held out the hats
Basking
is called.' It's a practice that isn't very well established in Japan, but Steve Tjoa, who earned $ 5,000 by doing 63 buskings from January 4, 2014 to June 19, 2016, is the most popular. We are releasing songs that have collected money, places that are suitable for performances, human behavior that can be seen from the reaction of customers, and so on.
My Experience Busking in San Francisco: 63 sessions, $ 5000 | Steve Tjoa
https://www.stevetjoa.com/busking
Tjoa did busking for fun, as well as for performance practice and marketing to donate to the
San Francisco Civic Symphony.
Sometimes he played alone, and sometimes he played with members of the San Francisco Civic Symphony.
The record of 63 buskings is published in Google Sheets along with information such as date and time, total donation amount per time, donation amount per hour, location, etc. Most of the performances are performed at Powell Station in San Francisco, USA.
Busking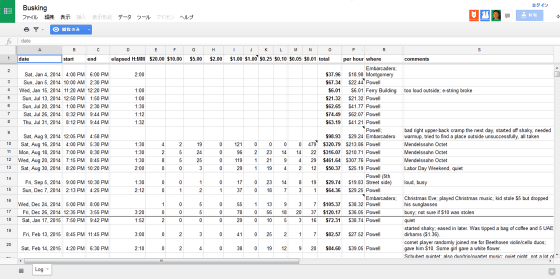 ◆ About human behavior
What Tjoa noticed when he saw it was that many people think that it is rude to donate money in the middle of a performance. However, when I saw one of the spectators donate in the middle of the performance, the other spectators realized that it was okay to donate even during the performance, and the donation was done like a chain reaction. It seems that he was donated. In addition, it is difficult for people to judge whether it is okay to leave after making a donation, and when one person makes a donation and then leaves the place, other spectators will behave in the same way. ..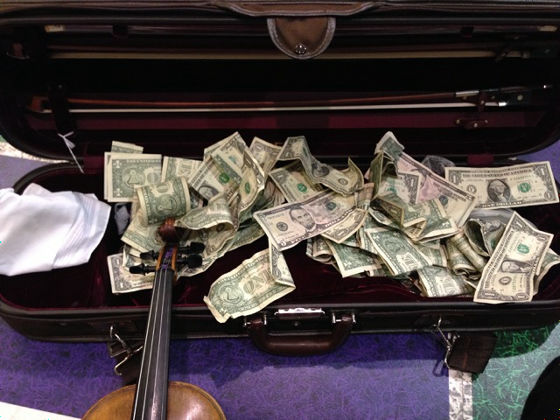 In addition, older people donate more than younger people, and people who are considered to be over 40 can donate 10 to 20 dollars (1000 to 2000 yen). In addition, it was common for mothers with children to give their children money to donate.

Not only money but also coffee beans and flowers were donated. At the bottom of the image is a UAE banknote, priced at 5UAE dirham (about 140 yen).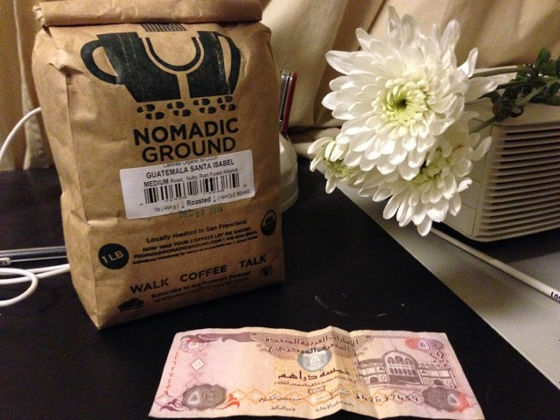 In addition, there was a woman who gave me an illustration drawn while listening to the performance.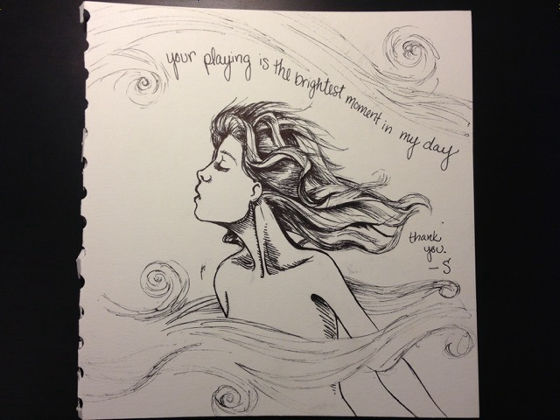 There was a moment when the girl who donated asked Tjoa, 'Can I play the violin?'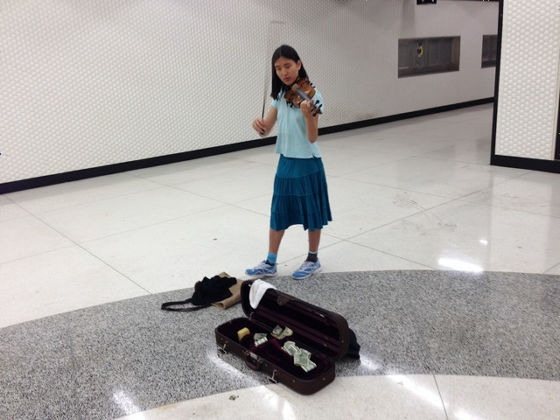 According to Mr. Tjoa's observation, there was almost no difference in the donation ratio between men and women. Regarding busking, there is an opinion that 'you should put money in the case of the instrument in advance', but Tjoa said, 'Many passers-by don't care if there is money in the case in the first place. , It doesn't make a big difference whether or not the case has money in advance. '

◆ About the song to play
Past experiments have shown that good music doesn't always make a lot of money on the street. In 2007, world-famous violinist Joshua Bell appeared in casual clothes on the subway in Washington, DC, the capital of the United States, and played Bach, but most of them passed by without stopping.


Stop and Hear the Music
And, according to Tjoa, light songs may be more popular than songs that are slow and difficult to play. Bach's Partita No. 3 and others were able to easily collect many donations.
Hilary Hahn-Bach partita N ° 3 prelude --YouTube
Fast-paced songs captivate people, but slow-paced lyrical music was also able to raise donations. Edward Elgar's 'Salut d'Amour' did not require technical difficulties, he was able to concentrate on playing and collected a lot of money.
David Nadien plays Elgar's Salut d'Amour --YouTube
Also, the result is that the ensemble collects more money than playing alone. However, when Tjoa and others played with multiple people, it seems that they collected a donation of $ 307.76 (about 32,000 yen) per hour, but if you convert this to per person, it is $ 38.47 (about 4000) per hour. It will be yen), so it seems that it was not much different from the donations collected when playing alone.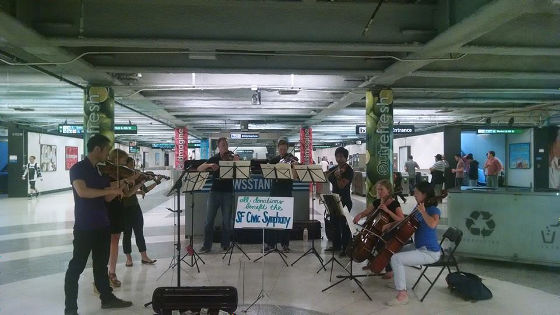 The list of songs that Tjoa was playing when playing alone is as follows.

Bach: Unaccompanied Violin Sonata No. 1
Bach: Unaccompanied Violin Sonata No. 2
Bach: Unaccompanied Violin Partita No. 2
Bach: Unaccompanied Violin Sonata No. 3
Bach: Unaccompanied Violin Partita No. 3
Schumann: Kinderszenen
Wieniawski: Violin Concerto No. 2
Schubert: Ave Maria
Chopin: Nocturne No. 9 in E-flat major, Op. 9-2
Edward Elgar: Morning Greetings
Tchaikovsky: Violin Concerto Canzonetta
Shostakovich: Violin Concerto Passacaglia
Random orchestral solo

◆ About the place to play

The conditions for an ideal location for busking are as follows.

・ It is safe
・ The wind is not blowing or the sunlight is not dazzling.
・ Soundproof building
・ There is a lot of traffic
・ It is easy for people to leave money

At this time, places that are 'too crowded' such as rush hour stations should be avoided because people are busy and noisy, and it is not possible to collect much money. In a place with a moderate number of people, music sounds moderately, and there are no obstacles between passers-by and performers, so it is easy to collect money.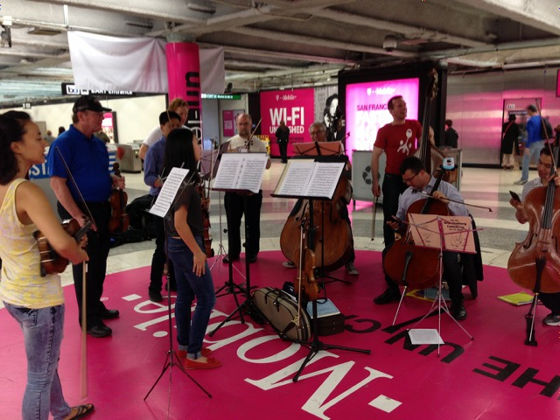 ◆ About safety
Tjoa has had his money stolen twice. In both cases, young people in their late teens to early 20s are the culprit. Many performers play against the wall because they are wary of standing behind them.

◆ Summary
For Tjoa, the scariest thing about busking was the moment he left home on the first day. And when he arrived at the station and placed the music stand at the performance location, he had the most uncomfortable experience of his life.

However, once he actually played for the first time, the rest was easy. People can relax and focus on playing when they realize that they are only part of the background for 99% of passers-by. In particular, Tjoa says that there are few people around 10 am on Saturday morning and it is recommended for the first performance, and when you get used to it, you should try at 2 pm.

In Japan, performance on the street may be cracked down, but in some countries and cities it is legally permitted.

Three things I noticed through busking | Australia Beatbox Busking Warrior Training | ZU-nA Official Blog Powered by Ameba
http://ameblo.jp/beatboxerzu-na/entry-11938351382.html

Nowadays, in Japan, crackdowns on night clubs are becoming very strict, such as cases of amendments to the Fuei Law. In addition, street live shows are immediately stopped by the police, except in certain areas. Even in certain areas, there are few places where amateurs can perform openly and comfortably due to volume and location restrictions.

But in Australia, where I am now, busking is legally permitted, and if you have a solid license issued by the city hall, you can perform anywhere except in prohibited areas. There are very few prohibited areas, and you don't perform dangerous performances (such as using fire or throwing things high), for example, just a beatbox can really perform anywhere.

There are a lot of busking people = bus cars in the city, and it is normal for people in the city, so I don't care about it, and I stop watching the performance of my favorite artist.