What is the power of the Intel latest processor "Broadwell-E" with a maximum of 10 cores and over 200,000 yen? The result of the benchmark test looks something like this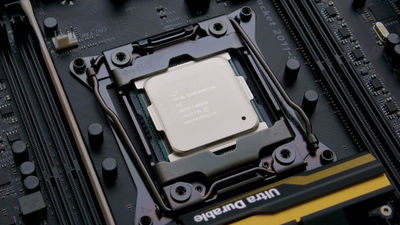 The world's largest IT trend show held in Taiwan from Taipei 31 to June 4, 2016 "COMPUTEX TAIPEI 2016"In keeping with that, Intel is a phenomenon fifth generation" Max 10 cores / 20 threads "Broadwell-EWe announced the Core i7 processor. It is the first 10 cores / 20 threads processor for consumers, so we will be using Broadwell-E's benchmark test results that attract much attention as international media news mediaArs TechnicaIt is open to the public.

Broadwell-E arrives: Testing Intel's 10-core, $ 1,700 desktop CPU | Ars Technica
http://arstechnica.com/gadgets/2016/05/broadwell-e-arrives-testing-intels-10-core-1700-desktop-cpu/

◆ Intel's latest high-end processor "Broadwell-E"
Intel announced "Broadwell-E"Intel Core i7 processor Extreme Edition and X seriesIt is the successor model of "Haswell-E". The model is "Core i 7 - 6950 X (10 cores / 20 threads)" "Core i 7 - 6900 K (8 cores / 16 threads)" "Core i 7 - 6850 K (6 cores / 12 threads)" "Core i 7 - 6800 K 12 threads) ", and the top model Core i 7 - 6950 X is a processor with 10 cores / 20 threads.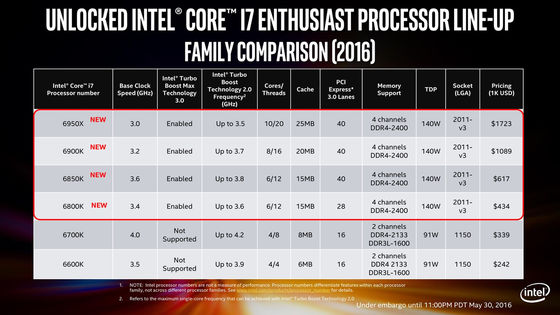 The top model Core i7-6950X has a base clock of 3.0 GHz and 3.5 GHz when turbo boost. The configuration diagram of the Core i7-6950X is as follows and you can see that there are ten cores (Core) at both ends of the middle row. The black filling space on the right side of the core row on the right side is an unused area.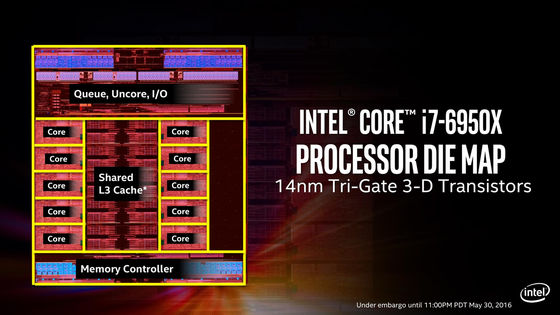 Compared to "Broadwell-E" such as "Haswell-E" and "Ivy Bridge-E" like this. The number of processors cores has evolved to 4or6 (Ivy Bridge-E), 6or8 (Haswell-E), 6or8or10 (Broadwell-E), increasing the cache and raising the clock than the baseIntel Turbo Boost TechnologyProgress is seen in various respects, such as correspondence to.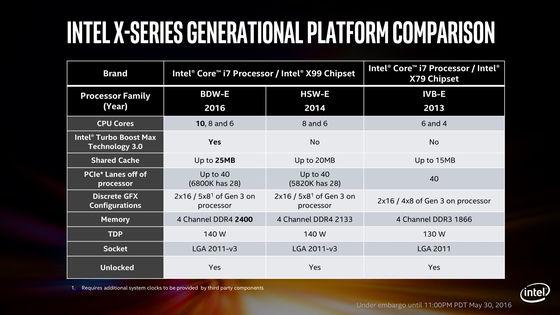 By summarizing the main features of the "Broadwell-E" series, it supports quad channel 2400 MHz DDR 4 RAM with this feeling. "Broadwell-E" is Intel'sXeonUnlike the processor, it is not compatible with ECC RAM, but it has the feature that all models can be turbo boosted and can operate faster than the base clock instead.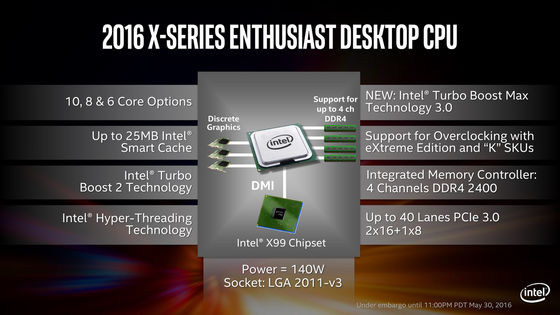 Also, the top model Core i7-6950X has 40 lanes of PCI Express 3.0.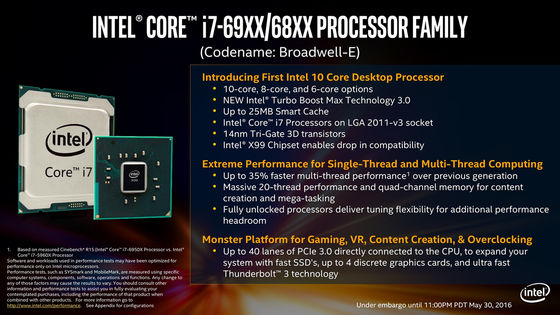 These are the top models among consumer processors, "Most users will be satisfied with the standard Core i5 and Core i7," Ars Technica said. That "Standard Core i5 and Core i7" is said to be true of the Skylake generation "Core i7-6700K", which means that this speed will be enough. A lineup for some maniacs who can not be satisfied with such a standard processor and a user who has affordable money is "Broadwell-E" Intel announced this time. This is a processor-level high-end model that companies use for servers and so on.



◆ Various benchmark results (Core i7-6950X only)
In the benchmark test, Core i7-6950X is a benchmark result for turbo boost, not for basic operation. For the comparison, Horewell-E series top 8 core / 16 high-end processor "Core i7-5960X", the 4th core / 8 thread "Core i7-6700K" which appeared in Skylake-S of the 6th generation Core processor "Skylake NUC Core i5-6260U" of 2 cores and 4 threads adopting Skylake of the 6th generation Core processor are used.

It is one of the staple of benchmark softwareGeekbench 3The graphs comparing the performance per single core are as follows. It shows that orange is overall performance, green is integer processing speed, red is floating point speed, blue is memory performance, and higher numerical value (longer bar) indicates better performance . Core i7-6950X does not seem to be outstanding performance from the core alone.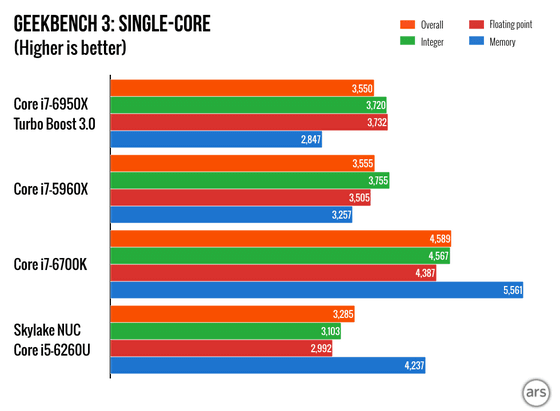 The following graph is similarly Geekbench 3, which compares the performance in multi-core. For multi-core performance, 10 core / 20 threads of Core i7-6950X are outstanding.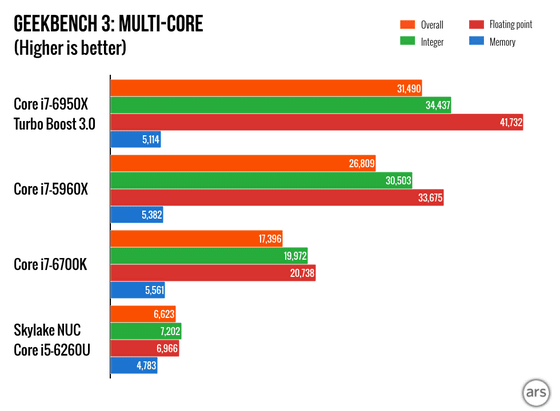 continue,CINEBENCH R 15The following graph shows the results when CPU benchmarking was done. Performance in single core is shown in orange and performance in multicore is shown in blue, and this figure shows that the higher the numerical value (the longer the bar) the better the performance. As for the benchmark result, Core i7-6950X also has a better score than the others.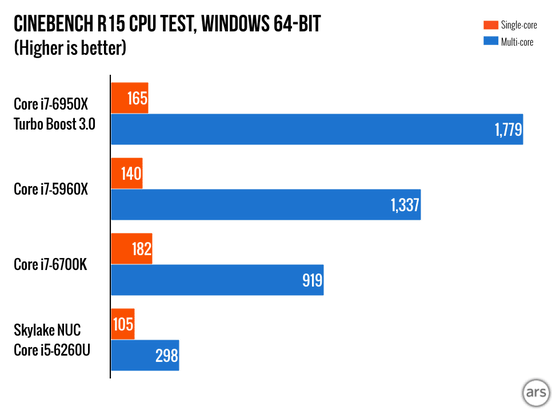 Core i 7 - 6950 X, which seems to indicate that it will show off outstanding performance from the benchmark results, but comparing this with the 4 core processors and "Core i 7 - 5960 X", "how fast the software runs Is it following? " For example,Adobe Premiere Pro CC, Core i7-6950X can run software at 25% faster than Core i7-5960X, 65% faster than 4 core processor when editing 4K movies.



Multithread3D rendering performance at 35% better than Core i7-5960X. It seems to show twice the performance compared with 4 core processor.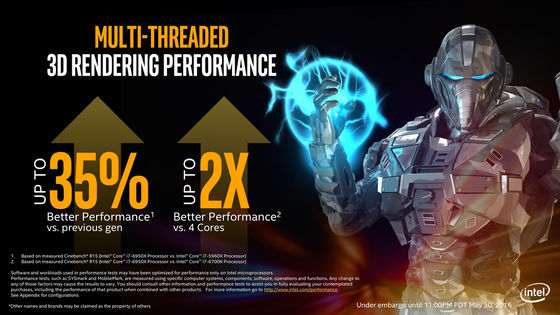 In addition, when you do "Delivering games with Twitch", "4K picture quality game play", "Encoding animation" at the same time, its performance is 25% higher than Core i7-5960X.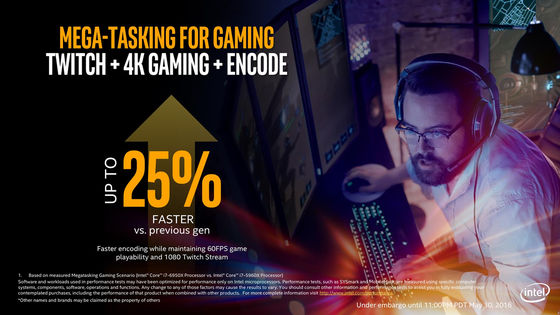 Comparison of Intel Turbo Boost Technology version 2.0 and 3.0
The Broadwell-E series can improve processor performance with Intel Turbo Boost technology. Broadwell-E can use the latest version of "Intel Turbo Boost Technology 3.0", but we compare how the processor's performance will change with version 2.0, which is the previous version, with the benchmark test .

The benchmark results with CINEBENCH R15 are as follows. Performance with single core is better in 3.0, but as a result in 2.0 it is superior in multicore.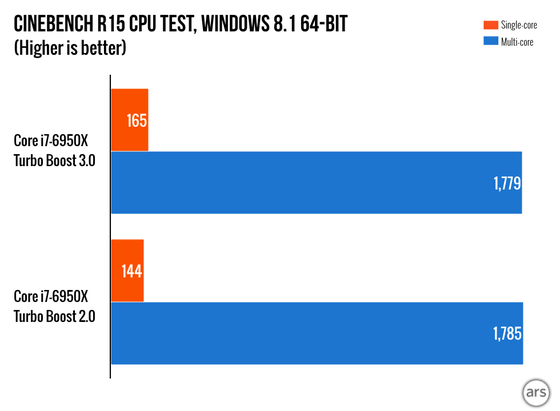 The benchmark result in Geekbench 3 is the graph below. Although the overall performance barely won at 3.0 use, the red floating point calculation speed is defeated at 2.0 use.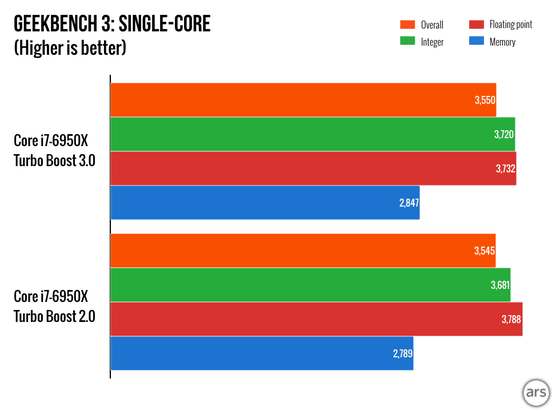 The performance of 10 core / 20 thread Core i7-6950X is "very impressive" Ars Technica. However, some notes were found in the Broadwell-E series. The model with the best performance in the series is very expensive, how much processor alone is 1,700 dollars (about 190,000 yen), and you can purchase an excellent gaming PC equipped with quad core (4 core) processors at the same price That thing. However, Intel Turbo Boost Technology 3.0 is an interesting idea, apparently improving performance if used. However, "Driver and motherboard manufacturers will face a difficult problem of how to implement this Intel Turbo Boost technology."

Also note that the Broadwell-E series is not the Z170 chipset for the main stream of consumer processors but the X99 chipset for high-end. If you simply want to raise the number of processors' cores, it will be a reason to upgrade from Haswell-E series to Broadwell-E series, but if you say "Do not care about single core performance" buy Xeon series for saving There is also an option to do. With the Xeon series, you can purchase 6, 8, 10 cores processors at lower cost, PCI Express 3.0 lane count is also 40, ECC RAM is also supported. However, if emphasis is placed on performance in memory and single core, Broadwell-E should be chosen.

Also, sell computer-related equipmentDos ParaSo, the top model Core i7-6950X is sold at a tax of 192,250 yen (tax included 20, 9790 yen).

Intel Core i7-6950X BOX | Dospara mail order 【official】