Google won in copyright infringement litigation with Oracle asked for 1 trillion yen compensation

ByUncalno Tekno

The act of using the Java API without permission is regarded as infringing copyright,Litigation that Oracle was claiming a huge amount of reparations of over $ 9 billion (about 1 trillion yen), The Federal Court Jury rejected Oracle's claim, and it won Google.

Google Beats Oracle on Copyright, Defeating $ 9 Billion Claim - Bloomberg
https://www.bloomberg.com/news/articles/2016-05-26/google-beats-oracle-copyright-suit-wiping-away-9-billion-claim

Google beats Oracle-Android makes "fair use" of Java APIs | Ars Technica
http://arstechnica.com/tech-policy/2016/05/google-wins-trial-against-oracle-as-jury-finds-android-is-fair-use/

A series of lawsuits began in 2010, Oracle said about 37 of the Java APIs acquired by Sun Microsystems acquisition as unlawful actions used by Google in Android OS are copyright infringement I complained.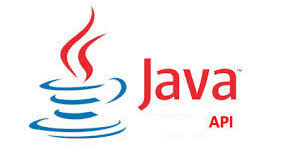 In 2012, judge William Alsap of the federal district court ruled that "API is not subject to copyright protection", Google won, but Oracle immediately appealed. In the second instance contested in the Federal Circuit Court of Appeals, in February 2014 the first instance was canceled and a decision was issued that the API is subject to copyright protection. In response to this ruling, Oracle claimed that the profit received by Google from infringing the Java API copyright and developing Android OS was $ 9 billion (about 1 trillion yen), claiming damages This case is the case.

Within the lawsuit, on the premise that the copyright of the Java API is approved, "Google's use of the Java API is"Fair use"Because it is subject to copyright restrictions, it does not infringe on rights," he claimed. Of course, Oracle argues that it does not fall under fair use. In order to appeal to the jury, I submitted a presentation material using many images and fought.

Claiming damages of 1 trillion yen to Google What litigation materials Oracle made for the jury? - GIGAZINE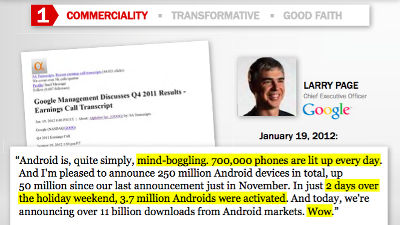 The lawsuit between Google and Oracle attracted a lot of interest in people involved in software development, but on 26 May 2016, the jury of the San Francisco federal district court said, "Google's use of the Java API is fair use "We accepted Google's claim in full and rejected claims by Oracle. If the jury had judged that the fair use provision did not apply, judgment of damages was supposed to be done next, but this trial will be done because copyright infringement was not approved It is not judging without it.

Four of the juries consisting of 8 women and 2 men refused to comment on reporters who were gathering in the corridor outside the courtroom. The remaining six people quietly left the court quietly from the back door. Google's in-house lawyer Robert Vannest said on Google's full-fledged jury verdict that "we are pleased with the verdict of the jury, that's it." Briefly speaking, Oracle attorneys gave no comment to reporters It seems that it penetrated.

Later, Google officially announced the statement, "The verdict that Android's Java API usage is fair use is a great opportunity for both the Android ecosystem and the Java programming community, and using the open source program, It is victory for developers who develop. "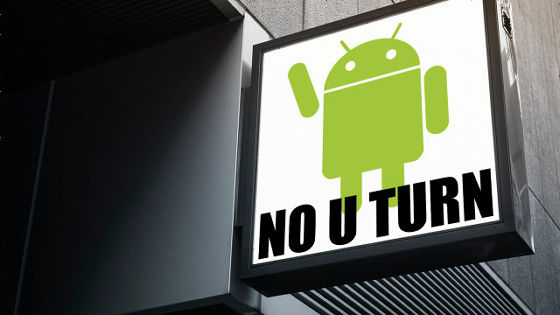 "Oracle believes that Google copied the core technology of Java technology and made an illegal offense to the mobile terminal market, we raised a lawsuit to stop Google's illegal behavior. I believe that there is a lot of grounds to show that Google's conduct is illegal and I will confront the court again, "he revealed his willingness to appeal.

Incidentally,Electronic Frontier Foundation(EFF) also announced a statement on this verdict. We assert that Google's argument with fair use is not an "excuse" by Oracle, and we are evaluating the judgment of a jury who has allowed the application of fair use provisions. However, groundbreaking first trial judgment that the API is not subject to copyright protection is correct in the first place, criticism about the fact that it is impossible for software developers to bear a burden on software developers by the judgment of the second instance that grants copyright to API doing.

EFF Applauds Jury Verdict In Favor of Fair Use in Oracle v. Google | Electronic Frontier Foundation
https://www.eff.org/deeplinks/2016/05/eff-applauds-jury-verdict-favor-fair-use-oracle-v-google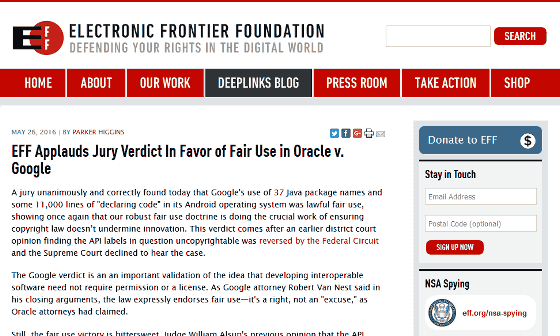 A copyright infringement litigation over the use of the Java API on Android lasting over 6 years in Oracle vs. Google will be continued further by Oracle's appeal.