It can charge 40 smartphones and 15 notebook PCs, portable power supply that can carry 120600 mAh of super large capacity "Anker PowerHouse" review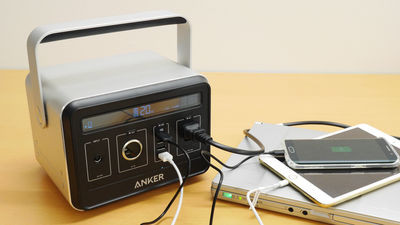 Portable power supply of 120600 mAh with an ultra large capacity equipped with AC / DC / USB output that Anker selling mobile batteries etc. can charge 15 times for notebook PC, 40 times for smartphoneAnker PowerHouseWe will release. Since it has the feature of charging the equipment and turning on the light even in case of an emergency,100 units free of charge to the affected areas of the Kumamoto earthquakeSince I was able to rent a PowerHouse which is also being done, I tried it by actually charging a notebook PC or a mobile device to see how much performance it will demonstrate.

Anker PowerHouse
http://jp.anker.com/products/A1701011

Anker PowerHouse has arrived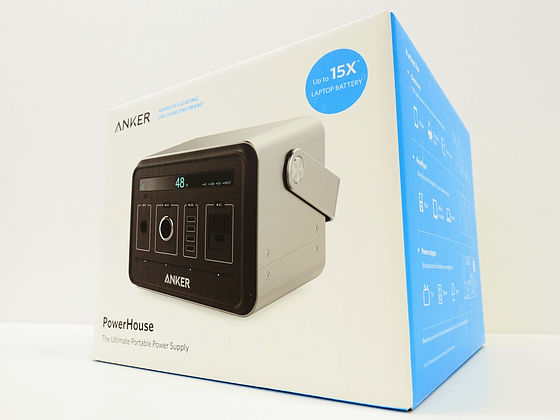 On the side, the usage for each situation is written, and in outdoor it can be used as a power source for smartphone charging, camping lights and mini refrigerators, and you can charge mobile devices and PCs when traveling. In the event of a power outage it will be useful as a power source for TV, speakers and lamps as well as charging electronic equipment.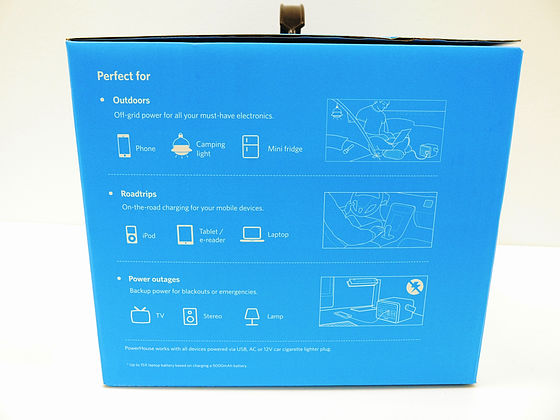 Pakkat opened. Anker had cards and instructions written as "Happy?" Familiar.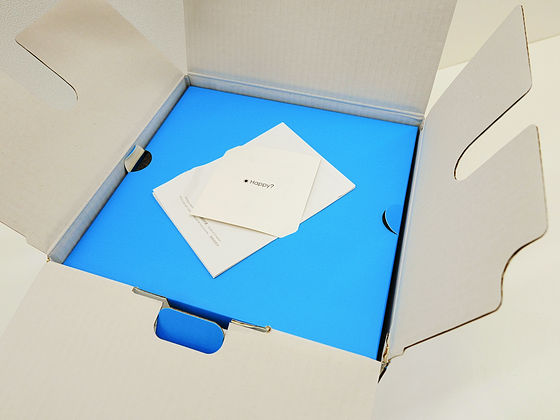 Below that is firmly packed.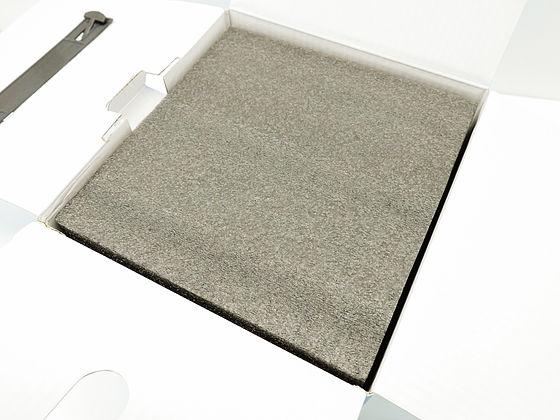 What was in the main body · instruction manual · cables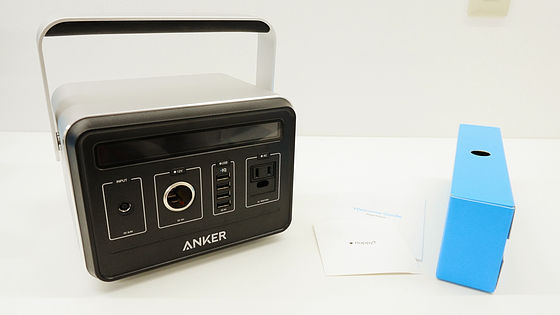 The size is about 200 x 145 x 165 mm, you should know the sense of size when laying iPhone 5s sideways.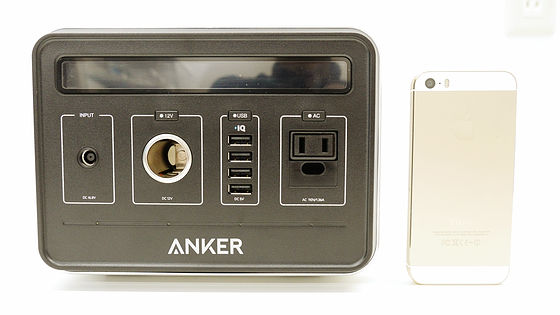 From the side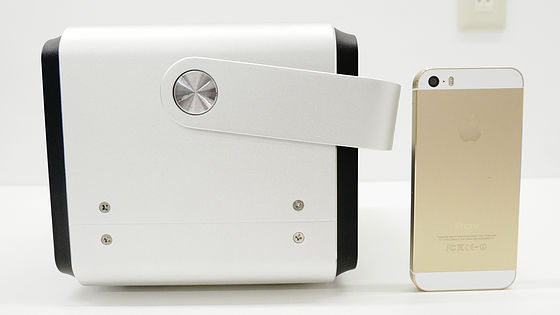 From above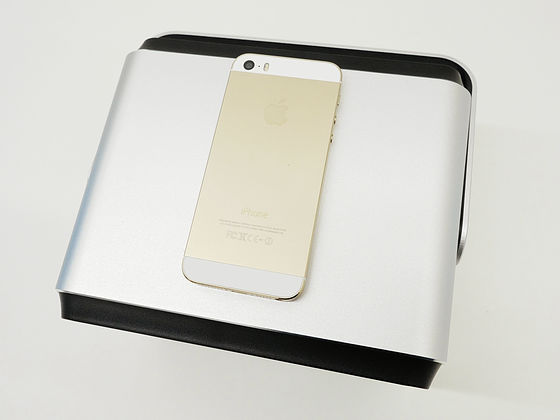 There is a rubber stopper on the bottom so you can put it steadily even in a slippery place.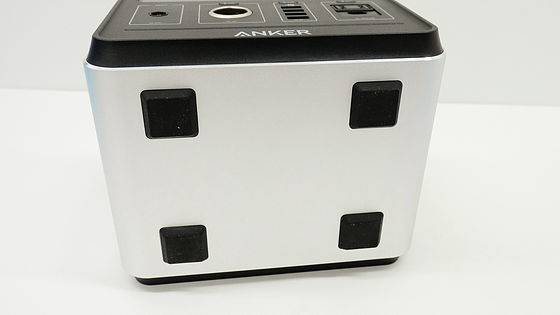 Power supply capacity is 434 Wh (120600 mAh), reviewed previouslyAnker PowerCore 10000If it is equal to 12 minutes capacity of amazing. It can be recharged from home wall outlet or solar panel with DC socket connection. Input is DC socket (16.8 V / 7.5 A) × 1, output is cigar socket (12 V / 10 A) × 1, USB (5 V / 6 A) × 4, AC (110 V / 1.29 A) × 1. Since each port up to 2.4 A is USB, charging of the tablet is no problem, Anker's proprietary technology "PowerIQIt corresponds to.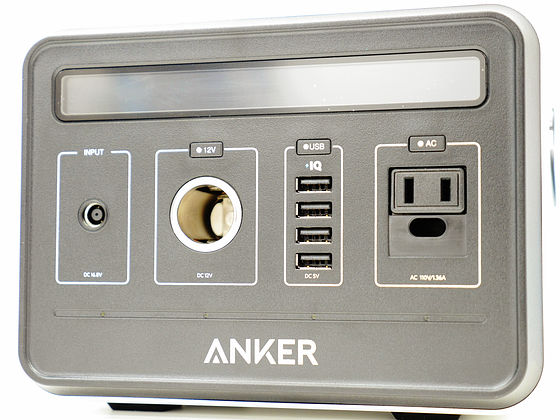 On the liquid crystal screen, the remaining battery charge can be confirmed with the battery mark, and the remaining charge time at the current output is displayed as "18H". Since input / output is also displayed as "INPUT" "USB" "AC", you can understand the power supply / charge state well.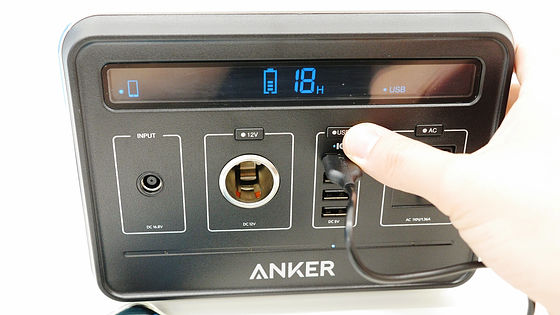 Taking it in your hand is like this. Weight is about 4.3 kg and I feel weight when I hold it with one hand with men, but there seems to be no problem with carrying because there is a handle.



Cables included AC adapter (304 cm), Micro-USB cable (60 cm), DC cable included.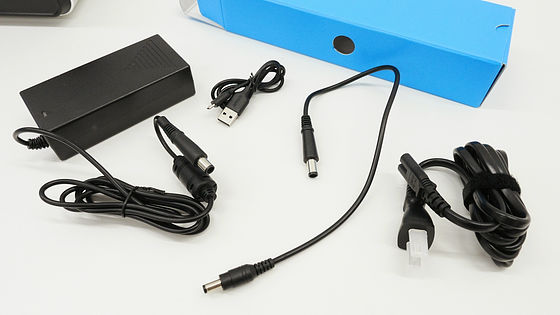 That's why we first charge the battery from the outlet until the battery is full. Just insert the included charger and OK. It is said that the battery will be full in about 10 hours from the empty state.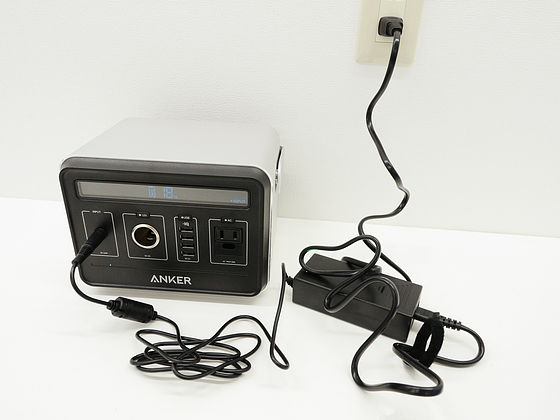 ◆ I tried charging smart phone · tablet · notebook PC
In order to actually charge, we smart phones, tablets and notebook PCs until they are empty.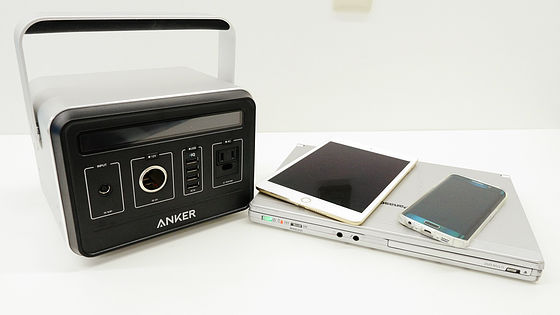 As charging is started all at once, since the remaining charging time in the current output has decreased as we see it, we will charge the notebook PC with a large output individually.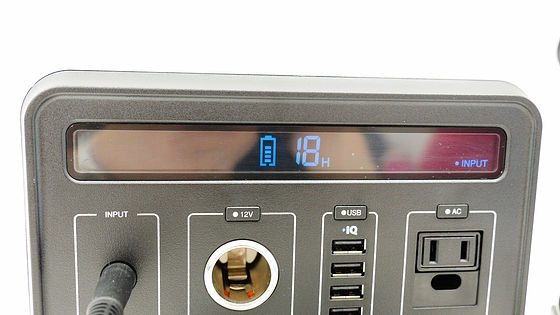 To start charging Please set the plug of the laptop charger to the AC output and press the button labeled "AC" OK. The beep sounds "beep".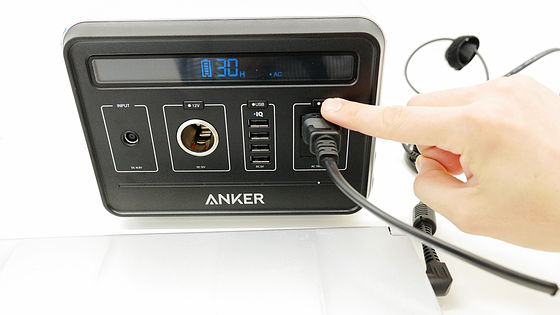 When I checked the liquid crystal screen when I charged it for 1 hour, the remaining charging time at the current output was 10 hours, but there was no reduction in the scale of the battery at all.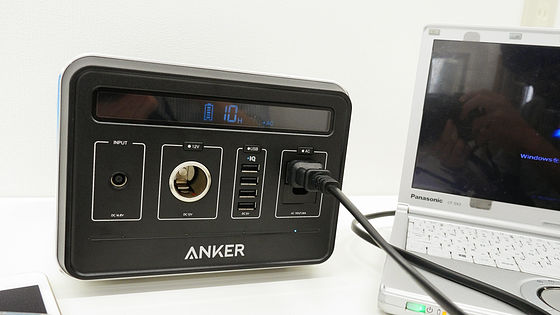 Moreover, it is slightly warm degree even if you touch the main body while charging. This is because the voltage and temperature are properly managed by "Battery Management System (BMS)" inside. Safety is being pursued beyond functionality.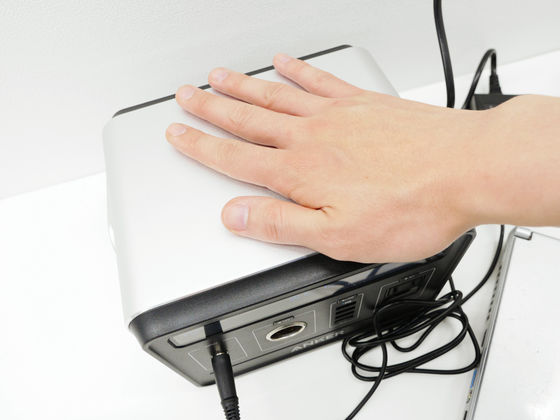 Battery capacity of notebook PC is 6400 ~ 6800 mAh, but it was almost full in only 1 hour.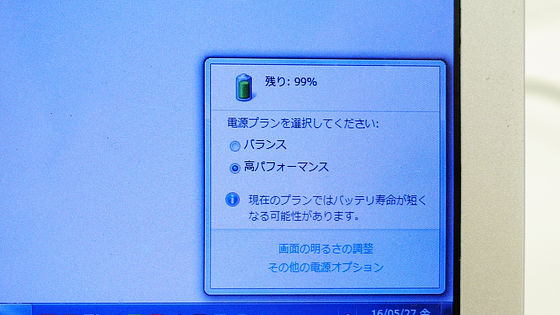 Continue to the smartphone and tablet which discharged the battery. After inserting two USB cables and connecting with the equipment, start charging by pushing the "USB" button.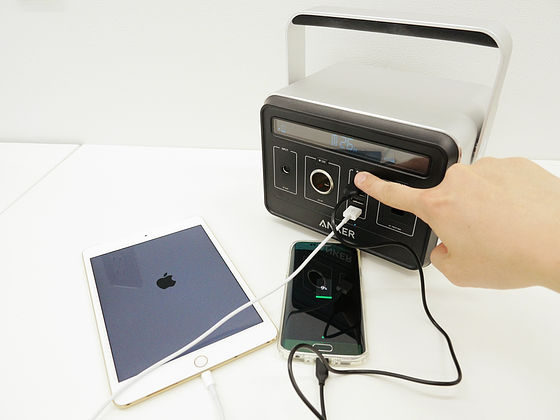 The remaining charging time at the present output at this time is 24 hours. I will be worried as I continue charging it, but once I remove the equipment and recover it to 30 hours again after a while. Also, if it is a speaker, TV, etc. it will be a guide to how many more hours you can attach.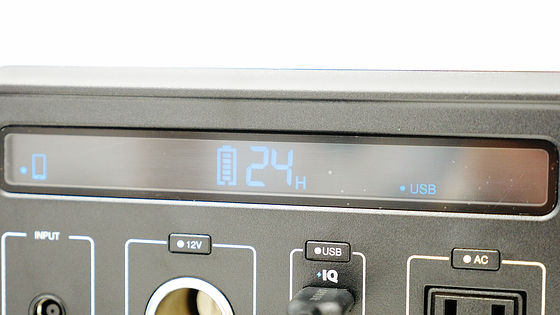 It took about 1 hour and 30 minutes for the smartphone to fill up.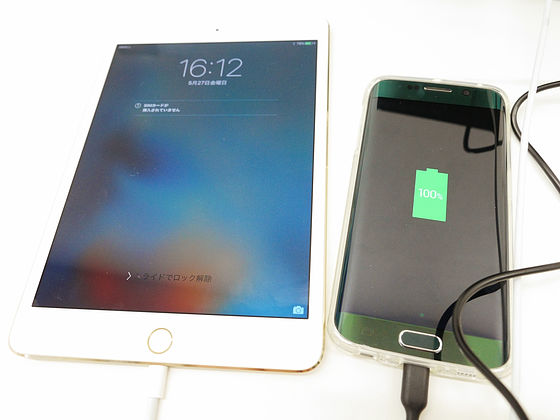 The tablet is also full in about two hours. With this, only the scale has decreased by one, so it will be possible to carry enough electricity that can not be used in one day. In addition to smart phones, it also serves as a power source for television and cooking equipment, so it should be a strong partner in times of disasters and emergencies.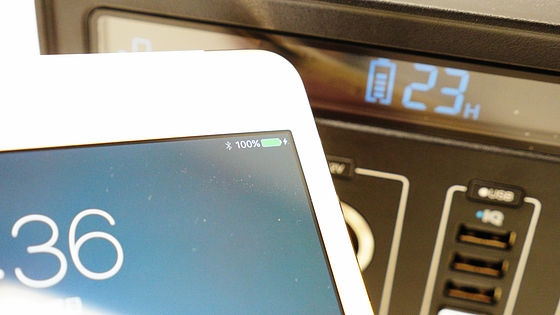 ◆ I checked the function as an uninterruptible power supply (UPS)
PowerHouse at AmazonUninterruptible power systemSince it is registered in the category, I will try to use it as an uninterruptible power supply as well as a portable battery. First of all connect the PowerHouse to a wall outlet to charge it.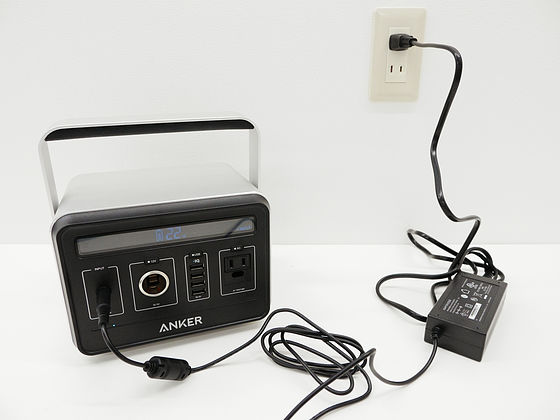 Then I connected the notebook PC charger to the AC output and removed the battery with the notebook PC running. If the supply of power is cut off like the desktop PC in this way, the notebook PC will be forcibly shut down.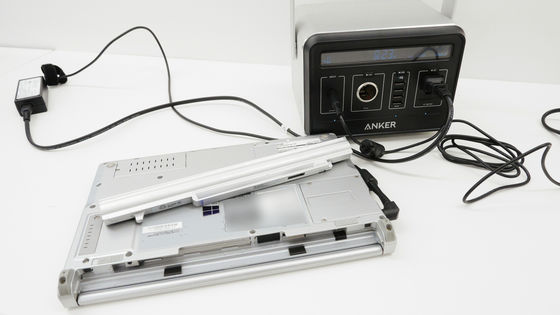 Furthermore, if you unplug the cable charging the PowerHouse, you can reproduce the state of power failure. Now that you are ready, grasp the plug ... ...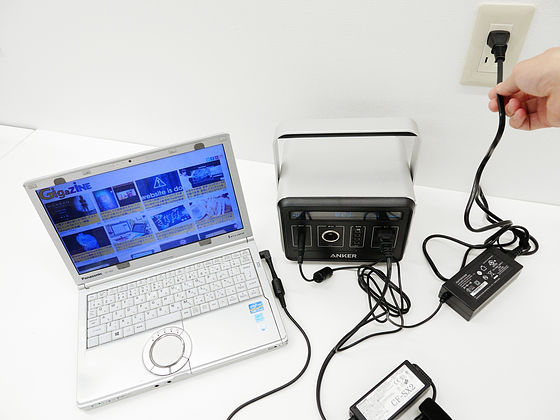 I pulled out. Then power supply to the PowerHouse side was cut off, but the notebook PC was started without shutting down. We found that PowerHouse can also be used as an uninterruptible power supply, but beware that automatic shutdown will occur if the AC port output exceeds 160 watts.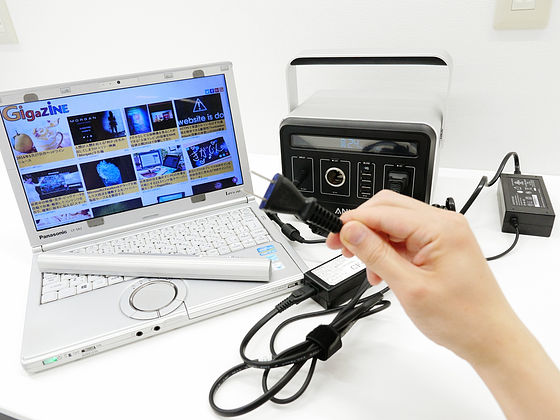 In addition, Anker PowerHouse will be sold on June 6, 2016 (Monday) on the following Amazon page, and we accept pre-order at the time of article creation. The price is 50,000 yen.

Amazon.co.jp: Anker PowerHouse (434 Wh / 120, 600 mAh Portable Power Supply) 【Quiet Inverter / USB & AC / DC Output Support / Power IQ Installation】 Camping, Emergency · Disaster backup power supply: