What are the merits of hiring elderly staff over 55 who are not young people?

ByPrupert

The number of private employees in the US in 2016 has been on the upward trend beyond the market expectation, and employment recovery continues in the United States and the American payroll outsourcing companyADPHas announced. Under such circumstances, Fast Company of the economic news site summarizes the reason why the employer should hire elderly staff of 55 and older, not young people.

Forget Millennials - Why You Should Hire Someone Over 55 | Fast Company | Business + Innovation
http://www.fastcompany.com/3058869/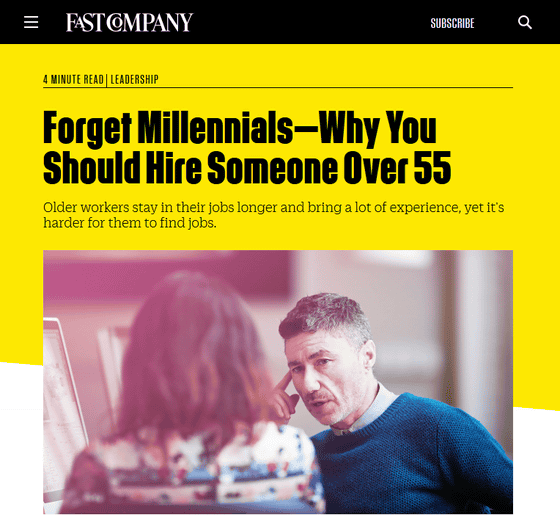 The Federal Reserve Bank of St. Louis, USAInvestigationAccording to March 2016 as of March 2016 the unemployment rate in the United States over 55 is 3.9%, but over 55 years oldLabor participation rateIs only about 40%, older workers are facing harsh reality compared to the fact that the labor participation rate between 25 and 54 is 81.5%. In addition, according to the Labor Statistics Bureau of the Department of Labor, 45% of job seekers aged 55 or over have been unemployed for 27 weeks (about 7 months) or more.

Provide economic informationNerdWalletMaggie Leung, who is a content director at the company, seems to be looking for experienced people instead of new graduates when hiring new employees at the company. Mr. Leung himself, when he joined NerdWallet, was older than the other employees by 15 years of age, but Leung's new policy of "hiring older staff" means that the number of employees will be 2013 The fact that it was 50 people increased to 300 in 2016 and the company grew big. Leung said, "At NerdWallet we are hiring employees who already have high experience in the market, so the proportion of older staff inevitably increases," said Leung It seems that about 10 new staff members over the age of 55 have joined the team so far.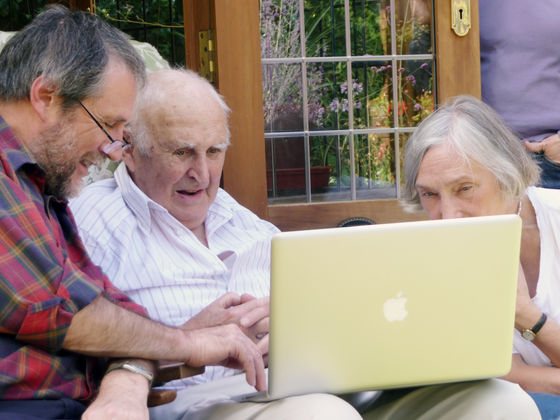 ByJody Morris

Columbia University'sThe Robert N. Butler Columbia Aging CenterAccording to Ruth Finkelstein, who is Deputy Director at Deputy Director, he said that once people are hired by a company, they will have a variety of reasons such as "fun to work", "keep health by working," "need to continue working for economic reasons" He said that he tends to continue to enroll in the company. However, if you become unemployed beyond the age of 55, it will be harder to find a new job than you were young. Because the employer tends to be concerned as "the elderly 's work capability and health condition is lower than young people". However, Mr. Finkelstein says, "It can be said that there is no foresight to ignore the merit of hiring an elderly staff."

According to Finkelstein, elderly staff are faithful to the company and have the advantage of keeping the same job for a long time. To support this trend, in the Employee Ownership Report of the Labor Statistics Bureau of the Department of Labor, Ministry of Labor, 58% of elderly staff has been announced to continue the same job for more than 10 years, in the 40's 37.3 Compared to%, elderly staff is working in the same company for a longer time than young people.

Personnel consulting companyCeridianSenior vice president Lisa Sterling said that many companies were born between 1975 and 1989Y generationI will tell you that it is easy to focus on recruitment to young people, such as the 2020 generation. However, "If you are looking for highly skilled and experienced job seekers, there are plenty of possibilities in generations over the age of 55. Candidates over the age of 55 will often see how the business goes I know, I am standing behind in the company, training before I start work, etc. I already have it, "emphasizes the merit of hiring elderly staff.

Also of a temporary staffing agencyAdecco Staffing USAAccording to Lauren Griffin, senior vice president at the company, older staff are better at negotiating than younger people. Employers tend to be worried that "older staff can not be applied to the latest technology?" Griffin says, "Personal capacity is bigger than age and can not be determined unconditionally." It seems that Adecco instructs older job seekers to update their LinkedIn profile.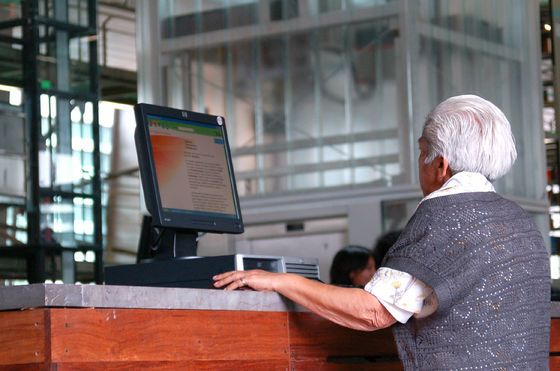 ByJust Another Shot

In addition, it is one of the benefits of employment that elderly staff has high communication skills, and SYNERGY in household service agency business has hired staffs in their 60s to 70s and succeeded in smoothly communicating with customers Thing. Dennis Crippen, president of SYNERGY says, "If older people are trapped in an age stereotype that they may not be able to complete their work, they will miss employees with excellent abilities."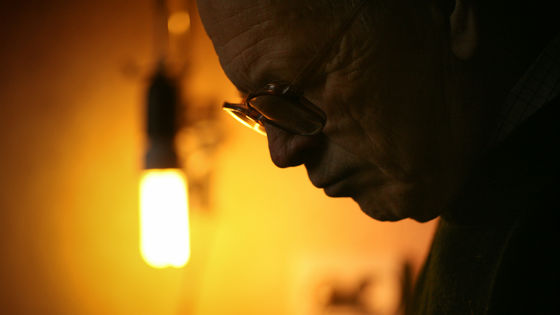 ByDukas Ju

As mentioned above, companies are gradually beginning to aware the merit of hiring elderly staff, and in the United StatesIRelaunchYaWorkforce 50.com,Senior Job BankWe have also begun offering recruitment information services specialized for elderly people.
in Note, Posted by darkhorse_log