Interview with Mr. Ryohei Suzuki who plays the metamorphosis mask again at "HK / Metamorphosis Absalum Crisis"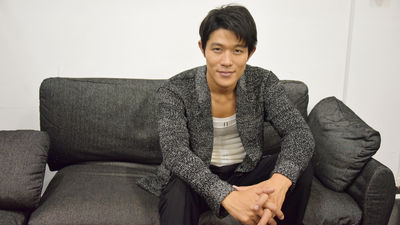 movies"HK / Metamorphosis Mask Abnormal · Crisis"Will be released on 14th May 2016. This work depicting the hero's success in undressing (crossing out) with the power of excitement suffering from panties and defeating evil, is playing the leading role of coloring insanity (metamorphosis mask)Ryohei SuzukiMr. In NHK morning continuous television novel "Hanako and Ann" in good husband Eiji Muraoka, "Emperor's cook number" Akiyama Shutaro role falls as a hero with his hero's brother, movie "My Story" in a man loved by a man He is active in a man with a wide range of roles, male and Takeshi. As I was going to listen to the story as this work was directed by Fujita Yuichi director, I was poignant.

Movie 'HK / Metamorphosis Mask Abnormal Crisis' Official Site May 14, 2016 (Sat) ROADSHOW The panties disappear from the world. Justice will disappear.
http://hk-movie.jp/index.html

Ryohei Suzuki who responded to the interview.



A question-and-answer session was held in advance about the feelings when the sequel was decided and the atmosphere of the site.

Q:
At the time of shooting the previous work, it was said that it was a trilogy composition from director Yuichi Fukuda, but what did you think when you heard that the production of the sequel was decided actually?

Suzuki Ryohei (Suzuki):
When the sequel was decided, it was finally feeling that he could not do it. The HK that we really wanted to make was drawn with a screenplay of 2, so finally we can make a hero that we wanted to make with this. Rather it was said that I wanted to make a trilogy from me rather than "I heard that it is the idea of ​​a trilogy work." When the project of the previous work is raised, when I was eating with the director, "I want to make trilogy". Then the director told me that "I was thinking so", so it was finally a feeling that I could head there and 2 could.

Q:
Did you hear the setting that the panties disappear from the world when the sequel was decided?

Suzuki:
The only idea I had heard during the filming of my previous work was that "a woman comes out". That's why it's not as big as a plan (laugh). The other thing is that I misunderstood that Mr. Masuzuki was moteted and I went to New York. And, was it like this? When I heard that panties disappear from the world, I thought that "True Fukuda-san is a genius." Because I think that there are many properties of heroes, but the fact that the transformation mask is special is the hero who depended on something. It is really good to take the place that can not even transform even without panties is really good, and even that one line, "The world where no longer panties are lost" in the script is also interesting. Moreover, if you think how to lose your panties, I will inhale them. As expected it was a hat off.

Q:
As if the body was finished more than in the previous work, is there anything conscious about this time of body building? In addition, I heard that you took lessons for ballroom dancing, but how was it when you actually tried it?

Suzuki:
Regarding the body, of course it is that you have to do more than the previous work, and this time the pervert mask goes to New York, so you wanted to be a body that will not sink when you line up with overseas heroes. As it was in the last time, there are a lot of places that are inspired by consciousness of an overseas hero, some are making, inspired scenes, so do not just become a "parody" I thought that it is important to make it a body that is not so bad for them. For that reason it is necessary to have muscle mass beyond Japanese standards. It became a big body once it became fat, but it was a shoot just after we increased the weight considerably in other works, so it was just right timing to leave the muscle by dropping only fat from there. As a result, I think that when I became a picture, I became a big body that was more powerful than I was looking in the mirror.

Regarding ballroom dance, the action is intense this time. In the last time, five hands at once, about eight hands at the last time, roughly fifteen hands per cut, at least ten hands at a time, connected it in series again, and pseudo 1 cut Because I take pictures in a way like that, I had to be a body that could move anyway. Because heavier the more heavy it becomes a body that is hard to move, so I did pretty much the action practice also to make it a movable body that is not just appearance, and even when I train, I use the whole body like a jumping squat, to the action scene I made it to make it. It was a ballroom dance with that. It was around a month and a half before I told Mr. Fukuda, "Please study ballroom dance and flamingo movement this time". Since these two were told that Fukuda is doing the most transformational movements that have been investigated until the sequel, "thinking what this is saying" thinking, YouTube Or check it out. I understood the flamingo but I thought that I had to learn the ballroom dance, so when I was at university I contacted a friend at the ballroom dance division / competition dance department and introduced a senior who is active as a professional I did it. The thing that seemed to be most sexy was that it was rumba, so Mr. Tabuchi of me and the action director took that person's lesson for about a month and mastered it. In the previous work, the movement of the waist was only vertical movement, but this time taking in the place where the waist moves to figure 8, taking one way of walking, "Kyukyushyu" was the "Gyuengyuen Because it can move with "Variation" increased, it became a more transformational action scene.

Q:
From the previous work, casts such as Shimizu Fumija and Mr. Murotsuyoshi gathered again, Yuya Yanagi and Ms. Mizusaki Ayase got involved and it was said that it was filmed in the summer, but what was the atmosphere like at the scene? Is it?

Suzuki:
Atmosphere in the workplace is peculiarly "metamorphosis mask", it is overflowing with laugh at peacefully but with a feeling that is extremely stoic. Mr. Yanagi and Mr. Mizusaki who participated from this time had a tension, but what was good at the time of the previous work is because it was seriously doing silly things. Therefore, this time, not feeling careless and becoming a festive feeling, staff and we all had a sense of crisis that fails if we do not face stoic more seriously and fail. It is not a very fun site, and there are many people who have difficulty. It was summer this time, so the coldness like the previous work did not become a problem, but Yuuraku is making a huge machine under construction, but there is sweat as I draw it, that spills Because the sound was about enough to say "What is the sound of this water?" From the recording department, I think that Mr. Yanagaku was the hardest person physically.

Mr. Yanagi who joined newly.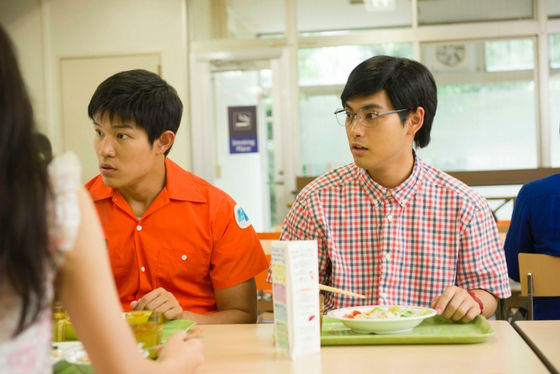 Also, Mr. Shimizu did not change anything. It was a very healing experience for us. After that, she was happy that she got popular in this work because she was doing a lot of work and she did not change anything, so I was relieved at the scene.

Aiko who plays Mr. Fumika Shimizu is an important existence even in this work.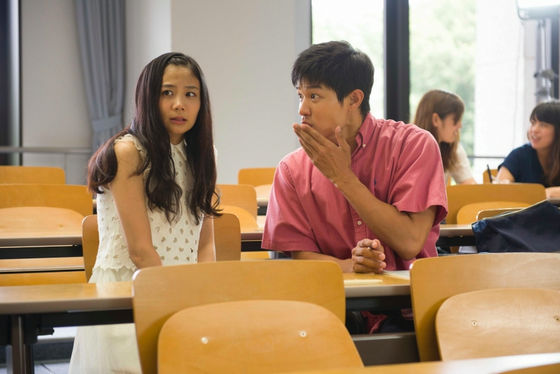 Q:
What is the most interesting point and what I want you to see most as Suzuki-san?

Suzuki:
This time there are two. Firstly, because this is a youth story as well, I want you to see love story of Aiko and Mrs. Mizuno. Because I think that it is more valuable to you than when you are transforming. Also, I had to strengthen as Mrs. Kinsaku last time, but this time it's a story that the strongest enemies that can not win unless you power up as a pervert mask are going to be a stronger transformation, so the growth of pervert masks , I would like you to see how the transformation mask becomes a more powerful metamorphosis. If you borrow the word under construction, I think that you can see the process of growing into a stoic metamorphosis the transformation mask that was a sweet metamorphosis.

And from this point I tried directly to ask questions.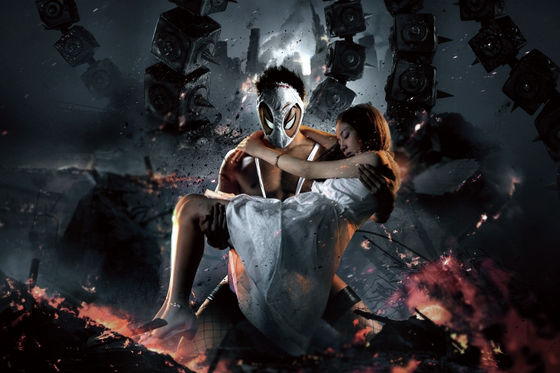 GIGAZINE (hereinafter, G):
Mr. Suzuki has an image of an actor who is integrated with the role he plays. However, Mr. Suzuki 's acting Kozushi acts as a fairly special character, "When you wear a panty, you turn into a metamorphosis mask". Do you have something in common with or similar to yourself?

Suzuki:
That's right ... the feeling of justice may be stronger. Also, I feel that resembling what I am going through with obsession with something is similar. In the case of Masuzuki-kun is panty (lol), but in my case it is a world heritage.

G:
Because insanity can not be transformed without panties. What about Suzuki's case?

Suzuki:
Although there is no such thing as not having a World Heritage site, it will not happen (laugh), but the place where the width of interest is narrow may be close to Mrs. Kinsuke. I do not know much about what everyone is interested in.

G:
I heard that I do not like light chatting about World Heritage so much.

Suzuki:
Because I like it because it is a matter of love just because I like it, there is something I feel sorry if I get involved in the story.

G:
In this way, I was able to play Kazushi twice twice, but have you noticed something or did you awake?

Suzuki:
What I noticed is that it is surprisingly difficult to wear panties on their face.

G:
It certainly did not know.

Suzuki:
And net tights do not shift unexpectedly. Women's tights have not come down all the time? I was wondering, but there is no gap.

G:
I see.

Suzuki:
The netting tights wearing a pervert mask are costumeKenji KamiwaThank you for making it. Even if you do not wear a garter belt, you will not get out of action. This is big noticeable.

G:
In terms of just that action, "HK / Metamorphosis Mask Abnormal Crisis" has been scaled up much more than the previous work, and the battle that can be unfolded has also been increasing in force. In making this work Suzuki said that "Please research ballroom dance and flamingo movement" from director Yuichi Fukuda, and by adopting that movement Suzuki says "It became a more transformational action scene" Is there any difficulty in performing it?

Suzuki:
That "action scene" itself was the hardest. Because, if it is an ordinary action hero thing, its contents turn into a suit actor when transforming. That's because many heroes wear something like a suit each, but in the case of a pervert mask (laugh) it means that even if the face is hidden but the body is not me I know, so I have to do it all. Even this time, I play all cuts.

G:
Oh, how ... ....

Suzuki:
So what is tough is "injury". Of course it is necessary to see the action beautifully, but since it is a preparatory stage, I need to practice well. However, when it comes to taking action, it's that body, so I can not put in a putt.

G:
Well, if you wear a suit, you can put it in.

Suzuki:
This time, for example, since there is a movement like horizontal kicking after falling back from the side before turning around, it cuts every cut every time, if I get injured, the shooting itself can not be done anymore . This is the most difficult thing, as it is when everyone is busy adjusting the schedule and being able to shoot only here.

G:
It is a body that can not be changed.

Suzuki:
That's right. Also, the difficulty with action scenes is that nobody has done a "pervert action", so there is no textbook. I have to arrange one cool hand action scenes one by one in a transformational style among myself. It took me a while to think about it.

G:
I can not say I can manage a role model.

Suzuki:
Even if there is a cool movement, I will make a place saying "How can I do a pervert?" So I can not use it as it is. That is why there is a pride that there is no one in the world. Of course it is natural (laugh)

G:
It is only one (lol) Ms. Suzuki, in an interview conducted before,Answer that self evaluation as an actor is "about 2-30% of ideal"I am getting the impression that my self-evaluation is very severe, but please let me know if you have done well as you did well in this work, if you can do well.

Suzuki:
This time is ... it is the dialogue "No pan!?" I think it was better than that.

G:
There was it, it was a line that you can feel the uproar of madness. It is a serif that I'm not quite sure in my normal life.

Suzuki:
It is not, and even with a no-pan it does not shake as much as Mrs. Mr. Kun himself (laugh)

G:
I thought that it was clearly Aiko chan, so surprisingly it was surprising that there was a state that madness was concerned about the surrounding girl as well.

Suzuki:
I have been careful with the director there. To the end it is Aiko who likes Mr. Ayuko, and Professor Ayuta who appears this time embraces his feelings of ignorance but is not in love, not in love, to take it in the direction of suffering rather rather than being liked did. If you do not do it, you surely think that people who are watching are "what, it's insanity?", So I am staying at the place of shaking that has been liked by older women.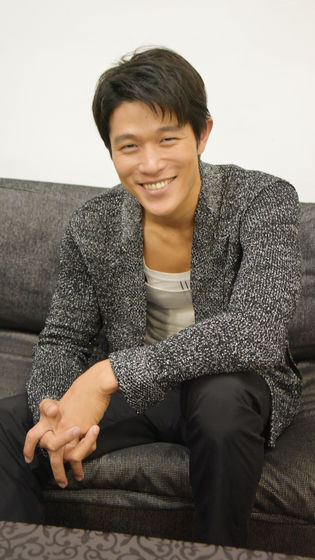 G:
In this work, I heard that there was a big incident that I do not understand that "Panties will disappear from the world", and I think that a variety of panties appeared beyond the previous work. Several panties that are deeply involved with insanity also appeared, but did you have panties who thought "this is nice"?

Suzuki:
Purple It was cool and cool. When you go to the leopard print, the goods as a pervert mask are lost.

G:
Indeed, there may be feeling that there is no item in the leopard print.

Suzuki:
If it is violet, it feels like the whole is well balanced, leopard prints are a bit, if you see the whole as a pervert mask, you say that the access is too strong or it will be noticeable.

G:
I see. It was on a white background that I first had in mind.

Suzuki:
Aiko-chan's panties.

G:
As a design, I thought that what is better is the one that is just simple with the print of the heart and name entered.

Suzuki:
That is already an iron plate. ...... This is a story as a pervert mask, is not it? (Lol)

G:
Of course (laugh)

Suzuki:
KinnikumanYaMeat youIt is not cool, but letters are just coming to the forehead as if it symbolizes identity, is not it? ...... What are you saying? (Laugh)

G:
No, I definitely thought that the sense of unity that the mask part is white, whatever you are wearing is also white is good.

Suzuki:
That's standard, of course it's basic. I liked purple in terms of arranging for it. However, it certainly seems that it is not covered by "black black" yet, including this time. This "pervert masked black" or "black pervert mask" may appear on "HK / Metamorphosis Mask 3", perhaps. Maybe that transformation mask is perhaps a pervert mask other than me ......

G:
Umm ... .... Although there is no plan to produce 3 at the moment, it is a story that Mr. Suzuki and Director Fukuda are showing motivation for trilogy, so I'd like to see the realization of that. Here I go back to a little action story, but as for the metamorphosis mask it seems like to look back on the intense technique such as Hentai Muyoshi "Tight rope of hell" and "Aggression spider hell" and the upper body used in the first poster Poses, poses that emphasize Oriariari with their arms folded with their arms with their arms, poses that are slightly shifting their waist with their arms folded, etc. Once you see it, you will see various appearances that will burn to your head. Suzuki Do you have a favorite figure?

Suzuki:
In this movie 'Hentai Masked Mode' comes out and 'set on', but that is strong. It is hard to take action in the way, but I like it quite easily (laugh).

G:
(Laugh) I really want to see the movie and see it. Many appearances that reproduced the original pose as they are, but there are also a number of things that make me feel that "this can be seen in live action".

Suzuki:
Several pretty things are coming out, but at the same time, complicated things that have never been before come out. This is what I studied myself as "It is not in the original work, but if Mr. Kyungaku sensei, this will draw". In the case of the previous work, I had copied the pose and filed it, but this time it was converted to data on a smartphone. Not only the pose in the original but also the original pose I thought in front of the mirror, including a total of about 100 kinds, each divided into folders with "arms are raising" etc. , "I will check which scene I will put out next".

G:
That means that a pose of your choosing has appeared.

Suzuki:
I chose the scene and the one suitable for the camera frame from among a number of poses. Since it depends on where the frame enters from where the body goes, depending on the frame, it is quite important to think about which pose to match accordingly. However, when posing as many as this, when it is a pose not in the original, "It is this if there is a transformation mask" "It is nothing" has gradually become understood. It is a subtle difference such as the position of the hand and the position of the foot, but (laugh)

G:
It is no longer an exaggeration to say that it is united with a transformation mask.

Suzuki:
Regarding that, I am confident that it is integrated. Although there is a doubt whether it may be integrated.

(All lol)

G:
Mr. Suzuki talked about her own dream as "acting as a leading actor in Japan and making it active in the world." "HK / Metamorphosis mask" was released in 13 countries and regions, invited to the overseas film festival, and this work "HK / Metamorphosis Abnormal · Crisis" also approached dreams such as offer received from overseas film festival I wonder if it became a work.

Suzuki:
It is a pleasure to ask people in various countries to know that "There is an actor called Suzuki Ryohei" as a trigger, and would like to work together.

G:
It already plays a variety of roles, and one of them has a role that got overwhelming like this movie 's frenzy, is there anything you would like to challenge in the future?

Suzuki:
I will do so many things this year ... ... There is a feeling that I want to do a role like an ordinary salaried worker. In myself, I think that it is people of salaried workers who once supported the expression of "corporate warrior" that supports Japan, so I guess the guy who is doing his best in the organization while protecting the family, on a train I think that you should be able to play an ordinary man as if sitting next to him.

G:
I have made many other strange questions today, but thank you for talking.

After the interview, Suzuki who took a transformation masking pose. I feel that the appearance of transformation masks that should not be there overlaps with the line around the chest and the position of the arm.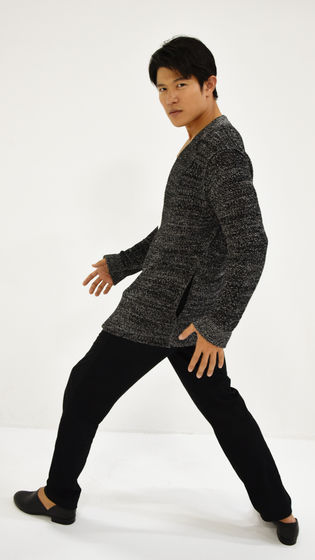 Although it was inconspicuous, I got it accepted promptly.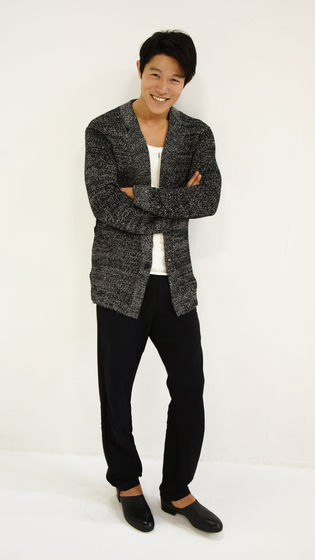 Mr. Suzuki's big success is seen "HK / Metamorphosis mask Abs. Crisis" is released on Saturday 14th (Saturday). This trailer looks like this.

"HK / Metamorphosis Masked Abnormal · Crisis" Preliminary Notice - YouTube


In accordance with that, I decided the TV program of the first work "HK / Metamorphosis mask", so please also have fun with those who have not seen the previous album already. Broadcast date and time are as follows.

Aomori TV: 4/22 (Friday) 25: 00 ~
TVU Yamagata: 4/22 (Friday) 25: 25 ~
Shizuoka Broadcasting: 4/22 (Friday) 26: 25 ~
Tulip TV: 5/6 (Friday) 24: 50 ~
Hokuriku Broadcasting System: 5/6 (Friday) 25: 15 ~
Fukuoka Broadcasting: 5/6 (Friday) 25: 55 ~
TOKYO MX: 5/7 (Sat) 26: 00 ~
TV Osaka: 5/12 (Thursday) 25: 05 ~
RKK Kumamoto Broadcasting: 5/12 (Thu) 25: 08 ~
Mételé: 5/13 (Fri) 25: 54 ~
Miyagitetribe: May 14 (Sat) 24: 55 ~
HBC: 5/20 (Friday) 24: 58 ~
TV New Hiroshima: May 21 (Sat) 25: 40 ~