"Solar Impulse 2" aiming for round the world with only sunlight as energy will again depart for the goal again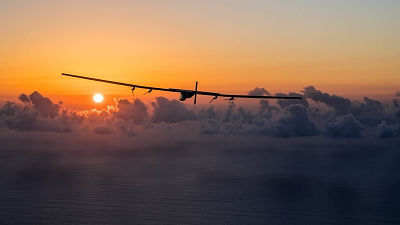 An airplane aiming to make a round of the world while using electricity generation panels to generate electricity without using energy sources such as fossil fuel "Solar Impulse 2"We are planning to leave again from Hawaii that was parked due to trouble for the goal soon.

Solar Impulse Blog - Solar Impulse re-enters 'Mission Mode'
http://blog.solarimpulse.com/post/142793978525/solar-impulse-re-enters-mission-mode

Solar Impulse 2 's footstep blog "Solar Impulse Blog" announced on April 14, 2016 that the aircraft entered "mission mode" and began preparing for the next destination. Solar Impulse 2 parked at the airport of Hawaii at the time of article creation is promoted maintenance and crew training in order to overcome bad weather and long trip troubles, re-take off with the aim of stabilizing the weather Schedule has been set up.

It was Solar Impulse 2 which originated from Nanjing, China on May 31, 2015 and was aiming for Hawaii one way, but it turned out that it encountered bad weather at the end of the route. Solar Impulse 2 with a lightweight fuselage can not be affected by bad weather, so in order to avoid bad weather, we hurriedly landed an emergency landing on Nagoya Airport in Japan on June 1.

Video: Hurry and landing solar aircraft at Nagoya Airport, a large number of spectator photographs 1 international news: AFPBB News
http://www.afpbb.com/articles/-/3050676

It was Solar Impulse 2, which had been parked in Nagoya for about a month to repair wings and responding to bad weather, but departed for Hawaii on June 29, 2015. A harsh flight awaiting a long distance traveling over 5 nights over 5 nights whether it would reach about 8000 km awaited.

Solar machine, Take off Nagoya for Hawaii 5 days late on bad weather 4 pictures International News: AFPBB News
http://www.afpbb.com/articles/-/3052992

And on 3 July 2015, Solar Impulse 2 has successfully landed in Hawaii after a long flight of 117 hours 52 minutes (about 5 days). The flight distance was 7212 km, and the average speed was 61.19 km / h.

BREAKING#RTW: The first image of# Si 2Above Hawaii, after 106 hours!#futureiscleanhttp://t.co/JIj9tHK6hlPic.twitter.com/XpioLX0NOI

- SOLAR IMPULSE (@ solarimpulse)July 3, 2015

You can also see the landing at the official Vine account of Solar Impulse 2.


Solar Impulse 2 is an airplane with very long wings and is a self-contained type that fly using the power generated by 17,000 solar panels mounted on the wing surface, no need for external energy supply It's an aircraft. Although the weight of the aircraft is about one car, it has a special shape with a longer wing length comparable to a large aircraft, and it turns the propeller by turning the propeller with four motors attached to the wing It is.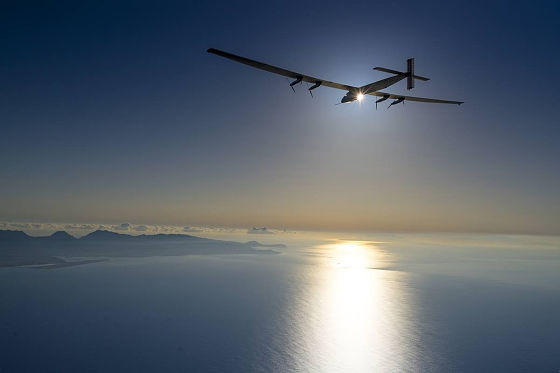 The trip around the world began with the take off from Abu Dhabi airport in Dubai early in the morning of March 9, 2015. Solar Impulse 2 will take an eastbound route from Dubai and will return to Dubai in August 2015 five months after passing through the Arabian Sea, India, Myanmar, China, the Pacific, the US, the Atlantic, Southern Europe, North Africa It was.

.@andreborschbergWill follow this flight plan today in# Si 2From#AbuDhabiTo# MuscatPic.twitter.com/d6lSRWIAxQ

- SOLAR IMPULSE (@ solarimpulse)March 9, 2015

Although it was Solar Impulse 2 which landed in Hawaii, it turned out that there was a problem with the installed battery due to trouble in the road. For repair, it was a situation where I stayed at the airport again for a long time. The circumstances from the start of the world to the present are explained in detail on the following pages.

Solar Impulse Journey around the world - SWI swissinfo.ch
http://www.swissinfo.ch/jpn/dossiers/%E3%82%BD%E3%83%BC%E3%83%A9%E3%83%BC-%E3%82%A4%E3%83%B3%E3%83%91%E3%83%AB%E3%82%B9

And since this time the repair of the aircraft has been completed and the environment where good weather can be obtained is in place, Solar Impulse 2 will enter "mission mode" and will start the round around the world again That is why. For the restart, the following movies are released.

Solar Impulse's time in Hawaii - YouTube


The future flight situation of Solar Impulse 2 can be confirmed from the following official website. Information will be sent on Facebook, Twitter, mailing list, etc.

Solar Impulse Clean Technologies to Fly Around the World
http://www.solarimpulse.com/

· Continued
Solar airplane "Solar Impulse 2" challenging the world around solar light alone succeeded across the Pacific - GIGAZINE